De Alba on Amapola

By Entertainer David de Alba

*
---
Amapola is a lovely flower and also the name of a beautiful song, so it is destined that it be the name of a very talented, multi-lingual actress and singer, Diva Amapola. Many moons ago I was honored to be twice a guest on her acclaimed television show in San Francisco; she even interviewed me then. Now years later, on the other side of the table, it's my turn. So here it goes! Ladies and gentleman of the Web, the only lady singer I know named Amapola.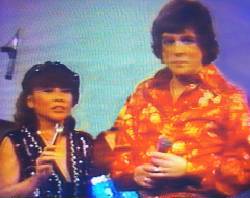 David: Amapola dear, we have known each other for many years, but I never asked you this before; Why did you leave the gorgeous city of San Francisco after having been so successful there, and was it difficult to adjust to your new life?

Amapola: Hi David! Thank you for this interview. That is indeed an interesting question and I never had the chance to explain to my followers why I left SF during the height of my popularity there. The answer to your question? Cruise ships took me away (literally) from San Francisco. I started cruising in 1986 on the Royal Viking Sky and soon I found myself singing onboard all their luxury ships in the Royal Viking Fleet : Sky, Sea, Star and the Royal Viking Sun. Soon other ships hired me and the next thing I knew, it became a another full blown singing career.

David: What is the best and worst part of being on the road most of the time and are you lonely at times?

Amapola: The Best Part: Seeing the world and getting paid to do it. I travelled inland on my road tours since I was very young, then onboard luxury ships from 1986 to 1998. I still go onboard ships occasionally as I desire. In 1996, I visited both the Arctic and the Antarctic within 6 months onboard the ms Hanseatic. The Worst Part: Not having any roots. Not having REAL friends. Not staying in one place. Living in hotels and cruise ships and never being home on holidays. Not seeing my family in San Francisco. Now that I am on land more, my family has gotten used to the idea of my absence. That is the worst part of all!

David: Of all the countries besides your homeland, The Philippines, that you have visited, if you had to choose one to call home, which would that be?

Amapola: What an interesting question. I love it. I lived in England 10 years (my husband Steve Woodward is British) and I loved it there, but the weather is much too cold and damp for me. I fell in love with Italy and France and almost moved to Paris in 1986. To answer your question, I probably would divide my time between Italy and the South of France.

David:

You play many musical instruments. Can you tell us what they are, and who influenced you to play them?

Amapola: Piano, bass, drums, guitar (classic), vibraphone, marimba, timbales, used to play the violin, but without practice that fell on the wayside. I dabble with the flute but didn't pursue it further as my vocals, vibes and my piano took most of the available hours to practice. My parents Mahnee & Sheila Cabase started me off and gave me the support I needed to be a concert pianist. They frowned on my singing but the bug had bitten me and there was nothing else they could do, so they helped me with my singing career eventually. My father plays ALL musical instruments. Please see his biography http://www.cabasemusic.com

David: In your travels you met many famous entertainers. Is there a one or two that really impressed you?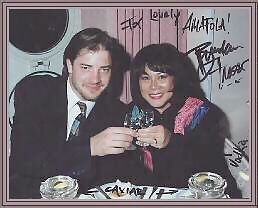 Amapola: Movie Star Brendan Fraser was impressive. We met through his parents onboard the ms Song Of Flower. We did not know who he was (we had our own world onboard the ship and we were often uninformed about Hollywood) and so he relaxed and enjoyed himself. Still he gave me a few autographs and now he is a huge star. His parents knew he was going to be a mega star, and after we spent a few more times with him, we knew why. He has looks, talent and drive. How can he miss?
Tony Bennett was impressive: Here he was, world reknowned singer and he was shy when we met. We chat and his eyes avert away from mine as he speaks. He is soft-spoken, very modest and to me that is what is so appealing about Tony, well, not to mention his unquestionable and enduring talent.
Pauline Collins, Oscar Winning Actress for the film "Shirley Valentine". We met her at the backstage of the Victoria Theatre in Woking, a few miles from London on one of her opening plays. I was impressed that after winning the Oscar and her face on covers of magazines and all, she was by herself, carrying her own gym bag with her car keys in her hand ready to leave. No bodyguards or lackeys or hangers on.
David: Because you sing in different languages, which do you feel best conveys the emotion of your songs?
Amapola: English and Spanish songs. I can also emote Italian and French songs but somehow I have this natural flair for the Spanish language, I don't know why. It has to be reincarnation.
David: You are the hostess of a new Internet radio show that airs once a week. Can you tell us something about it, and do you have other challenging new projects in your future that you can talk about?
Amapola: Your readers can log on to http://radyobisaya.com or http://amapola.net to see what I do in these programs. I felt that Radyo Bisaya ng Amerika was needed to unite my fellow Visayans from the Visayan region of the Philippines, (South of Manila). However, the program will not alienate the other dialects or languages because I play any kind of music that I truly enjoy listening to. "Amapola Presents" my latest launched program will feature many of my live performances onboard ships and on various venues.
David: Of all the shows you have done in your life, is there one in particular that you remember most fondly and that you feel was the highlight of your career?
Amapola: Unarguably my "Live At The Manila Hotel Concert" webcast Tuesdays and Thursdays throughout the month of August. I had the best of everything on that concert: the best singers, musicians, production crew, etc. All I had to do was perform, and I think that is the dream of every performer.
David: What does Amapola like to do when she is not busy performing?
Amapola: I work on all my websites along with my friends Mack, Nancy and Wolfie who have been very helpful in educating me about HTML, DHTML and Multi-Media which I am still struggling with. When I am not on my computer, I dabble with my sound studio, producing audios and CDs, then I practise on my piano and guitar. While watching TV I like to crochet and have finished several dolls for Christmas gift-giving to friends, and, when the mood strikes, I like to cook various dishes from any country. I experiment and I am lucky I have a husband who is adventurous and will try anything, at least once, ha ha. 'Too much to do, too little time' is a favourite expression of mine.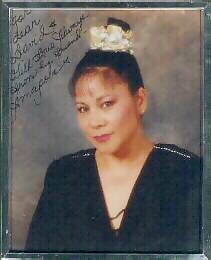 David: Your Web site is fantastic. Because of it have you met other entertainers or interesting people that you would not have otherwise?

Amapola: Definitely! The first entertainer I met online was you! I was surfing one day while I still lived in Britain and there you were on my monitor. I was new to the Internet then and that really bowled me over! I also found you because as I searched for "Amapola" on the search engine, curious about other people named Amapola, that's how I found your Web site. Your mention of guesting on my TV show Amapola Presents was what brought me to you. Thanks David!

David: Is there something about you that most people donít know that is very "you" that perhaps you could share with us?

Amapola: Very me? Hmmmm. Let's see. Okay, here's a couple: Believe it or not, personally, I am VERY shy with people. Oh, I hate the telephone, I don't know why.

David:

Have you ever considered writing an autobiography about your gypsy life as an entertainer? Many of my entertainer friends are doing so.

Amapola: I have started in my word processor, in my journal, in bits of paper napkins here and there and it is time to sit down and finally get it together and edit it for publishing that I cannot find. Any editors who read this, please e-mail me.

David: Most great artists have lots of ups and downs in their career. What was the lowest point in your life?

Amapola: Lowest point in my life was when I tried to make it in Hollywood and had to live in a cockroach infested apartment. No jobs, savings going fast and no hopes of meeting anyone who could "discover" me. I started oil painting and sold my work for $35. I could have sold those paintings for more but I needed to eat!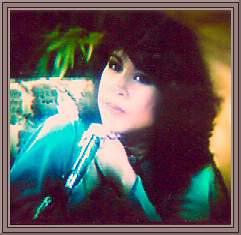 David: If you had a chance to live your life over, what would you change about the life of the singing legend Amapola?
Amapola: I would go back at the age of 14 and convince my parents to say yes to that gentleman who once offered to make me a star in America.
There you are David. I enjoyed answering your questions very much. I want to thank you for our friendship that started from the very first day when we met on the set of "Amapola Presents" (KEMO TV-20 in San Francisco). Through all our respective successes in both our careers and through the predictable ups and downs (but thankfully they were mostly up!), we have remained loyal friends and I think it is a rare privilege. Thank you David de Alba for your friendship. Always, Amapola.

Visit Amapola's Web Site at http://www.amapola.net
---
* Cuban/American entertainer David de Alba (also known as "Heri, Hairstylist of the Stars") is known for his live singing impressions as a concert artist since 1965. He has worked at the world famous Finocchio Club of San Francisco (USA) for many years. Visit the award winning Web Site "David de Albaís Theatrical Arts & Tributes" at

http://david-de-alba.com and you can e-mail him c/o paulryner@cox.net