De Alba on Bailey

By Entertainer David de Alba

*
---

What can I say about Jim Bailey that has not been said before. A skilled character actor with an operatic tenor voice that creates perfect illusions of famous lady Stars. He has performed for the Queen of England, Prince Charles and Lady Diana, four U.S. Presidents and numerous heads of state. While living in San Francisco, I was fortunate to have caught his act at such places as: The Venetian Room in the Fairmont Hotel, The Plush Room in the York Hotel, Theatre On The Square, The Masonic Auditorium, Bimboís Cabaret, and many years later while living in Arizona an unlikely place, the State Fair. I interviewed him many years ago at The Fairmont Hotel as a representative of The Judy Garland Club of England, as he was soon to appear at the London Palladium and I wanted the British fans to know. Many moons have passed since the day I met him in person, and now in the year 2000 I am proud and honoured to bring to you, our Cyberspace readers, the incomparable Mr. Jim Bailey!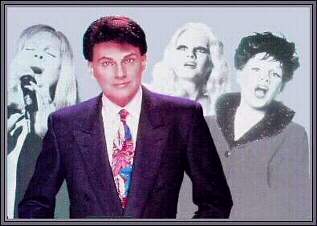 David: Dear Jim, letís start at your beginning. Where were you born and raised, and did you know as a young man that you were destined to be a performer?
Jim: I was born and reared in Philadelphia, Pennsylvania and in New Jersey. My dream was to be a concert pianist. I also had vocal training, (classical). Singing became foremost in my life.
David: Do you remember your first paid professional gig? Where was it and what did you do?
Jim: As a pop singer I worked the Philadelphia and Atlantic City areas. My first professional engagement was a nightclub in Atlantic City called "Lou Booth's Chateau Monterey." I performed standards and show tunes.
David: I understand you are performing in plays on the legitimate stage in New York. Are you introducing any new characters?
Jim: In 1999 I performed in a musical about May West, and acted as Tallulah Bankhead in a play about her. This year I portrayed Bette Davis. All are original plays.
David: People canít begin to imagine how difficult it is using only make-up tricks, wardrobe, and body movements to create your magic illusions. Of all the make-up jobs, which is the most difficult to do?
Jim: It all begins with the "voice." Without my voice, my training, and the gift I've been given of sounding like the ladies I portray, there would be nothing. There would be no recordings. Convincing visually is one thing . . . Listening without seeing is another. There isn't one lady that's more difficult than another. Keeping one's focus is the key.
David: Do you travel with a conductor-pianist or key musicians who are acquainted with your musical arrangements, and do you have a hairdresser with you to style and maintain your different character wigs?
Jim: I carry a conductor-pianist and occasionally a drummer. My staff also includes a hairdresser, road manager and personal assistant.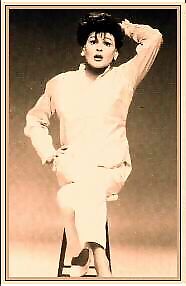 David: You are renown for your live portrayal of the great Judy Garland, Barbra Streisand, Peggy Lee, and Phyllis Diller. Have you done other characters in the past with less success?
Jim: Madonna! My audience changed. My fans were not into Madonna. She has a younger, gay audience.
David: Which is the most vocally challenging, Judy or Barbra?
Jim: They are both challenging. Judy is a belter from the chest. Barbra is a head voice, not a belter.
David: I have always enjoyed watching Jim sing as Jim at the finale of your act. Do you still include that startling transformation in your current shows?
Jim: I recently took 'me' out of the concert show because the change from Judy or Barbra, or whomever, back to Jim was too rushed. I have been doing engagements just as 'myself' lately with much success.
David: As a performer, do you recall a particular embarrassing incident that happened to you, on or off stage?
Jim: One night as Judy, the elastic on my trousers gave way and they slipped down to my ankles, right in the middle of "You Made Me Love You."
David: When you are between concerts, do you have any hobby or special interest that occupies your time?
Jim: I love reading . . . biographies, mysteries, etc.. I also have a large video collection of classic films, documentaries, etc.. I also love playing pool and backgammon.
David: Is it true that you are working on an autobiography, and if so are there any plans for it to be published soon?
Jim: I am at present working on my autobiography, to be published in a year or so.
David: You have traveled all over the world, and life on the road can be fun, but exhausting. If you could choose one place to live and work for the remainder of your career, where would that be?
Jim: New York / London.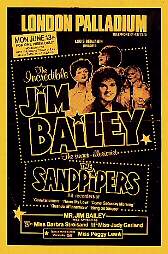 David: You have performed in the best theaters all over the world, for presidents, royalty, and even for Barbra Streisand, who is pictured with you on the back of your new CD, "Voices". Is there something you have not accomplished thus far that you would really like to do?

Jim: A Broadway Musical.

David: Did you ever meet Peggy Lee or Phyllis Diller because of your portrayal of them?

Jim:

No. I met both Phyllis and Peggy before I ever thought of doing them.

David: Oh, by the way, did you ever meet Judy Garland and talk to her about your act? If so, (with her unique sense of humour) do you recall what she said?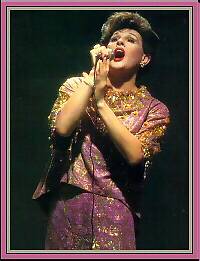 Jim: I met Judy a few years prior to her death. She saw me perform as her. After the show she said to me, "I never realized I was that pretty."
David: For all the Garland fans out there that love you for keeping her memory alive by portraying her with class, can you give us a closing statement?
Jim: I am grateful for the gift I've been given, to be able to continue a career that ended far too soon. I want new generations to be aware of her great talent. It's been passed on to me and I shall always respect it.
David, Love & Peace, Jim Bailey

NOTE: Photo above of Jim as Judy by Richard Armas, from June 2001 issue of GENRE Magazine, "Back from Oz".

You can contact Mr. Bailey concerning his future performances c/o Stephen Campbell Management. Phone # 310-271-1975
---
* Cuban/American entertainer David de Alba (also known as "Heri, Hairstylist of the Stars") is known for his live singing impressions as a concert artist since 1965. He has worked at the world famous Finocchio Club of San Francisco (USA) for many years. Visit the award winning Web Site "David de Albaís Theatrical Arts & Tributes" at

http://david-de-alba.com and you can e-mail him c/o paulryner@cox.net