De Alba on Candiani

By Entertainer David de Alba

*
---
In my search for outstanding talent to include in my series of interviews, thanks to a mutual friend, Marlo Adame, I have come across a unique performer, Carlos Candiani, who was also the producer and director of a fabulous musical revue in Mexico City called: "Stravaganz High Performance Show".
He is known in the Showbiz World as "El Señor Espectáculo." [Mr. Big Showman]. In contrast to some female impersonator revues, all of the performers in his company are men, some performing in drag, giving the illusion of beautiful women, and others showing off their masculine physiques to compliment their feminine counterparts. Top Mexican wardrobe masters such as Mitzy, Gilberto Granillo and Mauricio Somer create the show's fabulous wardrobe. In this company there are professional dancers, impersonators portraying famous singer lady Stars, musical comedy acts, balancing acrobats, and some great choreographers bringing this show to a level that would compete with any big Las Vegas production. The cast is composed of all Latin-American performers, anxious to show the world what they can do in their new 2005 revue "Beautiful Imposters".
I sincerely hope that the great empresarios and casino/hotel entertainment directors in the USA, especially in Las Vegas area, will take notice of this refreshing new revue. Now it is my great pleasure to introduce to my Cyberspace fans, Carlos Candiani. (NOTE: To accommodate the artist, the following is a literal translation from Spanish to English by David de Alba.)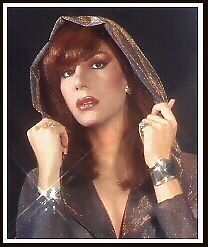 David: Carlos dear, where were you born and where did you spend most of your youth?
Carlos: In the Southern part of Mexico City.
David: When did you know that you had an inclination to the Arts? By the way, did your family encourage or help you in any way?
Carlos: Since I was a little boy I loved anything that had to do with the Arts, but I was an introvert and never said anything about it until I came of age and decided that what I wanted to do was to act, direct and produce shows, and I did so. My mother always lent me her support and love, but unfortunately my father died when I was very young.
David: Did you take classes in singing, dancing, or drama?
Carlos: No, I have just gone along by teaching myself as I marched along the paths.
David: Did you have a mentor that initiated you into the drag field of entertainment?
Carlos: At the beginning, no. I had to do everything myself. Later on, it could be said that I was adopted theatrically by our mutual friend, entertainer Marlo Adame. Also I should mention another mutual friend of ours, the great Star of the dance, René de Carlo, who supported my concept of innovation in traditional drag entertainment. I am grateful to him because he always told me "Keep going with your vanguard ideas. Be different. Go to the point. Don't do what has been done before." And really, I was able to do it. I was able to create my own style. Others have tried to imitate me, to which I am very proud because it is said "Only the greats are imitated."

David: Is there a female Star that has influenced you in your career?
Carlos: Yes, María Félix. Everything that pertains to her fascinates me, so much so that a lot of people here refer to me as "La Doña." [Miss Félix is lovingly referred in Mexico by that respectful title.]
David: What exactly is it that you do in your own impersonation act, as you have been in the Biz for 20 years?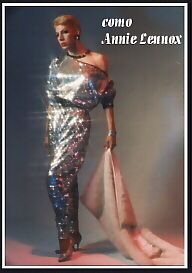 Carlos: Well, I started as a female impersonator in well-known discotheques such as "The Gallery" and "Tequilas Le Club" in the Port of Acapulco, Guerrero. The first 10 years of my career I worked in different companies in Mexico City and in the provinces of the Republic of Mexico. I did a lot of female characterizations during that time, but I believe that the favourites of my public were Annie Lennox of the Eurythmics and Lucía Méndez, a Mexican actress and singer.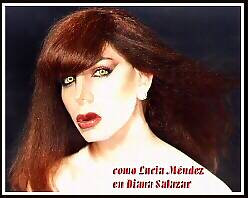 After preparing myself during that time, the next 10 years I dedicated myself to producing and directing the presentation of my revue called: "Stravaganz High Performance Show". Critics have called it "The biggest and most important drag revue in Latin-America". I am the creator and propietor with reserved rights to the name and original concept. With the help of the Powers of the Universe (or God, however it may be called by some,) my revue has been accepted with raves every time it has been presented. Also 4 years ago I inaugurated my own discotheque, "El Antro Club Privado" here in Mexico City. In its time it was the best gay disco in the country.

About 2 years ago I left the disco business behind. The heavy work load left me very stressed out. Now I own an enterprise dedicated to the creation of uniforms for executives and employees of big businesses. At this time I have been able to rest a little from the harshness of the night life and am preparing myself for new exciting projects to make a return to Showbiz with another big hit.

David: How did you meet our mutual friend and accomplished artist Marlo Adame?

Carlos: When I first arrived in the Port of Acapulco I was working in a disco called: "Cyprus" and we were called to work one night for a special benefit for AIDS in another disco called "Infinity". Marlo was working there and from that moment on we became very good friends.

David: Is your revue directed primarily to the Latin public or would it appeal to an English speaking or International audience as well?

Carlos:

My revue is completely International because of my experience working at "The Gallery" in Acapulco, where tourists visit from all over the world. This also applies to shows in Mexico City. We do impersonations through the art of pantomime of such world famous Stars as Liza Minnelli, Marlene Dietrich, Grace Jones, Dalida, Marilyn Monroe, and Diana Ross, etc.. There is a wide variety of productions in my revue to appeal to all types of audience.

David:

Is there someone special who does the make-up and the wig styling for the performers in your show?

Carlos: Every performer is responsible for his own make-up and wigs. All of them are very knowledgeable in that field. We do have two assistants in the dressing rooms backstage that keep the wardrobe well maintained.

David: What can you say to those family, friends or associates who may not understand the real you and may judge you in a critical or harsh way?

Carlos: Listen, some people have criticized me for being too strict or hard with people when it comes to the discipline of my work, but I feel if I wasn't that way things would not have come out as good as they have. Also some people would have loved for me to have become a doctor, a lawyer, an accountant, etc., but it is my life and I selected how I wanted to live it. I have never done wrong to anyone, but I have had the misfortune to have been betrayed by various people who claimed to be my friends, but as you know, success cannot be pardoned.

David: Will Marlo Adame join your new theatrical venture and perhaps leave Mexico with you for the USA? If he does join you, in what capacity will he be involved with your project?

Carlos: Nothing will give me more pleasure than to work once again with that great artist that is Marlo. In addition to being an excellent dancer and choreographer, he is also a great female impersonator and a marvelous conductor of theatrical productions. Of course if we leave our country not only will he participate in all of those facets, but also as an interpreter for us, since he speaks fluent English.

David: If you could ask the Virgen de Guadalupe to grant you one big wish, what would that be? (Virgen de Guadalupe is the patron saint of the Catholics in Mexico.)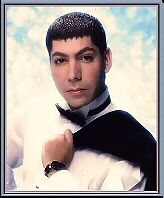 Carlos: I will ask Her that I should never fail to have health, money, and love!
I want to thank my dear friends David de Alba and Paul Ryner (David's Webmaster) for this marvelous interview. Though we have met recently, already exists with us a great loving bond. I'm very happy and excited because my new good friend, the great female impersonator/singer David de Alba, has accepted to work in my next revue in Las Vegas, NV. Carlos.

You can e-mail Carlos Candiani at his latest revue Beautiful Impostors zelik_int_group@yahoo.com
---
* Cuban/American entertainer David de Alba (also known as "Heri, Hairstylist of the Stars") is known for his live singing impressions as a concert artist since 1965. He has worked at the world famous Finocchio Club of San Francisco (USA) for many years. Visit the award winning Web Site "David de Alba's Theatrical Arts & Tributes" at

http://david-de-alba.com and you can e-mail him c/o paulryner@cox.net