De Alba on Cazal

By Entertainer David de Alba

*
---
I was very impressed recently when I met through the Internet a well known European entertainer by the name of Ulrich Cazal aka Uli. I decided to ask him if he would join the prestigious line-up of artists that I have interviewed and featured on my theatrical Web site. To my delight, he accepted my offer. Here is an entertainer and actor who superbly masquerades in drag as he entertains his audience, and has the masculine facial bone structure of the beautiful Marlene Dietrich. Uli is fascinated by her and has an impressive collection of pictures and memorabilia of the late Star. When he is off stage and out of make-up he is a very striking and handsome male figure that one can not help but look twice if one were to pass him on the street. So here to my dear fans of the Cyberspace World I bring to you directly from Hamburg, Germany, my new Cyberspace friend, Ulrich Cazal !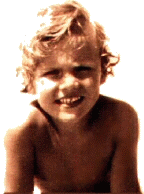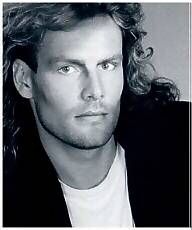 David: Uli dear, where were you born and where did you spend most of your youth?
Uli: Well David, as you know by now I am German through and through. I landed on this blue planet in Duesseldorf about 40 years ago. I lived my youth mainly in Germany in the city I was born or during summertime in my mother's house in Spain. I've been all my life a curious guy . . . drove my mother mad asking this and that . . . wanted to know it all. So I left home for new adventures, a new city and most of all to live my coming out at the age of 19.
I lived in Frankfurt; took a house in Munich and moved later to Spain, the sunny island of Ibiza. When I got my first job in a cabaret I had to go to Hamburg. Loved it right away from the first day. Lots of green areas, the wonderful harbor with the ships and their horns, the many theaters, musicals, cabarets, and not to forget the wildest gay night life, which is incomparable . . . so I moved here where I still live, Hamburg!
David: Did you have a mentor or "Drag Mother" that helped you get into female impersonation and the entertainment profession?
Uli: Well, I guess not. No one really supported me. I am a very creative person. I studied decoration, hairdressing and make-up. I was very young, so I had a good start.
David: What type of a theatrical act you do perform in cabarets and theatres? Also how has your act evolved since you started performing?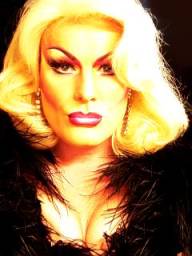 Uli: Well, it's not easy to describe my own show. We (I do work with a partner, since 1981) are doing slap-stick, mostly comedy; a revue with quick-change numbers, trunks, and a van full of robes. As I do love make-up in which I am very good AND fast, we play many characters in our show. I have to change outfits up to 10 or more times, including make-up. From the diva to an old aunt or the flower-power girl; from a 60's hair hopper to a crazy cow; from a motorcycle driving rocker bride to a feather wearing showgirl. On the other hand also male parts, like the Indian doctor, Aladdin, a nut-cracker or even the scary and sad monster Frankenstein. (The make-up I like best! By the way, greetings to Boris Karloff.)
We do very little talking in our show. We welcome the audience and joke about ourselves. For the rest of the show (mainly) we're using many original sound bites and tapes mixed in a studio and put together to create a fast journey through wild and colorful fashion. We are not singing live. It would be too monotonous; always the same voice for all the different characters.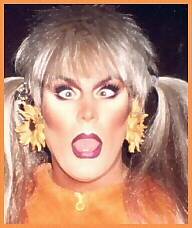 David: Do you have a particular costume designer that makes your fabulous wardrobe?
Uli: Not anymore, as I was not satisfied with the work of designers I know over here. The costumes we are wearing have to be made differently, especially for quick changes. Often we are wearing two or more costumes at one time. Sometimes the costume on top which is showing has to be bigger than the one underneath. Tricks have to be built into the costumes. No costume designer could handle that! I started to do the costumes myself a long time ago and after working a few years for a musical theater in Switzerland, on and backstage, I learned the final touches. So by now I am an expert in the intricacies of stage gowns, hats and wigs (forget RuPaul) in all dimensions and of the strangest materials, (but this is a secret!)
David: Other than your fascination with the world renown Marlene Dietrich, whom I had the pleasure to see in concert in California, do you have any other female Stars you are also impressed with?


Uli: No, Dietrich is my favorite of all times. Of course I like other strong women, like Joan Crawford - how hard can you get. Or Miss Bette Davis - she was ACTING!!! Marlene was different; cooler, her singing range was very limited, as was her acting ability, but she had a special star quality that rings bells. She was a trouper, a survivor, a bold goer where no woman had gone before...
David: Have you always lived and performed in Germany, and if you had to choose another country to live in and perform for the rest of your life where would that be?
Uli: As I told you I always was curious. I loved to see foreign countries too. I did mostly Europe; like Spain, Switzerland, Denmark or on Mediterranean cruise liners. I've been often to Río de Janeiro, the most colorful and gigantic city of all . . . this is it! The life is easy and lazy, the sun is bearable, and I do understand the language. Ohh those Brazilians! Río would be perfect, but there is no good work and inflation makes life hard and you're poor fast . . . so I'll stay here in Hamburg . . . love it anyway! Told ya!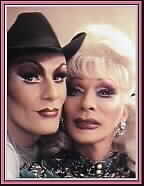 David: How did you meet and become friends with the legendary female impressionist Ricky Renèe that so many of us admire for his body of work?
Uli: Oh, Ricky is a 'Dahhhlink'! I remember when I was 20, I was working in a Cabaret, right after beginning my career, (dunno where it was) a tiny older man, dark sunglasses, base-cap, red leather suit, entered the dressing room loaded with bags over bags. When he opened his luggage I fell apart! It wasn't feathers or rhinestones that he took out of these cheap looking bags. No, the finest minks, foxes in orange, rose, black and huge white fur coats, all floor length . . . wow! I thought to myself; Is that a real Queen, or what is he doing with all of that???? Later that night I found out when the platinum bleached blond Barbie bombshell, with tons of hair glided Hollywooddish, stepped on the stage. Breath-taking, a real entertainer, a survivor of the good old days. Since then we've been friends and meet each other in cabarets from time to time.
Uli: Besides Ricky I worked with Craig Russell in Frankfurt. This man was a tragedy. A genius on stage, a voice better than the originals, and he drunk himself into ruin and death! I know some sad stories about this most talented singer.

Bob Lockwood, a dear friend who lived in my neighborhood during my Munich time, was a famous female impersonator here in Germany, Switzerland and Austria. He was American, known for his Marilyn Monroe, Hildegard Knef and Shirley Bassey impressions. He appeared in many TV series and had his own TV Show 'Die Fantastische Show'. One time he did both Judy and Liza and sang the famous duet [from their London Palladium appearance], both characters done well. He also died young. He was in his 30's. During a vacation in Spain he got killed by the cab he was trying to catch. Sad! He was a sweet person.
I had the pleasure to meet and work one day with the gorgeous DIVINE (aka Glenn Milstead). He was my favorite. I loved his disco songs which are all classics by now, adore his movies, Female Trouble is unbelievable, and I loved his way of living: 'Born to cheap!' So special and different!! He was very nice to me. We also took many pictures.

And once backstage I met the Australian Highness in person, Dame Edna Everedge (aka Barry Humphries). What a change [from his on-stage persona]. He was quite butch then.

David: When Germany was divided by the Berlin Wall did entertainers, Ricky Renèe and other FIs especially, have trouble working on the communist side and earning good money for their performances? Also were these FIs allowed to leave the communist side to entertain in the free world without any problems?

Uli:

Ricky did not work in East Germany! His piano man from Chez Nous was in the Eastern part when the Berlin Wall was built, almost over night, and he could not come back. He left a family with kids behind. Ricky had (and still has) an American passport, so it was easy to go over the border. He smuggled food, coffee, clothing and even money for him. There were offers for Ricky to work in East Berlin, but he declined them for safety reasons and kept on working in West Germany.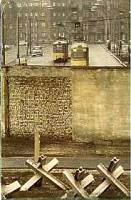 If you wanted to work as an artist or FI inside the DDR you had to audition first. There was only one official agency called 'Konzert & Gastspiel Direktion' (KGD). A judge gave the artists numbers, like F13, K21, kind of 'very good', 'good' or 'ok'. Only with this permission number were you allowed to work in Showbiz and this number set the price for the money you could ask for. FIs where not allowed to cross the border to another country unless there was a written request by a theater or cabaret in the foreign country with good cause that they needed this special Eastern Artist. (Especially for sports figures). Because of this, the theater was responsible for the artist returning to East Germany. You can image some didn't!! With one little bag and some women's dresses only, they had to start all over again!
There were some FIs who got in trouble for sexual or political orientation and ended up in prison. After being released, they could make application to give up their citizenship, then leave the German Republic DDR - dishonored of course. To get in the DDR during the time of the Berlin Wall, there were the same problems as getting out. The famous Friedrichstadt Palast had Western FIs in their great shows. Some were privileged. [This information was provided by ex-DDR Star Rocco Techt, German Singer France Delon, and our friend Ricky Renèe].
David: My interviews do not delve into politics, but in this case, since my family and I suffered along with thousands of Cubans because of the Fidel Castro Communist regime . . . I would like to ask you dear Uli to tell us more about those harsh days of Communism in your country, so perhaps the new generation can learn from this important part of German history and appreciate the freedom they enjoy now.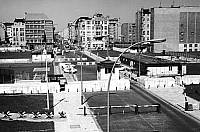 Uli:

Going to East Berlin during the days of the Iron Curtain was no fun. The checking at the Friederichtrasse (Checkpoint Charlie) was horrible. You had to change 20 German Mark to some Ost-Mark you HAD to spend there . . . Passport check with unfriendly officers, and if you start to complain, you may as well turn around and try at another border for entrance. The borders had high walls, electric wires and security with guns. People waiting in long rows.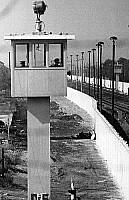 All over there were towers with spies checking on you every second. You really felt uncomfortable and not really welcome. I am sure the Stasi (Staatssicherheit - Goverment Security) checked all FIs after their auditions. They spied on everyone they discovered later.

Inside the DDR was like in a time machine which brought you back to the 50's. There were only 2 local car brands (Trabant & Wartburg) filling up the streets, the rest was gray - the houses, the buildings, the streets - all one tone of gray. No neon, no commercials, no posters, one bottle of perfume in a drugstore, one pair of wool trousers and a white shirt in the shopping window for a whole department store, otherwise many empty shelves. No Coca-Cola, no bananas, only local fruits and vegetables..... no fun and nothing to buy for your exchanged 20 G-Mark. Many of the historic buildings still had the holes from gun fires or war bombing - and all this in the 20th Century . . . frightening!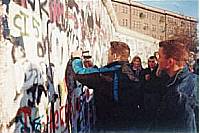 When the first people escaped and some checkpoints where opened for a few hours, a friend and I went back to Berlin again. I brought a hammer to break stones off the hated wall at night. We were afraid if they would let us or stop us? But when we arrived at the Wall after midnight there were hundreds of Berliners hammering like crazy to tear the 'Mother Fu**er' down, and we could hardly find a free space. I still have these trophies, the little stones from Potzdammer Platz somewhere hidden in a box . . . Historical moments for sure!
By now I have worked in the ex-DDR, the New German Countries, how they call 'em now - but you still feel the difference between us Germans . . . not to mention the accent.
David: Do you have any hobbies or interests that occupy your time when you are not performing on stage?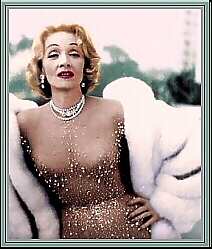 Uli: Well by now everybody should know my admiration for Marlene. I turned into a maniac collector ever since I met her. My day is even 'Marlenish'! So this is my hobby, searching the world for new items, and I must say it is by now more than just a hobby. I have many e-mails to answer daily due to my Dietrich shrine on the Web. I do this as a loyal tribute to Marlene. Unfortunately since Marlene died in 1992, the memorabilia gets more expensive every year. Thank God I started 25 years ago, at a time when it was quite silent about Marlene Dietrich. I got a little closer contact to Marlene Dietrich around February 1986 because I dared to send her a big, oversized painting I made of her (face in blue) to sign. She kept the original . . . only sent back a little signed photo of this painting almost six months later. I got letters, dedications, autographs, but she never sent my blue picture back. I even got some private things and clothing from her, long before her death and all the auctions of the Rivas [Dietrich relatives and heirs].
David: Is Showbiz your main source of income or do you have another profession or trade that has sustained you?

Uli: Priority is our show - for sure, but I hate monotony. I need changes. I am designing stage gowns, hats, or spacey creations and make them myself. I do have customers and they always want more. I'll do their entire wardrobe . . . well, as long as it doesn't get monotonous I'll do it.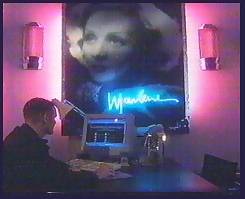 I love the Internet and do some Web design and artwork for catalogues, fliers and photos. Can you image David that my days are packed with work . . . no lazy afternoons on a sofa, no nights in front of the TV....
David: What sorts of foods do you enjoy eating, other than the wonderful German cuisine? By the way, are you a good cook or do you prefer to eat out?
Uli: Wonderful German cuisine? . . . beg your pardon? Hmmm, not my taste . . . hate plain boiled potatoes . . . yuckk! I prefer exotic food, Brazilian, or Asiatic, or give me at least an Italian pizza. Well, guess I am a good cook. That's what my friends say. But not a daily cooker! No no, I'm a lousy kitchen kleener . . . ugh, hate it the most. I cook about twice a month, but when I do I cook with 20 pots and pans. The rest of the days I do eat out, often rushing between work or while burning a CD, to McDonald's for a quarter pounder with cheese! Hunger take everything!
David: Is there anything that is so very private about you that most people that know you well would never guess that you could share with us?
Uli: It is no mystery. I don't hide my likes or dislikes from friends who know me. I do express my feminine side at work, and in private I do love the other extreme. I am an open living person with an inclination for shaved boys, and I am into leather . . . hard stuff! Yepp!
David: What do you consider an event that was the greatest joy in your life? How about the saddest?
Uli: Well David, I am not that emotional. I don't think that there is one 'Joy' on top of a list. No! There were many joyful moments in my life, which I lived, liked, enjoyed . . . and forgot.
Surely a highlight was when I met Marlene and she called me late at night. She was complaining about crushed photos I sent, but that was not true I found out later! Original vintage pictures she liked she just kept . . . just as easy! I received the last call from her on my birthday, 12 May 1989, but I was not in, so I have this documentary with some short messages still on tape from my answering machine! She never called again and her Paris phone number was changed. She wrote very seldom after that, but I will keep all this private . . . don't want to publish about it on my Web page. I don't want to tell the people how extremely lonely she was in her own chosen solitude for over 13 long, long years. Quite hard to live in such isolation. So sad really, but that was her price of fame . . . and she paid without complaining. My tribute page shall talk about her career, the untouchable high-class-legend, the screen goddess herself, the ageless movie queen in person, not as a lonely friend who calls late at night. Do you know what I mean David? (But I do listen often to her talking and singing on my tapes, diving into the memories...)
David: Is there anything special theatrically speaking that you would like to achieve in your future?
Uli: Nothing special. I am not good at planning anyway. I prefer to think about tomorrow. Don't wish it - do it!!
David: If you could ask The Blue Fairy from the fable Pinocchio to grant you one wish in your life, what would that be?
Uli: I don't believe in fairytales, and I mean it. I am a realistic person, not optimistic, almost a pessimist, but that protected me from many, many disappointments! I am not a daydreamer, but always wanted to have my own theater for instance, with all the technical effects, lights, props and so on. The Pulverfass Cabaret in Hamburg, which existed for over 28 years now, moved to a new, big and better location, The Reeperbahn, and I will maybe get the stage I was longing for. So, I hope The Blue Fairy will come by in a few years and ask me again . . . if not, just tell the Fairy 'he' may leave a case of US$ bills at my door! HeHe! (Now I'm an optimist!)
Oh dear David, it's certainly been a pleasure talking to you, and I enjoyed even more meeting you at last in Cyberspace. What you don't know is that I came by your fabulous page years ago when I was searching the Net for International Artists and I read about the legendary 'David de Alba' at the TG Forum. It is very honorable of you David, spending your time to put all the world wide entertainers together so we all may know what's going on on the other side of this Earth, here AND there! We should get together one day, shoulder to shoulder on stage in front of our huge audiences and all the people who like us female impersonators and take a bow for them.

David, let's shake hands like real men do. Good luck, God bless your family. We'll stay in contact. UL! CAZAL from Hamburg, Germany.

NOTE: I gave my online Fine Artist Award to Uli Cazal for his exceptional theatrical achievements. Here is his cute response:



Dear Academy, I am proud to receive the 'De Alba Trophy'. I thank all my friends, my mom who made me, my make-up which made me beautiful enough to join David de Alba's Award Winning Theatrical Site, and thank you David!"


You can contact Mr. Ulrich Cazal at fright-night@foni.net

Check out his Theatrical Web site at http://www.fright-night.de/cazal.htm

and his tribute to Marlene Dietrich at http://www.falling-in-love-again.de/



---
* Cuban/American entertainer David de Alba (also known as "Heri, Hairstylist of the Stars") is known for his live singing impressions as a concert artist since 1965. He has worked at the world famous Finocchio Club of San Francisco (USA) for many years. Visit the award winning Web Site "David de Alba's Theatrical Arts & Tributes" at

http://david-de-alba.com and you can e-mail him c/o paulryner@cox.net