De Alba on David James

By Entertainer David de Alba

*
---
Mr.David James is one of the more outstanding talents coming out of Oklahoma with his superb impersonations of many beloved Lady Stars. He is one of those examples of a magnificent transformation from male to female as he dons his wigs, make-up, and wardrobe to create illusions of Cher, Shirley MacLaine, Liza, Reba McEntire, Peg Bundy, Bette Davis, and others. It is now my pleasure to present to you one of my new Cyberspace friends, the talented David James!"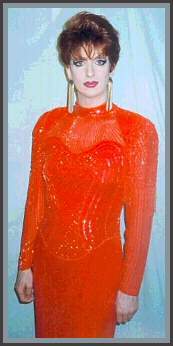 David: David dear, when did you start professionally as a drag artist on stage and is the colourful State of Oklahoma your birthplace?
DJ: Although I have been in theatre all through my life, I first stepped onto the stage as a Female Impersonator in the summer of 1984 while living in Tulsa, Oklahoma. I have made Oklahoma my home for twenty-three years, but I was born in Texas and raised in Louisiana.
David: When you decide to do a new character on stage, what steps do you take to prepare yourself to create the illusion?
DJ: For me it all starts with the face. I approach my blank face like an artist with his canvas and literally paint a new character over my features. Next, of course is hair and wardrobe, but it can't be done at all without taking the inner essence of the performer, and feeling them - being them, if only for a few minutes.
David: Was there anyone who encouraged you to become a performer or was it there from the start and you found it out by yourself?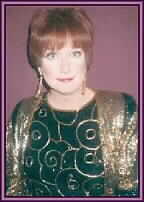 DJ: I had made friends with quite a few entertainers before I took it up, but it was really my own idea to be a Female Impersonator, just from the general inspiration and enjoyment I got watching them from the audience. I somehow knew that I could do that!
David: With your wonderful Web Site out there, do you find other people found out about you that otherwise would not have? Also did you get to meet other entertainers because of it?
DJ: I started my Web site in the spring of 1999, and as it has spread out along the WWW, I have been in contact with the most amazing variety of fans, fellow impersonators, and cross-dressers who are searching and finding related Web Sites such as mine. As of yet, I haven't met any of the other entertainers that I have come in contact with.
David: Do you design your own costumes and style your wigs or do you have others to help you in that department?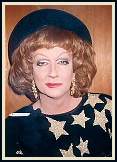 DJ: Some of my costumes I am able to buy off-the-rack, others are custom-made, and I have occasionally made and beaded my own clothes. I usually do all my own wigs unless it is a more complicated style, which I entrust to my good friend.
David: Would you like to take your present show on the road, or are you happy being able to perform in the same town each night without all the hassles of traveling?
DJ: I use to travel much more in the past, but I have concentrated on my shows locally for the past three years. I am getting a bit of wanderlust lately, encouraged by the many entertainers and venues I have made contact with via the Internet.
David: What do you do when you impersonate a particular character on stage and then a guest star that comes to perform in your show wants to do the same impression?
DJ: Due to the fact that I do so many different illusions, my guest stars and I usually spell out what we will be doing in advance. It did happen once when I was doing Reba McEntire, and in that case we both performed as Reba, and competed (good-naturedly, of course) for the audience in a "Reba-Off"!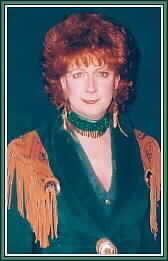 David: Is there anything about your off stage persona that you feel most people have no idea about and if they were to find out it would really be a surprise?
DJ: Probably the fact that I also fit well into the leather community, and conversely, my on-stage persona would surprise some of them!
David: Have all your performances been in a cabaret-like format or have you performed in other mediums of the entertainment field?
DJ: I have performed in nightclubs of all sizes, but I seem to be drawn to the more personable cabaret type clubs like The HI-LO.
David: Do you have any unusual hobbies that you enjoy that you would like to share with the readers of this interview?
DJ: I am an avid collector of anything related to "The Wizard of Oz", books, toys, etc.. My collection includes thousands of items from 1904 to the present!
David: Is performing on stage your only livelihood or do you have a day job?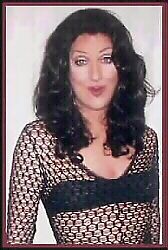 DJ: I have been a Dept. Mgr. at a major retail chain for several years, but it works perfectly around my show schedule.
David: If you could wish for anything in your life (like the good fairy would grant in a Disney movie) what would that be?
DJ: Just the usual pageant answer ~~ Peace, Love, and Understanding!
David: If you could have just one of the Lady Stars you do on stage come see you perform, is there a particular one of them you would feel most honored by?
DJ: I'd be honored by any of them...and a nervous wreck! The illusion I slide into most comfortably is Cher, and since she has seen many impersonators, I would love to give it a go with her in the audience!
David, I really can't express how honored I was to receive your request for an interview. It is a rarity in this business to find entertainers who are able to respect the careers of others in this way. I am amazed at the company I am keeping on your interview page, and only hope my journey through Female Impersonation is as inspiring and entertaining as yours and everyone else's!

Visit my friend David James' Web Site at
http://community-2.webtv.net/davidjames2/TheDAVIDJAMESHome/
---
* Cuban/American entertainer David de Alba (also known as "Heri, Hairstylist of the Stars") is known for his live singing impressions as a concert artist since 1965. He has worked at the world famous Finocchio Club of San Francisco (USA) for many years. Visit the award winning Web Site "David de Alba's Theatrical Arts & Tributes" at http://david-de-alba.com and you can e-mail him c/o paulryner@cox.net