De Alba on Dee

By Entertainer David de Alba

*
---
Imagine we are transported to the beautiful Island of Aruba in the Netherlands Antilles and to The Royal Cabaña Casino. There we find in The Tropicana Show Room, one of the best female impersonator shows around, the newest production of The Jewel Box Revue. Gary Dee is the Star and emcee of the show as he portrays his incomparable Joan Rivers character. He performs "live" which is becoming rare among drag artists. Joan Rivers pronounced him her best female impersonator as they shared a limo ride in New York City. Gary has a remarkable wardrobe by famous designers that adds great appeal to his act. Ladies and gentleman of Cyberspace, I proudly present to you, Mr. Gary Dee! "Gary, Can We Talk?"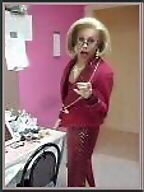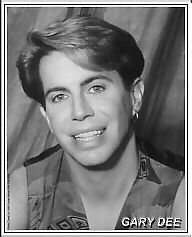 David: Gary dear, where were you born and where did you spend most of your youth?
Gary: Born and raised in Lodi, New Jersey, 30 min. from NYC. I studied acting in New York and worked with improvisational comedy.
David: By the way, is Gary Dee a stage name or your real name?
Gary: Gary Damato is my real name. . . have been called 'Dee' since grade school.
David: Did you have a "drag mother" or a mentor that helped you along or influenced you in anyway into becoming a female impersonator?
Gary: My mentor in Showbiz will always be the great one, Joan Rivers. I had several people who helped with the art of drag; Elza, a former roommate, and Phyl Craig to help me with hair and makeup. Jim Bailey was the one who I really admired, after seeing him on Merv Griffin many years ago.
David: What made you pick Joan Rivers for your act out of so many other famous women personalities? Did someone say you resemble her?
Gary: I chose Joan Rivers because she is so funny. I have been a fan of hers for nearly 30 years. I also wanted to work 'live'. I really don't enjoy doing playback. I think that Joan and I are so much alike. . . both able to find humor within ourselves and the rest of the world!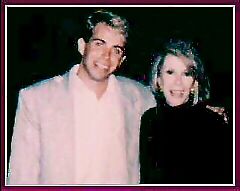 David: I understand that you actually appeared with Joan Rivers on her television show. I'm sorry I missed it . . . must have been a classic! Can you elaborate a little on that encounter??

Gary:

When Joan and I did her daytime talk show in 1992. It was such a thrill! She had five of us that day, and she put me next to her (the hot seat). Wow was I scared! She looked us over and studied our moves, and was a joy to work with.

David: Gary, explain to me something if you please. Before you joined The Jewel Box Revue, how did you manage to perform as Joan Rivers in La Cage in Las Vegas? Everyone has heard of the tight contract that Frank Marino has there.

Gary: I have filled in for Frank in Las Vegas several times and love doing it. He really has been very nice to me and always and makes sure I am comfortable while he is away. We happen to be employed by the same producer, Norbert Aleman. The cast at the Riviera is also fun. I went to London with them in Dec, 1999.

David: Do you have a particular clothing designer who makes your costumes?

Gary: My clothes. . . hmmm. I like Bob Mackie the best, followed by Victor Costa. It took me a while to earn enough to own either one of their designs, and I am proud to say I have closets full of them!!!

David: Other than Joan Rivers that you do 'live' have you done other characters either 'live' or pantomine?

Gary: I have in my past played Judy Garland, and also Bette Midler, but am most comfortable with Joan.

David: How did you get your present gig? Did the producers see you perform at another venue or did you apply for an audition?

Gary: I was brought to Aruba by Norbert Aleman, who had seen my work in other venues, and have been here in Aruba for seven years.

David: In December of 1999 the Las Vegas production of "An Evening at La Cage" opened in London. How did it go, and did you meet any British celebrities while you were there?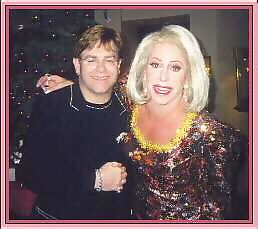 Gary: London was great!!! Standing ovations almost every night! They loved us and we loved them back. We were asked to perform for Elton John's private party and that was so terrific. The guest list included Joan Collins, Carrie Fisher, Lulu (remember her?) and Joanna Lumley. It was sonic to be told by Elton John that our show was a hit! During the show I told Joan Collins how much I admired her style, and how she was the woman who taught me how to dress. She loved it!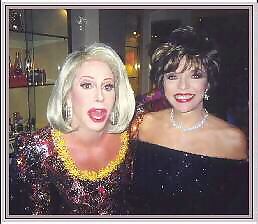 David: Do you have any fond (or not so fond) memories of any places that you played?
Gary: I must say that I have all fond memories of the many places and faces I've encountered over the past 17 years, but I also must say that Aruba has been one of my favorite places to live. It really is paradise, and hope to be here for a while longer.
David: Do you have any hobbies or special interests that occupy your time, especially since moving to the Netherlands Antilles?

Gary: My hobbies include working out 5 times a week; I have to keep in shape! I have learned so much about different cultures from living here; we are exposed to so many different people. My Spanish has improved due to the South American influence here. I also have learned some of the native language called Papiumento; a combination of Spanish and Dutch. Bonbini na Aruba [Welcome to Aruba].
David: Is there anything that Gary Dee has not accomplished theatrically, that he would love to do someday?
Gary: I want to work as Gary Dee again, no wig; just my comedy. I feel as though if I can be funny as Joan I can do it as myself.
David: If you were to gaze into the starry night sky of Aruba and make a wish, what would that be?
Gary: I have a wish that everyone in the world should enjoy their job as much as I do!
I am so proud to be included in your Web site interviews. It consists of some of my favorite entertainers and I hope that my interview will add something special to your many Internet followers. I really admire people who can be great at more than one thing. I am thrilled to meet a man who has perfected the art of illusion and the art of conducting a great interview, and that is you, David de Alba.

Thanks, loved doing this!!! Gary Dee

You can contact Gary at: ArubaGary2@aol.com
---
* Cuban/American entertainer David de Alba (also known as "Heri, Hairstylist of the Stars") is known for his live singing impressions as a concert artist since 1965. He has worked at the world famous Finocchio Club of San Francisco (USA) for many years. Visit the award winning Web Site "David de Alba's Theatrical Arts & Tributes" at

http://david-de-alba.com and you can e-mail him c/o paulryner@cox.net