De Alba on Del Río

By Entertainer David de Alba

*
---
When the name Carmen del Río is mentioned in the world of drag artists you realize you are talking about one of the best impressionists of the 20th Century. Carmen through the years has given to many audiences all the love and talent that his soul possesses. That talent is backed up by one of the best wardrobes in the Biz, adding that special flair to his performances. Carmen has been given special credit for his theatrical work by being inducted to the TG SuperStars Web site (along with yours truly). Now in a small way, I too would like to immortalize Carmen by adding him to my prestigious line-up of "Celebrity Interviews". I met Carmen a while back through the Internet and we have become Cyberspace penpals. It is my pleasure to bring to you ladies and gentlemen of Cyberspace a true living legend, the forever young Carmen del Río!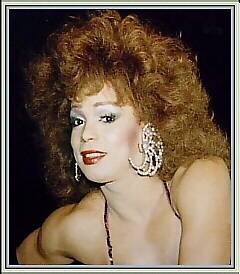 David: Carmen dear, where were you born and where did you spend most of your early years?
Carmen: Well David, I was born in Chicago, Illinois. At the age of 15, I moved to Los Angeles to live and went to school at LA High as well as Hollywood High, then back to Chicago when I was 17 years old.
David: Did you have a "drag mother" or a mentor that helped you get started in the Drag Showbiz life?
Carmen: When my mother found out that I was gay at 17 she kicked me out of the house and I went to a non-alcohol club called Mollies & Daisy Patch for underage gay teens in '66, '67 & '68 where I met my mentor whose name at the time was Sam Viso. He was a Sicilian queen who let me sleep in his parent's basement and he would feed me every night from their left over dinner. Now his name is Samantha and his e-mail name on line is ginasrusso@aol.com. He knows all about me during the early years in Chicago. He did my make-up and hair at the time and made all my clothes, then took me to a club called The Blue Dahlia which was owned by the mob at the time in 1970. They fired me when I was working part-time at another club called The Night Life. When they found out they said they would have broken my arms and legs if it wasn't for me being 19. So I took what I could and rode the bus home that night.
David: Did you have any particular female lady Stars or famous impersonators of the time that you idolized (or that you were a great fan of) when you started your career?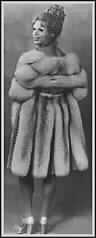 Carmen: As far as the ladies that I used to copy, the first was Juliette Prowse because I went to a dance academy called Mayfair Academy of Fine Arts in 1962 for 4 years then to Arthur Murray's in 1969.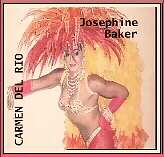 David: Who makes your fabulous wardrobe, especially the fantastic outfits you wear as the legendary Josephine Baker?
Carmen: A lot of my old costumes through the years were made by some of the top people that did a lot of the strippers and show outfits in Las Vegas such as; John Neil of Chicago, Tony Midnite of Chicago who is now in Las Vegas, and Hedy Jo Star who was really the first sex change in the US but Christine Jorgenson made the news, (go figure). Another designer out of Las Vegas that did some of the ice shows was David Savisco who also does things for the Cruise Lines, Peggy Fleming and La Cage. The red and yellow Josephine costume was made by Ram Design out of Las Vegas. My first outfit was made by my drag mother Samantha of Chicago over 30 years ago.
David: Through the years you have performed in so many areas of the USA and also have travelled abroad. Do you recall any incidents that happened to you (good or bad) while on or off stage?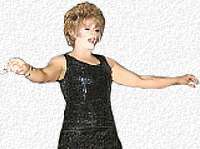 Carmen: I would have to say as far as bad things; In the late '70's I cut my foot open at a club called Le Cafe on a stainless steel dance floor. In 1976 I was in a show in Las Vegas at the Aladdin when it opened the second time.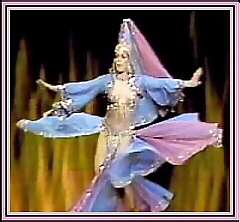 I was in the main show as one of the stars tap dancing to Ruby Keeler's 42nd Street, but the backers were fighting and the show closed. Bummer! In 1988 in Charleston, West Virginia at the Crystal Palace they didn't pay me after the show, so we threatened to take the register, (me and Marilyn St. James of Roanoke, Virginia).

David: Talking about travelling abroad, if you had to choose a place other than the USA to spend the rest of your life, that you have visited and really loved, where would that be?

Carmen: As far as another country abroad, I wish I had been hired at Madame Jo Jo's in London, England when I guest starred there in 1994. I would love to go back and live in Paris, and I would be very happy there, but for now in the States I would have to say Las Vegas.

David: Carmen, what do you feel is the best part of working in drag that is most fun for you, and what is the worst part?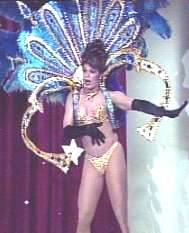 Carmen: As far as the best part of doing drag would be having the chance to do all my different looks on stage because I am from a mixed heritage and I feel every part of my ancestors when I am on stage, from my Irish, Cherokee, Choktaw, Black, and Latin background, and when I am on stage I can feel each look of the person I do. The worst I would say is not getting respect some times when you do not have a new title like Miss USA or Miss America. It sometimes will bump you from a booking no matter how good you are.
David: Other than performing do you have another trade you could fall back on to make a living in case someday you decided you had enough of Showbiz's hardships?
Carmen: If I can't work [on stage] any more I would love to own my own show club and I can bartend too or work with helping making costumes, or manage a club.
David: Do you feel alone at times in your life, or do you have family members or very good friends that are so hard to find in the world of Showbiz, that give you the moral support you need when the blues set in?
Carmen: Sometimes I do feel alone but that is part of being a gypsy and I do have friends for support.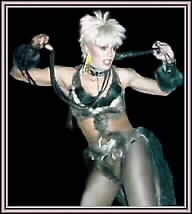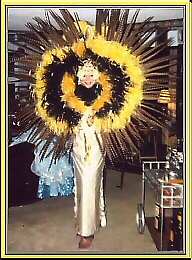 David: As the years come and go people's taste in music changes radically. Do you find you have to keep changing your routines to keep up with the times, or do you have a following in the clubs where you perform that still enjoy the classic ladies of yesteryear?
Carmen: As far as new music, I always look for new ideas for my show but I keep the trademark numbers that made me today.
David: Is there anything you would like to accomplish in the future that so far is just a dream?
Carmen: The things I would like to accomplish are to either be in a very high profile Vegas type show, or to go back to dance school and sing live again and have my own large show place called Carmen's Vegas Oasis Club with a mix of 'live' and pantomime acts.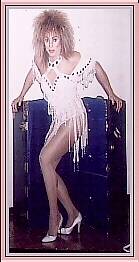 David: Do you have any hobbies or special interests that occupy your time when you are not on stage?
Carmen: My hobbies would be working with horses, skating, and putting together Vegas style outfits.
David: Is there anything that you care to reveal that is "so very you" that not even someone close to you could ever imagine?
Carmen: The closest thing that some of my friends do not know is that I love to be online meeting very straight acting BI males for dates and have them submissive to me and spoil me.
David: What are you doing now, and do you have any new projects in the works?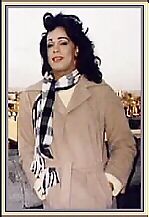 Carmen: Right now I am working in a very exclusive club called The Empire where I bartend on Friday & Saturday nights, but in 2 months they are building inside a very large Vegas type show bar and I hope I will part of the show. My other bosses at the club called Lil' Orphan Andy's where I bartend during the day are opening one of the largest gay resorts here in Central Florida which I will be working with too.
David: If you could close your eyes and ask Santa Claus this December for a wish to come true for you, what would that be?
Carmen: If I could close my eyes and make a wish for Christmas I would love to have $15,000 to pay off all my debts and help my mother and father and to be here next year to see it.



David, Thank you so much. Carmen

Visit Carmen's Web Site at http://members.aol.com/CarmDelRio/

Update: I conducted my interview on Carmen on 10/31/2000 and kept in touch with him from time to time after that. Carmen became gravely ill early in 2003 and passed away on 3/10/2003 at the early age of 52. May he rest in peace. His sweet and generous personality will be missed by all that knew him.
---
* Cuban/American entertainer David de Alba (also known as "Heri, Hairstylist of the Stars") is known for his live singing impressions as a concert artist since 1965. He has worked at the world famous Finocchio Club of San Francisco (USA) for many years. Visit the award winning Web Site "David de Alba's Theatrical Arts & Tributes" at

http://david-de-alba.com and you can e-mail him c/o paulryner@cox.net