De Alba on Ebsen

By Entertainer David de Alba

*
---
Born Christian Ebsen, Jr. in 1908, in Belleville, Illinois, Buddy Ebsen began his career in the late 20ís on the Broadway stage, and is a luminary figure of the Golden Age of Hollywood. He is an MGM and Disney Star that survived the "studio contract" years and made the transition to the small screen in his very successful TV series "The Beverly Hillbillies" and "Barnaby Jones", among many other professional credits. It is indeed an honor for me to present to you out there in Cyberspace, a true Living Legend, Mr. Buddy Ebsen!
David: Dear Buddy, when you started in show business as a dancer, did you have an ambition to become an actor? Also did you have a "stage mother" who supported and encouraged you?
Buddy: I certainly did when I saw actors didn't sweat as much as dancers. My mother was helpful. She told me to write a book. I wrote three.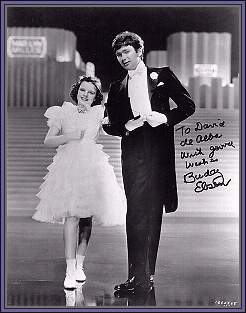 David: You worked in films with the great Judy Garland when she was just a teenager. Do you have memories of her then?
Buddy: I admired Judy as a professional. She did her job without making your job tougher.
David: Were you disappointed when you were unable to play the part of the Tin Man in the movie "Wizard of Oz, and did you have any idea at the time that it would become a cinema classic?
Buddy: Of course I was disappointed. The picture became a classic. I am proud to be an original cast member.
David: Speaking of "The Wizard of OZ", is it true that your voice can still be heard in the song "Off to See the Wizard"?
Buddy: Yes.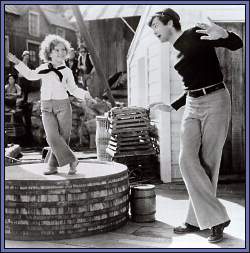 David: Another cute child Star you worked with was Shirley Temple. Any recollections on her you may like to share with us?
Buddy: Shirley was at heart a standup comedienne. She used to tell jokes like "Did you hear the one about the three holes in the ground? Well, Well, Well.
David: Is there a particular movie or television role that that was your favorite, and why?
Buddy: Yes. "Breakfast at Tiffany's" because Audrey Hepburn was a delight to work with.
David: Most think of you as a happy-go-lucky hoofer and a comedy actor. You played a straight dramatic part in the long running TV series "Barnaby Jones". Was this role a "stretch" for you at first, or was this an easy transition for you?
Buddy: It was easy because I did not have to act. Just say the lines with sincerity - at the right times.
David: In the successful run of your TV series "The Beverly Hillbillies" are there any particular episodes that you are most fond of? I know that the appearance of the Legendary Gloria Swanson was one of my favorites.
Buddy: I enjoyed that episode with Gloria Swanson. I played a lover trapped in the clutches of a femme fatal. It was fun.
David: Other TV series that people associate with you is "Barnaby Jones." and "Davy Crockett." Between Jed Clampett, Barnaby Jones, and George Russel, which has the most essence of the real Buddy?
Buddy: Barnaby was the easiest to play because it was a real me.
David: In your experience working in movies, the Broadway stage, and television, which you do you prefer, and why?
Buddy: I like the Broadway stage because the audience is the director and every performance is a lesson. Film also teaches but not until performance before an audience.
David: In addition to acting, dancing, and painting, you are also an accomplished author. Between your autobiography: "The Other Side of OZ" and "Polynesian Concept", which was the hardest to write and which do you feel was your best work?
Buddy: My first book "Polynesian Concept" was the hardest to write. My best book is my third one, "Kelly's Quest".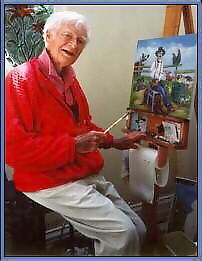 David: Many accomplished entertainers such as Tony Curtis and Tony Bennett also paint as an artistic outlet. Do you do it primarily for the fun of it or also for its commercial value?
Buddy: The commercial value comes second. To create something without collaboration that sells itself to a beholden public is thrilling to a creative person, and that is what I am.
David: After working most of your life in such a stressful industry as Show Business, what is your secret for outliving most of your contemporaries and remaining so agile and quick witted?
Buddy: "Use it or lose it".
David: As long as film and the printed page last, the legend that is a Star is eternal. Besides those images on film and paper, how would you like future generations to remember you?
Buddy: As a writer. Watch for my first novel "Kelly's Quest". Mostly as a creator in the field of art. This means a writer, painter and performer.
David, I enjoyed your interview very much. The questions were very carefully thought out.
(From Buddy Ebsen)
Visit Buddy's Official Web Site, created by John Anthony Miller http://www.buddyebsen.com
Update: I was honored on 8/2/2000 to conduct the only Internet interview that Buddy ever granted. Buddy died at 9AM on 7/6/2003 from complications of pneumonia at the age of 95. May he rest in peace and his legacy live on. He was a great man and humanitarian.
---
* Cuban/American entertainer David de Alba (also known as "Heri, Hairstylist of the Stars") is known for his live singing impressions as a concert artist since 1965. He has worked at the world famous Finocchio Club of San Francisco (USA) for many years. Visit the award winning Web Site "David de Albaís Theatrical Arts" at

http://david-de-alba.com and you can e-mail him c/o paulryner@cox.net