De Alba on Goulet

By Entertainer David de Alba

*
---
Robert Gerard Goulet was born in Lawrence, Massachusetts, of French Canadian parents. At thirteen, after his father's death, he moved with his mother and sister to Edmonton, Alberta, Canada. Music styles have changed dramatically since the 60's and 70's. Melodious tunes with poignant lyrics, done by great singers like Robert Goulet, Judy Garland, Ella Fitzgerald, and Frank Sinatra are now found in music shops in the "Easy Listening" section. Thanks to radio stations who play "the oldies" as they call them, classic pop music thrives.

Mr. Robert Goulet has had many triumphs in his career and is truly a survivor. After winning a personal battle with prostate cancer, like Sir Lancelot, he has dedicated himself to winning the battle for all men by speaking candidly to the media about such an emotional subject.
I had the pleasure of meeting Mr. Goulet many moons ago backstage at the Orpheum Theatre in San Francisco and found him to be just as charming in person as I remembered from his television appearances. Now in September 2000 we meet via the Internet to conduct this interview. Ladies and gentlemen of Cyberspace I present to you with great admiration; the voice, the man, the living legend, Robert Goulet!
David: Dear Mr. Goulet, let me start in the 60's when I first saw you on the Jack Paar Show. You were promoting the movie Gay Purr-ee where you and the great Judy Garland did voice-overs for the cat characters Jaune-Tom and Mewsette. How do you compare the experience to making a movie where you appear in person, and does it require different acting skills?
Robert: If I read your question correctly, you're asking me, "What is the difference with being 'me,' in concert and playing a character in a film?" Film work is scripted and you must bow (unless you're Brando or DeNiro) to the demands of your director. In concert, I talk to my audience as if we were in my living room.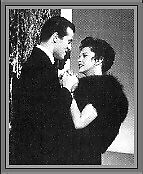 David: Speaking of Judy, you appeared on her CBS TV Special, "Judy & Her Guests" in 1963. Do you have any memories of working with her that you could share with us Garland fans?
Robert: I'm just putting the finishing touches on a book in which I speak of Judy's tardiness when our other co-star and I were waiting for her to show up for rehearsals. On the second day, when she joined us (after a three-hour wait), Phil Silvers (the other co-star) castigated her for her behavior. She said, "Oh, Phil, be quiet." She then went through all the music, including the harmony parts, looked at both of us, said, "See you on the set, boys!" and walked off.
David: You have worked in movies, television, and the Broadway stage. Which of those mediums is your favourite, and why?
Robert: Whichever one I [was] working in! Though live audiences I do adore.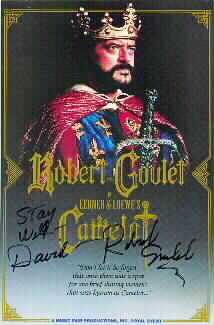 David: For years you played Sir Lancelot, knight and rival to King Arthur of Camelot. Do you feel this experience in any way enhances your ability to now portray the King himself?
Robert: I have played the King in three different productions. He, of course, has more substance to his character and garners more laughs. But - I shan't play him again.
David: Of all the songs you have performed and recorded, is there one or two that are your favourites? Everyone identifies you with "If Ever I Would Leave You". Is there any other that might also be consided a signature song?
Robert: I have no idea! Because I don't play myself at home, I can only, on rare occasions, hear a rendering now and then on the radio. Some songs I hear for the first time since I recorded them. Some are not bad - some are!
David: Many Showbiz or lecture opportunities take you far from home. Life on the road can be exciting, but also tiresome and lonely. Do you enjoy traveling once in a while, or do you try to stick close to home?
Robert: I love the road! I love the discipline! One meal a day between noon and 1:00 p.m. - back to the suite, read a bit then nap. Head to the theatre at least an hour before curtain time, have some coffee, apply the make-up, think of the role, and get OUT there!
David: If you could choose any place in the world to live other than Las Vegas where you now reside, where would that Shangri-la be?
Robert: Somewhere high on a cliff, overlooking a constantly changing sea, where the wind would blow and the waves would go crashing into the jagged rocks below! "HEATHCLIFF . . . ."
David: As I reflect on your career, I see a long series of successes and high points. Have there been any failures or low points that are not too painful to share?
Robert: Oh sure! Read my book when it comes out!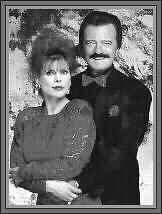 David: I understand that with help and encouragement from your lovely wife Vera, you are finally putting together the scrapbook of your life into an autobiography. Have you selected a title yet, and when do you think it will be published?
Robert: Hey - I didn't know this was the next question. My tentative title is Smiles.
David: Is there any career achievement that you have yet to conquer?
Robert: I've garnered a Grammy, a Tony and an Emmy! I'd love to get that other one - but that would only be possible if some producer would give me the part of a defrocked priest who's a pedophile and an alcoholic. The Academy, seeing me up there (at age 79 or in that vicinity) would feel sorry for me and say - "Let's make him feel good, before he goes!"
David: In your spare time do you have any hobbies or interests that occupy your time?
Robert: I read two to three newspapers a day. I have tons of magazines that keep me abreast of what is happening in the world. I watch news, sports, and two or three of my favorite TV shows.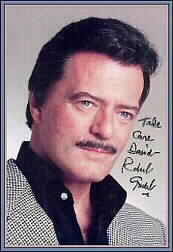 David: Is there anything about Robert Goulet that is "very you" and that those of us that only know you from what we see in film and on the stage, would be surprised to know?
Robert: You wouldn't believe it, but I'm a bit of a loner and a shade shy. When someone asked me in an interview, "What are you most vain about?" I answered in a millisecond, "My humility!"
David: If a genie popped out of a bottle and offered to grant you one wish, what would you ask for?
Robert: Health, happiness and a pleasant last portion of my life to be spent with my wife and my loved ones and my friends. On that cliff, by the sea!
Take care David, Robert Goulet

This interview was graciously granted by Mr. & Mrs. Goulet, and is solely for use on Mr. De Alba's Web Site, and is not to be reproduced in any form in any other publication.

Editor's note: Robert Goulet, a resident of Las Vegas, NV, died of a rare lung infection on 30 October, 2007 in Los Angeles, CA. His wife Vera was at his bedside. May my dear friend rest in peace.

ROBERT GOULET's Web Site
---
* Cuban/American entertainer David de Alba (also known as "Heri, Hairstylist of the Stars") is known for his live singing impressions as a concert artist since 1965. He has worked at the world famous Finocchio Club of San Francisco (USA) for many years. Visit the award winning Web Site "David de Alba's Theatrical Arts & Tributes" at

http://david-de-alba.com and you can e-mail him c/o paulryner@cox.net