De Alba on Knight

By Entertainer David de Alba

*
---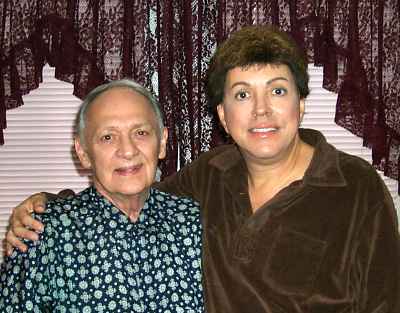 Laurie Knight was a Star for many years in the Drag Showbiz World. He played such famous venues as Finocchio's and The Beige Room in San Francisco and also the grand "Jewel Box Revue". Also Laurie Knight had at one time an excellent dancing partner, Harold Weber, and they worked in FI/dancer/choreographer Chunga Ochoa's Revue in many well-known venues around The United States. Laurie Knight, as cleverly stated by FI Robin Price, was a combination of the voices of Kay Starr, Teresa Brewer and Johnnie Ray, all blended into one tremendous voice, but also I understand from Laurie himself, with an operatic touch. He was also one of the USA's leading costume designers and a very good ice skating artist and musician, but singing was really his fortè.
On July 14, 2004 I got to hear for the first time in my life, the voice of 'The One and Only Laurie Knight'. He told me some special anecdotes about his working experiences at Finocchio's and The Beige Room in San Francisco, and also about the famous Jewel Box Revue. He even sang two lovely songs and told me a funny joke at the end of his long distance phone call. At that point I knew I had to include Laurie in my Interviews Series, so ladies and gentlemen of Cyberspace, may I bring to the stage once again, the one and only, Laurie Knight Or as Frank Fung who wrote for the "Ivan Paul Column" branded him forever . . . The Golden Throated Laurie Knight!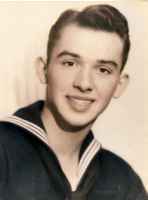 David: Laurie dear, where were you born and raised . . . and is Laurie Knight a stage name?
Laurie: I was born in Westport, Washington, December 13, 1926. I was raised in logging camps in Oregon and Washington, and was a high climber at age 15. Yes, Laurie Knight is a stage name. On my first night at the Flamingo, Beverly Shaw, the MC asked me what my name was. "Laurie Day" was my reply and up jumped Bunny Day with a "There is only one Day in the business and that's Bunny Day". I looked up and said "Day or Night, I don't care" oo-la-la, Laurie Knight was born.
David: How did you get your start in the 'live' drag Showbiz world?
Laurie: Went to The Flamingo Club for a Halloween show where I won second prize. A week later I got a call to go to work at Tess & Sylvia's Club in Hollywood; only at that time the club was owned by Bugsy Siegel. My God, I was working at a payoff club! Bugsy took me out in drag to different clubs to sing. He was going to make a recording singer out of me . . . but then the syndicate killed him. That ended that! Then I got a call from San Francisco. Mickey Cohen sent me there where I feel as though my career started.
I worked for a while at the Colony Club in Kansas City (it was the only gay bar I ever worked at.) I used to go out the back door in between shows and sneak half a block up to The Jewel Box Club (no connection to the Jewel Box Revue). Rosalie Bell ran it then, and I loved her piano player - I mean his playing. I would sing a couple songs and then run back to my club. Well, one night I was there in the middle of a song, and some guy in the audience shouted out: "THAT'S GREAT! NOW GO BACK TO MY CLUB AND GO TO WORK. BY THE WAY, YOU LIKE THIS CLUB? WELL, I JUST BOUGHT IT FOR YOU, BABY. YOU CAN SING HERE ALL YOU WANT!" Later I found out it was John Tucillio who owned the club with Joe Lombardo.

David: Did you have a Drag Mother or a mentor who helped you get started in The Biz, or were you pretty much on your own in those days?
Laurie: I did not have a Drag Mother. I was the mother for all those kids. I fed them and helped them. I was a loner, and worked very hard all the time.

David: Did you have any female Stars of the time that you wanted to emulate, or that influenced your act in any way?
Laurie: I went to every musical movie I could. I used all the things I saw that I thought would work. After all, those stars had the best teachers, which I couldn't afford, so movies were my school of learning. Susan Hayward was my favorite actress. I loved her hairstyles, and she was a redhead. [Actress Susan Hayward picture on right.] I started out with red hair, and I ended with red hair.
David: Can you please tell my readers about the stage act you did, especially about your live singing, and also about the number and type of instruments played by the musicians backing up your performances?
Laurie: When I started, I just sang. God gave me this beautiful voice, and I was careful with it. He also gave me a love of people. I was just a bard, a troubadour of music and words, singing for my supper. I've sung with a piano, then drums; then as time went on, anywhere from 3 to 15 members in an orchestra. My favorite instrument is the tenor sax.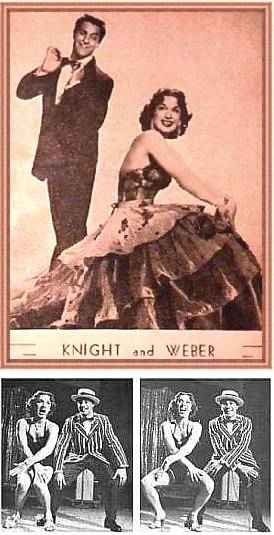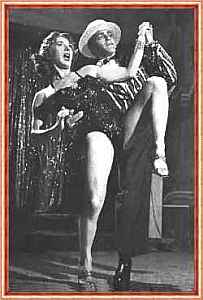 My favorite orchestra was in Lompoc, California. They had a galvanized tub turned upside-down with rope that the man strummed, and the piano player was a mechanic, and he played like one too. The trumpet player couldn't play all the notes so he faked some with his own voice. I had more fun at this club!
David: By the way, how did you meet Harold (Harry) Weber and what inspired you to incorporate him into your dancing act as your male partner?
Laurie: In 1954 I advertised for a singing partner. A former piano player of mine found Harry and I wound up with not only a singing partner, but a dancer as well. We got along very well, and the show went on. Harry was good on stage . . . people liked him. I wanted to create a stage act to last about an hour. I patterned the act after seeing Jon and Sandra Steel at The Biltmore Hotel in Los Angeles.
David: I understand you knew my dear friend, the late Carroll Wallace. Would you share a precious memory or two with me and my readers?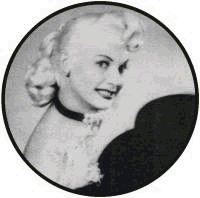 Laurie: I first saw Carroll at The Flamingo Club in Los Angeles, California. And this is the truth; I never, ever thought I was beautiful . . . pretty, yes . . . but after seeing Carroll . . . he was breathtaking! [Carroll Wallace picture on right.] By the way, do you know how he got his name? The world famous Earl Carroll and Beryl Wallace gave him their names.
David: How did you get your start at the world famous Finocchio Club in San Francisco?
Laurie: Lestra LaMont wanted me to work at Finocchio's. I was over at The Beige Room and the Madame said: "Boy, we don't hire performers from other clubs in town." (We were all called 'boy' - "Boy, do this!" "Boy, do that".) So I booked myself in Sacramento, called the Madame, and told her I was working in Sacramento. She told me to come to Finocchio's. I did ... and went to work.
Before working at Finocchio's we had a 2-day rehearsal. On the first day I was the last to rehearse. My piano player, Sandy, was there. He had written the music. He handed the music to the musicians. We rehearsed one song when suddenly the violin player stood up and tore my music apart, screamed, and walked out. Sandy said "Wow, you didn't blow up!" I said "We're going home and rewrite the violin part." The next day at rehearsal my time came and we handed the music out. Suddenly the violin player said "I don't have any music." I said "Oh yes you do." Then he said "But it's all rest." I said "That's right." By God, the first night he 'rested' as written, but the second night he was screaming at the Madame, found a butcher knife, and chased her down the stairs . . . and they were long. Well, goodbye violin player! But we went on with his son, who also played violin, and he played well with no problems. By the way, I played violin for a few years. My step-mother (I loved her) was an ex-concert violinist. Evelyn of the Magic Violin played with the Phil Spitanily Orchestra 100 Violins. Well, at one time I studied under her mother, a very strict German lady. When she found out who my step-mother was, she would listen to me, and then send me home.
I left Finocchio's because of the orchestra. I had to sing way too hard to work with them. My voice was getting bad. My rule is 'nobody messes with the voice!' So, good-bye Finocchio's!

David: Only a precious few entertainers alive today remember working for the first Mrs. Finocchio, Madame Marge, (who was known for wearing huge hats at her club). Can you tell us a little about her and any interesting personal experiences you may have had with her.
Laurie: I truthfully admired her. It took a strong woman to run that club. She had thinning hair on the top of her head. She always wore a hat, and on the top of the hat she would have a hairpiece of curls. On my opening night, after the first show, I went out to talk to some of the people (I never sat at any of the tables), just a quick 'hello, and thank you for coming'. But the Madame saw me ("Boy, we don't mix at the tables!") I told her that I was booked for only two shows a night, and what I did in between shows was my own business . . . and that was that. I never heard another word from her, but I didn't go out to the audience many times anyway. I always felt we should remain mysterious.

David: For me and all the faithful Garland fans, please tell us about the day the great Miss Judy Garland and her dancing boys came to see you perform at The Beige Room in San Francisco.
Laurie: Judy Garland came to San Francisco. Of course we all knew it because of the advertising. We couldn't wait to see her. We were dark on Wednesdays, so the first Wednesday off, I went to see her. Wow! Judy and those four boys did a tremendous show. I didn't go backstage. Thursday night, Judy and the boys came to see our show. Judy was only there for the show and left right afterwards. I think she was married to Sid Luft at the time. The boys stayed and we met them. They came back the next day during our rehearsal. They taught us a song and dance routine to "Forget Your Troubles Come On Get Happy" - very Broadway Show Biz. All of us loved the number . . . it was very professional, with lots of dancing, and went over great.
David: Were there any other celebrities that came to see you perform at The Beige Room in San Francisco, or any other venues for that matter, that stand out in your memory for any particular reason or because of an encounter you had with them after your show?

Laurie: Yes, Lily Pons. I knew the night before that she had made a reservation for the next night. Quick like I hit the sewing machine and made a costume. The next night when she arrived, I sang Habanera from Carmen made famous by Rise Stevens at the Met. After the song, Lily stood up and shouted: "I AM SO HAPPY! I CAN'T WAIT TO TELL RISE SHE IS REALLY FAMOUS NOW - SHE IS BEING IMITATED ON STAGE!" [Opera Singer Rise Stevens as Carmen picture on right.] They were very good friends, and by the way, at that time I had a hair style like Rise.

Martha Raye came to see the show and wanted to be in it. (But the Union (AGVA) wouldn't let her.) After the show, we all went to Walter Hart's place for a party. Somehow Martha and I crawled under a big round glass coffee table with a bottle of booze. Well, yak, yak, yak! We were some drunks! We did the whole drunk scene - laughing, and then crying. She was a ball! I told Martha I had to get out of this business and into something more lucrative. Martha told me that I had to stay as an FI, that I belonged in the business, and to stick to it and sing. [Entertainer Martha Raye picture on right.] Well, I did stick to my art - 35 years, and then some.
Johnny Mathis was appearing then at Ann's 440 Club. I saw his show and several times he saw our last show each night.
While in Rochester, New York, the My Fair Lady cast came to see the show. Well, I knew they were coming so back to the sewing machine. I sang "All I Want Is a Room Somewhere" with an British accent. It brought the house down!
David: The Beige Room was gone by the time I moved to San Francisco in 1970. Can you tell us a little more about the club and your experiences working there?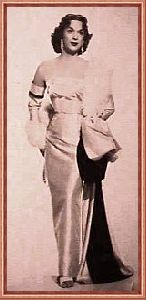 Laurie: Lynne Carter directed a production number at The Beige Room - a take-off of The Greatest Show on Earth. Well, we rehearsed for a week. One day we went in and the owners, Chinky Naditz and Al Burgess, had installed five trapezes which were hanging from the ceiling. Four days before the show was to open, we were still at a loss for an act so the four of us sat on the swings and went back and forth and sideways. Lynne Carter was in the center, standing on his swing, going sideways up to the ceiling. "Well", I said to Yves Rousseau, "My God, we can't do this. We have a mink and diamond crowd coming to see the show. We have to do something else". Well, they were through rehearsing and just sitting around, but I stayed on my swing . . . back and forth . . . back and forth . . . I finally got up the nerve to do something! On swinging forward, I let go of the chains, went over backwards, and grabbed the chains with my legs. It worked perfectly. I finally talked Yves into doing it. He learned it well, and it went over great. We were into that for a few nights, and I realized that while swinging forward over the audience, I could grab a drink from a table, and put it back swinging down. That was fun!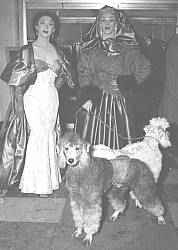 Sometimes I'd take a drink from the glass. Then a few nights later I realized that when I reached the height of the swing over the audience, I could snap the chains, so I got Yves to do it too. We would scare the hell out of the audience, and also, unbeknown to me, scared the hell out of our boss Chinky. We were only into the show four weeks, and he pulled the trapezes down . . . so ended my aerial career. Oh yes, when the show opened, I had poison oak - a real bad case. I forgot to tie my wig down, and it went flying out into the audience. But at the end of the show, it came sailing back in the air - and I caught it! What a finale!
My dressing room nickname was LaLa Paloop. Chunga Ochoa gave me the name. Her dressing table was to the right of mine. I kept red, heart-shaped suckers on my table. I would suck one to make my tongue pink (nothing worse than a white tongue on stage). Also the suckers contained glycerine, which is very good for the throat. The candy was called a Paloop . . . therefore, LaLa Paloop. Fun name! [Picture of LaLa Paloop and Chunga, NY, 1957, on right.]
You know, The Beige Room was a lot of fun, but we worked very hard. I was there five years, no vacations, one night a week off. We did three to four new shows a year; three shows a night; four shows on Saturday. The Gray Line Tour Bus arrived at 8PM on Saturdays. We would do a special show for them, and then three more shows for our regular audience. Funny thing, some people always left the Gray Line Tour and stayed for our second show.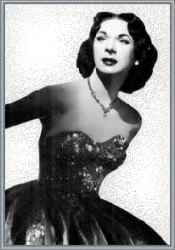 David: Is there a particular show you have done that stands out in your memory, and for whatever reason you feel was the ultimate best?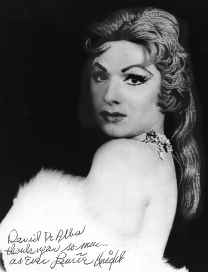 Laurie: Yes, in Tulsa, Oklahoma. The last show of the night, musicians from other clubs would come and play with our band - fabulous music! Somehow I hypnotized the audience, and some of them automatically came up on the stage and danced. The whole stage was dancing with people. I went and sat out in the audience, and one by one they came off stage. One little dude was still up there, still dancing. He slowly realized he was alone, and staggered back to his table. I don't know how I did that - it was the music I guess.
David: Is there a moment in your drag career you would just as soon forget because of something embarrassing?
Laurie: I was in The Jewel Box Revue in Montreal, Canada. We were appearing in the French section of town at the Provincial Cafe Show Room. One night I asked the owner what I could say in French to thank the people. He said: "Monsieur Laurie, yes, say "Voulez-vous coucher avec moi ce soir, des mesdames ou messieurs." I practiced it and in the next show, well, I said it and the applause quickly filtered to nothing! And I thought 'Oh my God, what did I say?' as I took my bow. I looked to the left, and behind the curtain there was my boss Danny Brown and the club owner breaking up with laughter. When the curtain closed, I stomped over to them and asked what I had said, and the owner said you have just asked the audience to go to bed with you - men or women!' Well, there was a broom standing there, and I grabbed it. I wacked Danny first, and then chased the owner through the audience wacking him with the broom. The next day was my turn to sing over the radio. The MC introduced me as follows: AND NOW mesdames et messieurs, THAT VOULEZ-VOUS BOY LAURIE KNIGHT! (NO BROOM HANDY!) But it made the show famous all over Eastern Canada. Many clubs would call us. They even painted a picture of Harry and me that was two stories tall on the outside of the building - wow! Sorry, no pictures of that.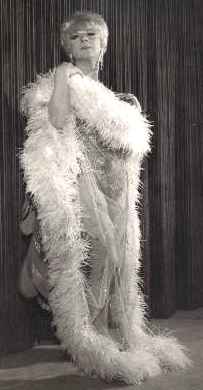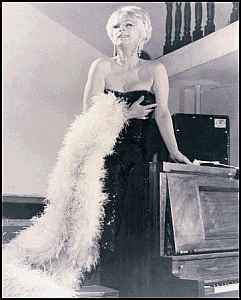 David: Is there a funny or embarrasing experience in your ice skating career you could tell us about?
Laurie: Part of my career involved ice skating at the Denver Ice Arena for a couple of years in a show directed by Margie Lee, sister of a skating Star named Carol Lynn. My part involved cartwheels and flips which were accomplished without the use of "hand-clips", and also being a snake in "A Midsummer Night's Dream" on ice, directed by another world famous skating Star named Hedy Stenoff, and once forgetting my costume which consisted of so little I was not aware I didn't have it on until the lights came up.
David: In what countries other than the USA have you performed?
Laurie: I had a few offers to go to Europe, but for some reason they only wanted me and no one else in the show, and I was not going to some foreign country alone. Besides that, I love my own country, America, and I wanted to entertain my own people.
David: When you were not performing, did you entertain yourself with any special hobbies, and because work is not always steady in Showbiz, did you have a trade or 'day job' to fall back on for income?
Laurie: I sewed for a living. I had strippers whose wardrobe I designed myself. Every year they would come back for three new gowns for the next year's tour. It was a paying hobby.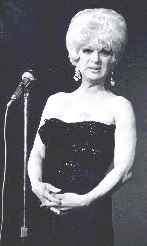 Also, I became a kitchen chef. I could always get a job, and ran many restaurants. I took them out of the red and into the black . . . very successful.
David: What are your favorite foods? Are you a good cook, or do you eat out a lot?
Laurie: I am a scratch cook, and good. I very rarely eat out. My favorite foods are anything fattening. I love chocolate, and have become a very round little man. I hate to diet, but am going to see you, so on with the diet - ugh!
David: Did you do your own wigs and make-up? Can you elaborate on this subject without giving away your own Showbiz trade secrets?
Laurie: I would take a small amount of hair from the front of the wig, cut it to 1/4 to 1/2 inches uneven, then with spirit gum - ugh - would press it into the make-up to hide it. It looked like the hair was growing from my scalp. Then I could run my hands through my hair on stage the right way to help the act. It looked real. I did this because I couldn't afford a laced wig. Grace Spedding taught me how to tie hair on a wig under water. Grace at that time was doing hair pieces for many of the Stars. That's why I went to her.
Being a female impersonator all those years working on wigs helped me a lot while in Kansas City, Kansas. My wife and I had our own beauty salon. She worked our salon, and I worked in another salon . . . wigs, wigs, wigs. Did you know that Palmolive liquid soap is the best cleaner for wigs. I made a lot of money as a beautician.
Before I went to work at The Flamingo in Hollywood, I went once to Max Factor for a full make-up ($35), and then once to the Westmores for their make-up. Included in the price was a complete case of their make-up supplies. I memorized everything they did to me, went home and practiced night after night.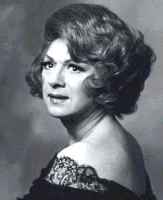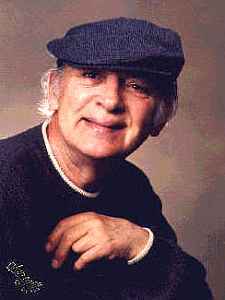 David: Why did you finally decide to put the drag back into the trunk and call it quits?
Laurie: I am a live performer. A lot of the kids couldn't sing very well, so they began to mime their favorite performers on record. The club owners got a hold of this - WOW! The kids brought their own records, played their own music. 'Let's fire the musicians', and they did. I tried pantomime a few times, but I felt as though my talent was being raped, so I quit.
David: I have had so much fun with this interview and I could go on 'ad nausium', but here comes my last question for you: If the Good Fairy were to grant you three wishes, what would you ask for?
Laurie: First wish - An everlasting night club, with a beautiful stage, fine musicians, and unlimited wardrobe.



Second wish - A school for the new FIs, where we, the seniors, could teach the new people acting, make-up, wardrobe, and the importance of their thinking and respect for our great art.

Third wish - To be in a show with you, David, and all of our wonderful serious performers. Wouldn't that be wonderful! WOW!

You know when I go away from Earth, I'm going to Heaven, and when I cross the rainbow bridge I'm going straight to the dressing room door. And there they all will be, where we can dish the dirt, and then do a show that will have the angels singing in glory.
David, you were born to do what you are doing. No matter what you do with the rest of you life, this will be your greatest achievement. Your marvelous insight, being on stage yourself, and the experiences you've had all contribute to your becoming that other person. You are a great male actress. It's my turn to say "I WISH THAT I HAD BEEN THERE!" I know I would watch with great joy. Anyway, David, with this and a lot more perhaps that I don't know, this background has made you the only one to bring history to life on the great art of female impersonation. (Heck, the Japanese had it before we did, you know. We are just Japanese imports (Made in Japan). Oh God...) What dedication, David. My God, the work involved in what you have done. This website is out of this world, and the depth you go to on each performer is very warming. Applause! Applause! I give accolade after accolade.

P.S. Future prediction: I know deep in my heart that you will be working on this website for the rest of your life. I give you my strength. By the way, my favorite male name is David. I will tell about my David when we visit.
NOTE: Many thanks to Tony Midnite, Harry Weber and Robin Price for providing some of the pictures for this interview.
If you want to send a message to Laurie please e-mail me at david-heri@cox.net and I will forward it to him.
---
* Cuban/American entertainer David de Alba (also known as "Heri, Hairstylist of the Stars") is known for his live singing impressions as a concert artist since 1965. He has worked at the world famous Finocchio Club of San Francisco (USA) for many years. Visit the award winning Web Site "David de Alba's Theatrical Arts & Tributes" at

http://david-de-alba.com and you can e-mail him c/o paulryner@cox.net