De Alba on La Rue

By Entertainer David de Alba

*
---
Danny La Rue was born Daniel Patrick Carroll in Cork, Ireland on the 26th of July, 1927 and passed away May 31, 2009. Danny La Rue was referred to by NoŽl Coward as "The most professional, the most witty...and the most utterly charming man in the Business." I myself heard wonderful things about this prolific Female Impersonator from my English friend, the late Charles Blair who was active in the British based Judy Garland Fan Club and later on when I played at Finocchio's in San Francisco from entertainer Carroll Wallace who lavished him with praise. In the Drag Showbusiness World Danny La Rue is considered a national monument, not just because of the longevity of his career, but for his excellence as a performer. I have only met Danny through the Internet and our theatrical Web Sites now share a link. He sent me a some lovely autographed photos, two of which appear in this interview. It is indeed an honour for me to present to my Cyberspace readers, Danny La Rue. Danny, the stage is yours!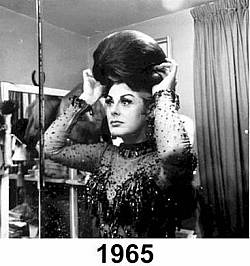 David: My dear Danny, for those of us that have not yet read your best-selling autobiography "From Drags To Riches", when you were a young child growing up in Ireland and England, did you have any bent to become a professional entertainer?
Danny: No. I was in the Navy and forced into it !
David: Did you have a "drag mother" or a mentor that helped you get started in a career of female impersonation?
Danny: Ted Gating.
David: I know you work 'live', but can you explain to our readers what type of act you do when you are not in a scripted play and are working in concert format?
Danny: I basically try and impersonate the style of the ladies not only in dress but in mannerisms. I never mime. My wardrobe is probably the most extensive in the world and I always try and create a visual spectacle.
David: You opened your own popular nightclub in Hanover Square in 1964. So many clubs come and go over the years. What is your secret of success in a business where so many fail?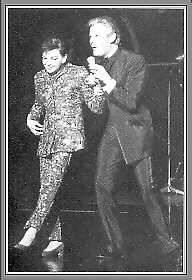 Danny: Know your audience.
David: You met the great Judy Garland . . . oh so many times, and in 1968 even appeared with her on stage at the Talk Of The Town. You are a great fan of hers and she was of you as well. For all of our Garland fans reading this, could you share a memory of her?

Danny: Carrying her off the stage when she had given her all.
Judy, bless her, sat on this piano [see photo left] and Noel Coward played for her in my home in Hampstead in London in the 60's. She sang "Mad About the Boy".
David: Who has been designing your fabulous wardrobe throughout the years? Also are all of your wigs human hair with lace hairlines or do you wear some easy to care for synthetics?
Danny: Ann Galbraith has been with me over 15 years. Before that was Mark Cantor. All my wigs are real human hair and cost about $3000, with one exception and that is the long platinum blonde wig for Diana Dors which is nylon. All my wigs are made by Wig Specialities in London.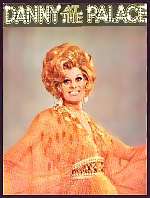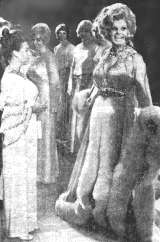 David: What in your opinion is the best and the worst part of working in drag?
Danny: I don't enjoy putting on women's clothes. It is very hot and hard work. The audience response makes it all worthwhile.
David: Do you take some key musicians with you who know your material when you go on international tours, and how do you cover for your absence from your own nightclub?
Danny: I always travel with my [Musical Director] David Carter. The club closed many years ago to be redeveloped.
David: In 1961 you appeared at the Birmingham Hippodrome for the first time in a pantomime of Cinderella, and now in Dec. 2000 you're on the bill in Woking, England. Can you tell us a little about the production and the part that you play?
Danny: I have been in Pantomimes since the 60's and have been fortunate to appear in the very best of them. They are great for young children to get their first taste of 'live' theatre. It is sad that the US only has films and Disney. Many theatres and artists rely on the tremendous business that Pantomime brings. Its good fun and very good value for all the family. My part is a new character to the story of Cinderella. I am the glamorous step mother of Cinderella and the ugly sisters (who I can't stand).
David: I understand that you do pantomine, and yet your performances are all 'live'. Can you explain what the word 'pantomime' means in Great Britain? (Here in the U.S.A. it means telling a story through only facial and body movements or in the drag scene, lip synching to a recorded background.)
Danny: Pantomime, or dumb show, was essential to commedia dell'arte, an improvised comedy that arose in 16th-century Italy and spread throughout Europe. Pantomime continued in the 17th- and 18th-century harlequinade in France and England, an offshoot of the commedia dell'arte, which depicted the adventures of Harlequin; his sweetheart, Columbine; and her father, Pantaleone. In London the harlequinade was preceded by a scene in which actors mimed and danced stories from classical mythology or fairy tales, culminating in the transformation of the leading character into Harlequin. John Rich, an 18th-century actor noted in the role of Harlequin, made this form of entertainment popular at Christmas.
Gradually the opening scene, or pantomime, became longer and more important than the harlequinade, especially as developed in the early 19th-century by the actor Joseph Grimaldi, who excelled in acrobatics, invented tricks and stage machinery, and created the foolish clown Joey. The pantomime emerged as an elaborately staged and costumed spectacle, based on fairy tales, incorporating song, dance, acrobatics, dialogue, and other elements from the English music hall. There is no mime in it!!!!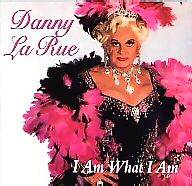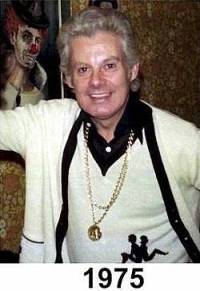 David: You have a new CD out "I Am What I Am". Can you tell us how that came about and how you selected the material on it?
Danny: I was approached and though I have made several LPs had never put anything on CD. It was done in 2 days! We ended up buying the rights to it. Nice to be able to give them to charities!!
David: You have played cabarets and the legitimate stage, been in films and on television. What is there that Danny has yet to accomplish?
Danny: Very little. I have a had a fantastic life.
David: Are there any particular foods that you enjoy? Also are you a good chef at home?
Danny: I enjoy a good traditional English roast which I love to prepare myself. I like my food piping hot and very fresh.
David: Do you have any hobbies or interests that occupy your time when you are not performing? Also what breed is your sweet dog "Jonti" and is he the only pet you have now?
Danny: I try to see other shows when I am in London. I don't have time for any hobbies. I enjoy people and love socialising, doing charities etc.. Jonti is a Chinese Crested Hairless and is my only pet.
David: If you caught a Leprechaun and he were to grant you three wishes, what would you wish for?
Danny: An end to all war, famine and disease.

Make the world a better place because you have lived in it. Best wishes, Danny.

Check out Danny's Web Site at http://www.dannylarue.com
---
* Cuban/American entertainer David de Alba (also known as "Heri, Hairstylist of the Stars") is known for his live singing impressions as a concert artist since 1965. He has worked at the world famous Finocchio Club of San Francisco (USA) for many years. Visit the award winning Web Site "David de Albaís Theatrical Arts & Tributes" at

http://david-de-alba.com and you can e-mail him c/o paulryner@cox.net