De Alba on Langdon

By Entertainer David de Alba

*
---
The Internet can be at times quite a wonderful thing. If it didn't exist, I would have never met a wonderful and talented person, Verne Langdon. Most recently he sent me an e-mail complimenting my award-winning Web Site and the loving tributes to some of my former co-workers and friends from the world famous Finocchio Club. Verne met some of them when he visited the club and remembered seeing me on stage. We struck up a theatrical friendship and e-mailed each other quite often. He even called me twice on the phone and we spoke about the good old days of showbiz. Since Verne had seen me perform at Finocchio's, I sang to him the lovely Judy Garland song "You're Nearer".
After finding out about all of his experiences and the contributions he has made in the entertainment field, I decided to come out of my 'Celebrity Interview' retirement in October of 2005 and ask Verne if he would be part of that series, and to my delight, he said yes.
He is such a multifaceted and talented guy, that it is so hard to describe him . . . He has been a singer, musician, radio announcer, clown, make-up artist, respected musical composer and lyricist, creator and purveyor of theatrical horror masks and appliances, (see WEB links below) and a writer, to mention a few of his multiple accomplishments. So let me just introduce him to you, ladies and gentlemen of the Internet, as the Man of Many Faces, the one and only Verne Langdon!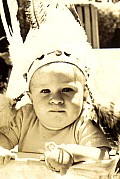 David: Verne, where were you born and raised, and was your family into music or showbiz?
Verne: David, I was born in Oakland, California, near Lake Merritt, and raised in the San Francisco Bay Area. My Father put himself through dental college playing violin in dance bands and working as a conductor on the Red Train Line, and my Mother played in vaudeville show pit orchestras, hotel dining rooms, and was first-chair cellist in the NBC Radio Network and San Francisco Symphony Orchestras.
My Mother's Brother was the Dixieland Jazz Bandleader Red Nichols, [Picture on right] who with his band The Five Pennies, was a very well-known jazz artist of the day. He was also the very best Uncle in the whole wide world! I was born into a Family of love and music, in that order.
David: Did you have a mentor that helped you get into showbiz or perhaps an idol that influenced you?
Verne: My Uncle Red was easily the strongest influence in my life; I worshipped him, emulated him, and loved the music he made. He understood me, and encouraged me at every turn, as did my wonderful Parents. I was gifted with an "ear for music", and could pick out melodies at the age of two. I'd crawl up on the piano bench, and duplicate anything I'd hear, or sometimes just improvise melodies. Thomas Ryan, a brilliant classical pianist and head of the Music Department at San Jose State, took me on as a student when I was twelve, and later the exotic pianist/organist of Television fame, known today as "The Godfather of Exotica," Korla Pandit, [Picture on right] schooled me in technique and theory. All of them helped to shape my musical gift.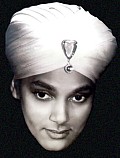 Later on, after I came to Hollywood, my Friend Milt Larsen, who created Hollywood's wonderous Magic Castle, was most instrumental in encouraging me to record.
David: Do you remember your first professional gig?
Verne: As far as a paid performance, aside from my discouraging early business enterprises (a lemonade stand and weather balloon kiosk, both which failed miserably, and to a five-year-old, that was pretty disconcerting!), I earned money doing magic shows on the school circuit, was hawking used cars by the time I was fifteen, playing piano and organ concerts on the fair circuit (usually right next door to the intriguing carnival midways,) and - at the tender age of seventeen - I was playing piano in a whorehouse. I made damn good money doing it too, because the Ladies were very generous and always tipped the piano player.
David: How did you become involved in the radio media while living in Northern California, and what did you do in that field?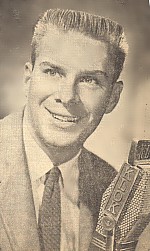 Verne: I got into radio through the back door! I was demonstrating organs and pianos at Sherman Clay & Company, a big music house in San Jose, California, where I grew up. I was seventeen, and the lady who ran the record department, Mary Stewart, had a friend who was a DJ on KLOK, a fifty thousand watt San Francisco Bay Area station. Mary thought I should do an organ show for the station, but when her friend Bob Custer met me and heard my voice, he thought I should be a disc jockey. I had a meeting with Ruth Fish, the program director, and she hired me on the spot. I wound up doing a music show and a DJ show for KLOK!
Later Bob Custer and I were the "twin DJs" for a prototype of the Coca Cola Hi-Fi Club, which we did every Saturday night in the first hour of my four-hour Saturday night show. The Coca Cola Hi-Fi Club soon became nationally syndicated, remaining very popular for many years. I started out at KLOK doing only a one hour show every Sunday night, and by the time I left four years later, I was on four hours every morning and four hours every night, seven days a week.
David: Can you share your experiences of when you visited the show at the Finocchio Club in San Francisco?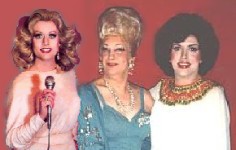 Verne: The first time I visited Finocchio's was in 1962. Some friends I worked with at the radio station had planned to visit Finocchio's and invited me to come along. I appreciate profesionalism, and in those days the performers at that famous showplace were just incredibly devoted Masters (Mistresses?!) of Illusion. I particularly noticed Carroll Wallace's lace front wigs. Just imagine going to all that trouble for a nightclub revue. In those days, Female Impersonators (at least the ones I saw at Finocchio's) were really performers who sang live to a live band, and were costumed exquisitely. You very rarely see that kind of dedication in the Art today. I remember on several later visits over the years how truly excellent you all were - Lucian, Lavern Cummings, Carroll, and . . . Leyenda! (David) Fantastic!!!
David: Talking about FIs, how were you introduced to the art of female impersonation and how did you become an admirer of the artists of that craft?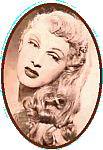 Verne: Guilda knocked my socks off! I was just a kid when my folks took me to see her in Las Vegas. Guilda was billed out front as the Star of the show, "World's Greatest Female Impersonator!" I didn't know what a "Female Impersonator" was. It sounded like some lady who came out and did impressions of Durante, Cagney, and W.C. Fields, wearing rubber noses and funny hats. When I saw Guilda I was transfixed, and didn't have a clue. I kept waiting for the lady with rubber noses and funny hats to come on. She never showed, but by then I didn't care because I found this blonde Goddess mesmerizing! Then, when the show was finished and the cast took their curtain call, Guilda came forward for the Star bow, whipped off her wig, and revealed herself to be a man. I went into shock! I certainly didn't say much for the rest of the evening, and that was pretty unusual, since normally you couldn't shut me up! With Guilda's help, my folks had finally found a way to keep me quiet.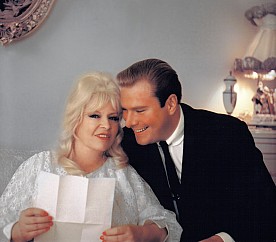 David: How did you meet Mae West, and what was the basis for your friendship?
Verne: I met Mae when I was ten. My Father was a HUGE Mae West fan (I think she reminded him of his Sister, my Aunt Dayle, a great Lady in her own right,) and he insisted I see her in "Diamond Lil" in San Francisco in April of 1951, on the very night General Douglas MacArthur was called back to the U.S. by President Truman! We could hear the sirens of MacArthur's police escort inside the theater. Mae stopped the show cold and quipped "Oh! Mac must be in town!" I hadn't a clue who Mae West was, and asked my Dad "Who is Mae West, and why are we going to see her?" He patiently explained, "She's a classic, son, and she won't be around forever." Eight years later my beloved Father was killed in a plane crash, and Mae West was around until November of 1980. I'll never forget going backstage after the show to meet her. When she looked at me and shook my hand, she said "Mmmm, what beautiful eyes!" All the years later, when we renewed our acquaintance in 1967 in Hollywood, the first words she said to me were "I'm glad to see you still got them same beautiful eyes!" I told her I was very glad I still had them too, or I wouldn't be able to see her! We hit it off from the start, and became very close friends. Mae was a true original! What you saw was just exactly what you got.
David: You produced albums with Boris Karloff and John Carradine, I believe. Did you know the horror star Vincent Price?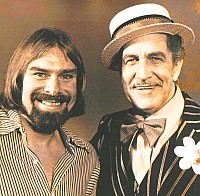 Verne: Milt Larsen and I produced "An Evening With Boris Karloff and His Friends" for Decca Records; and John Carradine, "Poe With Pipes" for Electric Lemon. I met Vincent on the set of AIP's "The Haunted Palace" in 1963. My company (Don Post Studios) made "mutation" appliances for some of the actors to wear, and I spent a couple days on the set. Vincent and Lon Chaney Jr. were both on that film, and I hung out with them.
Vincent's agent was Arthur Kennard, who handled all the horror stars at that time. I met Arthur in 1963 also, and did business with him when Milt and I signed Boris to do that album eventually picked up by Decca. Vincent introduced Arthur to me on "Palace", and after the Karloff deal we signed on April 28,1966, Arthur and I became friends. Some years later he became my agent and represented me in my creative consultant deals with Universal ("The Land of a Thousand Faces", "Castle Dracula", and other projects for their Tour.)
Vincent and I were on a number of films and TV shows, and after he heard the "Poe With Pipes" album, wanted to do Baudelaire's "Flowers of Evil" with me backing him on theater organ. Sadly, we just never got into the studio because our schedules never coincided. Vincent Price was a truly wonderful guy, and of all the actors in Hollywood, certainly the most beloved by everyone. Like Boris Karloff, a truly gentle man.
David: Over the span of your musical career you have written a great number of songs, many include lyrics as well. Which do you feel are the most popular, and are those also your favorites?
Verne: Well, my best selling albums are "Circus Clown Calliope! Vols. 1 & 2" and "The Phantom of the Organ/The Vampyre at the Harpshichord," strictly instrumental works. But I'm very fond of the things I wrote for my album "Out of Love" and the two songs of mine you'll find on "Jaye P. Morgan Lately!", namely "Be Gentle Tonight" and "Carousel Dreams." April Stevens recorded an album her brother Nino Tempo produced, and the album title is "Carousel Dreams", which is named for that song (I wrote both words and music). I'm proud of the fact "Carousel Dreams" has been recorded four times: Kay Starr, Jaye P. Morgan, April Stevens, and, most recently, by The Cuban Legend himself, David de Alba! ** My favorite songs, as far as my music and lyrics go, are "Once Upon A Very Special Time," "Carnival of Souls," "Out of Love," "Carousel Dreams," and "Forever and Forever." But I like "Couple of the Year" too - that one made the Grammy's pre-nomination list in 2004. "Black Gardenias" is also one of my faves.
David: One of your most creative, 'tongue in cheek' CDs is titled "Johann Sebastian Bork - The Marquis de Sade of Music - Get Lei'd!". Tell me about the music selections on that recording and about your character creation 'Bork'.

Verne: Bork is my alter-ego. I came up with the look, and Gary Owens and Don Sherwood named him. Bork is my excuse to be able to play honkey-tonk style piano, and we even did a nifty show for awhile (Borklesque!) which featured a fun drag number done by my friend John Pedro as "Sheena, the Queen-a The Nile", performing the song of that title written by Richard M. Sherman of "Mary Poppins" fame and my mentor Milt Larsen, [Picture on right] who created Hollywood's famous Magic Castle. I think that song is the hit of the Bork CD "FUGUE YOU!", and you can find it on iTunes or Napster or eBay, or Amazon.com (my stuff is all over the place!)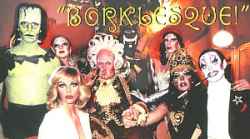 The other Bork CD - the one to which you refer - "GET LEI'D!", is a parody of the Tiki Culture, and one of my fave songs on that CD is a number I wrote "My Phantom Lover Man" which Bobbie Bresee does, and my signature "Sippin' A Navy Grog", sung by "Trader Verne" with a fun Casablanca-type set-up Bobbie did with me. "Black Gardenias" debuted on this CD, and has amazing re-incarnations on "Music For Dead Things" and "Verne Langdon - Out of Love." These are some of my personal favorite CDs.
David: You performed in the circus as a clown. How did this come about and what type of clown act did you do?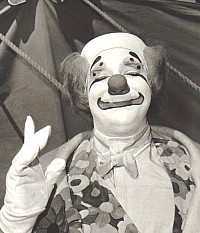 Verne: I've clowned around my whole life! That having been said, Bill Ballantine, who taught clown college for Ringling, met me. Bill had seen my clown make-ups and asked me to teach at clown college. I did, and I made several guest appearances in full clown on the Ringling show. I also was a "picture clown" for Dewayne Bros. Circus, a little Southern California-based mud show. Next to no on-the-road experience, but I grew up with a fascination for clowns, and met the top ones over the years, from Felix Adler, Emmett Kelly, and the Sherman Bros., to Harry Dann, Freddie Freeman, and Otto Griebling . . . all circus greats, all perfectionists.
David: Who designed your costumes and wigs?
Verne: I designed my own clown wig and make-up. Frank Novak, Red Skelton's costume designer, gave me my clown costume. Frank also designed the original Bork costume, and Peter Minns created the more elaborate Bork outfit.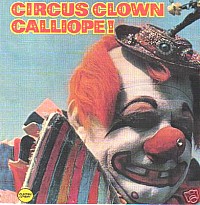 David: You produced and wrote many of the numbers for a wonderful CD for 'Electric Lemon Record Co.' of circus clown music where you play the calliope. How does that differ from playing other keyboard instruments such as the piano?
Verne: You're talking about "Circus Clown Calliope! Vols. 1&2". A calliope has about half the number of octaves, so you're REALLY limited in how far up or down the range you can run. It's a very "cramped" field of keys and requires a lot of "adjustment" as far as your arrangements are concerned. You also need a good set of earplugs, both to play the damn thing, as well as to listen to the CD! I've had a lot of people ask me why there wasn't a volume 3 and volume 4 of calliope music, to which I can only reply "How much pain can you take?!!"
David: What was your involvement and experience with The Carol Burnett Show on CBS? Any rare anecdotes you can share with us?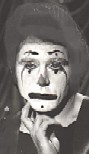 Verne: I was a staff makeup artist at CBS when they were doing Carol's show, and every minute was a "rare anecdote." Unfortunately not very many of them are repeatable! I made up Tim Conway, Harvey Corman, Lyle Waggoner, and most of the dancers every week, plus some of the guest stars, like Anthony Newley [Picture on right]. Harvey and Tim were just a barrel of monkeys. They'd get in the chair and give me goofy looks, and we'd just laugh through the whole show, which we'd do twice in one day; the afternoon run-through, which was also taped for insert shots, and the night show, which was run in front of a live audience. My experiences just on that show alone could fill two books, but they're all too long (or tasteless!) to tell here. Suffice it to say, when you work around comedians, you're in for a LOT of laughs!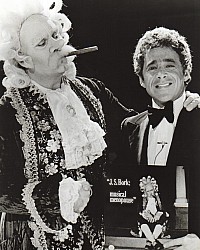 David: What was your connection to Chuck Barris' "Gong Show", a cult TV favorite in the late 1970's, featuring Jaye P. Morgan?
Verne: I was Chuck's make-up artist at NBC for the whole run of the Gong Show, and I fed him funny lines and gag ideas too. He loved Bork, and had me on the show as a "curtain closer" lots of times. Chuck is a songwriter too, and wrote Freddy Cannon's hit "Palisades Park," and a funny song Bork sings, "Old Mother Trucker!" It's on Bork's "FUGUE YOU!" CD.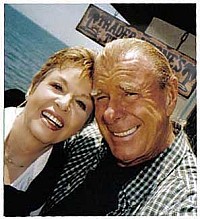 I met Jaye P. Morgan when I did Gong. We became really good friends, and I produced her album "Jaye P. Morgan Lately!" for Palace Records, which is now out as a remastered CD on the Dejavu label. Jaye P. is a sensational vocalist, and has had a number of hits over the years, including "Life Is Just A Bowl Of Cherries" and "The Longest Walk."
David: You have done so many varied things in your career, is there anything you would like to do that you haven't accomplished so far?
Verne: There are quite a few things I haven't accomplished just yet, but I'm working my way toward them. The secret to my own personal satisfaction is that I only do things I love to do. We only have so much time on earth. "Yesterday is history, tomorrow is a mystery, and today is a gift. . . That's why they call it the present !" Eleanor Roosevelt said those words, and I've always believed the present - the 'now' - is God's gift to us. What we do with it is our gift to God. I've lived my life by that, and am having a very good life, so far.
David: If your Guardian Angel were to grant you three wishes, what would you ask for?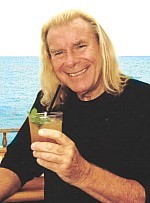 Verne: Well, I'm pretty sure I've been blessed with more than one such Angel, because so far my every wish has been fulfilled. I ask for continued good health for me and my loved ones, and I would extend that to cover you, your friend Paul Ryner, and anyone who reads my words here. I guess that's really only one BIG wish, but I'll be very grateful if it's granted.
And speaking about you in particular, David, you've done such a remarkable job with this Web Site, which is how you and I met in the first place. But your professional careers, as both an entertainer and beautician, show the kind of devotion to your work that I have always applied to everything I do. To meet one's own standards for success, one must do what he or she truly loves, and I can see that love in the things you have accomplished in your life. Because of you, the Art of Female Impersonation is not only enriched by your presence and participation, but is being preserved for Posterity in this wonderful Web Site as well, and I'm honored that you've invited me to join your company of Players.
For more about Verne Langdon see his Web Site www.vernelangdon.com,
UPDATE Verne Langdon died, at the age of 69, on January 1, 2011.
** In January of 2006 Alba/Ryner Ltd. issued David de Alba's beautiful rendition of "Carousel Dreams". This CD is available on the CDs FOR SALE page of this Web Site.
---
* Cuban/American entertainer David de Alba (also known as "Heri, Hairstylist of the Stars") is known for his live singing impressions as a concert artist since 1965. He has worked at the world famous Finocchio Club of San Francisco (USA) for many years. Visit the award winning Web Site "David de Alba's Theatrical Arts & Tributes" at

david-de-alba.com and you can e-mail him c/o paulryner@cox.net