De Alba on Mann

By Entertainer David de Alba

*
---

It is always a pleasure for me to hear of someone with outstanding theatrical talents. Here I found another artist, a considerate, loyal and generous Cyberspace friend, Anita Mann. I know there are many talented people out there performing, but I am especially impressed with the way he approaches his craft with such enthusiasm and perseverance. He sings 'live' and with a special touch of comedy, he performs his impersonations. In this interview you will learn a bit more of what makes Anita deserve the title of Diva. Take a bow . . . Anita Mann!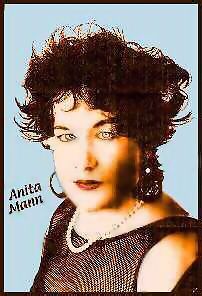 David: Anita dear, I understand that you come from a talented Showbiz family. Will you tell us about your theatrical beginnings?
Anita: My theatrical beginning was in third grade and from that moment, knew I had an addiction for the stage and continued throughout the years as I was involved in talent shows and attention getting events. My parents were involved with the big band era of Showbiz, then settled down to raise a family.
David: Does your family encourage and support you in your Showbiz endeavor? A lot of Stars try to discourage their kids from going into a Biz where they know of all the heart breaks, and that the chance to succeed is rare.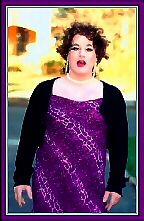 Anita: My family does support me. At first they were awakened by this thing called drag but soon cooled their jets when I was making $300.00 for ten minutes performing at catering halls. You have to take your chances with the career you choose. One day you'll shine. Andy Warhol stated "youíre famous for fifteen minutes", and thatís true.
David: Where were you born, and where did you spend your early years as a boy before Showbiz became your life's pursuit?
Anita: I was born in Auburn, New York. Spent most of my early childhood there, then moved to a town called Throop, and then moved to London, England to Bayswater Road. A traveling family . . . thatís what I have.
David: You now live in what is called "The Mecca of the Entertainment World", New York. Do you like it there or would you rather work in a town such as Las Vegas, known for its elaborate casinos' show rooms?
Anita: New York is the life . . . I love it! I prefer Pittsburgh, PA. I would love to visit Las Vegas and perform, live there and stay as a tourist attraction. I could stand outside the casino and collect dollars and quarters and show them my tits and create a scene. I would love to perform live at a major performance venue.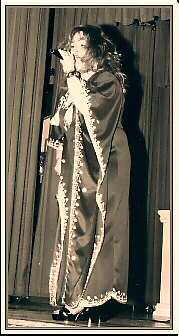 David: Please, tell us all of the lady impersonation characters you do on stage.
Anita: Patsy Cline was my favorite recording artist . . . ever. Began with her and brought an essence to the stage. Through makeup and wig changes I created Janis Joplin, Marilyn Monroe, Bette Midler, Peggy Lee, Connie Francis, and others. When I am performing I bring their essence to the stage. That is very important.
David: Of all of them, for which one do you feel the most empathy, and if you had to do a "one character show" is that the one you would choose?
Anita: "CLAMS ON THE HALF SHELL", that will be the show I perform as Bette Midler when I get to Vegas.
David: Would you enjoy performing as a soloist in concert form, or do you prefer being part of a revue, allowing you more time for your character changes?
Anita: A revue is nice for the variety. I enjoy a Ďone personí show with a guest spot.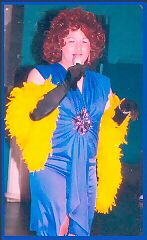 David: Do you have someone who helps you with wardrobe and your choice of hairstyles to best suit each different character impersonation?
Anita: I do most of the work of the wardrobe. I do have an assistant who guides me through the changes in costume-hair-makeup. The director and I have an overview on appearance.
David: Do you like to get involved in the "behind the scenes" activities of your performances, or do you prefer to do the performing part and leave that to others?
Anita: When I do a show I look and see if it comes together as a unit . . . thatís important, and if itís visually stunning, opulent. Here in New York City I am a set designer under the name of Thomas Lynch. For a show I work with a crew and itís teamwork that helps pull it together.
David: For our Internet readers who may not be acquainted with your work; other than the live stage, what other venues have you pursued? Do you have another career outside of Show Business?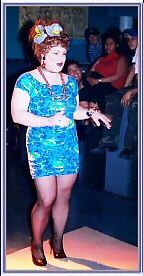 Anita: I write plays, poetry, and have published my work. I will be publishing a book in the year ahead.
David: When you are not performing on stage, do you have a favorite hobby or activity?
Anita: I love skiing and hiking.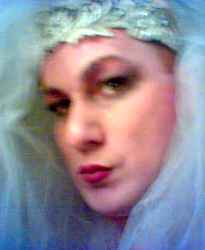 David: Is there anything that Anita Mann has not yet achieved that is a goal for your future?
Anita: I want to perform in giant football stadiums, performing 'live'.
David: If anyone of theatrical casting power were to be reading this on-line interview, without sounding like "blowing your own trumpet" is there anything you think they should know about you that isn't covered in this interview?
Anita: When I do a live show my character brings to the stage the illusion of that time and person, and the whole illusion is remarkable. I receive so much attention for the characters I create that itís heart stopping. I am loved a lot!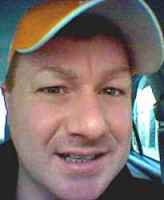 I want you to know that you are a very special person who has touched and warmed many lives including mine. . . I want you to know that I appreciate what you have done and continue to do. It has brought light to the so unusual girl performer. . . May God bless you and keep you, so that you may continue your pursuits in the world of Drag/Female Impersonating. Love Always, Anita Mann






Visit his You Tube channel for current videos.
---
* Cuban/American entertainer David de Alba (also known as "Heri, Hairstylist of the Stars") is known for his live singing impressions as a concert artist since 1965. He has worked at the world famous Finocchio Club of San Francisco (USA) for many years. Visit the award winning Web Site "David de Albaís Theatrical Arts & Tributes" at

http://david-de-alba.com and you can e-mail him c/o paulryner@cox.net