De Alba on Manuela

By Entertainer David de Alba

*
---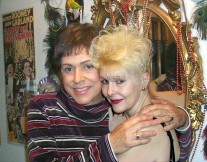 When you mention the name Manuela-Rebecca Mock in Europe you are talking about a truly cosmopolitan lady; a film actress and TV personality, model, songwriter and author. Her Betty Grable looks and subtle sexiness of Marilyn Monroe made for an easy entrèe into her modeling and Showbiz experiences. I'm sure that having brains behind the attractive façade also helped. Manuela is a living library of Showbiz history because of all the interesting and famous people she has met in her life; entertainers like Eartha Kitt and some of the best female impressionists like Craig Russell and Ricky Renèe. One thing that impressed me about her is that she is not jaded, but instead retains a warmth and charm that is rare. I am honoured that she has become my new online friend. Ladies and Gentlemen of the Cyberspace World, may I introduce to you The Toast of Germany, the one and only Manuela!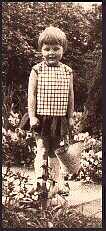 David: Manuela dear, where were you born and where did you spend most of your youth?
Manuela: I was born in Wiesbaden, Germany on July 22nd. I lived very happily in this town until my mother decided a boarding school would be best for me, and off I went with my suitcase. When I was 15 years old I came to Frankfurt. The city confused me and it was quite a shock for schnucki me, but I soon found a place to go. Instead of visiting school, I went to see the female impersonators in the local cabaret "Elch". They soon became my family and I have spend my youth under the protective wings of Marlene, Bette, Judy, and Co..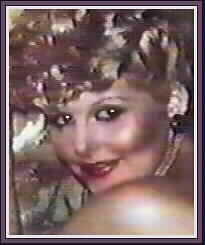 David: As a young (heterosexual) woman working in European nightclubs that featured mainly female impersonators, were you comfortable being around so many gay men in the show and audience? Did it open a new world to you?
Manuela: Oh yes!! It certainly opened ten-thousand new windows for me. The fact that almost everybody around me seemed to be gay was quite fine with me. All those beautiful men and their beautiful manners. It was like heavens portal had opened for me. But it was also hell when it came to fights among the artists. I never knew why jeoulsy in Showbiz is such an extreme factor. I learned later on from Craig Russell as he has seen more than anyone else in our dressing room. For me it was a playground and I had all the fun in the world. Ninety-nine percent of my closest friends are gay and they don't mind that I'm a heterosexual, hahaha.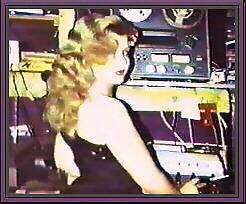 David: When you started in the entertainment field, how did you get into the technical part of the Biz like the sound system? Did you work the lights also?
Manuela: The technical part was not so difficult to do; push some buttons, announce the artists and make them sound good on stage. Of course you can spoil someone on stage by putting on bad light or sound, but I always did my very, very best. I did enjoy the show every night and I wanted the audience and the artists to enjoy it too. This was how I understood the job.
David: How did you become involved in Showbiz, and what are some of your most notable accomplishments?
Manuela: I was involved with Showbiz from the very beginning as my late father used to sing at the opera, danced and also painted some nice paintings. I was at rehearsals in the front row as far back as I can remember, when I was about four years old. I liked listening to the music and everybody around me seemed to be happy with life. When I was 15 years old I went to an acting school, but it was not very exciting and when I ran out of money I had to leave school anyway. But this was when I already had discovered the wonderful world of female impersonators.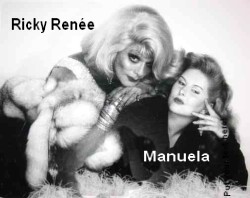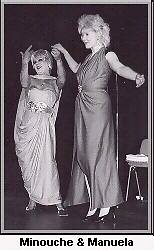 David: Other than the talented Ricky Renèe and the late Craig Russell that you admired, are there any other female impersonators from the past or present that particularly impress you?
Manuela: Oh yes. I love the burlesque shows and I met wonderful female impersonators like Les Lee from Canada, Minouche from Paris, France, and Marcel Andre from Berlin, Germany. Marcel did work at our club in Frankfurt for one month. He was a great entertainer. He used to do dresses in Berlin for the famous UFA film company. He worked for Hildegard Neff, Rosita Serrano and all the famous German Stars. He was a Star himself anyway. The one in the photo with me on the right is Minouche doing her fashion show. She picked me from the audience to be her 'model'. She wraps silk and lace around her 'victims' and turns it into a beautiful dress.
I saw Charles Pierce and I regret that I have never seen Danny La Rue live on stage, but I know that I will see him, and London is not so far away from where I live. We do have wonderful female impersonators in Germany. They may not be known in the United States but in Pulverfass Cabaret, Hambourg, Paradies, Nürnberg or Chez Nous in Berlin . . . that's where most of them are working.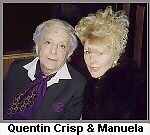 I was very impressed when I met Quentin Crisp in New York. He was a very charming man and he had the guts to live his life the way he wanted. That's what everyone wants but few of us do because we are afraid of discrimination and violence. I think everybody has the right to dress and act as they wish; men, women, cats and dogs . . . as long as nobody gets hurt.
David: In Craig Russell's second movie classic "Too Outrageous" were you considered for the part of Craig's friend "Liza" (played by Hollis McLaren in the original Outrageous)?
Manuela: Yes, Craig actually wrote a script himself with me as the part of his girlfriend, but at this time things were slipping out of our hands and Craig became a puppet on a string as he was influenced by the wrong people. But I saw "Too Outrageous" and I think the cast was put together very well. Hollis McLaren did a wonderful job; so did everyone in the movie. I was his friend in 'real life' and I remember him as one of my dearest friends and miss him an awful lot. May his soul be blessed.

David: How did you establish a long standing friendship with the fabulous International Star Eartha Kitt?
Manuela: I am me and she is she; that's all. I am her fan and I know both sides of her personality; Eartha Kitt the Star and Eartha Mae, the ugly duckling . . . as she calls herself. We enjoy nature, healthy food and a long distance phone call when she's on tour. Whenever possible I go to see her at home; in London, USA or Germany. My husband and I simply adore her for being the way she is, on or off stage.
David: Are there any other Stars or celebrities that you met and that impressed you?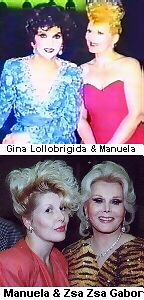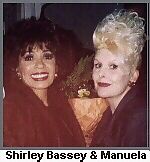 Manuela: Yes, but they are mostly known in Germany and I don't think it's so important. I do have dear friends and I don't care if they happen to be famous one way or the other. My friends are famous for being honest and warm hearted and that's that.
I was in a TV studio in Cologne doing a talk show with hostess Ilona Christen. (She used to be famous in Germany and retired two years ago.) In the studio next to us was another late night show where Gina Lollobrigida was invited. My friend Robby did her hair, and that's how we met. She is a very gentle lady with a good sense of humour and she loves pets as she has German shepherds at her home in Italy.
David: You have seen the highs and the lows in some of your performer friends' careers. What did you learn from their experiences?
Manuela: I'm learning every day. In fact I have learned that it doesn't matter how long you have been friends, people are changing through circumstances. You'll never know. It may be disappointment in career, love or life. It might be the fear of getting old or maybe sick. You always have to see the circumstances and you have to try to understand. Sometimes I meet a girl/guy and I feel very comfortable as I would have known her/him for a hundred years. Sometimes I get a kick in my derrière from someone I have considered being my friend for 20 years or more. I am always ready to forgive circumstances but not evil people. I am grateful that I have friends sharing ups and downs with me . . . and also some refreshing cocktails....
David: Though you are still a young woman, what would you do differently if you could live your life over again?
Manuela: Oh, that's a wonderful question. I hope I do find a wonderful answer. Maybe I would buy real estate as I never had any savings . . . stupid me.
David: Because you have seen and worked with some of the best female impersonators in the entertainment field, you have a wealth of knowledge on the subject. Other than the book that you co-wrote with Walter Vogel "The Beauties of the Night" would you consider writing any other books?
Manuela: Yes, I am writing all the time because I do have so many stories to tell. You gave me this chance to be in the Internet for the first time and I hope people are enjoying my answers. The life I was living and the life I still live is quite unusual and I always loved to share memories, stories and the ups and downs of Showbiz, especially in the world of female impersonators. Maybe the best way to reach the interested reader is on the Internet nowadays?
David: Do you have any favourite foods? Are you a good cook or do you prefer to eat out?
Manuela: Seafood . . . I love it. No, I'm afraid that I'm not a cook at all. I can clean the kitchen and get everbody drunk . . . but let alone cooking.
David: Do you have any hobbies or interests that occupy your time when you are not working? Do you have any pets?
Manuela: I do collect records and books. I love to read biographies about female impersonators. I regret that there are only a few and mostly out of print. Whenever I go to flea markets I keep my eyes open. I love animals and I do have a black and white "Harlekin poodle", a cockatiel named "Nymphy". . . and a husband of course....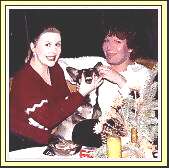 Craig Russell used to have a mixed dog called Nancy. We all lived together with Nancy, my little Yorkshire "Liza" and a white rabbit in a little flat in Frankfurt. One day before Mother's Day Nancy gave birth to only one puppy in the closet. We named her "Baby Mae". Oh, that was fun . . . no space at all, but enough space for happiness with our beloved pets. Nancy was a mix between shepherd and dackel. She had a bad accident and was limping all the time. Her hair was greenish-grey. Her ears big and her legs much too short for the entire body, but she had the most beautiful personality you have ever seen. Whenever we told her: "Nanc, give me a smile", she showed us her teeth and smiled a bright smile. Ha-ha-ha, cute, isn't it?
David: I understand that a lot of time and much of your hard earned savings are going into a new retail venture. Can you tell us more about it?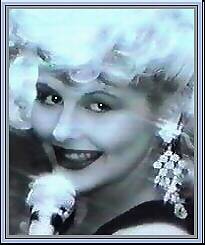 Manuela: I have just rented a little shop near the train station in Frankfurt where I will sell everything necessary for female impersonators. The shop is not meant for 'Showbiz people' but for crossdressers. I know there are a lot of them and they don't know how to dress up and where to do it, so I offer the service of helping them become secure in what they are doing.
Most of my customers are heterosexual and their wives or families do not know what they prefer to be doing in their "second life". They can come to the shop and buy everything; female clothes, make-up, wigs, shoes, lingerie and so on. They can get training in make-up and how to walk and talk. They can also borrow the dresses and stay in the shop as a lady if they prefer not to go out. Not everyone has the courage to walk out of the shop dressed as a woman. I will name the shop "Trans Normal" and it's located in Frankfurt, Baseler Platz 8, near the "Frankfurt Hauptbahnhof" train station. Anyone interested can contact me on my e-mail address until I have my shop placed on the Internet.
David: If your Guardian Angel were to grant you three wishes, what would you ask for?
Manuela: Health, health, health; and to tell you the truth I do have a Guardian Angel, and he did miracles for me in the past, and he will do in future, because I trust him and he trusts in me . . . crazy, non?
Wow! what an introduction you made for me. Little me is embarrased by so much attention. I did enjoy answering your questions and they were put together in such a sweet way. I did answer very honestly and I know that interviews are always filled with little white lies so the interviewed person is always trying to look the best for the reader . . . that's what I did. hahaha. No, honest, I am very lucky to live the life I'm living and I am always grateful for every little success, may it be in business or by helping other people. All we can achieve is good when you can share it with the right people in the right moment, and that's what I did now by answering your questions.

When you had this idea of giving female impersonators of the past and the future a forum it was a step in the right direction. I think it is very important to keep this art alive and that is what it is, art . . . art and hard work. I know that in most of the talk shows and movies nowadays the female impersonator is shown as a freak. How can the 'normal' viewer get a good impression of this profession when only the shrill and cheap ones are shown on television. That's not the idea of female impersonation. There is a great big fat difference between those who are going out in drag and just having a ball. That's okay, but it's not a female impersonator, it's a drag queen. That's another world. A female impersonator is a hard working man in a frock. He may sing or dance and entertain and then leave the club undressed . . . well, I don`t mean naked of course. This special kind of entertainment should be accepted and the rest should be left to the imagination of the audience. For me it was a wonderful chance to see Marilyn, Bette, Judy [See pic of Craig as Judy on right] and company on stage. Illusions . . . wonderful illusions. I never thought about the gender but the entertainment I got. That's what seems to be most people's problem; they think sexually and they are afraid of their own sexuality. If a person attracts me on stage I don't care if it is a man or a woman. As long it is not the devil in disguise, it's okay with me.

I have seen in the last 24 years that female impersonation is a very hard business. It's glamour on stage and a struggle for jobs as most of them are their own manager. Everyone has to make a living and there is not enough money left for everyone. They have to pay for new costumes, wigs and feathers, and everything is quite expensive . . . let alone taxes. Most of them live in tiny rooms during an engagement and that's not glamorous at all. Traveling is another job; packing, unpacking and working long, long nights in the cabarets until 5 o'clock in the morning. That's the other side of the medal, exhausting struggle and always forced to go on and on and on, otherwise you're out. Whenever I do go to a talk show or a little television job I mention my female impersonator friends, as I know that advertising at least helps a little.

I hope that your project, dear David, will last for the next hundred years, keeping names alive via the Internet . . . names of female impersonators which should never be forgotten.
God bless you. Love, Manuela.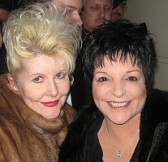 Webmaster's update: Manuela finally met David for the first time at The Bellagio Casino in Las Vegas, Nevada in December of 2005. They enjoyed a leisurely afternoon eating at a buffet, talking about old times and the latest news. She revisited Las Vegas in December of 2006.

In 2006 Manuela met Liza Minnelli in Frankfurt after her show at the Alte Oper. She told David: "I really had fun as she was giving us such a wonderful time and she does not have to put on a happy face . . . she`s got one! When she rubbed off her make-up she said 'Oh yes, I am wearing make-up. Here it is!' showing me the towel and bursting into laughter."

Visit Manuela's business Web Site, TransNormal, at www.transnormal.de

You can contact Manuela at pink.manuela@online.de

Manuela Mock Transnormal
Baseler Platz 8
60329 Frankfurt
Germany

NOTE: A special thanks to my dear friend Uli from Hamburg for introducing me to Manuela and for providing some of the photos for this interview.
---
* Cuban/American entertainer David de Alba (also known as "Heri, Hairstylist of the Stars") is known for his live singing impressions as a concert artist since 1965. He has worked at the world famous Finocchio Club of San Francisco (USA) for many years. Visit the award winning Web Site "David de Alba's Theatrical Arts & Tributes" at

http://david-de-alba.com and you can e-mail him c/o paulryner@cox.net