De Alba on Michaels

By Entertainer David de Alba

*
---
Marilyn Michaels, the woman of 1000 voices, is a "triple threat" entertainer and winner of both the Outer Circle Critics Award and Drama League Award for her debut in "Catskills on Broadway". She portrays so many famous Stars and Celebrities that if I were to list them here it would look like a Bio. She is one of the few women impersonating other women, since female impersonation is more common in the drag world. She works the nightclub circuit, the concert stage, legitimate theater, and since her debut on the Emmy winning series, "The Kopykats", has made many appearances on television. Her comedy material is always diverse and current, and with her singing and acting talents, she has become a Showbiz institution. Ladies and gentlemen of Cyberspace, it is my great pleasure to bring to you the one and only Marilyn Michaels!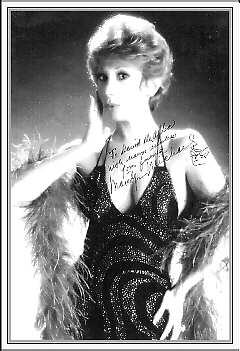 David: Marilyn dear, where were you born and where did you spend your youth?

Marilyn: Born in New York City and raised right here. The greatest toughest city in the world and I love it!

David: I know that singing has always been a part of your family life. When did your talent for comedy and impressions surface?

Marilyn: I did impressions from an early age . . . like 12 or something. Just basic people like Judy Garland, Sarah Vaughn, Connie Francis . . . then mom suggested I try a new gal, Barbra Streisand. Well, that just captured the imagination of the public so much. In doing the impressions I began to develop the comedic aspect of these personalities. Exaggeration is a part of what I do, satire. That escalated when I got the part of Fannie Brice in the National Company of Funny Girl. Then I was able to hone those comedic talents and it has kept me a survivor in this business for a long time.

David: Did you have a "mentor" outside of your family that inspired or helped you get into Showbiz as a career?

Marilyn: My mother who is a great singer (Fraydele Oysher) started me out in the business. I was in her act from the age of seven. My Uncle was a great Cantor . . . Moishe Oysher. (Can you dig these Hebrew names??)

David: What do you consider your first big break into professional show business?

Marilyn: Again, so many "breaks" were very important. I guess being called at the last minute to fill in for someone on Ed Sullivan's Show at Harrah's in Tahoe. That was an exciting call. Then there was Funny Girl, Copa, The Jackie Gleason Show. So many highs, and working with Sammy Davis numerous times . . . the greatest trip of all. He was without a doubt the greatest entertainer who ever lived . . . all around entertainer.

David: Of all the national TV shows you have done, is there one in particular you hold a fond memory?...Maybe a funny incident that took place backstage or in front of the camera?

Marilyn: Every national show was a thrill...all of them, but my fondest memories was when I worked with Sammy Davis Jr. I worked with him first on Hullabaloo and I kissed him at the end of our number and was told by the producer that I could not do that or we would lose the South! How far we have come. Also working with him on The Flip Wilson show and other shows. Always a thrill. Dean Martin too!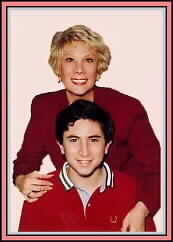 David: I can see that your son Mark has inherited the family musical talent. He sings with you and a number of his friends on your latest CD "A Mother's Voice". Does he plan to pursue a theatrical career and if so, would you encourage him along those lines?
Marilyn: I am so impressed that you know about Mark. Yes, he is very talented, and I am so proud. He has his dad's scientific genes, but his soul is in comedy and the theatre. I have mixed emotions about it. I am very proud, but Showbiz is so tough, especially for a man. However I don't see a budding actor or grocer, to be frank.
David: With your bare face alone, you have an uncanny ability to look like the people you impersonate. How do you select a new Star to include in your act? Also have you done any male impersonations other than Jerry Lewis?
Marilyn: There are many 'new' people out there who simply do not have the personalities of former great Stars. There is nothing particularly identifiable about them. Julia Roberts? Is there a Julia Roberts' impression? Faith Hill? I mean talented, but not a Bette Midler or Liza . . . the last vestige of a performer with a distinct style. I do Jackie Mason, Bert Lahr, and Kirk Douglas. Maybe it's the sisters of these guys. That's a good idea for a bit!

David: Your parodies of the Cinderella story and the "3 minute Wizard of Oz" performance are sidesplitting classics. What other humorous skits have been especially successful in your act over the years?
Marilyn: Those two are real stand outs, but a high moment in my act is the impromptu stuff I do with the audience. Off the top of my head and anything can happen.
David: Speaking of "The Wizard of Oz", did you ever see Judy Garland perform 'live' and did you get to talk to her backstage? (You and I have in common a great respect and admiration for Judy, and include a tribute to her in our acts.)
Marilyn: I met Judy in the 60's in Las Vegas. I was taken to a party by the country singer, Roger Miller. Judy was very tiny and fragile and a little "out of it". It saddened me deeply. She was and is certainly my all time idol!
David: When you travel with your show do you take with you any key musicians or other technical help essential to your act?
Marilyn: I take only my musical conductor.
David: You sing in 5 or 6 different languages and dialects. What languages other than English do you actually speak, and when do you have occasion use this knowledge, on or off stage?
Marilyn: I speak practically fluent Yiddish. That's 'cause my folks and grandparents spoke it at home all the time and often so I would not understand what they were saying. But there you go, I assimilated it and understood every word. Now I think I am channeling my wonderful grandmother, 'cause this language just flies out of my mouth whenever I get a chance to use it. I also speak a little bit of French. I'm proud of Mark, he is a terrific Spanish student, and has recorded a song Somos Novios by Armando Manzanero, a wonderful romantic composer.
David: I understand you are working on a humorous retrospective of your life and career. Do you have a tentative title, and when can we expect to find it online or at the local bookstore?
Marilyn: Yes, you remind me that I have to sit down and keep writing. I have been very busy with this juggling act of mother, performer, the works.
David: Did you ever have an embarrassing moment on stage you would prefer to forget but are willing to share in this interview? (I know; "Wait until the book comes out.")
Marilyn: Wait 'till the book comes out!
David: Many theatrical artists also have a talent for the fine arts and you are no exception. Can you tell us a little about your painting and other artistic outlets?
Marilyn: Painting is a big part of my life. I do large canvasses, nudes and landscapes. Also there is a limited edition poster in the works called the Fabulous Blondes. Marilyn Monroe is in the middle surrounded by all the famous blondes from each era. I hope to sell it on QVC. Will keep you updated. The art will eventually be seen on my Web Site.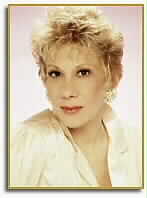 David: Living on the East Coast with so many different ethnic heritages and cultures, do you have a particular type of food that you enjoy? Are you a good cook?
Marilyn: In my house we pray after we eat! No, I occasionally do cook, not often. The kitchen is the "order up room". I love French and Italian, and nothing hot or spicy.
David: If you could have one wish come true next time you blow out the candles on your birthday cake, what would it be?
Marilyn: For my family to be healthy, for my son to get into the College of his choice. Well that's two!
David, I am so impressed. You really did your homework. You seem to know everything about me save my brand of tampons. Hope I helped. Keep in touch.

A Mother's Voice can be purchased through my Web Site marilynmichaels.com and that is the only way anyone can get an autographed copy. Spread the word and take care.......Luv, MM
---
* Cuban/American entertainer David de Alba (also known as "Heri, Hairstylist of the Stars") is known for his live singing impressions as a concert artist since 1965. He has worked at the world famous Finocchio Club of San Francisco (USA) for many years. Visit the award winning Web Site "David de Alba's Theatrical Arts & Tributes" at

http://www.david-de-alba.com and you can e-mail him c/o paulryner@cox.net