!-Created 7/15/00. Last updated 2/9/01 ->

De Alba on Miller

By Entertainer David de Alba

*
---
It is always a good feeling for me to meet talented people as I go through life, especially when that talent is illuminated by other rare traits such as kindness and warmth as found in John Anthony Miller, artist, and owner of Phantom Bookshop in Southern California ('Bookshop to the Stars' as radio personality Gary Owens once stated). Some of his current pursuits are writing and illustrating books, collecting and restoring rare books, writing etheric poetry, photography, sculpting, oil painting, and UFO study. He is also credited with creating The Official Buddy Ebsen Web Site. His last public art exhibit was with Frederick Grüe and Robert Olzewski (the master of miniature fine art sculpture) that occured at the Carnegie Art Museum, Oxnard, California in 1993. I am very honoured that he considers me his friend, an esoteric man, whom few understand, but that's OK. . . Ladies and gentlemen in Cyberspace I am proud to present to you the art and the man, Mr. John Anthony Miller.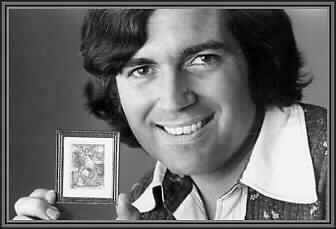 David: My dear John, at what age did you know you wanted to be a professional artist?
John: I started to draw cartoons at the age of 6 years. I would sit in front of the television set and draw along with an artist called Frank Webb who had an art show out of Santa Barbara. This was in 1956. Everything came naturally to me, as if I did all this before. As I grew older I was always called on to do posters and any kind of artwork in grammar school and high school and yes, even in college. I took mainly science courses in college and graduated with honours from Fresno State University in 1971 with a degree in science. At this point art was always there, but in the background.
I was an odd person, sort of like a "Renaissance Man" with an interest in science and art. I always thought that one complimented the other. I was rejected from several medical schools, but still I always had some artistic project going on in the background. As I entered into my middle twenties, my art started to get more metaphoric. I am what they call a "late bloomer". I really started to sell art professionally when I was in my early thirties for a company called "Reminiscence in Miniature" who marketed my work for the doll house industry. That was the first time that the demand for my artwork was solid reality. Literally thousands of my pieces are all over the world. Now, I work for myself, creating larger pieces that reflect my inner spirit. I am still in a constant state of evolution. It is the process that is important. My gift from The Creator that I have to honour.
David: Where were you born and where have you lived most of your life?
John: I was born in Tacoma, Washington during an earthquake April 13th. I have lived most of my life in Southern California in Ventura which is a growing coastal town with a beautiful Mediterranean climate.
David: What inspires you to start a new painting project?
John: Anything can inspire me. It depends on how the spirit moves me. I find great fascination in the faces of people, whether they be female or male. The eyes reflect the true self, and I am a "truth seeker". Humans reflect God, and as I get older I am seeking the mysteries of God more and more. People inspire me to create. Without people we don't have much on Earth. Love is in people, even though they are insensitive and they may not be aware of it - it's there. All creation comes from love.
David: Do you prefer painting in any particular medium such as oil, acrylic, watercolor, etc.?
John: In painting, I prefer oil painting. I can paint in any style, from Picasso-like to Renaissance. Oil is much more responsive to my feelings and is time tested. I have used just about all media in the past, but oils are my choice.
David: What style of painting do you enjoy most; the human figure, nature, abstract, impressionist, . . .?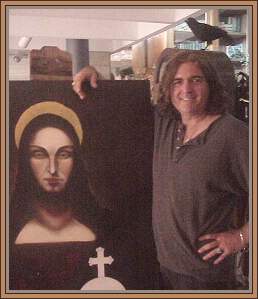 John: The style of painting I enjoy most? I tend toward the human figure because it reflects The Creator. This attitude is much like the idealist approach of the Renaissance masters. However, probably I also love abstraction as mind is totally abstract. I tend to analyze everything (which is one of my faults) and abstraction fits the bill. But, God is not a mathematician . . . I am totally taken with the impressionism of Van Gogh. I love this man's work.
David: Do you feel here in the U.S. an artist like you gets the same recognition and respect as if you were in say, Paris for example?
John: No. American's as a whole (if I may be allowed to put people in groups, which is crass) do not have the appreciation of the arts as do the Europeans. If I were in Paris, or other cultural centers of Europe, I would be far more appreciated than I am here. My best compliments as far as my art goes have been from Europeans. I love them. My work is rarely appreciated in the U.S.
David: You own a very elegant bookstore which is also part of your livelihood. Do you enjoy working with books as much as painting?
John: Interesting question. The answer is no. I started collecting rare books when I was making lots of money selling the art. The art market became slack so I collected more books as an escape. My father was a highly educated man (an MD-neuropsychiatrist) and we always had books around the house as long as I can remember. This instilled in me the love of the written word. When I was very young and persecuted for being different by my schoolmates, I escaped into the world of books. It was safe and I loved reading and learning about things. I used to read encyclopedias for fun. I devoured the information.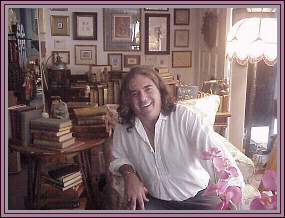 I became very proficient in selling rare and unusual tomes and it has become my sole means of support now. However, my true love is art. I am working now to reverse all this and turn back to that love. As I stated, books are an evil necessity. Selling books is not fun to me anymore. Now it is time to be true to myself and let God's gift to me manifest itself.
David: I know you are the Webmaster of the fantastic site for actor Buddy Ebsen, but do you have other Stars of Yesteryear that you admire as well?
John: Yes. I like the older Stars of film such as Jimmy Stewart, Margaret O'Brien (not so old!), Jimmy Cagney, Charles Chaplin, Marlene Dietrich, Mae West and of course, Judy Garland. And thank you for the compliment about the Buddy Ebsen site. It is just another project for a special person.
David: Because of your presence on the Web have you made any interesting new friends or business contacts?
John: Yes. Many. The Web has been a curse and a blessing to me. I am basically a country boy but have to depend on technology. My living is made possible through phone lines. One of the most interesting people I have met, is of course, yourself. As a generality, I hate the Internet and think it is basically a Trojan Horse . . . quite evil. Exceptions noted.
David: If you did a painting of yourself, would you do it as you are now or would you create an image of the person you would like to be?
John: I would do it as myself. I think I am quite unique. I have a lot to offer to the correct people. A man out of time.
David: Are there any famous painters you especially admire or emulate?
John: Yes. My favourites are da Vinci, van Gogh, and Durer. All quite dead physically but still alive in a real sense.
David: Is there any person who has influenced your life as an artist or as a human being?
John: Yes. I once took lessons from Frederick Grüe, the greatest of the great still life painters. He was gay and a supreme genius at his craft. We saw things the same way. He loved my work and called me a "true professional." My last exhibit was at the Carnegie Museum with him and another master of the miniature, Olzewski. Frederick passed away at the young age of 44. It would be worth anyone's time to look at his art. It is beyond fantastic. He taught me many secrets.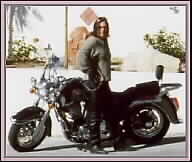 David: Is there anything unusual about John Anthony Miller that most people don't know about and that you would care to share with the readers out there?
John: Yes, there is much. 99% of the people I try to befriend do not understand me. I am an Aries and give much of my life force to people. Unfortunately, I am trying to be more selective now. I see things like a poet and a mathematician. My spiritual beliefs are unique also, which fuels my art.
David, may the Angels be there with you, Love-Peace, John.

Visit his Web Site at http://www.phantoms.com/

You can contact Mr. Miller directly at phantom@phantoms.com
---
* Cuban/American entertainer David de Alba (also known as "Heri, Hairstylist of the Stars") is known for his live singing impressions as a concert artist since 1965. He has worked at the world famous Finocchio Club of San Francisco (USA) for many years. Mr. de Alba studied art in Chicago under the renown Mrs. Elston Elston, an art teacher and accomplished artist in her own right. Visit the award winning Web Site "David de Alba's Theatrical Arts & Tributes" at

http://david-de-alba.com and you can e-mail him c/o paulryner@cox.net