David de Alba's Hawaii Vacation May 2004
Well, I finally made it to Oahu, Hawaii this May 2004 for a few days vacation. By now most of you who have read interviews given to me know that I hate being away from my home for long, taking planes and so on. In fact, I have turned down many a show job that required me to go on tour, and you know how I love Showbiz. Because I had not seen my dear friend from Finocchio's, Holly White since the early 1970's I travelled so many miles from the Mainland just to see her on this trip. This delighted Holly, and with a sweet blush she expressed her appreciation. We reminisced about our former FI Finocchio friends and co-workers (most of them have passed on by now). We ate, laughed, and told many Finocchio and other show anecdotes as we drove all the way around the island with Holly as our perky tour guide. Paul drove our rented car and I held my breath as we dodged the crazy drivers on the congested roads.
I found on this encounter with Holly a side of her I never knew . . . a remarkable sense of humour, poking fun at herself and the contrast between her present living status and the glamour and fame of her past Showbiz career. By the way Holly, thank you again for the lovely jasmine scented flower leis that you will see in the following pictures. (The other leis on photos of Paul and I on Waikiki were given to us at the airport).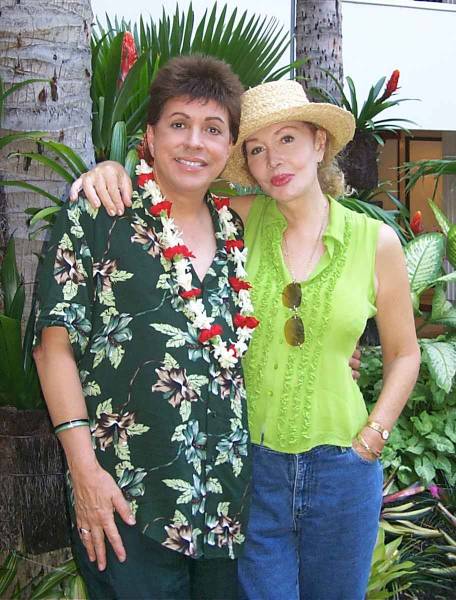 David and Holly in the Waikiki Beach Marriott Hotel garden court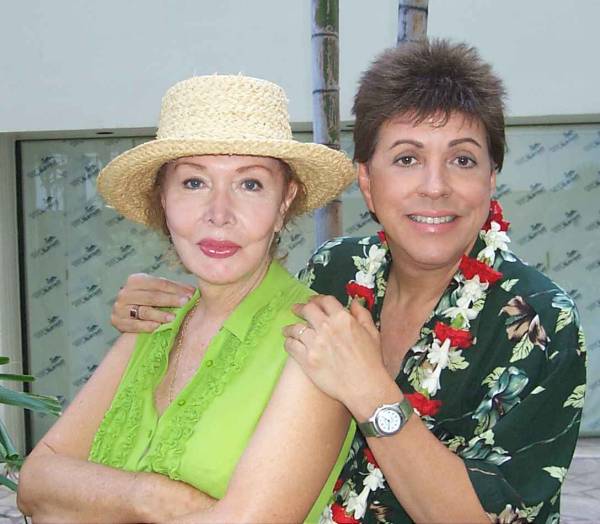 Holly and David in the Waikiki Beach Marriott Hotel garden court
David and Holly at Buzz's Restaurant, Kailua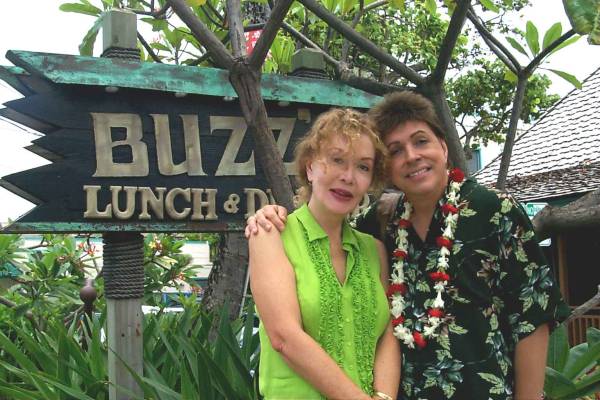 David and Holly at Buzz's Restaurant, Kailua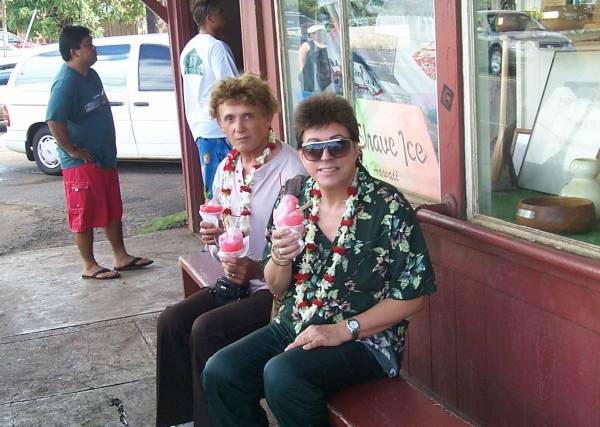 Enjoying a Hawaiian shave ice in Haleiwa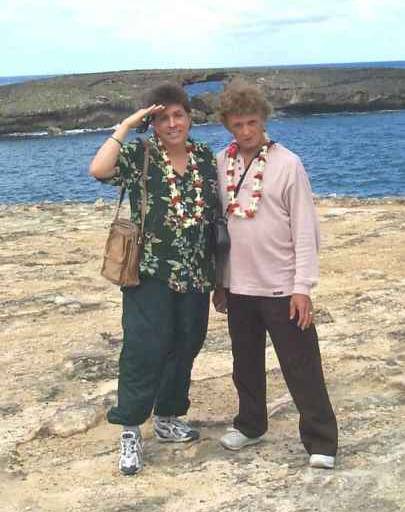 David and Paul at Laie Point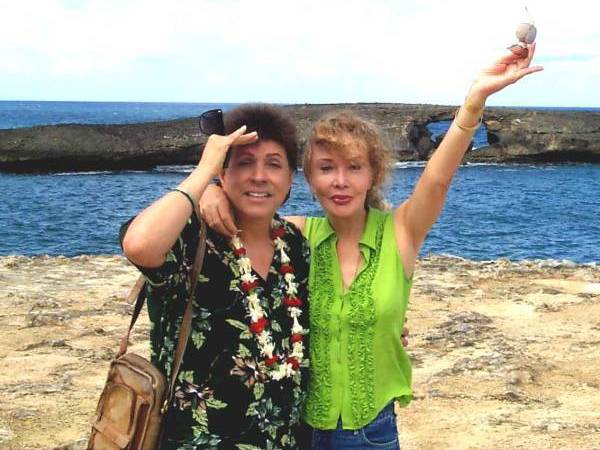 David and Holly at Laie Point - Aloha!
---




Also on our trip I met for the first time, a very nice young native Hawaiian by the name of Danny Souza who e-mailed me recently about my Web Site and the Judy Garland tributes there. When he found out we were going to Hawaii, in true Island tradition, he opened his arms and heart to greet us. Danny has performed on stage and is considered the premier pantomime Judy / Liza impersonator in Hawaii. Danny also gave us a tour around Waikiki and the Punchbowl area in his little Volkswagen. We had lunch together at an excellent Korean Buffet where you barbeque your own marinated meats in the center of the table. He even gave Paul and I some home made cookies at his condo to take to our hotel . . . I ate mine before we got there; they were that good!

One thing I must mention, thank God, neither with Holly nor with Danny were we interrupted by cellular phones that most people use all the time. We enjoyed our conversation the old fashioned way . . . just us, with no rude interruptions! Here are some pictures of Danny and I.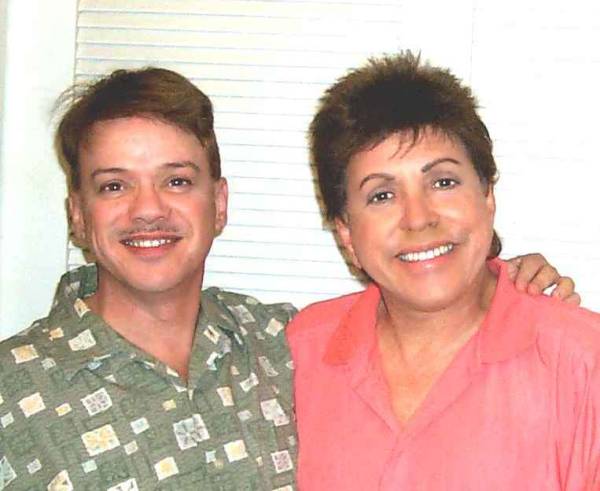 Danny with David in Danny's condo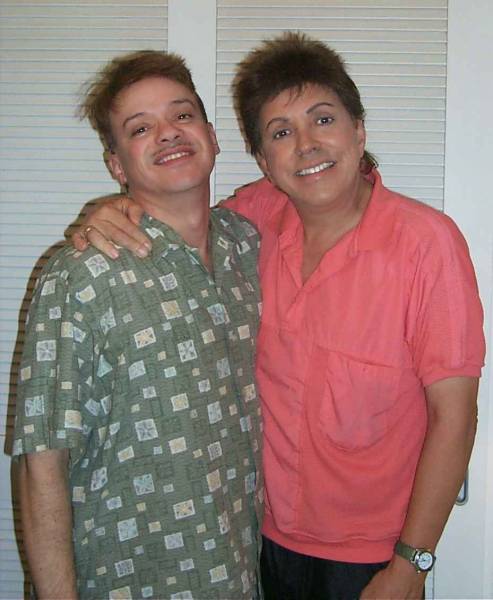 Danny with David in Danny's condo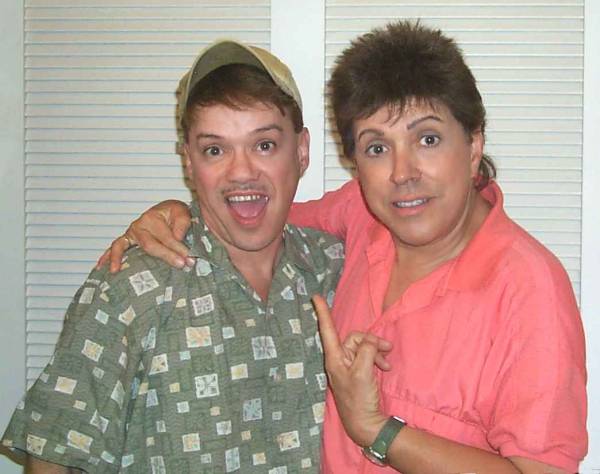 Danny with David in Danny's condo
---




Also here are some pictures of Paul and I at the Marriot Hotel on Waikiki Beach . . . enjoy!


David
Seated in the Waikiki Beach Marriott Hotel lobby atrium
Paul
Seated in the Waikiki Beach Marriott Hotel lobby atrium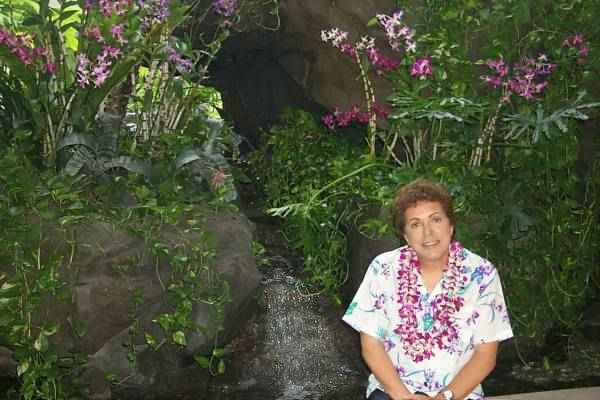 David in the Waikiki Beach Marriott Hotel lobby atrium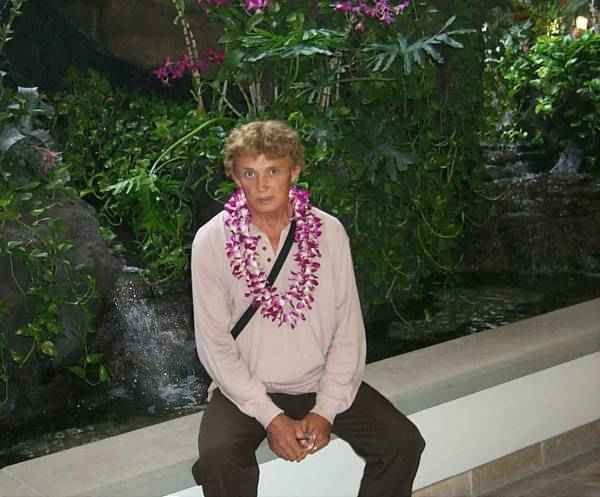 Paul in the Waikiki Beach Marriott Hotel lobby atrium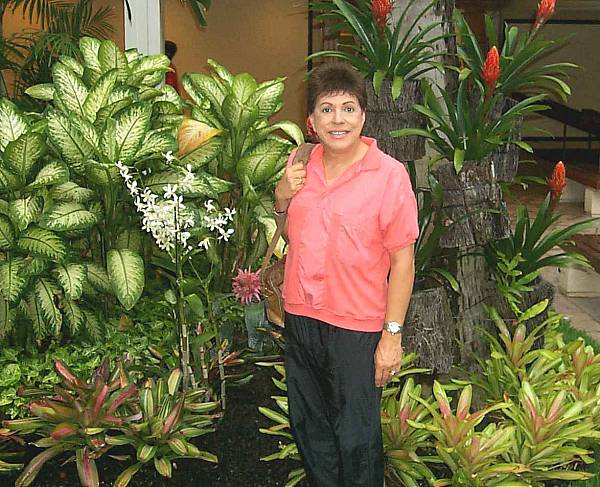 David in the Waikiki Beach Marriott Hotel garden court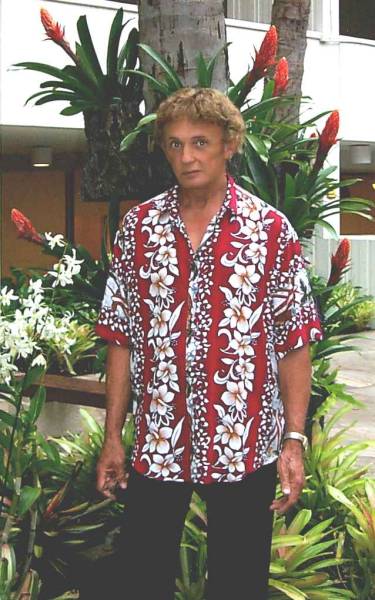 Paul in the Waikiki Beach Marriott Hotel garden court