De Alba on Phillips

By Entertainer David de Alba

*
---
Jackie Phillips had a fast patter comedy style and during his perky songs he would walk around the stage on the sides of his high heels, provoking laughter from the audience. Also, he would twirl his waist length pearl necklace around his neck like a hula-hoop. Jackie is one of the most reserved and clean-cut souls I ever met. Once he came to give me moral support on a show I did in Redwood City, CA at The Bayou Lounge and after the show he came to my improvised dressing room and gave me a gift. It was a lovely ashtray, (I never smoked), but have cherished it through the years and used it as a candy dish. Once he came into the wig salon in San Francisco where I worked at the time and bought a red human hair wig from me to use in the show. That was sweet of him. He told me once that one of his favourite Judy Garland songs, since he knew of my passion for her, was "Last Night When We Were Young". On that note, let me say to Jackie now: Last Night When We Were Young, let's hear it now for the Wacky Jackie Phillips!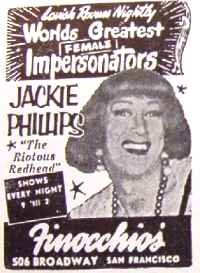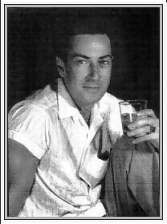 David: Jackie dear, where were you born and raised, and is Jackie Phillips your real name?
Jackie: Born and raised in San Francisco. Yes, Jackie Phillips is a stage name. My real name is William Ernest del Torre.
David: What inspired you to become a female impersonator as an adult?
Jackie: I saw a lot of movies with singing and dancing in them and decided that was what I like to do best.
David: Were there any female Stars of the past that you admired and that perhaps influenced your act?
Jackie: Yes; Carol Lombard and Ginger and Fred Astaire were among my favorites.
David: Before you joined the cast at Finocchio's where else did you play?
Jackie: El Cerrito, Fresno, and Sacramento, CA; Portland, OR; New Orleans, LA; Seattle, WA; Hawaii, Alaska, and Montana.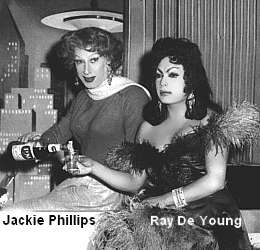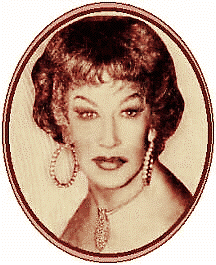 David: How did you get the job at Finocchio's?
Jackie: I had to audition three shows for Eve and Joe Finocchio.
David: Of all the places you toured before Finocchio's, do you have fond memories of one?
Jackie: Yes, Portland OR, was about the best place I played. The town loved us and was very friendly.
David: I heard from Carroll Wallace, our emcee, that he booked you in a revue in Hawaii and when you started to perspire, red colour began running down your forehead. The audience thought you were bleeding. It was just the colour rinse coming out of your wig. (I know Carroll made up stories just to tease people. Correct me if I am wrong.)
Jackie: No, that really happened to me in Hawaii.
David: I remember still, your singing "Goody Goody". What other songs do people associate with your act at Finocchio's?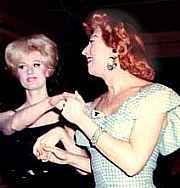 Jackie: "Five Foot Two, Eyes of Blue", "Ain't She Sweet", "Personality", "Who", and "Give Me a Little Kiss".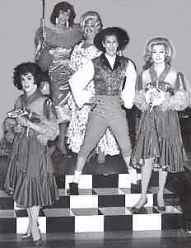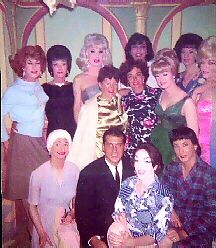 David: During your run at Finocchio's, did any interesting celebrities come to see you backstage?
Jackie: Yes, Lucille Ball, Tallulah Bankhead, Ruth Roman, Lana Turner, Pat O'Brian, Giselle McKensey, Carol Channing, Carol Burnett, Ethel Merman, Linda Darnell, Errol Flynn, Totie Fields, Forrest Tucker, Imogene Coca, Beatrice Kay, and June Allyson. I was particularly impressed with Tallulah and Ruth Roman.
David: If you had not been a female impersonator, is there any other career you feel you would have been good at and would have enjoyed?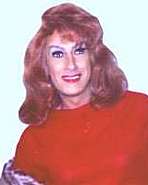 Jackie: No!

David: In your spare time do you have any hobbies, interests or pets that occupy your time?
Jackie: Nothing to speak of, except possibly collecting stuffed animals and watching old movies. I do have two mutts.
David: Is there anything about you that most people would have never guessed that you can share with our Internet readers ?
Jackie: Yes. I collect stuffed animals, as I have a lot of bears, rabbits, dogs, cats, raccoons, etc..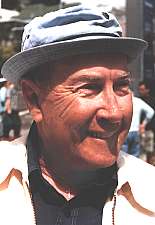 David: Would you come out of retirement if a theatrical producer reads this interview and offers you a part in a show?
Jackie: No way!
David: What makes Jackie Phillips happy nowadays? How are you doing, my friend?
Jackie: Staying in good health.
Thank you kindly. Jackie.

Webmaster's update: Jackie Phillips passed away in San Francisco, CA, on Nov. 22, 2006.
---
* Cuban/American entertainer David de Alba (also known as "Heri, Hairstylist of the Stars") is known for his live singing impressions as a concert artist since 1965. He has worked at the world famous Finocchio Club of San Francisco (USA) for many years. Visit the award winning Web Site "David de Alba's Theatrical Arts & Tributes" at

http://david-de-alba.com and you can e-mail him c/o paulryner@cox.net