!-Created 8/1/00. Last updated 6/21/04 ->

De Alba on Price

By Entertainer David de Alba

*
---

Of all the interviews I have done, this is the most difficult for me since I have known Robin Price for so many years. When I purchased my first home in the early 70's in San Francisco, he lived across the street. We became friends quickly and though he had retired from Showbiz I learned that he had been a Dancing Star at the famous Jewel Box Revue and that he had worked as the emcee and had a solo spot as a dancer at the world famous Finocchio Club, a place I was just about to enter as a performer myself. Robin was kind enough to make two lovely outfits for me to wear in the show. He was known for making his own fabulous wardrobe throughout his career, so it was indeed a treat for me. Many years later when fate made me leave San Francisco, there he was again, this time to help me move to my new home in New Mexico. He is known for his generosity and loyalty to his friends. I am fortunate to be one of them. In this interview I am proud to bring to all of you in Cyberspace, another side of Robin the performer, who graced the stage with his agile dancing and his witty and sharp sense of humour. The stage looks empty without his presence, but I wish for him to come out for one more bow. Robin, the stage is yours!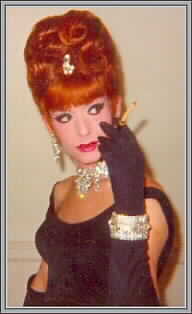 David: Robin dear, where were you born and where did you spend most of your childhood before you became involved in Showbiz?
Robin: I was born on Jan. 1, 1937 in Louisville, Kentucky. My real name is Douglas Kruse. I took the name Cummings when I started in Showbiz because I had a disagreement with my father as he didn't feel he wanted his name associated with what I was doing. At the age of eight, I was taken by my mother, who divorced my father, to Cincinnati, Ohio where I grew up and was educated.
David: How did you get hired at the famous Jewel Box Revue?
Robin: When I was growing up in Cincinnati, I had a group of friends, one who was named Tony Sinclair who now lives and still works as a female impersonator in Oklahoma City. When The Jewel Box first came to Cincinnati in the early 50's, Tony Sinclair was the first one to go on the road as a chorus boy. He was with the show for a year or so, and then quit and came back to Cincinnati. At that time there was a ballerina in The Jewel Box by the name of Jan Britton. He was a good friend of Tony so when he decided to leave the show also, he came to see Tony in Cincinnati.
Jan and I became very good friends. When Jan decided he wanted to go back to The Jewel Box he called Doc and Danny who then had the show in Niagara Falls, NY. While Jan was on the phone with Danny Brown I said, "Why don't you ask them if they need a chorus girl". He of course asked Danny and I remember him asking Jan "Well, what does he look like?" Jan told Danny "Well he looks like Ricky Renée", who was a very famous female impersonator at that time. He had gone to Europe, and to this day I don't believe has ever come back. Danny said, "Well, sure, I could always use another chorus girl. Why don't you bring him with you".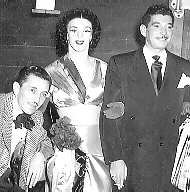 Jan and I got on a Greyhound bus, left Cincinnati and went to Rochester, NY. I joined the show there and was with The Jewel Box for about two years. I left for a short time, and returned for about another year and a half, then left The Jewel Box to work at the 82 Club in New York City.
David: Was it easy or hard to work for your bosses, Doc & Danny? I heard so many stories pro and con. What was your experience with them?
Robin: Well, I don't know what you may have heard, but I never had any problem with either one. Doc was more of the business man than Danny, but as far as I was concerned, I got along well with both of them. Never had any problem. Did what I was expected to do, and was paid accordingly.
David: Although I had never seen you perform, I heard about your high kicks and that your Can-Can act was superb. Can you elaborate on that?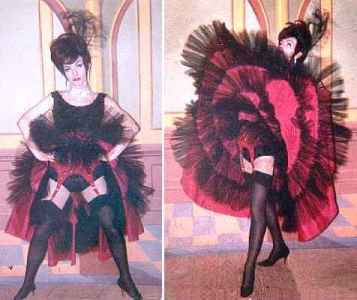 Robin: After leaving The Jewel Box, I did work with a couple of small shows, where I did the Can-Can, which I'm noted for. It wasn't the easiest number in the world to do, but I did it as authentically as I could. I also did the Charleston and the Shimmy. In my day most of the dancers wanted to take their clothes off and strip. Being young and having the body of a boy I definitely couldn't convince anyone by any stretch of the imagination, by undressing on stage that I was a woman, so that never played into my act. I just did character dances.

David: Did you have a drag mother or mentor to show you the ropes when you started in Show Business?

Robin: No, I did not. In fact I kind of learned everything on my own. I never relied on anyone. I knew what I wanted to do and just got in there and did it.

David: How did you learn to design and sew such fantastic wardrobe? Also did you do your own wig styling?

Robin: I never did my own wigs. I always had somebody I was working with that was better at hairstyling than I was myself. In The Jewel Box there was a wonderful impersonator by the name of Gean Korday from Dallas, TX, who was absolutely fantastic with wigs.

As far as my sewing, it was strictly out of necessity. I figured if I could learn to sew, I could surely save a lot of money, plus I could make and design things that I wanted to wear, in the fabrics and style that I liked. I was always very fashion conscious. Audrey Hepburn was my idol, contrary to most other female impersonators who looked to people like Marilyn Monroe, and all the sex symbols. Being thin I pursued a more of a "Vogue" look than a "sexy" look. So I would go through the Magazines, Vogue, Harper's Bazaar, find very simple, sophisticated gowns that I liked, and with a little trial and error, would put them together. Luckily they turned out quite well, because I always seemed to have a nice wardrobe.

David: You told me once as I recall, that while at The Jewel Box Revue your show filled-in for Judy Garland. You also saw her at The Palace in New York. For the many loyal Garland fans out there (including me, as you well know) can you share some recollections of her?

Robin:

It wasn't so much that we filled in for Judy, the story goes that The Jewel Box was appearing in the Jewish Catskills at the Montecello Playhouse in the Catskill Mountains. We had been there one entire summer and the summer was about over when a Jewish man who owned a club in Brooklyn happened to be in the Catskills and saw The Jewel Box revue. He had contracted Judy Garland to appear at the club which was called Ben Massick's Town & Country Club in Brooklyn, NY. I don't know exactly what happened but somewhere before her opening Judy refused to go on. I don't know what the dispute was, whether it was over money, contract, I have no idea, but she walked off and refused to appear. Being desperate for someone to fill the stage of his nightclub, Ben Massick's got a hold of Doc and Danny and asked them if they would be interested in coming into the club as soon as possible. Since the summer was over and our contract was up at the Montecello Playhouse, Doc and Danny took The Jewel Box revue into Ben Massick's Town & Country Club where we were a HUGE, HUGE success.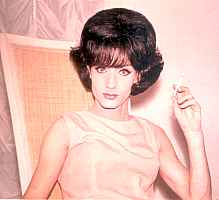 I was very young when Judy appeared at The Palace Theatre in New York. I was going to her show with the bouncer of a gay bar in New York, the Cork Club on West 74th Street. I don't know how he got the tickets, but needless to say I went with him in drag, unbeknown to anyone. I really don't think anyone knew I was in drag. I was about 18 years old. I wore a little black dress with a mink stole, black pumps, little short black wig . . . looked very normal female, and walked in with my big muscular masculine escort, and nobody gave us a second look. I must say, after all these years, in my memory I still remember Judy Garland as being absolutely fantastic. She held that audience in the palm of her hand, honey, from the time she walked out on the stage until she exited. That little woman stood out on that stage and had all of New York at her feet.
David: Do you have any fond or unpleasant memories of any of the places that you performed while traveling with The Jewel Box Revue?
Robin: I would probably say that traveling with The Jewel Box was one of the best times of my life. I was very young, the world was my oyster, and I took every opportunity to enjoy it. I don't have any unpleasant memories. I have fond memories of my opening with The Jewel Box, in Rochester, NY. We played there twice. I have very fond memories of Denver, CO. In fact I left The Jewel Box for a short time and was planning on settling down with someone I met there. That, of course, didn't work out, but nevertheless I still have wonderful memories of Denver. I did rejoin The Jewel Box shortly after, in Niagara Falls, NY.
David: After leaving the Jewel Box Revue you were hired as the emcee and specialty act at the world famous Finocchio Club in San Francisco. The transition must have been like day and night when you compare The Jewel Box revue with Finocchio's. Was it hard to adjust?

Robin:

I didn't leave The Jewel Box and go directly into Finocchio's. I worked with a couple of small shows. One was called "Femme Mimics" that was operated and owned by two female impersonators; a Spanish dancer by the name of Chunga Ochoa (see pic with Doc & Danny) and a singer by the name of Lori Knight. There were about eight of us in the show. We traveled around the West, to towns like Denver, Pueblo, Cheyenne, etc. I also worked at the 82 Club in New York. Then I gave up Showbiz, (I thought), came to California, arrived on Valentine's Day in 1960, spent two years in Los Angeles, and ran into a friend who I had worked with in The Jewel Box, one of the best friends I ever had, Al St. Claire.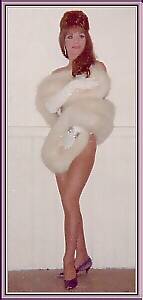 He left Los Angeles, came to San Francisco, eventually opened at Finocchio's, and was there several months when he called me long distance in LA, and informed me that Finocchio's was in very bad need of dancers. Reggie Dahl was in the hospital, a Spanish dancer by the name of Néstor had a mental breakdown, and the only dancer left at the club was Stormy Lee. Al told me that he was sure that if I came to San Francisco and auditioned for the Finocchios that I would be hired as a dancer. To tell you the truth, I didn't think about it too long. I packed my bags, came to San Francisco, auditioned, and the first time was not hired. I remember Mr. Finocchio coming back stage and saying to me "A'boy, you are a'very pretty, but a'for a hundred and a'fifty dollars a week I can a'walk around a'the stage myself". I was very upset, packed my things, said thank you very much, and left. Several days later, Mrs. Finocchio called me and asked if I could do any other type of dances. I said of course, I can Can-Can, Charleston, and to make a long story short, she asked me if I would audition again. I did doing the Can-Can, and was hired on the spot. I had to do the Can-Can in the 1st and 3rd show every night. Mr. Finocchio would let me change my numbers in the 2nd and 4th show, but he never wanted me to stop doing the Can-Can. I was there for about a year when Lestre LaMonte died and shortly after that Joe Finocchio asked me if I would emcee his show, which I did until I left.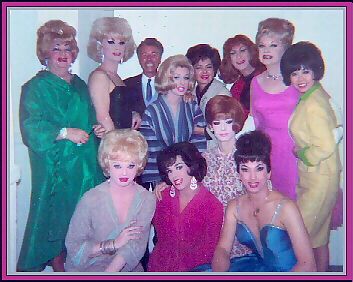 David: I know that you were actually one of the very few, if any, to leave Finocchio's on your own terms. Without putting you on the spot, can you tell us the circumstances?
Robin: As you know when you worked at Finocchio's you were contracted to do "so many shows, so many days a week", which I was doing, and after work at night I was going to an after-hours place in the Tenderloin. Word got back to Mr. & Mrs. that I was going to this after-hours place. They told me they didn't think it was proper for me to be seen in this place, (and it was NOT that bad of a place). Mrs. Finocchio's sister was there quite often, as were several other people from the club; waiters, etc. My first reaction was that they had no right to tell me where I can go on my own time! Now you must remember at that time Finocchio's had AGVA union contracts. I had a three month contract with three, 3 month options, which meant I was under contract for a year.

When they told me that I couldn't do this and couldn't do that on my own time, I as much as told them they could "kiss my ass". What I did on my own time was my business.
Some time after that, let's say in the next six weeks, a union representative came up to my dressing room one night and said "You know before Mr. & Mrs. Finocchio pick up your option they want to talk to you". I said, "Fine. I'm here six nights a week. They know where my dressing room is, and if they want to talk to me they can come to my dressing room and do so, because I have nothing to say to them". The union man implied that I should be grateful that I had a job. I told him "You're the one who should be grateful that you have a job, because you were such a bad act in show business that you couldn't make it, so you had to work for the union. Without all us entertainers paying our union dues you wouldn't have a job. And remember, you represent ME. You don't represent the Finocchios". To make a long story short, they never came to me, so at the end of my contract I packed my bags and was ready to leave when Eve Finocchio sent word backstage "Oh, tell Robin Price we want to talk to him". I sent word back to them "You had plenty of time to talk to me. I have nothing to say to you, and I'm out'a here!" That's the way I left Finocchio's.
David: I know that you and I throughout the years have lost a lot of our Showbiz friends. Is there one or two that you particularly miss?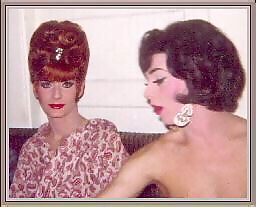 Robin: Well, that's like saying, do you love one of your children more than the other. Of course, there is one person who sticks out in my mind, and that is my friend and coworker, Al St. Claire. Al and I were friends for over 30 years, and it was a great, great loss when he left. I miss him every day. I think about him every day. I also miss Reggie Dahl, who some people remember as being a little on the "vicious" side, but when you really got to know him, he was a very vulnerable person. I miss a lot of people. I hope they're all up there waiting for me, because I miss them a lot!
David: Were there any "missed opportunities" in your past that you regret?
Robin: David, I have done everything in my life that I've wanted to do, and there is not one opportunity that I feel that I missed. I'm happy to say I'm one of those people that will not have to say "I wish I would'a done, or I wish I could'a had, or I wish I would'a been". I've done, been, and had all I've wanted in my life. I've enjoyed my life, and I absolutely have no regrets.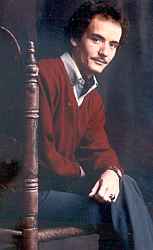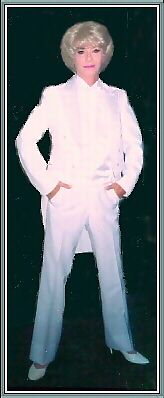 David: Do you have any hobbies or interests that you are able to pursue nowadays that you could not enjoy in the past due to your rigorous work schedule?

Robin: It wasn't so much a rigorous work schedule, as not having a home to do what I like to do. I love decorating. I spend a lot of time improving and working on my house. I just finished making new drapes and a new slipcover for my living room sofa. I paint, and anything that pertains to the house, gardening, roofing, etc., I seem to be able to do myself. This is where most of my time goes. I also still work four days a week, or nights I should say, as a waiter in a restaurant, so I do keep myself pretty busy.

David: I know you're not interested in making a "comeback", but with your great experience in Showbiz if there was a producer out there who wanted to cast you in a show or have you work backstage in a technical part of the business, would you give it a second thought?

Robin:

I certainly don't plan on making a comeback! Not at 63. I had my 15 minutes in the spotlight. Let the young kids have theirs. But, that is not to say that I wouldn't really enjoy doing something in the technical part of the business backstage. I'm sure you're aware, as am I, that another well known female impersonator, Tony Midnite, recently moved to Las Vegas. For years he has been very well known for his fabulous costumes. I'm sure Tony is not going to sit idly by in Las Vegas, and am sure he will be doing something in the Showbiz line in the future, as far as costuming goes. If I had that opportunity to assist someone behind the scenes, even as a dresser, making or repairing costumes, whatever, I would thoroughly enjoy it. That's not going to happen here in Hayward, CA, and since I don't have any plans on relocating, I don't see that happening for me.
First let me say how pleased I am that out of all the entertainers out there you saw fit to ask me for an interview. Secondly I want to thank you for remembering me not only as a performer but also as a friend. I consider that as a compliment. Thirdly, after all of your time and trouble putting these interviews together, you remind me of another female impersonator who always kept track of every other female impersonator in the business. His name was Harvey Lee. We lost Harvey in July of 1992, so from now on I will think of you as the new, baby Harvey Lee. Good luck kid, you have a big pair of shoes to fill ! Thank you again and God bless you. Stay Happy, Love Ya! Robin.
Editor's note: Robin Price passed away in Fresno, California, on Sept. 9, 2008. May my oldest and dearest friend rest in peace.
NOTE: Thanks to Lavern Cummings and Libby Reynolds for providing some of the pictures for this interview.
---
* Cuban/American entertainer David de Alba (also known as "Heri, Hairstylist of the Stars") is known for his live singing impressions as a concert artist since 1965. He has worked at the world famous Finocchio Club of San Francisco (USA) for many years. Visit the award winning Web Site "David de Alba's Theatrical Arts & Tributes" at

http://david-de-alba.com and you can e-mail him at cubanlegend@cox.net