De Alba on Random

By Entertainer David de Alba

*
---
Iím honored to interview in June of the year 2000, Italyís #1 Drag Artist, Genny Random. Not only is he a versatile entertainer, but also a person with a great deal of charisma and heart. He has a live singing and comedy cabaret act and has made many appearances on TV. Even though we are on opposite sides of the globe, thanks to the Internet we have become good friends. I wish him the best of luck in his career, and hope that he can perform in the United States some day soon.

David: Genny dear, what ever made you think of becoming a female impersonator?
Genny: I was trying in 1992 drag dressed in gay discos. It was a personal idea of a drag queen, and in 1995 I created Genny Random.
David: Do you have any particular Stars you like or idolize either in your own country or abroad?
Genny: Of course I like all screen stars of Hollywood of the 40ís & 50ís, and the last divas like Liza, Barbra and some actresses like Maggie Smith, Whoopie Goldberg, etc.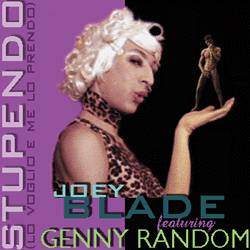 David: You have a CD "Stupendo", and just finished a very impressive CD called: "Unplugged" in which you sang both in Italian and English. I was very impressed with the way you handled your English as you sang. Can you tell our readers what went into the production of such material?
Genny: I've studied English at school not much and I don't want the exact diction in my song because I'm Italian and singing for me is like a game. English people have to smile hearing my songs and not think "oh, she don't have perfect diction!" like happens with some real international singers.
David: When you perform do you work as a solo artist only, or are you part of a group sometimes?
Genny: For my performances I work alone but for my last show (like a one-man show). I've some friends to hear my text.
David: Have you traveled with your act to other countries in Europe or do you perform locally most of the time?
Genny: Now, I work in all of Italy but I'm trying to work in all of Europe.
David: I noticed that you have a superb theatrical Web Site. Do you feel it has helped you in reaching certain important people who can help you theatrically? Or has it been just fun having other people in the world know more about Genny Random and his Art Form?
Genny: I've studied Internet languages (html, java) to create myself the homepage of Genny Random. My site is seen every year by 25,000 people in all the world. For my work it is important to have visibility for business for new fans that buy my CD or T-SHIRT, soap, or other gadgets. I have simultaneously appeared on satellite TV programs to have international people possibly know me in television too, but it is hard work!
David: When did you first feel in your heart you were destined to be a performer?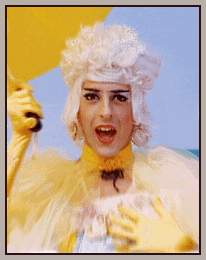 Genny: I'm a born performer! (With my smiling school friends, my parents and all the people near me). It is natural for me, like to be gay. You know it and when you realize it you decide what to do after.
David: Is performing your only livelihood or do you also have a daytime career job?
Genny: No, I also have a little business named "Genny Random Factory" where I create shows, gadgets of myself, services, and consulting about shows. Itís not easy in Italy but not impossible!
David: If you have to let many people all over this world know what the name Genny Random stands for, what would you say to them?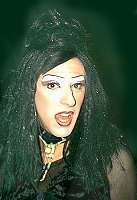 Genny: Genny, because a long time ago a child looked at me dressed in drag and said (I don't know why) "Genny"; and Random, because where I go, what I do, is casual, is "random".
David: Do you feel you may be misunderstood by some people who may not understand that what you do on stage, which is your drag performance, is an Art Form and not a way of life for you. What can you say to them from your own point of view?
Genny: I think that people are free to do what they like but not free to think that everyone in a dress and a wig it's a bitch.
David: Do you have any particular hobbies you enjoy and do you have any favourite pets?
Genny: I've passion for my garden. I've lived in a lot of homes, but where I've found a garden I've worked in it. Day after day is a miracle to see the transformation of nature. I like it very much. I've no animals of mine but I lived for 6 months with my boyfriend and his dogs and cats love me very much. I'm a pet too?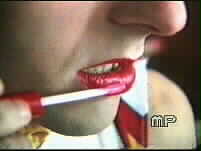 David: Who makes your very original and colourful wardrobe? Also do you style your own wigs or you have a hairdresser who takes care of them?
Genny: The inspiration for my dresses are colours, from the 60ís and 70ís, great wigs and all that is perfect for a particular body. I don't like just a good body in a bad dress or vice-versa.
David: If Genny could change something about himself or his life now, what would that be?
Genny: I would to be born in another nation; not far away, Germany or France or Spain, because in all I've decided to do or see, Italy was very slow to respect my method of thinking.
I often think it's incredible like someone in the other part of the world knows me and has my pics and my songs and I have her/his/your personal objects. Two people united in friendship by a wig and a computer... Thank you David, Luca [Genny].

Visit my friend Genny's Web Site at www.gennyrandom.com
You can contact him at gennyrandom@gritalia.net
---
* Cuban/American entertainer David de Alba (also known as "Heri, Hairstylist of the Stars") is known for his live singing impressions as a concert artist since 1965. He has worked at the world famous Finocchio Club of San Francisco (USA) for many years. Visit the award winning Web Site "David de Albaís Theatrical Arts & Tributes" at

http://david-de-alba.comand you can e-mail him c/o paulryner@cox.net