De Alba on Shaundriana

By Entertainer David de Alba

*
---

I received a very sweet e-mail concerning my theatrical Web site from a charming entertainer from Tucson, Arizona known by the stage name of Shaundriana. His real name is Dr. James H. Jones-Shorten. I am impressed that this talented performer recently received the "Humanitarian of the Year Award" (1998) and "The Norm Christy Award" (1999). He informed me that he was about to retire (at an early age I must say) from Showbiz to let some of the new, younger drags coming into the scene do their thing. I thought his story would make a fascinating addition to my series of Celebrity Interviews, and I am honored that he agreed to participate. Here is a guy with the ultimate macho rèsumè, who found that utilizing his feminine side through the Art of Female Impersonation was able to see life through a softer lens. So, ladies and gentlemen of Cyberspace, I present to you Tucson's one and only Shaundriana!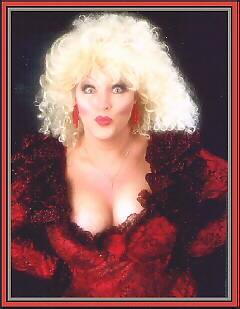 David: Shauny dear, where were you born and where did you spend your youth?
Shauny: I was born in Liverpool, England. My parents and I left England when I was 8 years old. I've lived all over the United States but I like to say I was raised in the mountains of Colorado, just outside of Evergreen.
David: When did you first know you had an inclination towards professional entertainment?
Shauny: I always wanted to be an actor in the movies, especially after I saw the James Bond flick, Gold Finger. I didn't know where to start so I lived my life the way I wanted to act it in the movies . . . living a life of danger, or pretending to be someone I wasn't.
David: Did you have a Drag Mother or a mentor that inspired you to get into the field of female impersonation?
Shauny: Helena Bubbles (Tucson) gave me my first break to perform in a Christmas show at IBT's in Tucson. I fell in love with performing and performed every week for a couple of years then slowed down a bit to catch my breath. Tatiana Ladinova inspired me to change my name from Shaundra to Shaundriana. The name stuck with me, however some of the girls have shortened my name to sandy :o}.
David: What female Stars do you impersonate in your act? Do you perform any 'live' comedy patter or emcee any of your shows?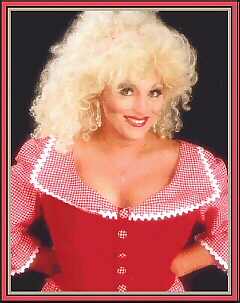 Shauny: I usually emcee the shows that I schedule. As for who I impersonate, I'd have to say my favorite person is Dolly Parton. I love Dolly's spirit and heart full of goodness . . . she's so bubbly. I also impersonate Janis Joplin . . . I just love that wild woman! God, if she was only here today. I did a production number based on the broadway play "Nunsence". That was the only comedy number I've done.
David: Did you have someone who created costumes for you or styled your wigs?
Shauny: Yes, a friend by the name of Colleen made most of my gowns. Lucinda Holliday of Holliday's Headliners does my hair/wigs.
David: In what type of theatrical environment have you performed in your stage career? Also did you ever tour outside of Tucson?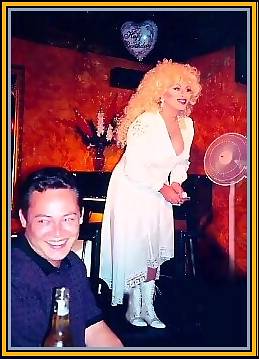 Shauny: Yes, I performed in Phoenix for a while, more than in Tucson. I've also performed at special functions in Los Angeles and Reno, NV. I usually perform in theater bars on stage. The most fun place I've performed is at "Old Tucson Studios", and I love performing at the Gay Pride Picnics, etc.. Once at Old Tucson Studios I had a Japanese family think I was a real woman performing as Dolly. I loved it! All my friends there with me just laughed and laughed. Then at the main saloon, one of the bartenders tried picking up on me, thinking I was a real woman. I gave him my real name and phone number. You should have seen his face turn red. I loved it. :o)
David: Your illusion is so perfect that indeed some people think they're looking at a real woman. I'm aware of many "tricks of the trade" but the cleavage you achieve is beyond tricks. Can you share with us your secret?
Shauny: I have a hereditery medical disorder known as "hyperestrinism", (high levels of the female hormone estrogen, formed in the adrenal glands). I was told I had it all along, but in the late 80's my testosterone levels (male hormone) couldn't compete and shut down, allowing the estrogen to take over my body and causing the female characteristics to form, which is the reason I have breasts. I push them up to make them look bigger than they really are. They are beautifull, huh? :o). I love them but I'll probably have them removed someday. Ouch !!!! I hate the thought. I was blessed with them but they really get in the way when it comes to living as a guy :o( and I do love being a guy and doing guy things. :o)
David: I mentioned in the introduction that I was very impressed with two awards that you won. Can you tell us how these tributes came about, and were there others that I didn't mention?
Shauny: The Humanitarian of the year award was awarded for donations and time to help others. I have never kept any of the money that I've recieved for performing. I always donate it to charity, children's funds, HIV-AIDS (SAAF - Southern Arizona AIDS Foundation) Mucoploysacaridosis foundation, and I pay for an average of 150 meals for Thanksgiving every year. The Norma Christy Award is for helping with the NCC - USofA Pageantry system (even tho, Norma Christy owns the Gay America Pageantry System). I have always helped other contestants even if I'm running against them in the same pageant. I only compete against myself, and do the best I can to win.
I won the "Queen of Gay Pride" here in Tucson, in 1997. I also won "Miss Western Pacific" NCC, USofA, 1997. Among other awards are "Miss Congeniality" Tucson and Arizona America, and Miss Arizona USofA. Also "Best Talent" for Miss Western Pacific, 1997.
David: Though you informed me already that you decided to retire, do you plan to return to the stage, at least periodically for special events or occasions? (As Norma Desmond said in the movie Sunset Boulevard "Stars are ageless").
Shauny: I may return for a special function from time to time. I'd have to loose a few pounds and maybe some wrinkle repair on the face. The years are catching up to me. :o).
David: Over the years your "day job" has been in extreme contrast to your stage career. Will you please tell our readers a little about this fascinating dual life you lived, and how you managed to "pull it off"?
Shauny: Well, being a Doctor does have its advantages but there are those out there that think I'm weired or a pervert or something. All of us in the show biz as a female impersonator know what I'm talking about.

My life before becoming a Doc is what's really fasinating. In 1964 I joined the Navy as a Dental Tech. I also spent 22 months in DaNang, Vietnam. In 1968 I joined the Army Special Forces (Green Berets). After finishing jump school at Benning and SF School at Ft. Bragg, I put in for orders to go back to VietNam, so I did for another 18 months. I was with A-502 in Nha Trang for a while then went to Kontum were I was the team leader for Rt. Delaware, Special Operations, CCC, 1970 (MACV-SOG). There I ran missions in Laos and Cambodia.
I came back to the US in January of 1971, went to college in San Jose, California then joined the Police Dept..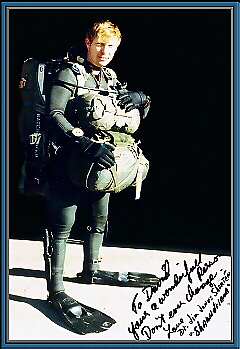 After a year I really didn't like the PD so I left. I joined the USAF and became a Pararescueman with the 129th ARRS (Parachuting paramedic). I was one of the rescuers on the Mt St. Helens disaster, the first 3 landings of the Space Shuttle, chase rescue for President Carter and Senator Kennedy, plane crashes in the mountains and rescue of seamen at sea. One of my most daring rescues was that of a seaman who had a ruptured appendix. My team mate and I flew out 1700 miles and parachuted into 30 foot seas. I was so sea sick! We did manage to get the patient ready to hoist up into a helicopter. We flew him to Coos Bay, Oregon, were he survived the ordeal. After being injured on a few rescues it was time for me to get out. I returned to college, took pre-med, went to Chiropractic College for 4 years, then did a 3 year residency in Radiology. I'm presently with Advanced Open MRI and Desert Rose Radiology here in Tucson, Arizona.
David: By the way, do you plan to write a book about your fascinating life?
Shauny: It's in the process. If you know anyone who would like to help me write it, I'm open for suggestions. It would make a great movie.
David: Do you have any hobbies or interests that occupy your free time?
Shauny: Hum . . . well, I'm a pilot as well. I've been working on rebuilding a 1966 Piper Cherokee 140 (PA-28). May go on to get my A-P license. I also sky dive from time to time. I love to go camping and looking for treasure . . . I love adventure. I also love automobiles. I drive a Caddy Allante and have a 1978 TransAm and a 1946 Pontiac Streamliner.
David: Do you favour any particular cuisine? Are you a good cook, or do you like to eat out most of the time?
Shauny: I love all food. Pork Chops with apple sauce is great. Salmon is yummy. I love fruit and berries as well. I do love to cook but being only me . . . well it's not too practical to cook a nice meal. I'd have to say that I eat out at least once a day.
David: Is there anything challenging you would like to do now in your life that you have not done but always wanted to?
Shauny: I want to buy a boat and go diving for treasure, doesn't matter if I find any, it would be fun just looking. I also love to shoot video and photos. That would be another adventure in itself.
David: Is there anything "so very you" that not even those close to you know about that you would care to share with us?
Shauny: I'm a very manly person on one hand, however I appreciate my female side very much. It's loving and careing. It's a wonderful thing to have and to express to others, especially in the world we live in today.
David: If you could ask The Good Fairy to grant you a wish today, what would that be?
Shauny: That the blind could see, so they could see the sunrise and sunset, and the wonderful colors of the flowers and paintings. That the deaf could hear music, the wind blowing and the wonderful words "I love you".
David, thank you from the bottom of my heart for all that you've done to immortalize all the wonderful entertainers of our time. I feel very greatful that you have honored me with this interview. I wish you and yours a continued rewarding life and that God will bless you in every breath you take. Love and hugs, Shaundriana :o)

You can e-mail Shauny at Shandriana@aol.com
---
Following is Shaundriana's Farewell to Showbiz as published in the May 2, 2001 issue of THE WEEKLY OBSERVER, Tucson, Arizona. He was so sweet to mention me and my WEB Page.



~~~~~~~~~~~~~~~~~~~~~~~~~~(

)~~~~~~~~~~~~~~~~~~~~~~~~~~
FAREWELL TO SHAUNDRIANA
Hi, my name is Dr. James Shorten. Most of you know me as "Shaundriana". It is with deep regret that due to my busy work schedule, I will be unable to perform as "Shaundriana" at any future dates. I want to take this time to thank you all from the bottom of my heart for all that you have done for me and have donated monies to my performances over the past five or six years. I want you all to know that any money that I received was given to needy causes such as SAAF, The Mucopoly-saccharidosis Foundation, The Food Pantry and other needy causes. I truly enjoyed performing for all of you, and I am so grateful to have you all as friends.

I also want to thank Mr. Kenneth Blake for teaching me the art of make-up, Helena Bubbles for giving me my first opportunity to perform, Lucinda Holliday for all the love and help through the years, and all my drag sisters for their love and friendship. I wish you and yours a continued rewarding life and that God will bless you in every breath you take. As Ms. Dolly Parton says in her song, "I Will Always Love You".

For those who are interested, I can be reached on a WEB page that belongs to Mr. David de Alba at www.david-de-alba.com. Mr. David de Alba, also known as "Heri the Hairstylist of the Stars", is a singer/impressionist and performs as Judy Garland, Liza Minnelli, and his own character Boy-Chic. David sings in his/her own voice in English, Spanish, and French, and performed for many years at the famed San Francisco Finocchio's. (Finocchio's closed its doors for the last time on November 27, 1999 after 63 years of performances.)

David has been a wonderful friend who was born in Cuba and came to the United States as a young man. He has been featured on many TV shows, magazines, and newspapers. On his WEB site he has many interviews with celebrities of past and present. If you have time, please visit his WEB page and look for me, "Shaundriana", or any other celebrity.

God bless you all. Hugs and kisses,
Shaundriana
---
* Cuban/American entertainer David de Alba (also known as "Heri, Hairstylist of the Stars") is known for his live singing impressions as a concert artist since 1965. He has worked at the world famous Finocchio Club of San Francisco (USA) for many years. Visit the award winning Web Site "David de Alba's Theatrical Arts & Tributes" at

http://david-de-alba.com and you can e-mail him c/o paulryner@cox.net