De Alba on Stewart

By Entertainer David de Alba

*
---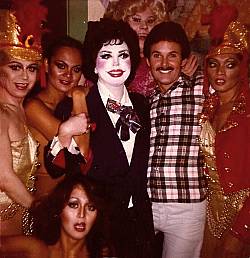 For many years Keny Stewart delighted the Finocchio Club audiences with his fine ventriloquist act. Although he performed at a famous nightclub known over the world for its live female impersonation revue, he worked as himself in male attire; his dummies were the female impersonators, so to speak. Though we were not close friends as I was with other members of the cast, he and I had an affable co-worker relationship. I even styled the wigs for Sally and Sylvia (his two dummies) and did Keny's own haircut at my well-known Potrero Hill salon "Heri the Hairstylist of the Stars". I will never forget how kind it was of Keny to come to KEMO TV to take photos of me dressed as a Pierrot when I was a special guest of the 'Amapola Show'.
Many long years have passed since I left Finocchio's and The Bay Area. Then, as if destiny had it planned, on June 27th, 2010 at the debut of my "Finocchio Backstage Memoirs" tribute concert in the Summerlin Theater here in Las Vegas where Keny resides, we met again, along with singer Lavern Cummings, another Las Vegas resident, bringing back many pleasant memories from our Finocchio Club days.
David: Welcome Keny, to my Interview Series. Where we you born and where did you spend your youth?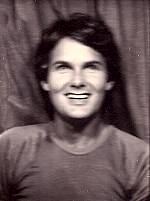 Keny: I was born in Bakersfield, CA and we moved later to Northern California, in the Sacramento area. My father was in construction so we traveled a lot throughout the state. My teenage years were spent in Northern California where I finished high school and then went to college for my theater major.

David: At what age did you develop that feeling of becoming an entertainer and specifically a ventriloquist?

Keny:

When I was a child watching cartoons, I found that I could mimic the cartoon voices and loved doing all sorts of characters. My grandmother gave me a puppet for Christmas and I loved making it come alive and making it talk. I later found books on ventriloquism and taught myself everything I could to be a good ventriloquist. I entered school talent shows and loved doing the puppets and knew then that I wanted to be a ventriloquist and entertain people.

David: Did you have anyone you admired (or a mentor) in the field of ventriloquism?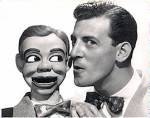 Keny: Paul Winchell was my idol. (Picture on right) I used to love to watch his TV program with Jerry Mahoney and Knucklehead. He was so creative with his puppets. My first ventriloquist dummy was a Jerry Mahoney that I had saved my money to buy. I was 10 at the time. Now, I have a collection of many puppets from over the years.
David: How did Joe and Eve Finocchio become aware of your act for you to be hired at their club?
Keny: I was entertaining on cruise ships during the 70's and my home base was San Francisco. During some time off from the ships, I was looking to see where I could work in San Francisco. There weren't many clubs that were hiring variety acts and then I remembered that Finocchio's once had a puppeteer. So I contacted the club with a resume and photos. Eve Finocchio called me and asked me to audition at the club one evening. She loved my act and wanted to hire me right then and there. I was excited about living in San Francisco and not having to travel for awhile. I worked Finocchio's off and on for over 5 years. I had a contract with a revue in Lake Tahoe and Mr. Finocchio said he would hire me back when I returned. He was always a pleasant man and I think he respected me as part of his club.
David: What were some of the more pleasant memories of working at that famous club and also were there any not so good memories?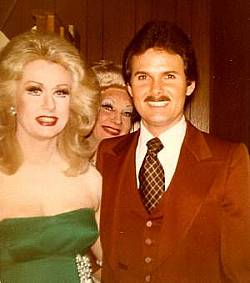 Keny: The history of Finocchio's always amazed me. When I think of all the performers that graced that stage before me and all the great acts that played there. I so enjoyed working the club and making people laugh. We had great audiences that loved the show. I loved performing with my puppets and entertaining the people. I also enjoyed the cast. There were some really nice professional people in the show and everyone made me feel welcome from the beginning. Caroll Wallace was one of my favorite persons in the show. He was smart, had been in the business for many years and would always be willing to advise me on matters of show business or investments. Plus, we had so many fun times laughing and being silly backstage.
The only bad memories I have of the club are the ones of the backstage bickering and jealousy between some of the acts. We were all there to perform a show for the audience, yet sometimes certain acts would get crazy jealous if you got more laughs or applause than they did. Sometimes someone would mess with your microphone settings or your lights just to make you crazy. It was silly stuff, but made for lots of tension backstage. Doing four shows a night was grueling. Sometimes we would have only a handful of people for the 1 o'clock show. It was so difficult to perform that show, yet if there were at least four people in the audience - the show went on.
One fact that many may not know is that I was fired from Finocchio's. In 1982, Eve decided to put together a new finale production and wanted me to wear this bright orange ruffled shirt and pants ensemble. I explained that I was a professional act and always wore tuxedos and suits and that would go against my character. Well, she didn't like anyone saying no to her and the next Saturday night after the last show, Mr. Finocchio regretted to say that I had to leave. He seriously didn't want me to go, but the wife had the power at the time. In retrospect, it was a sign . . . a sign to move on. I truly enjoyed my time at Finocchio's, but I had been wanting to come to Las Vegas and perform on The Strip. The time had come and I did move to Las Vegas in 1983 and performed in several Strip production shows for many years. Las Vegas has been good to me and I'm grateful that I moved here during that time.
David: I assume you performed with female dummies Sally and Sylvia to accommodate Finocchio's "female impersonation" theme. What other characters (talking dummies here) have you worked with in your act?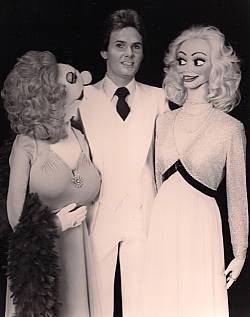 Keny: Actually no. I had already been performing with the female characters from my cruise ship days. My life-sized female character came out of a college project that I was working on. We came on stage, spoke and then did a dance routine. Audiences loved it and I created an act out of the idea. I enjoyed doing the female characters and have also done many other characters throughout my career in show business. I have the classic boy character that I still use for performances and several funny animal characters that go over well with audiences.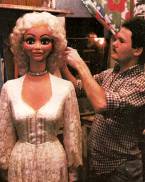 David: By the way, did you design and construct your own dummy partners?
Keny: Yes, I created both of the female characters. One I built myself and the other I had crafted by one of the top figure makers at the time. Both of these characters became my trademark in the business of using life-sized female dummies. When I moved to Las Vegas, we performed in several of the strip production shows and I continued to use both Sally and Sylvia during those times.
David: Can you share some funny stories, or dirt, from your run at Finocchio's?
Keny: My favorite funny story was when we did the last 1 o'clock show and we were all so tired and wanted to go home. Half the performers had most of their make-up off and had their street clothes on under their gowns for the finale. It was hilarious to watch them. Carroll Wallace would be holding his wig on with his hand because he had already unfastened the glue.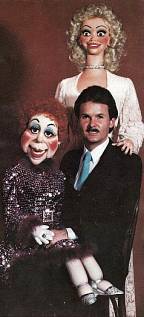 I learned fast not to say too much at the club, because everything you said would go back to Eve the next morning. I minded my own business and was always professional and didn't get caught up in the gossip. And there was plenty of gossip. Again, lots of jealousy between the acts. Sometimes there were outright yelling matches and name calling. It got ugly at times. The Finocchio Evettes were also becoming something strange during those times. A few of the cast were becoming too much of a woman and not an impersonator. One cast member was out on dating calls as a woman after the shows. Another was getting breast implants. It was becoming a different atmosphere from the true professional days of female impersonation.
Another strange story was the layout of the club. There were many back rooms in that place. When I went to speak to Mr. Finocchio about a raise or anything personal, he would take me to this back room way behind the bar area where they mixed the cocktails for the customers. It was like the old days of the speakeasy's, where they had to hide the liquor. In his office, there were literally bundles of cash laid out on a table, but the most noticeable thing was the loaded handgun laying there in plain site. I assumed it was for any robbery attempt or something. I was only in that back office maybe twice and both times were to ask for a raise in salary.
I remember how cheap the Finocchios were. They never put any money into the sets, the stage, and the lighting and sound was always failing or falling apart. Several of us used to come in on our days off and work on the lights or the sound system. Many times I would go to the club and re-wire the speakers to try and achieve a better quality of sound. And backstage dressing rooms were indescribable in their appearance. If a fire Marshall ever saw what that place looked like he would have shut it down . . . overcrowded dressing rooms . . . one toilet that was outside the building on a porch area. In those days sprinkler systems were not required and the place was certainly a fire hazard, plus many of the cast members smoked. It was a miracle that through all those years we never had any major accidents or damage. But regardless of the lack of proper facilities the Finocchio performers always came out looking glamorous for the stage. That was a testimony to our dedication to the art of entertaining.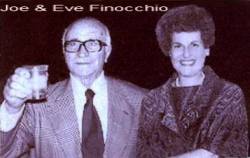 Saturday was the "big" night at Finocchio's. That's when Eve and Joe would show up. Everyone was on their best behavior, knowing that we were being watched and observed by our bosses. Eve would work the front entrance and collect tickets and money and Joe would greet people and seat them. During those years we had huge crowds and after the show the audience would have to leave through the backstage entrance on Kearny Street, so that the line of people coming into the club from Broadway was easier. After the finale, we had to scramble like mad to get off the stage and upstairs to the dressing rooms to get out of the way of the people leaving the club. The Finocchios forbid any socialization with the audience. Go figure, these days it's common place for performers to greet the audience and even have pictures taken with them. Joe could have made a fortune in picture sales if he had allowed pictures to be taken of the cast and audience members. (Editor's note: When the club moved from a Speakeasy on Stockton St. to it's final location at 506 Broadway, Joe had to promise the police that the entertainers would not mingle with the customers.)
David: Do you have other hobbies, pets or interests that fill your life?
Keny: My work keeps me very busy. I retired from Show Business 16 years ago and went back to college and got my teaching certification. I love teaching and working with children. I also have lots of opportunities to use the puppets with the kids. I perform several times a year doing ventriloquist shows and was hosting the ventriloquist convention here in Las Vegas for many years. I bought a 70 year old house in the historic district of Las Vegas and enjoy remodeling it. I enjoy traveling, video production, good friends, and the love of dogs.
David: Do you have any particular foods you enjoy? Are you a good cook?
Dave: I eat mostly healthy foods and love salads, but like to indulge in Italian foods and Chinese. I am a picky eater; no meat, seafood, or fish. Sometimes chicken breast cooked in foods is okay. I love cooking for others, dinner parties and things like that. I love experimenting with foods and creating new dishes. Having friends enjoy your cooking means a lot and it's such a gift to share.
David: If you wanted to do anything different in your life, what would that be?
Keny: Absolutely nothing. I have learned in the course of life that everything happens for a reason and I have learned not to have any regrets. I have been blessed with good family, friends, and work that has been rewarding for me in so many ways.
David: If an Angel were to grant you three wishes, what would they be?
Keny: That I would have my dear departed loved ones back.
That I can make a difference in someone's life.
That I could house all homeless animals.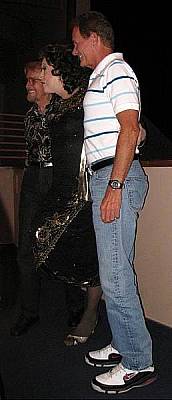 It is always strange how life has interesting twists of fate. One evening several months ago I was thinking about the Finocchio club and decided to Google it. As anyone knows, tons of information became available and to my delight I happened upon David de Alba's web site for Finocchio's. I was so impressed with the wealth of information and history of this famous San Francisco club. David's attention to detail and the workings of the club were outstanding. I realized then, that I too had a part in that famous nightclub tradition of so many years. I have nothing but kind remarks of my days performing at the Finocchio club and have many treasured memories of my time there with a cast of true professional entertainers. It was then that I emailed David to acknowledge him of his excellent web site and that work that went into creating it. He sent me a message that he just happened to be doing a tribute performance to Finocchio's in the coming months. I definitely wanted to be there in the audience to witness this event.

In show business you meet lots of people and make lots of friends, but the sad part is that in the nature of the business, people move on do other shows, travel on the road or change careers and you lose touch with so many. This was the case with my friendship with David de Alba. I always admired David as a true performer during those Finocchio days. He was the ultimate actor in preparing for his character roles in creating performances in song that were truly amazing. David always gave 100 percent in his on stage performances.

Witnessing David on stage during that June 27th performance was incredible! It brought back so many memories of the club and the total history that has transpired since that time. I realized that I was only a small part of the club's history, but never the less, grateful to be one of the members of the outstanding cast over the many years the club was in existence. David's tribute was memorable in his dedication to the club's history and fun filled "gossip" about backstage dealings. His tribute to the performers of past was inspirational.

I was honored, along with Paul Cummings to be a part of the audience and recognized as a featured cast member during that time. I was thrilled when David called us up on stage to have our picture taken with him to celebrate a moment in the tradition of the Finocchio Club. Thank you David for your insightful dedication in keeping the history Finocchio's alive and remembered for generations to come. It was a pleasure to be a part of the cast and a friend to a fellow performer from Finocchio's. Your inspiration to keep the memory of the famous Finocchio club alive is an honor for those who have been a part of its history.
You can contact Keny Stewart at vega12@cox.net
---
* Cuban/American entertainer David de Alba (also known as "Heri, Hairstylist of the Stars") is known for his live singing impressions as a concert artist since 1965. He has worked at the world famous Finocchio Club of San Francisco (USA) for many years. Visit the award winning Web Site "David de Alba's Theatrical Arts & Tributes" at

http://david-de-alba.com and you can e-mail him c/o cubanlegend@cox.net