De Alba on Walter!

By Entertainer David de Alba

*
---
In April of the year 2000 I attended the Carnival Cabaret at the Horizon Casino in Lake Tahoe, one of the best female impersonator revues I have seen in a long time. A phenomenal singer-impressionist by the name of Walter Larrabee was doing Carol Channing. It wasn't just the fact that he sang 'live', his make-up, costuming and mannerisms made me forget for a moment that it wasn't the real Carol on stage. I have seen the real Carol many times, and even talked to her backstage in San Francisco, so I'm not easily fooled. I told Walter after the show that it should be announced that he is singing 'live', so the audience won't think he is pantomiming to a recording of Carol's voice. Other facets of his career include emceeing, directing, choreography, and costuming. It is my distinct pleasure to bring to the Cyberspace audience, the very talented Walter!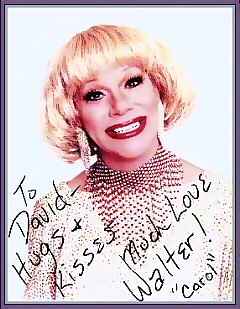 David: Walter! dear, where were you born and where did you spend most of your youth?
Walter!: I was born and raised in Salt Lake City, Utah. I spent all my youth in the conservative city of salt. It wasn't until I was 18 that I moved "Happy Valley", Provo, Utah, home of Brigham Young University and Donny and Marie . . . Enough said?
David: How were you introduced to the art of female impersonation? Did you have a "drag mother", or did a famous impersonator from the old school inspire or help you?
Walter!: I never had a drag mother, but I did have influence by two great entertainers, Wayland Flowers and Madame. I adore her and she was the first celebrity I ever impersonated. I had been performing in musical theatre for about 20 years when I was fortunate enough to join "The Campers", a comedy group in Los Angeles. That was the big turning point for me and I began my new career.
David: You are one of the few female impersonators left in our Biz that actually sings 'live'. Did you have any formal vocal training?
Walter!: I had to study voice. As a kid I was so off-key that my parents paid me not to sing in church. At 18 I went to my first lesson and it was such a horrible experience that it took me four weeks to get up enough courage to go back. For about three months I think I had about a three-note range. I felt so sorry for my voice coach. Still today I have a huge complex about my singing.
David: Carol Channing is known for a number of songs from her movie and stage career. Which have you incorporated into your act?
Walter!: Of course, "Hello, Dolly!" is what most people would remember Carol for, so I use songs from the show. I also love to perform 'Jazz Baby,' one of her songs from "Thoroughly Modern Millie," for which she received an Oscar nomination for "Best Supporting Actress" if I recall. One of my favorites is 'Diamonds Are a Girl's Best Friend' which she sang on Broadway several years before Marilyn Monroe sang it in the movie of "Gentlemen Prefer Blonds." Carol is a brilliant comedian and so telling jokes and talking to the audience is a big part of my act.
David: Carol Channing is your primary act. Have you done other lady singing characters as part of your act before?
Walter!: I do other singing characters but Carol is the only one I sing 'live' for. I do Madame 'live', a pretty decent Kate Hepburn, and last fall I started doing Joan Rivers, (which is OK but it is in the improvement phase.) The singing stars I have impersonated are Shirley MacLaine, Judy Garland, and a spoof on Diana Ross.
David: How did you get the gig at the Carnival Cabaret? Were there any other Carol Channing impersonators, pantomime or 'live', that auditioned for the spot?
Walter!: I would like to think I got in at Carnival Cabaret because I'm one of the best. Actually I had worked for the same producer two years before in Biloxi, Mississippi.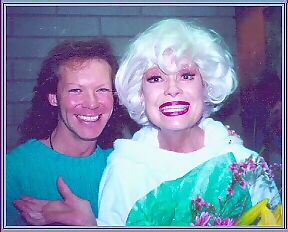 David: Has Carol Channing ever seen you on stage? Does she know that you impersonate her with such respect and admiration? Most legendary Stars feel that being imitated is the ultimate flattery.
Walter!: Carol has never seen me work. It was better than an E-Ticket at DisneyLand the night I sat center stage front row, and watched her for two hours as she entertained in her one-woman show. After the show I met her, had a photo taken with her, and told her about my work. I have also sent a couple of my photos to her.
David: Other than the live stage, have you been involved in other facets of the Biz such as television or movies?
Walter!: As I mentioned, I performed in musical theatre. I love musical theatre, almost as much as Rosie. I've also directed, choreographed, and most recently designing and constructing costumes. I've done one comercial, one crime solvers segment, one local talk show, and one movie, I would love for you to see my performance in the movie, but it is all on the cutting room floor. One seems to have been my lucky number up 'till now.
David: Who makes your wardrobe and who styles your wigs?
Walter!: A lot of my wardrobe comes off the rack. I guess I'm lucky to be a "petite girl", because I can find a lot of great clothes. I have also started making some of my own outfits. I taught myself to sew and now I'm doing all I can about costuming. Wigs . . . I am awful at hair, so I have all my wigs done by friends. It's amazing how many people want to see their creations on stage.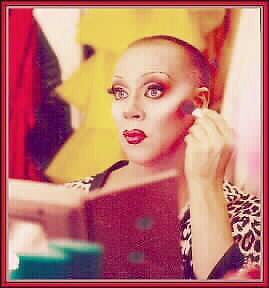 David: Your skin looks like satin on stage. Without giving away any trade secrets, what make-up and foundation tricks do you use to achieve such a look?
Walter!: Aren't you sweet. No big secrets, three pounds of make-up, a putty knife and a Sheneka paint-by-number set. The truth, I use Max Factor pan stick for my base and almost all my other make-up comes from La Femme.
David: Since you have traveled a lot in your career, is there any place you played that you remember with a special fondness?
Walter!: My stint at the Paris Opera House was very memorable. (There are no details to be had.) Also my performance of "Bosom Buddies" with my friend Steve on the Queen Mary in Long Beach, California was not to be missed.
David: Performing "on the road" has its good and bad points. Can you elaborate on both?
Walter!: On the road. I think I miss having my own home most. I love doing yard work. It is very therapeutic for me. I look forward to having a yard again. I also miss my family. Most of them. I have a very supportive mother and I try to speak to her weekly. I also miss playing with my nieces and nephews. They keep me young and anything to keep me young is OK with me.
Bill & Nada's was my favorite place to eat in Salt Lake City, but it closed last year after nearly fifty years in business. Now there really isn't any reason to go back. No, I'm kidding. I also have a sister who I'm very close with. I think of her a lot when I need to be reminded of inner strength and to "live one day at a time." I love meeting new people and seeing new places. I wouldn't want to give up performing, so if it means being on the road, then bring it on.
David: When you are not performing, are there any hobbies or interest that occupy your time?
Walter!: Let's see. TV. I can't lie. I love to stay home and watch old movies, reruns of "I Love Lucy" and "Nick at Night." I sew a lot, and here at Tahoe I go to the beach all the time. I love water; I find it very calming and want to live by the ocean some day. I haven't been skiing for almost ten years and will start again this winter. I play around on the piano and read autobiographies. I recently purchased a computer, so surfing the Net, touching up photos and trying to remember to "save my work" are taking up a lot of my time. A few other interests will be discussed in the book [autobiography].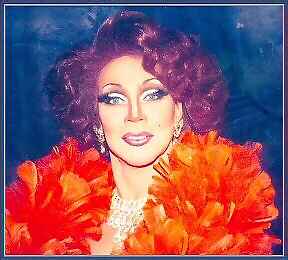 David: If you had not chosen to be a performer is there any other career or trade that you feel you would have been good at?
Walter!: Probably teaching. I'm a senior with a lot of credits but not the right ones to graduate from college, so right now teaching is out. Perhaps one day I'll finish. Like a lot of performers, I have been a waiter and I'm very good at it. I spent many years waiting tables and managing restaurants. It's hard work, but I actually think about opening my own restaurant, maybe even a dinner theatre.
David: What kind of guy is Walter when he takes off his stage make-up?
Walter!: To quote Bette Midler from "Beaches" . . . Walter! is very very deep. He feels things deeply. Which is a bunch of crap. But at the same time is also truer than I am usually willing to admit. I still have insecurities and that "inner-child" needs a lot of love. I give when I can and many times when my mind says not to, I try to follow my heart and my dreams. I believe that we as people can live a life of happiness and having a job that I love is a big part of my happiness. I don't think I'm much different than most people in what I want, but maybe in the way I go after it. I'm a spiritual person, but not what I would call religious. I try to see the good in others but forget to look for it in myself. I don't want to get too "deep" here, so let's just say I love life and I try to always follow my bliss. I am happily single and look forward to the day when I am happily committed.
David, thank you again for showing interest in my performing and wanting to include me in your interviews. Love and Light, Walter!
---
* Cuban/American entertainer David de Alba (also known as "Heri, Hairstylist of the Stars") is known for his live singing impressions as a concert artist since 1965. He has worked at the world famous Finocchio Club of San Francisco (USA) for many years. Visit the award winning Web Site "David de Alba's Theatrical Arts & Tributes" at

http://david-de-alba.com and you can e-mail him c/o paulryner@cox.net