Lynne Carter
I first heard about Lynne Carter as one of the Stars of the famous Jewel Box Revue. I saw him on the Merv Griffen TV Show appearing as Bette Davis singing "All I Want Is A Room Somewhere", and later "live" at the After Dark Club in San Francisco, California. He did an incredible impersonation of Pearl Bailey, which was unusual for a white entertainer. Pearl Bailey caught his act while he was working in the Chicago night club circuit and thought he sounded enough like her to make his own success story and so he has. When I saw him toward the end of his career one of his trademarks was to wear lacquered mannequin wigs, and I remember he threw bits of pumpernickel bread into the audience as part of one of his skits. After his show I spoke to him for a while. I invited him to catch our show at Finocchio's down the block, and to see his old friend and co-worker at The Jewel Box Revue, Lavern Cummings.
After having served for two and a half years in Uncle Sam's Navy in the South Pacific where he was wounded, Lynne discovered his talent by attending a costume ball at The Carter Hotel in Cleveland, Ohio, adopting the last name Carter thereafter. He started his career as a dancer, but soon found he was quite apt at miming "live", various Stars in the entertainment world such as The Toast of Paris Josephine Baker, Bette Davis, Mae West, Marlene Dietrich, Phyllis Diller, Hermoine Gingold and others. To quote the woman who really started the whole thing, Pearl Bailey, "When I hear Lynne sing it is like listening to a play back of my own voice". She loved him so much that she sent him not only her arrangements but a bunch of her gowns. Similarly, Josephine Baker sent him three taxi-loads of her Balenciaga and Dior gowns, and so he got started. Danny Brown and Doc Benner, producers of The Jewel Box Revue, said that Lynne Carter has reached in the nightclub field what the great Julian Eltinge reached in the theatre. Lynne also played Carnegie Hall to a capacity audience and was on stage for two solid hours. He later said "If I never walk on another stage again, this has been enough for me." And now ladies and gentlemen, I bring to you the one and only Mr. Lynne Carter!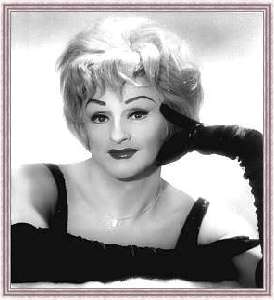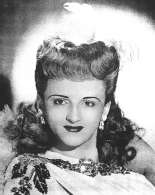 Lynne Carter as Josephine Baker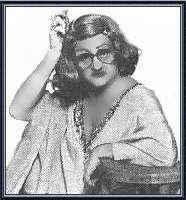 Lynne Carter as Bette Davis
As himself, 1950's
As himself, 1980's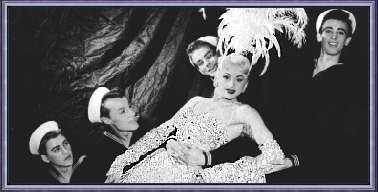 Lynne Carter & JBR chorus boys, left to right:
Jay Johnston - Tommy Baker - Bob Sylvestre - Tony Leigh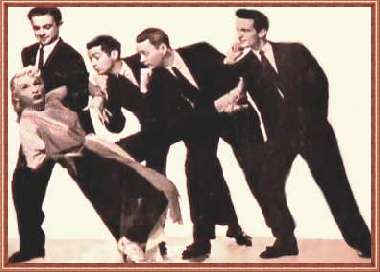 Lynne and Four Cartiers
Old Beige Room, SF, CA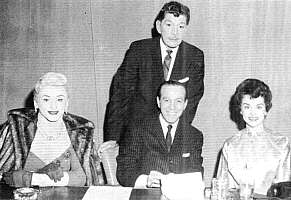 Lynne and Danny Brown (back)
Interviewed on TV by Marty Faye & Miss America 1957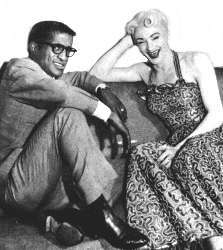 Sammy Davis & Lynne Carter
Editor's note: Lynne Carter made two appearances on The Mike Douglas TV Show in the 60's. On his first appearance, the show was hosted by Sammy Davis, Jr. Lynne presented Bette Davis and then quickly returned as Pearl Bailey. After Pearl was finished singing, Lynne (in character) and Sammy engaged in conversation . . . amazing to watch probably the most prominent black male entertainer of the day talking with one of the most famous female black entertainers realizing the black woman was really a white man.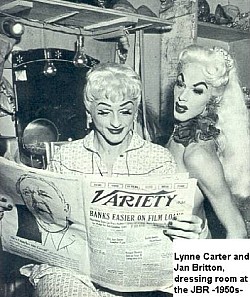 Lynne Carter & Jan Britton, 1950's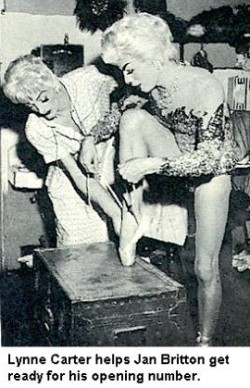 Lynne Carter & Jan Britton, 1950's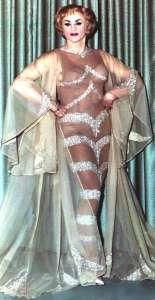 Lynne Carter, JBR, 1960's

Comments from FI and costume designer Tony Midnite on Lynne:
Lynne Carter was one of the rare ones that could do his spot and also be featured in the production numbers. It was at The Flamingo in Hollywood that Mr. Carter first began to do "his flawless impersonations". His impression of Pearl Bailey doing her classic number 'Tired' always brought the house down. His humor took in everything, including himself: accused of being bowlegged, he said, "Honey, when I say I am going to take a walk around the house . . . I take a walk around the house!".

The entire Jewel Box Revue production that played on Broadway was built around Lynne and a character called Nellie, a wardrobe mistress who had been a big musical comedy Star in her day. As she reminisced about the past, it came to pass before your eyes. That was the story line woven through the show. Lynne was on stage eight times.

By the way, I made the gowns Lynne's wearing in two of the pictures above. The one with the feather headpiece was for the French number, with white lace over nude with white iris sequins, jewels and a long stole. The other is brown lace over nude with bugle beads.
Comments from FI Libby Reynolds on Lynne:
No doubt Lynn was one of the best entertainers of the day. While visiting in his dressing room at The Town & Country, dishing the dirt over a few cocktails he told me " Libby, always watch your back, because there will always be someone trying to get in your place." And he sure was right about that!

Was thrilled with the pictures, one in particular, the one with the chorus boys. Tony Leigh was a very dear and close friend, and it was wonderful to see his great face again. He spent Christmas with me at my niece's home on Long Island in 1968. My family took to him like 'ducks to water'! He styled many of my wigs in Chicago, and made them look fantastic. He had so many talents. He is truly missed.
Comments from entertainer Harold Weber (of Knight & Weber) on Lynne:
Lynne Carter had a slight build, rapid fire patter, and a zest for entertaining. His enthusiasm on stage was unequalled. Most of his skits held the audience breathless, waiting for the next "shoe to fall". Truly Star status.
Comments from FI Lavern Cummings on Lynne:
Lynne Carter was one of the most professional and talented impersonators I have ever worked with. His Pearl Bailey impression was a classic. To see this white, blond guy do a black performer was unreal. He also did his impression of Bette Davis and others. I worked with Lynne in The Jewel Box Revue a couple of times, as a lot of us would take a hiatus from the JBR then return. Lynne Carter had top billing and deserved it. (BTW, we share the same initials.)
Comments from FI Laurie Knight on Lynne:
Lynne Carter was a great choreographer and when he came to perform at The Beige Room in San Francisco, CA he gave us all of his talent in the production numbers and every show went over great. I have always thanked him for what he taught me about theater.