De Alba on Hensel

By Entertainer David de Alba

*
---
When I first met Allison Hensel it was in 2005 at The Tropicana Casino when we attended host of the CBS Late-Late Show, Craig's Ferguson's Las Vegas debut. She was behind me in the line for ticket holders waiting for the theater doors to open. I remember she was dressed impeccably and we shared a few words, but then when the time arrived to let the audience in, surprisingly enough she was seated next to me and my partner Paul. We became acquainted and she told me about her theatrical career as a comedienne and also as a film actress. She told me she lived in Albuquerque, New Mexico and that she flew in to Las Vegas especially to see Craig perform that night. I said that we also lived there from 1990 to 1993. We met Craig after his show at an exclusive meet-and-greet session and took photos with him. (See photo in interview below) I told her that I would keep in touch with her via e-mail.
Although I am not doing more Celebrity Interviews for my Web Site, I decided that I would add one more, and she enthusiastically said she would participate. I am taking a special interest in this interview because Allison is a very hard working person, trying by every possible means with perseverance and integrity to make it big in the film industry, and also to give her unique comedy act, 'Myrtle, Sex Goddess of the Trailer Court', more exposure.
If any influential people in Showbiz were to read my interview on this lady, please open your hearts and doors to her....not only because she is committed to her work, but also because she is very talented. People like her deserve a break in the Biz. So ladies and gentlemen of the Internet, I now bring to you, Miss Allison Hensel !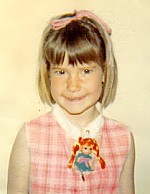 David: Allison dear, where were you born, and where did you spend your youth? Did you come from a Showbiz family?
Allison: I was born in Kansas City, Missouri on May 31, 1964. My mother was a homemaker at the time, and my father was in the Army. Due to the demands of my father's work in the military, we lived and traveled all over the world. I lived four years in Japan and six years in Germany.

A few months before I turned 16, my parents divorced and I was able to go live with my father, who had been sent back to my fabled childhood play land in Bavaria. My father, who loved historic sites and photography, took me on every adventure we could muster. We covered all of southern Europe during the two years we were there; France, Spain, Austria, Switzerland, and Italy. I rang in 1982, my senior year, in Paris, France and went to Spain for my Senior trip. It was as close to my imagined dream of life as I've ever come.
I never knew anyone in "the business" before I began my quest to live my dream, but I always loved playing dress-up as a child, and Halloween and Fashing (German for Mardi Gras) are my favorite times of the year.
David: At what age did you decide that Showbiz was the career for you, and do you remember your first professional engagement?
Allison: At the age of 12 I knew I wanted to become an actress. Being a character actor was my ultimate goal. In high school I took speech class, during which I landed the lead role in a school play, "A Ghost for Miranda." My professional career got a start when I went to my first audition for a short film being produced at the local film festival, Digifest, which was sponsored by Christopher Coppola. I got the first role I auditioned for, in a film called Drive By.
David: You have lived in many parts of the world, so why did you settle in New Mexico instead of Southern CA. where most Showbiz folks find work?
Allison: In this country I lived two years in Maryland, 12 years in Texas (my family is there), four years in Minnesota and 11 years in Missouri. I chose to settle in New Mexico because I was starting from square one, and Hollywood is a tough town for young people with a full set of developed skills. I began this quest later in life and I knew I still had a lot to learn. I wanted to strike out for LA, but having to earn a living and being able to 'pay my dues' as they say, required a bit of coordination. My inquiries in California didn't show any promise for success in the job market for my particular background, Environmental Biology. I do water resouce management for Bernalillo County where Albuquerque is located. I also deal with any other environmental issues that may come up. I tried applying to several places in California, but the laws are very strict in that state.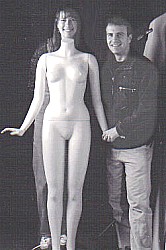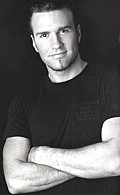 A long time friend of mine, photographer Russell Maynor, [See picture on right] told me about the booming film industry here in New Mexico, so I looked at the potential for getting a job and found a great position, working in my field of expertise, with a boss that was willing to indulge my pursuit of a career in the film industry . . . so here I am. I have had the opportunity to get the training and experience I need while still being able to support myself. My résumé isn't a blank page anymore. It has worked out pretty well so far.
The photo [on the left] was taken in New York several years back, during one of my visits there. Russell was working on a catalogue shoot and I stopped by for a visit. I thought is was a fun idea.
David: Speaking of places you have lived in the past, did you live in any foreign countries long enough to learn some of the local language and customs? Do you think this experience can help you in your Showbiz career?
Allison: I seemed to have a knack for language. I have always enjoyed learning to communicate in a variety of ways. It seems to suit my nature. Growing up in foreign countries, my parents insisted that we learn the local customs and abide by their social rules and laws while we were there. "When in Rome . . ."
Any skill set you can get acquainted with is a benefit in this industry. I enjoy the challenges that come with trying to gain proficiency in everything I can. If something catches my interest, I naturally want to know everything I can about it. Some things hold my interest and fascinate me more than others, so I do some things with more skill than others, but I try to have a variety of skills to allow me the most opportunity to pursue the things I have an intense interest in. Treading water is the time to study so you can get the boat moving again.

David: Among your set of skills I can see you have a knack for comedy. Were there any particular comediennes or actors that inspired you, and possibly influenced your style?
Allison: The two people I admired most in my early days, and still hold great admiration and respect for in this business, are Carol Burnett and Charo. I am captivated by their performances every time I have seen them. I had an opportunity to meet Charo a few years ago. She is more gracious and compelling in person. Actually, my dog, Sprinty, was cause for our introduction. He's such a cutie. Charo asked if she could pet him, and I obliged. She came over to speak to me every time she saw me after that. I felt honored to have regard from such an iconic Star. She has always defined what a true Star is, and my meeting with her solidified my opinions.

I have yet to find an opportunity to meet Carol Burnett, although I have always wanted to do so. I am hoping at some point that opportunity will come along. My character of Myrtle could possibly be described as the physical style of Carol Burnett's characters with the personality and self-esteem of Charo. Everyone seems to find it an appealing combination.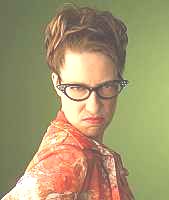 David: Please tell us more about your hilarious comedy act "Fertile Myrtle, Goddess of the Trailer Court". What inspired you to create this character?
Allison: I chose to drop the word 'Fertile' from the character name when I began expanding my audience base. The overwhelming perception tended more toward porn star, instead of her actual persona of reserved proper Midwestern girl, with dreams of being the next Marilyn Monroe. I now list the name as 'Myrtle, Sex Goddess of the Trailer Court'. The change seems to be working out, with a more positive response.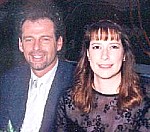 The character was created as a practical joke when my then boyfriend was transferred to a new office. [See picture on right] He wanted to get to know people without his typical hassles of attention from the women in his office. He's a kind-hearted guy of dashing good looks. Women tend to flutter around him like moths drawn to a light bulb. On my suggestion, he went to work every day for his first week dressed like a total nerd. The only thing missing was the tape on his glasses. I agreed to dress the part and meet his new office mates as his also nerdy, simple girlfriend. In my quest for just the right dress, I came across the outfit that inspired the tidal wave named Myrtle. I then began wearing the outfit to bars and parties. It was a big hit every time. I added details to her back-story as things came up. There have been a few edits over the period of time I've been doing the character, but I think it has developed into almost a complete entity of its own. Myrtle's chomping at the bit to make her big debut in Hollywood. The development of Myrtle is what drove my move to begin my career in this business . . . I had something the people wanted.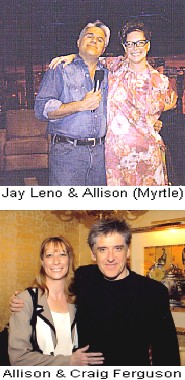 David: Has your alter-ego, Myrtle, had any exposure in movies or television? I saw a picture of you (Myrtle) with Late Night Talk Show host Jay Leno.
Allison: Last year, I made a 10-minute short containing several skits that I wrote, so I could see what Myrtle looked like to her public, and also to try out a few different mannerisms to see which ones worked the best. I was hoping to get a few clips I might include on a demo tape, but one turned out so well, I have been trying to get it worked into something a bit more commercial. I'm currently looking into doing an animated version of it. I also did an appearance on a local cable access talk show in March, 2006, where I was both guests on the show. The first half of the show I was interviewed as myself, the second half of the show was an interview with Myrtle.
In December of 2005, I went to LA on a day trip to try to meet George Clooney and ask him to look over my material that depicts him, so he could approve it before I go public with it. I assumed he would want to see the character, so to save time for him, I dressed up as Myrtle and went to give him an invitation to meet with me. I wasn't able to get the information to George due to the policies of NBC, but the trip wasn't a total loss. Before the show began, I asked Jay if I could come down and get my picture with him. He agreed . . . the rest is history.
David: Back to your résumé . . . You told me that you have been fortunate to be involved in a number of TV and movie productions over the years. Which were the most memorable, and did you work with any famous stars we would recognize?
Allison: Over the past 2 years, I have been a part of 24 films, three TV series, and five commercials. I have had the privilege of working with several celebrities during that time, including:
Thomas Gibson (Dharma & Greg) on In from the Night, William Fichtner (Longest Yard, Invasion) on First Snow; Lance Henrikson (Alien) and Keith Carradine on Into The West; J.Lo and Martin Sheen in Bordertown; Judd Nelson (Breakfast Club) on Three Wise Guys; Billy Bob Thornton (Slingblade) on Astronaut Farmer; Liam Neeson and Pierce Brosnan on Seraphim Falls; Richard Gere on The Flock; Kevin Kline on Welcome to America - now titled Trade; Will Forte (Saturday Night Live) on Beerfest; Jessica Simpson, Dane Cook, Andy Dick, and Harland Williams (Something About Mary) on Employee of the Month; John Travolta, Tim Allen, Martin Lawrence, MC Gainey (Con Air), and William H. Macy (Fargo) on Wild Hogs; and last but not least everyone on Oceans Thirteen.
The memorable moments on set would include:
Meeting Lance Henrickson, the first star I actually got to speak to on a set, during the filming of Into the West; pouring coffee for William Fichtner in First Snow; making eye contact as I walked past Judd Nelson on Three Wise Guys; offering a chocolate truffle to Liam Neeson on Seraphim Falls; attending the wrap party for Astronaut Farmer and chatting with Billy Bob Thornton and comedian George McKelvey; catching the attention of Kevin Kline on Welcome to America/Trade and being featured in the closing scene with him; being noticed by Martin Sheen on Bordertown; chatting to Will Forte on Beerfest; chatting with Harland Williams on Employee of the Month; and interacting in a scene with William H. Macy in Wild Hogs.
David: Wow! That's quite a variety of experience for such a short time. Without jinxing any plans, do you have any "irons in the fire" for the near future?
Allison: I am currently working on a feature length film to debut my character, Myrtle. I have a couple of other scripts in line to do after this one gets going. I am still working out the details, but I have had a lot of offers from actors and crew to be a part of the Myrtle movie. I hope the response from the producer side of the table is as enthusiastic and positive.
David: Good luck with that. We're all looking forward to seeing Myrtle on the silver screen in the near future. If you had to choose between being a successful stand-up comedienne working in front of a live audience, or a career in television or movies, which would you choose, and why?
Allison: I have always been more inclined toward film and /or television. I usually have several ideas on how to approach something, and film gives me more latitude to try a few scenarios and then see which one works best. I find it difficult to concentrate on those types of details when you have an audience watching.
Also, when I accomplish my goal of nailing a performance, I don't like going back and trying to be perfect again. Repeating a performance over and over seems a bit redundant to me. There are too many roles that interest me and too little time to do them all. I want to get to as many as I can while I have the opportunity to do so.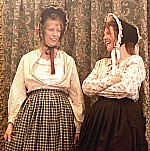 David: What type of movie roles would attract you the most; drama, period pieces, comedy, satire, or ???
Allison: I like doing anything that involves getting into a costume. I love character roles. I have enjoyed doing several types of characters in past films. The most fun were playing pioneer era women, corsets and all, and playing a vampire in an independent film. I also enjoyed playing a doctor in a couple of films and a police detective in the movie, Trade. Comedies allow me a little more freedom in regard to being odd or different, so I am more inclined to veer toward that genre, but I usually don't discriminate. If I get to wear a costume, I'm there.
David: When you are not involved in Showbiz, do you have any hobbies or pets to occupy your time?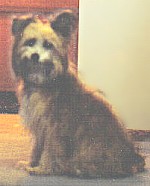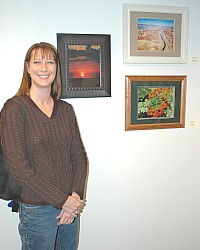 Allison: I try to spend my free time with my dog, Sprinty. He's such a momma's boy. His world revolves around me, so I try to spend any free time with him. He has such a great personality that it's always fun to be around him. I've had him for ten years, and he still surprises me with his antics. As far as hobbies go, I have indulged in a variety of things. The ones I have carried on through the years would include playing drums, skating - all types, painting and drawing, [See oil paintings on right] various crafts, and billiards or pool.
David: Do you favour any type of foods? Do you like to cook . . . or do you prefer to eat out?
Allison: Having lived in different cultures, I'm usually not too picky about food. I have to restrict myself on some things due to allergies, but otherwise, I eat most everything. The list of foods I don't like is a lot shorter. Things like liver or any other organ meats, okra, and cantaloupe are on the list of 'prefer not to eat' . . . but, I will eat them to be polite, if someone serves it to me.
As far as cooking or eating out, I prefer to cook. I supported myself as a cook for many years before I got into the sales side of things when I went to college to study business. I started cooking simple things when I was five; it was just a natural thing to do. I can rustle up something tasty in almost any kitchen. Coming from a large family with limited means, you learn to be creative. I have been told I'm a pretty good cook. (Besides, it's a great way to land a man.);o}
David: Do you have any particular goals that you wish to achieve in your life and career?
Allison: My primary goal is to provide a comfortable life for myself. Money has always been the main factor that limits my abilities. I have worked at learning the skills I need to ensure I will always have the things I need, and hopefully get a few extras along the way. I've done pretty well so far. Always move up, and never look back. My approach to life is basically looking forward to the next adventure. There are so many things in life I have yet to see. No use crying over spilled milk if you own the cow.
David: If the good fairy were to grant you three wishes, what would you ask for?
Allison: Ah, the fairy question . . .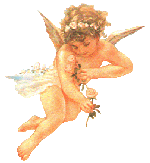 My first wish would probably be to be a fairy for a day . . . be a tiny person with wings flitting around the garden with other fairies for the day, sipping dew drops out of honeysuckle blossoms.
My second wish would be to have a magic money drawer with an endless supply of money that would produce whatever sum I would need.
My third wish would be for people to see the value of nature and the world, the beauty of it, so they would cherish it as God intended for us to.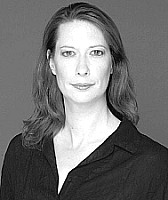 The third would likely be the hardest, but most important. I cringe when I see people mindlessly destroying a place of beauty in the world in the name of money and progress. Some places are better suited to be left as God made them and not invaded with a subdivision. If nature keeps destroying your house, maybe you should listen.
I thank you for this opportunity to share my thoughts and myself with you. You [and Paul] are both such enjoyable people to spend time with. I look forward to having many more conversations with you and getting to know more about you also. Thank you again for this opportunity. I wish you the best in all your endeavors, as well.

Allison
Visit Allison's Theatrical Web Site and résumé at allisonhensel1.exploretalent.com
You can contact Allison at ahensel@hotmail.com
---
* Cuban/American entertainer David de Alba (also known as "Heri, Hairstylist of the Stars") is known for his live singing impressions as a concert artist since 1965. He has worked at the world famous Finocchio Club of San Francisco (USA) for many years. Visit the award winning Web Site "David de Alba's Theatrical Arts & Tributes" at

http://david-de-alba.com and you can e-mail him c/o paulryner@cox.net