Harvey Lee
The late Harvey Lee was known as the "Delineator of the Divine Feminine, Without Peer in the Age-Old Art of Female Impersonation". Columnist Walter Winchell called Harvey Lee "The most beautiful boy in the world". Harvey performed at The Jewel Box Revue on the East Coast before starting at Finocchio's in San Francisco. He always wanted to play Europe and finally did when he got a gig at the renown Madame Arthur's in Paris. I never had the pleasure to see Harvey sing, dance or emcee on stage because by the time I started working at Finocchio's he was already retired. We did visit each other at our homes and he came to watch our show at Finocchio's from time to time. I still fondly remember how he would tell people seated nearby that he was at one time emcee of the show.
I will never forget the day I went to visit Harvey Lee at his lovely and extremely tidy apartment in the elegant Nob Hill area of San Francisco. I heard he was selling all his drag costumes and wigs since he had been retired from Showbiz for a long time. There were all these beautiful things in plastic cases: costumes, long gloves, spike-heel shoes in various colors, and lace-human hair wigs , all very neatly arranged (a la Joan Crawford). Well, unfortunately, none of his things fit me quite right...not even the wigs. You see he had a very small head, just as Carroll Wallace had, so I could not buy anything from him for my own stage use. Anyway, it was a memorable experience to see all the glamour that this FI once used on stage and that moment in time became mine to remember always. Harvey Lee passed away on July 1, 1992 in Little Rock Arkansas. Harvey dear, you were a great talent and I miss your bubbly personality. Please give a warm hello from me to the cast members that have joined you in the Hereafter.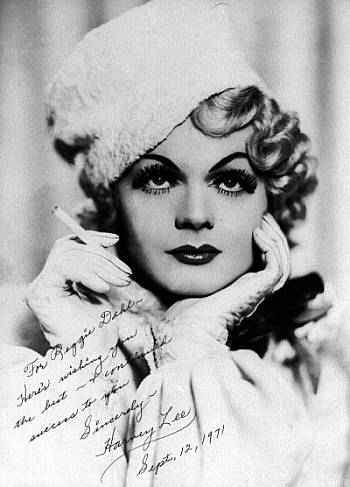 Harvey Lee, 1936
Signed to FI Reggie Dahl, 1971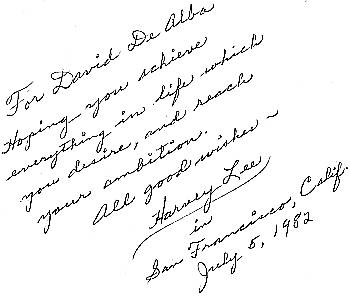 Back of above picture
Signed to David de Alba in 1982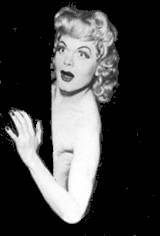 Peek-a-boo
From dressing room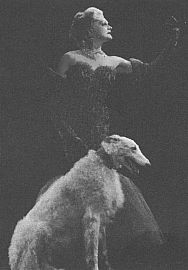 Harvey Lee with his
Russian Wolfhound Nikki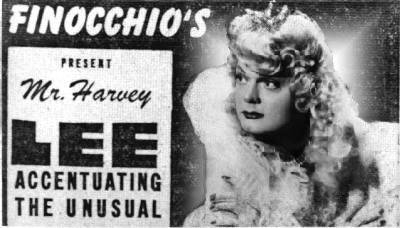 Harvey Lee featured in Finocchio Club Newspaper Ad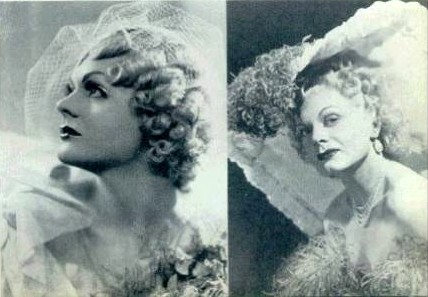 Harvey Lee glamour shots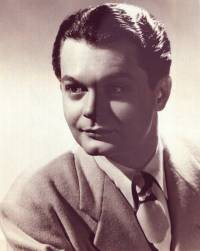 Harvey Lee
In male attire, 1945
Harvey Lee
San Francisco, 1946
Harvey Lee
New York, 1956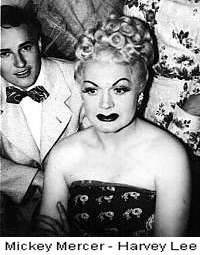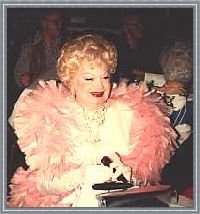 Harvey at age 67
Beaux-Arts Ball, SF, 1979
FI and costume designer, Tony Midnite reflects on some of his experiences with Harvey:
When I first went to Finocchio's during the war (WW2) Harvey Lee walked on stage in pedal pushers with those legs I couldn't believe it . . . he was so beautiful! He had on the first lace wig I ever saw. Harvey made a movie in the 30's called "City Slickers" in which he came down mirrored steps led by two white Russian Wolfhounds. He was all in white . . . a bouffant white gown with a full stole and white-blonde hair. That's where he got the idea for his Wolfhound, Nikki. The movie was made at the Club Richmond, owned by Harry Richmond.

He saved all letters and memorabilia [on FIs] with the idea of eventually writing a book. When he moved back to Arkansas after that last terrible earthquake in California he willed everything to the university archives there. When he died a woman [from the university] saw his obituary in the paper and got someone to go with her to his sister's house. When they got there they had all of his stuff in shopping bags ready to put in an oil drum and set on fire. The woman from the archives walked right up to them and took the shopping bags to her car. They came that close to being destroyed forever.

When we had rehearsals I used to hate to follow him. He was such a perfectionist with those patter songs that he did. He was hard on musicians. They would be so mad at him by the time I got to rehearse that I wouldn't get a good rehearsal. He was a lot of fun and had a brilliant mind.
Comments from FI Lavern Cummings on Harvey:
Harvey Lee was one of the first impersonators I ever saw and he impressed me with his elegance and class. Although we knew each other for many years, I had never worked with Harvey until he came to Finocchio's in the 1960's. He still had that grace and class as when I first saw him. What a beauty!
Comments from FI Tobi Marsh on Harvey:
At nineteen years old I had no idea that I would ever become a friend of Harvey Lee's or even meet him, must less learn to adore this sometimes cantankerous character. One afternoon while The Jewel Box Revue was in Kiamesha Lake, New York, Doc Brenner came to me and told me I was going to Monticello to meet the renown Harvey Lee who would be joining us for our summer run, and tryouts for a Broadway show starring Lynne Carter. I was excited about this meeting but very intimidated. Harvey was coming in from Europe where he had been for two years. Why was he back? Why leave Europe? Anyway, I went on my mission to Monticello.

When Harvey stepped off the bus I almost howled except for the fact that he was cute. He was dressed in green lederhosen with suspenders and matching shoes and vest. He must have entertained his fellow companions on the bus as they were all telling him they would be out to see the show. After he realized I was there to fetch him, he looked at me and said, "My Gawwwd! They have sent me a street urchin!" On the way back he regaled me with tales of Europe and what lovely countries, but what awful and unscrupulous impersonators that were working there.

He was unbelievably pristine and all knowing. The queens were in awe of him. Who was this little Clifton Webb character joining our show? In the Broadway show he was to be Anna Held, but in the mean time we had to invent things for him to do. He was blind as a bat and had to apply his make-up with magnifiers. We had to sort of drag him around stage and not give him a lot to do. He was 47 at the time. He showed me the gown that he wore at the inauguration of President Roosevelt, (I forget the Senator that took him and got by with it.) He was immaculate and fastidious beyond imagination . . . everything wrapped in plastic . . . make-up and wigs stored as though they had never been used. Through the years of knowing him I always loved him. You had to accept him for what he was.

I had some friends that took to Harvey and they had a great deal of fun with him, like getting him a little tipsy. (He did not drink.) When we packed him up to go for his last run at Finocchio's I was very sad. I did manage to see him one more time when I visited San Franciso. He was truly unique and unforgettable. How I would love to hear that mouth that could beat a Chinese typewriter for speed just one more time.