The Great Lucian
Lucian Phelps was known as 'The Male Sophie Tucker' and wore gorgeous costumes that actually belonged to the real Miss Tucker which he purchased from her at one time or another. Lucian had a vocal range that could reach "E" above "high C". I remember the nice man behind the make-up when he would announce to the audience at Finocchio's while touching his wig, that David de Alba just sytled his wig and asked them if they liked it...always to a loud applause. Many times we visited each other's homes and when we would go out to eat at a buffet on our night off, he would always say to the waiter: "Today is my birthday!", so he would get a little cake with a candle at the end of the dinner...but that was Lucian for you.
Another time he found out that I liked and owned Chihuahuas and he wanted one too. I gave him the address of a breeder in the San José area and he had his chauffeur drive him there in his limousine where he bought a tea-cup short-haired, beige coloured Chihuahua named Susie. So many stories I could tell you about him that it would be literally impossible to do so here, but I just wanted to pay a little tribute to him and to his Art Form. Lucian passed away on Jan. 10, 1973. Lucian dear, this is just from me to you with all my love.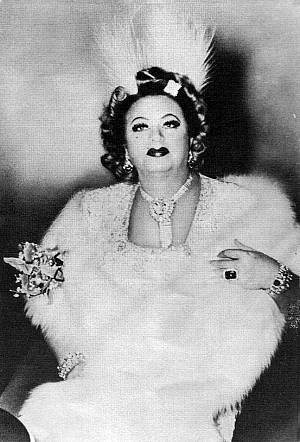 Lucian, 1940's
Studio Glamour Shot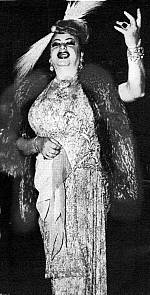 Lucian, late 1950's
Finocchio Stage
Lucian, early 1950's
Autographed to
FI Reggie Dahl
Lucian, The Last of the Red Hot Papas
Finocchio Poster, early 1950's
Lucian, early 1950's
Autographed
"Best, Lucian"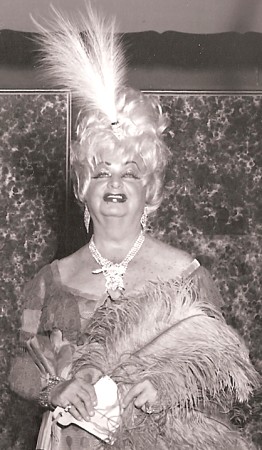 Lucian, 1965
Lucian on stage at Finocchio's, 1960's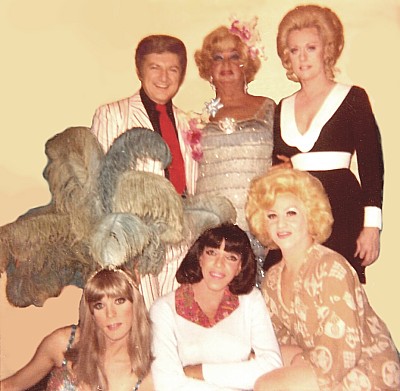 Lucian & cast with Liberace
Backstage at Finocchio's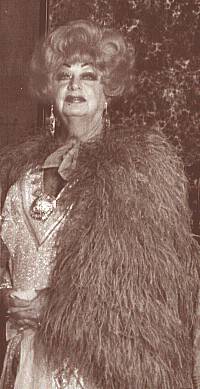 Lucian, late 1960's
Finocchio Stage
David & Lucian
Orpheum Theater, 1968
Lucian at Finocchio's
Video capture, 1972
Paul, Lucian & David
Glide Memorial Church, SF, 1971
Comments from FI Libby Reynolds on Lucian:
Others were always trying to get something going between Lestra LaMonte and Lucian to get them to feuding. Especially when a new 'queen' came on the scene, they would try to use her as a means to evoke their dastardly deeds. To my knowledge neither one ever dished the other. They were more professional than some others who worked [at Finocchio's] at the time!
Comments from FI Lavern Cummings on Lucian:
The Great Lucian was starring at Finocchio's when I first opened. Lucian was a great ad-libber. He was billed as The Male Sophie Tucker (a Star from vaudeville, clubs and films). Lucian appeared at Finocchio's almost as as long as I did, as he passed away in the 1970's. I remember the times when a few of us [FIs] would visit on our days off in Tiburón, CA where he had a house. Lucian was a great and generous guy.
Entertainer Holly White on The Great Lucian:
Lucian was in his late 70s when I came to work at Finocchio's. He was funny, round, always suntanned, and was very nice to me. He'd come to work with bags of candy and invite me into his dressing room, saying "All you other tramps stay out of my dressing room. I have a real star here!"

He always was 'Lucian', even dressed in some of Sophie Tucker's gowns that she sent to him during their careers. She was already dead when I met Lucian, but he talked of her and his days in Vaudeville. He was the only artist that I knew who had been in the great days of Vaudeville. He was a true original and a Showbiz legend. I miss people of his charm and background.
Cruise Director Donn Murray on Lucian:
Lucian and his wife had a large Victorian on Guerrero St. that they ran as a boarding house for older people. They had purchased the house to live in and then found it necessary to take in boarders. Lucian ran the place very well. He was always laughing in that high trill he had and he was very pleasant to be around. I was in my early twenties and lived across the street from him. He always treated me and my partner John very well.

Lucian was also known for "sunning himself" in his backyard as he felt it made him look better on stage. I was too young to realize how special he was and to cultivate that friendship and I regret it now. As one of the big band singers said, "If I knew it was going to be a Golden Era, I would have paid more attention".
Entertainer / recording artist / producer Verne Langdon on Lucian:
Sophie Tucker didn't make as good a Sophie Tucker as Lucian did! Why? Because Lucian emphasized "the Soph's" finer points, and personified the great performer Madame Tucker was. Lucian maintained Sophie Tucker's dignity, while at the same time lending just the right amount of tongue-in-cheek parody to make it work. I saw the Finocchio revue several times over the years, and Lucian was definitely a major feature in the show, getting great reactions from the patrons. A real crowd-pleaser! He was an evident stickler for authenticity; excellent make-up and hairstyles (by "Heri"/DAVID!), and I'm told Lucian even wore costumes that once belonged to Sophie herself! Lucian was a true credit to his Profession.
Comments from Darvin Jasper, Royal Canadian Navy:
Specific memories become a little fuzzy after 43 years but I do recall that one the things that endeared me to Lucian (Sophie) was that he made everyone in the audience feel like he was speaking directly to him or her. He put the room at ease . . . it was a very comfortable feeling. I also recall that his dress and makeup were impeccable, (as were all the entertainers). I do remember Lavern Cummings also, not only gorgeous, but tons of talent. I've been to La Cage in Vegas; not a bad show, but Finocchio's had a class of its own.