Tony Midnite
Tony Midnite is one of the true legendary figures in the field of female impersonation. He was born in Texas, Sept. 20, 1926. He was working in defense at Hunter's Point Navy Yard near San Francisco during the war when he used a fake ID to see the show at Finocchio's. He said "Except for Harvey Lee and Jackie Maye it was a show of unattractive men in dresses, carried over from the days when the show began in a basement. I just knew that I could do as well or better." After the war he started in the business in Galveston, TX, and went on to play in clubs everywhere. He joined The Jewel Box Revue in 1948. He left the stage to begin a career as a costume designer, and in 1952 opened a studio in the Rush Street nightclub area of Chicago, where he became known for his exquisite theatrical costume designs.
He went back with the Jewel Box Revue in 1958 and re-fit the entire show with fabulous new costumes. The highlight of his career was when The Jewel Box Revue played on Broadway, wearing his costumes. He got a lot of offers from that show and decided to stay in New York, appearing at the 82 Club and doing costumes for the show for 3 years. He also did several road shows of Gypsy, Carnival and Subways for David Merrick, worked on a couple of productions for The Metropolitan Opera and some TV shows. In 1964 he moved back to Chicago, opened up his own show, and took up where he left off in the costume design business. He was active in the Gay Movement there and in 1996 was elected to The Gay & Lesbian Hall of Fame and was presented an award for his efforts by Mayor Daley.
I first met Tony in Chicago in 1965 at a plush club called "Showtime on Broadway." I took my mom, Tila, and we both enjoyed his revue very much. Later on he caught my act at the "Night Life" club on Rush Street. After many long years, I met Tony again in 2002 in Las Vegas . . . (Picture below).
Tony has been working on a book for years about his theatrical life and experiences at The Jewel Box Revue, and expects it to be published sometime in the near future. Ladies and gentlemen of the Cyberspace world, I present to you "America's most beautifully gowned boy", a one-man-show, Tony Midnite.
Tony Midnite at age 20
(in male attire)
Tony Midnite at age 20
Hollywood 1946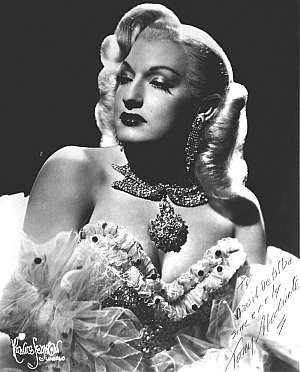 Tony Midnite, Chicago 1953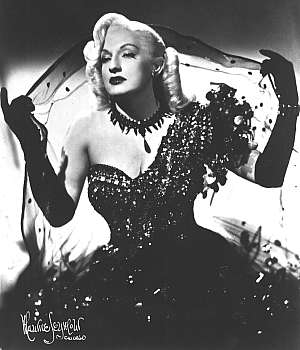 Tony Midnite, Chicago 1953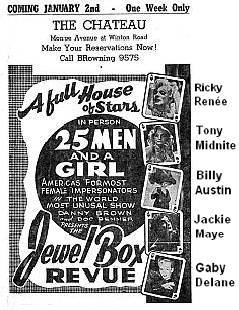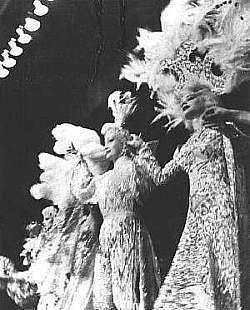 Jewel Box Revue ad
New York, 1952
JBR production number
Robbie Ross - Tony Midnite - Dale Roberts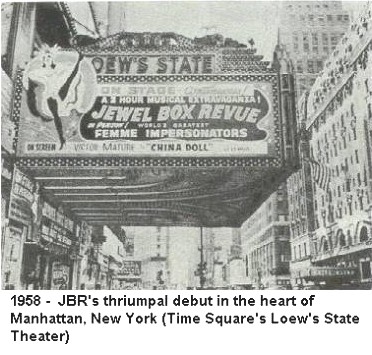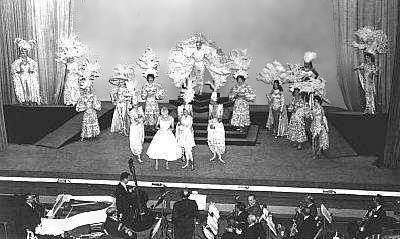 JBR, Kismet production number, on Broadway, NY, 1959
Tony Midnite, center in Peacock costume. Lynne Carter and Storme, stage front
Tony Midnite wearing his costume designs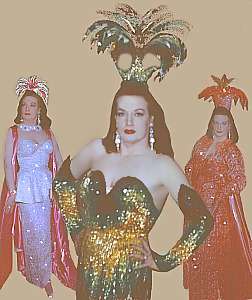 Tony Midnite wearing his costume designs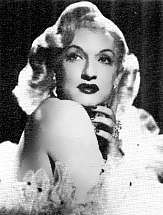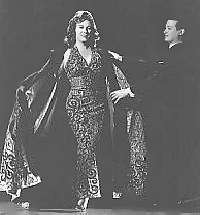 Tony Midnite
The Jewel Box Revue
Hedy Jo Starr, (USA's 1st sex change)
Costumed by Tony Midnite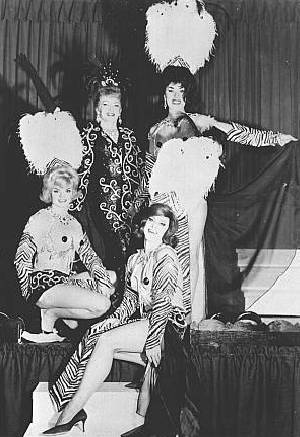 Showtime on Broadway Revue, Chicago 1965
Jamie Jans - Tony Midnite - Timmy Starr
Jackie Knight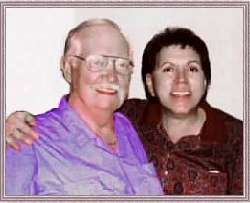 Tony Midnite with David de Alba
Las Vegas 2000
Comments from Tony Midnite to David de Alba & Webmaster Paul Ryner:
David and Paul, the sound has been off on my 'puter. Today I got it back on and when I tried it on the FI Tributes and the strands of "You Stepped Out Of A Dream" came on . . . I almost bawled! I must have paraded miles to that and "A Pretty Girl Is Like A Melody" in finales, all over the country. It fits that spot perfectly. I thank you . . . Harvey Lee thanks you, and all the other Girls thank you for the music so dear to our hearts. Bless you. Once a parade girl, always a parade girl.
Comments from FI Jimmy Tai on Tony Midnite:
Tony was inducted into Chicago's yearly Gay & Lesbian Hall of Fame on Nov. 12, 1996. He was awarded by a special selection committee for his numerous contributions to the gay community. The Honorable Mayor, Richard M. Daly was guest speaker as always. (Photo on right, Tony with Jimmy)

Tony is an icon in the world of female impersonation. He was stunningly beautiful in drag . . . a real pro, extremely clever, and an artist at designing and sewing theatrical costumes, way and beyond one's imagination. Many remember The Jewel Box Revue, but it was Tony's costumes that were most vividly remembered! Tony did the planning for a Jewel Box reunion in Las Vegas on August of 2001. He dined us out and we had a memorable time, thanks to Tony Midnite.
Editor's note: Tony Midnite passed away on Aug. 31, 2009 in Las Vegas, Nevada.