Two Old Bags From Oakland
This FI Tribute would not be complete without the presence of the late Francis Blair, Ray Francis and John Lonas. They all participated at one time or another in one of the funniest Showbiz acts of the Drag World "The Two Old Bags From Oakland". The act was classic vaudevillian style with comedy patter and song and dance routines; risqué, but never vulgar.
Francis Blair teamed up with Ray Francis (Arthur Verity) as the last of the "Two Old Bags From Oakland" act, and I was fortunate to see them at Finocchio's before they retired. I can still remember the echoes of laughter and the look on the faces of the audience as they portrayed frumpy old ladies on stage. That act will never be duplicated again and I am sorry for audiences nowadays who will never be able to experience the delight of such comedic drag artists. I say to you now along with many of your other fans: Your act was one of a kind!
Francis Blair
Finocchio's
San Francisco, 1958
Francis Blair
1958, as one of the
Old Bags from Oakland
Francis Blair
Finocchio's
San Francisco, 1958
---
Ray Francis
Finocchio's, 1950
Ray Francis
Finocchio's, 1968
Ray Francis
as an Old Bag
---
John Lonas
Finocchio's, 1958
John Lonas
Finocchio's, 1960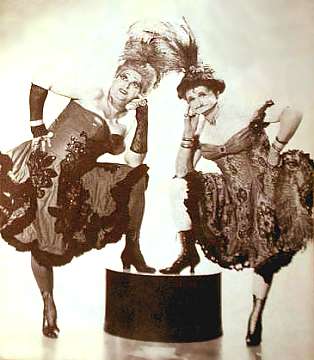 The Two Bags From Oakland
John Lonas & Ray Francis
Finocchio's, mid-1950's
FI Robin Price on Francis Blair and Ray Francis:
I worked with Francis Blair when he was one of the "Two Old Bags From Oakland" at Finocchio's but I never really knew him very well. The act was great! He and Ray Francis were Joe Finocchio's favorite act. He loved them. It was a very good act but it was Ray Francis who was really the funny one. Francis Blair was more of the straight man of the act. I guess because they were older I never got that close to them.
FI and costume designer Tony Midnite on Francis Blair, Ray Francis and John Lonas:
The first time I saw Francis Blair at Finocchio's, during the War, [WW2] he was doing 'pretty stuff' . . . younger, thinner, and using long blonde hair. Years later when I played at the Showboat Club in Sacramento, he and Lucian were there at the Silver Dollar Club. For years we just missed each other . . . either he was just leaving a club or he was following me in. He found a second home at the Garden of Allah in Seattle where he began to try comedy with Hotcha Hinton. (picture on right)

Years before, two old performers began to make a name for themselves at a beer joint in Oakland. They were Ray Francis and 'Big John' Lonas. They became known as "The Two Old Bags From Oakland" and were one of the funniest female impersonator acts of all time. They made their entrance to a loud crescendo on the piano and drums that led into such Gay-Nineties ditties as "When I Wore a Tulip", "The Piano Roll Blues", or "Take Me out to the Ball Game". John Lonas and Ray Francis covered the stage in their calf-length dance hall girl outfits and high laced turn-of-the-century high heel slippers. The audience knew they were in for a good time. John Lonas, the loud, raucious one, had huge boobs that turned out to be two large rubber balls with a string tying them together. During a break in their first song, he would gayly take them out and bounce them on the floor. Then he would hang them over his shoulder, telling some woman at ringside, "Don't you wish you could do that? The last time I said that to a woman, she took hers out and threw them at me!" Ray is jealous of the attention John is getting, and pouting, reaches into his bosom and pulls out this huge piece of soft sponge rubber and throws it on the floor. Of course it just lays there, and the audience goes wild laughing. Insulted, he picks it up and puts it back in his bust. Then they go into another loud number to high kicks and buffoonery. Such was the act of "The Two Old Bags From Oakland". It was old-fashioned Music Hall entertainment at its best, performed by two veterans of Showbusiness. It fit right in with the tourists' idea of what San Francisco's Tenderloin must have been like during and after the Gold Rush. I always loved good comedy and for me it was one of the high points in the show. Theirs was a very funny act that will go down as an important part of the history of Finocchio's.

Eventually Big John passed away. Ray Francis tried teaming with Gene Evol (picture on right) but Gene preferred working alone. Gene Evol was a riot on stage and would have been perfect to replace John Lonas but he was very undependable. He would get bugged about something or just get the urge to move on and "Go out for a cup of coffee" (that was his line) and disappear. He just wouldn't show up for the next show . . . no notice, nuthin'! He and Ray Francis actually worked together for some time and I understand they were very good together . . . then Gene left, as usual. Francis Blair had aged into the part and tried out with Ray Francis. They clicked as a team and worked together until Ray's demise. Francis found his true calling as one of the last "Two Old Bags From Oakland". They were very funny together. Francis Blair had a long career, both as a solo act and as half of a comedy team.
FI Libby Reynolds on Francis Blair and Ray Francis:
Francis Blair & Ray Francis were at Finocchio's when I appeared there. They certainly had the corner on hysterical comedy. At one time they were to appear on the Ed Sullivan Show. Unfortunately at the last minute they were cancelled. Ray and Francis both said it would have been nice, "But look at it this way," said Francis, "CBS paid for our trip back and forth to the coast and we motored back, giving us a really nice vacation to remember."

Francis had one of those wonderful old traveling trunks that he kept a lot of things in. He showed me some sheet music with pictures of Julian Eltinge on the covers, circa 1920. (picture on right) They were both very cordial, nice, and most of all professional.
FI Laurie Knight on Ray Francis and John Lonas:
I always knew that when I lost my own teeth I wanted to be one of The Old Bags so I could be funny like them. They always gave me gut-bucket laughs when I saw them perform at Finocchio's. I was working at The Beige Room which was a few blocks away. I adored both of them on stage.