Elton Paris
Elton Paris, born Felton Harris, in New Orleans, Louisiana in 1922, an African-American performer, began his career as a soldier performing for USO Shows during World War 2. He worked with some entertainers considered 'cream of the crop' in those days, such as Ella Fitzgerald and Lionel Hampton. Ella even asked Elton to sing at one of her parties. He was friends with major entertainers from the 1940's through the 1960's. By the time I met Elton in the late 1960's at Finocchio's he was ready to retire from Showbiz. He found out I was also a hairdresser by profession and asked me to style his human hair wigs, as I did with other members of the cast like Lucian, René de Carlo, Bobby De Castro and others. I still remember Elton instructing me never to tease his wigs nor use any hairspray on them, just set them with water. Also not to use any wave set and put them up in very tight rollers into a page boy style with bangs. He was sort of stern in his behaviour but always very polite and with a dry sense of of humour. One time from his dressing room he gave me, while smiling sweetly, a sheet music called "You've Got Possibilities" since he knew I wanted to be hired to perform there at Finocchio's ... and I finally was!
He would enter the Finocchio stage with a pan face, wearing dowdy women's street clothes and tennis shoes making people laugh before he opened his mouth. He used a falsetto voice at the beginning of his songs dropping to an extreme baritone later on to shock the audience in the song "Spinning Wheel" (What-goes-up-must-come-down). As the song progressed he would let each of the falsies slip down behind his sweater and as the audience noticed and laughed, to make them go crazy, he took his hand and pushed them back up. Three other songs that I will always associate with him are: "Little Green Apples", "King of the Road" and "That's Life". I can close my eyes and still hear him singing those songs on stage. Gosh I miss him!
When he was still working at Finocchio's he invited me and my partner Paul to visit him at his home in Corte Madera, CA. Years later when he moved to Phoenix, Arizona he invited us fly from California to visit him and his partner, Jim. In 1986 he came to California and stopped by at our home in Santa Cruz to say hi. (See picture below).
Elton Paris passed away in Arizona on September 11, 2007. The Drag World of Entertainment has lost some of its brilliance by not having Elton in it, but he will always live in the memory of those of us who knew him and appreciated his wonderful singing and comedic talents. Ladies and gentlemen of the Cyberspace World, it is my great pleasure to present to you now, the unique Mr. Elton Paris!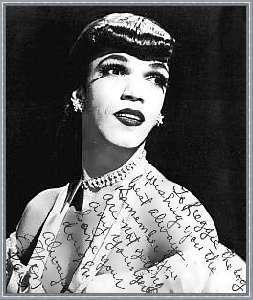 Elton Paris studio pose
Autographed to FI Reggie Dahl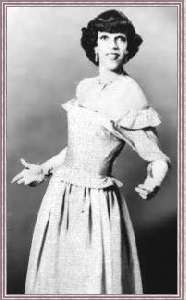 Elton Paris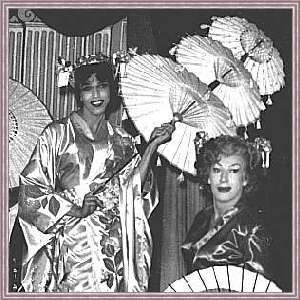 Elton Paris & Jackie Phillips at Finocchio's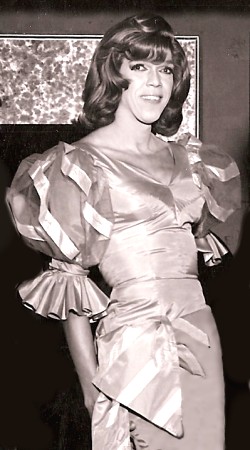 Elton Paris, 1965
Elton Paris backstage at Finocchio's
Elton Paris backstage at Finocchio's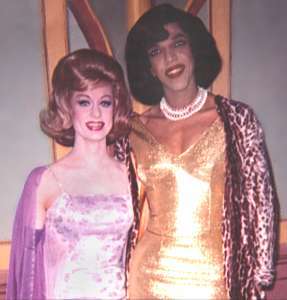 Lavern Cummings & Elton Paris
Finocchio's backstage, late 1960's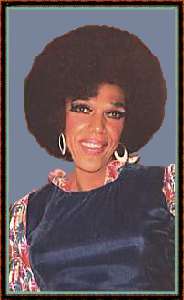 Elton Paris
Finocchio's backstage, late 1960's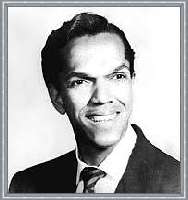 Elton Paris
(in male attire)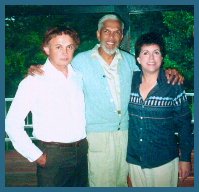 Paul Ryner, Elton Paris, & David de Alba,
Santa Cruz, CA, 1986
Comments from FI Libby Reynolds on Elton:
I remember Elton asking me out one night to see Carmen McRae at one of the clubs just up the street from Finocchio's. He knew I loved her singing and that it would be a blast for me to meet her, and it was. Carmen was suffering from a cold that night, and between numbers would take a swig out of a flask she had hidden in her dress . . . broke the audience up. I always respected Elton for his talents, but he was a hard person to get to know, at least at the club anyway.

I ran into him one evening here in LA on my way home from work. He was leaving a bar where Al St. Claire was working as bartender and we passed each other. I sat at the bar and Al asked if I saw Elton, and just as he said that here came Elton and his friend Jim back into the Bar. We talked up a storm for a while and then he had to leave to go to the airport for his flight back to Arizona. That was the last I saw or heard of him! That was back in 1976.
Comments from FI Lavern Cummings on Elton:
Elton Paris was known for his dead-pan expression [on stage]. As a comedian his timing was great. Elton was also a split-voiced singer. A very talented guy. He really warmed up an audience . . . I know, as I followed him in the line-up. It was a pleasure working with Elton at Finocchio's. We still keep in touch.
Comments from FI René De Carlo on Elton:
One funny anecdote I remember is in one of the production numbers at Finocchio's, (Harem Slave Girls), Elton Paris would always step on the hem of my dress. Maybe he did it to tease me, but it just made me laugh!
Entertainer Holly White on Elton Paris:
Elton was always hysterical and a sharp tongued comedienne. There was always some feud going on that I would avoid. I always made a habit to visit his dressing room to say hi . . . always fun to talk to.