Charles Pierce
Charles Pierce was a gifted comedian of stage and film. I had the pleasure of meeting him at "The Gilded Cage" in San Francisco where he was known for impersonating Jeanette MacDonald singing "San Francisco" on a floral swing. He was famous for his characterizations of such glamorous Hollywood legends as Bette Davis, Joan Crawford, Mae West, Tallulah Bankhead, Carol Channing and many others.
It was a thrill for me to see his act and I was fortunate to win his talent contest thanks to my Judy Garland act. Charles autographed his latest record: "For Pierced Ears" as the Prize. (I was going by the stage name of Heri Del Valle at the time). Years later when I was performing at Finocchio's with my new stage name David de Alba, he came to see the show with his entourage. I introduced myself when he came backstage and he remembered me and was happy to see me working at Finocchio's. He was charming and wished me luck! He brought a lot of theatrical culture to the San Francisco scene for many years. And now presenting his legendary ladies of the Silver Screen, World's Foremost Female Impressionist, "Mistress of Disguise", Mr. Charles Pierce!
As Mae West
As Jeanette MacDonald
As Carol Channing
As Bette Davis
As Joan Crawford
Mommie Dearest
As Katharine Hepburn
As First Lady
Eleanor Roosevelt
Record Cover
Record Cover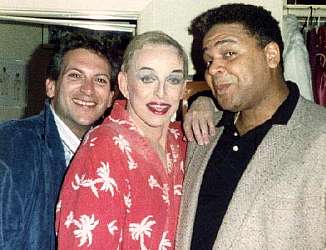 Harvey Fierstein, Charles Pierce & Ken Page
At filming of 1988 movie "Torch Song Trilogy"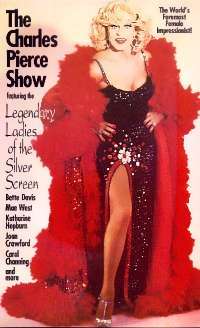 Video Cover, 1993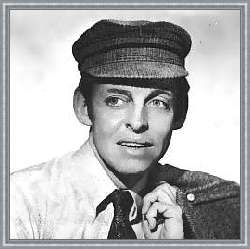 Charles Pierce in male attire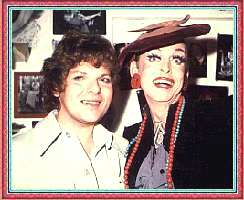 Craig Russell & Charles Pierce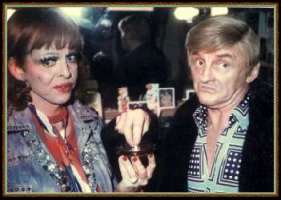 Charles Pierce & Lynne Carter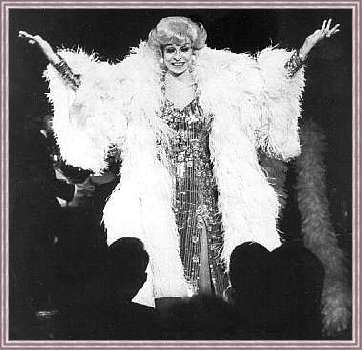 Charles Pierce takes a bow
Comments from FI Lavern Cummings on Charles:
Charles Pierce was one of the best camp impressionists I have ever seen. His Bette Davis, Talullah Bankhead, Katherine Hepburn, Joan Crawford, Mae West, yes, and even Barbara Stanwyck, were fabulous. Charles was a good actor too, appearing in many TV sitcoms and films. We miss you Charles.
FI and costume designer Tony Midnite on Charles:
In 1962 I had just finished doing a new show for the 82 Club in New York and was set to do a show for Lou Walters of the Carrilon Hotel in Miami Beach. Lee Carrol, who was doing The Jackie Gleason Show wardrobe, was to work with me. The night that I arrived, Lee insisted that we catch the show at the Onyx Club. Jackie Jackson, whom we knew from the Jewel Box Revue was in the show along with Charles Pierce. I had never seen Charles perform. After having worked for years with T.C. Jones and Lynne Carter, I wasn't anxious to see another impressionist perform the same characters, but I went along anyway. This was the same group of people that Charles later took to San Francisco where they performed to much acclaim for several years. Soon after Charles came on, dragging a feather stole about ten feet behind him, he got my undivided attention. I realized that I was watching someone special. He also did a first . . .The minute he said "Oh no" through clenched teeth, in his impression of Barbara Stanwyck, I cracked up! None of the others had ever tackled Barbara. He was terrific. Everyone had done Bette Davis, but not to the length and depth that Charles did. He was a tireless worker at his craft, and I came away as one of his greatest admirers. Charles had many friends and admirers among the Hollywood and Broadway crowd and is greatly missed.