Carroll Wallace
Carroll Wallace was born François Weirdt, 1923 in Chicago and was married to Ruth Hamberlin for many years until she passed away in the early 1980's. He was one of the most beautiful men in drag in his youth, and was billed as "The Most Beautiful Boy in the World". When I knew him he presented himself as an elegant lady on stage, emceeing and doing comedy patter. He had a trademark song:"I'm A Singer Though I Haven't Got a Voice", which was written especially for him. He was one of the few impersonators still wearing glue-on lace human hair wigs, which were styled in a French Twist. He also parodied Sophie Tucker at times.
I am grateful to Carroll for giving me the following introduction: "And now from Segment 2 TV let's welcome the warm and charming personality of Mr. David de Alba!". I miss hearing that introduction and sharing oh so many laughs and backstage dirt. I got to visit Carroll at his lovely home in 'The Avenues' in San Francisco more than once and also he visited me at my home. He used to take me to eat breakfast in Chinatown in the early hours of the morning after we got through performing on stage at Finocchio's. He was a very private person, but he always did brag about his wonderful deals investing in the real estate business. At night he was that glamorous gal on stage, but in the daytime you would not recognize him in coveralls fixing his roof.
We lost touch after I left California except I did hear from him once by phone, (he hated to write), while I was living in New Mexico. He told me he was not feeling well and that he fainted once by his mail box. He said that the doctors found he had some kind of blood clot in his head, but that he was feeling better. After that I did write to him and called him, but always got his answering machine. In October of 2002 I found out that he had passed away in 1993. Not one day passes by that I don't mention his name during my daily routine . . . so what ever part of the Hereafter you are in dear Carroll, please save me a front row seat!
Frank Weirdt
aka Carroll Wallace, late 1940's
Frank Weirdt
San Francisco, 1971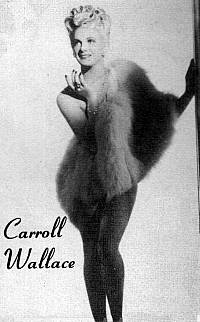 Flamingo Club
Los Angeles, 1946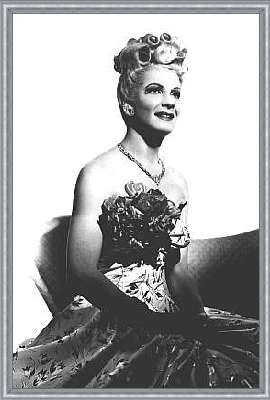 Carroll Wallace
Hollywood, 1950's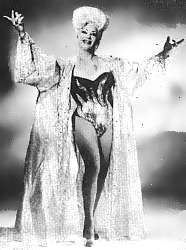 Carroll Wallace
Dunes Nite Club, Honolulu
Carroll Wallace
Finocchio Club, SF, 1953
Carroll Wallace
Finocchio Club, SF, 1953
Carroll Wallace
Finocchio's, late 1970's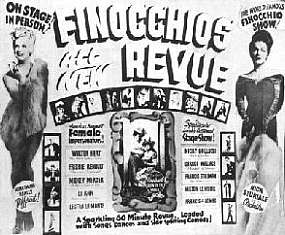 Carroll Wallace & Nicki Gallucci
Featured on Finocchio Club poster, early 1960's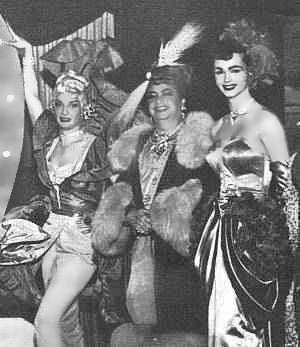 Carroll Wallace, Lucian & Kim August
Finocchio Club, San Francisco, 1953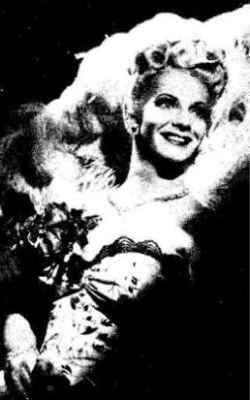 Carroll Wallace
Finocchio Club, San Francisco, 1956
Carroll Wallace
Backstage at Finocchio's, early 1960's
Carroll Wallace
Emcee at Finocchio's, 1972
Video capture
Carroll Wallace
Emcee at Finocchio's, 1985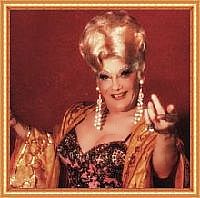 Carroll Wallace
On stage at Finocchio's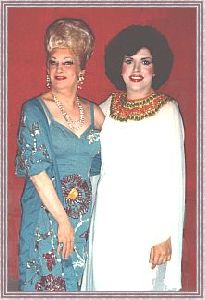 Carroll & David de Alba
Backstage at Finocchio's, mid-1980's
FI and costume designer, Tony Midnite reflects on some of his experiences with Carroll:
When I came to the West Coast in 1946 to open at the Greenwich Village on Hollywood Blvd. Carroll had just opened at the Flamingo Club on La Brea St. His birthday and mine are the same day. In 1946 He was 23 and I was 20 at the time. Hollywood designer "Jack of Hollywood" had a studio and work rooms also on La Brea. Carroll worked there before doing Drag. He was thin and Jack made his first gowns which had big bustles and panniers in back. FI Harvey Lee convinced Grace Spedding that up-swept wigs could be made with lacing in the back. Carroll Wallace liked them and never wore anything else. She looked like a Dresden doll figurine.

THEN . . . she made the mistake of opening her mouth to sing!!! She couldn't carry a tune or keep time to the musicians' beat. Carroll just went on stage and sang simple songs and looked breathtaking in his up-sweeps and big, full, Jack of Hollywood gowns. No gags, no nuthin! It was a big show with Lynn Carter, Francis Stillman, Tommy Williams, Beverly Shaw, Harvey Lee and others. She was young and thin and could get by with it. No one was lip-synching in those days. She should have started it. By the way, Beryl Wallace was the Star at the Earl Carroll Theatre and that is where Carroll Wallace got his name. He was a big fan of Beryl.
Comments from FI Lavern Cummings on Carroll:
Carroll Wallace had the most difficult job in an impersonation show, which is MC (Master of Ceremonies). You're 'on' more than anyone else, and changing costumes constantly. He gave you the best intro' and worked for each act. He was a master at his job . . . and if you broke a hook or a zipper [backstage], he filled in while you changed. He was a professional and a friend.
Comments from FI Libby Reynolds on Carroll:
I was at Finn's in 1962. Carroll Wallace was on the road with her show up & down the California coast. I know this to be fact because Kara Montez was doing her wigs then. She had a special carrying case made that held at least 3 full glue on wigs. I remember remarking to Kara that the wig blocks were so small, and Kara said, "Carroll's head was very small."
Reflections by Entertainer David de Alba on Carroll:
One night at Finocchio's as Lavern Cummings was at the wings wearing an expensive new mint-coloured gown he had just purchased, dear Carroll, who was a heavy smoker, had a lit cigarette in his hand as he was working the stage lights. Carroll wasn't the only one who smoked there, because most of chorus line, 'The Eve-ettes', did too. Carroll accidently burned a small hole in Lavern's chiffon gown. This enraged the even-tempered Lavern and he told Carroll off, and Carroll apologized, etc.. Lavern, who always hated all that smoking in the club, must have reported the incident to the Finocchios next morning on the phone and I am glad he did, because from that night on, thank God, no one was ever allowed to smoke again by the wings, (though they did it anyway from time to time). I also suffered from the smoke, especially when trying to sing on stage. It was bad enough with the audience smoking, but having it backstage also was really the pits! Well, I understand that it is now illegal to smoke in restaurants and nightclubs in all of California.
Comments from Writer Pat Lux on Carroll:
Carroll Wallace was the consummate MC of any and all female impersonators. He not only perfected that use of a "glued hairline" wig, but his stage persona with a lilt of Sophie Tucker was not only magical, but endearing to all who attended the shows at Finocchio's for many years. His eloquence and glamourous maturity will never be equalled.
Entertainer / recording artist / producer Verne Langdon on Carroll:
Carroll Wallace was everything a true female impersonator should be - focused, well groomed, beautifully costumed, and most important, extremely talented! I saw Carroll perform on my first visit to Finocchio's (some friends I worked with at the radio station introduced me to the Finocchio experience). Carroll was dedicated to his Craft, even to the point of using lace-front (and back!) wigs, rare in those days, extinct today. Carroll's eye for detail was something that stood out; the man was a perfectionist, something with which I can identify. I was impressed the Finocchio Artists sang live, and to a live band. Today, such a thing is practically non-existent. "Those were the days," and yes, Carroll Wallace is a Star to be remembered.