SuperStar Interview
Billy Tweedie On David de Alba, The International Cuban Legend

I remember a package arriving at my parents' home in Ireland in the early 90's when I ran the original Judy Garland Fan Club. It was from David de Alba and it had in it a selection of press cuttings and wonderful photos of David as Judy Garland. That was the first time I had heard of a proper male character actor who could be so good at it that he would make you believe that he WAS Judy!~
Years passed and I finally left Ireland behind and came to America. I found David again and we have become friends here on the Web. I recently asked him a few questions . . . hope you enjoy!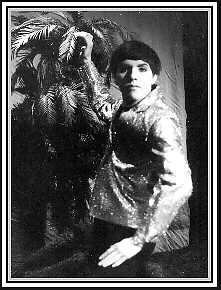 Billy: What did you want to do when you grew up?
David: I think I grew up and turned out pretty much as I wanted to. I did become involved as a female-singer-impressionist at an early age and that turned out to be exciting for me! You see most of the female impersonators have to pantomime to records. Many of them are very talented at that indeed, but singing with one's own voice is always much harder, especially when a guy like me gives the illusion on stage that he is really a female singer. To me that is a challenge at its best! That was the main reason why people flocked to Finocchio's, because we all had to peform 'live' and that was not common in most of the female impersonating revues then, or even now. Oh, I almost forgot, I also wanted to work as a zoo keeper at one time in my life, but I didn't pass the written test to get into that field, so that took care of that wish! To this day I never understood why some of the questions were asked, like for example: If I had to serve coffee for a gathering of a certain number of people, how many spoons of coffee would I have to put in the pot? What does that have to do with caring for animals, I wonder!
Billy: Were you naughty when you were younger?
David: Well, I was naughty in a sexy way. I loved seeing how many nice looking people I could pick up in a bar or bathhouse, especially those that I thought were gorgeous! . . . and some of those wonderful parties I was invited to in Chicago as a teen. Of course, this was way before that horrible AIDS epidemic came about. One good, clean thing about me; I have never smoked nor taken any drugs and I don't really enjoy alcoholic beverages. Give me a nice piece of apple pie and a vanilla milk shake and I am in Heaven! (I guess I got away from your question with my last statement about some of my favourite foods.)
Billy: What was your job before working as an entertainer?
David: As a teen I held partime jobs in Chicago at Walgreen's and even at the fancy Drake Hotel as an elevator guy. I didn't enjoy those jobs at all, so I went to a well known beauty college, American School of Beauty Culture, to study cosmetology, and after graduation my real bread and butter job was hairdressing. Throughout my life from then on I mixed the hairdressing career along with Showbiz as means of income.
Billy: What is your most memorable moment?
David: I have two memorable moments in my life: First, the day I met face to face with Judy Garland in the late 1960's in Chicago and I told her that I impersonated her on stage. Her reaction with her delightful sense of humour was to kiss me on the cheek and say: "Do you really like me that much?". Then in the late 1970's in Miami, when I met my singing Cuban idols, Olga y Tony, whom I admired since I was a little boy in Cuba. They recognized me when I told them who I was, etc. and after hearing from me that I was an entertainer, they asked me to perform in their show the next night. After their act they sat in the front row to hear me sing and to applaud me. Imagine my idols applauding ME! I was really in Heaven on Earth!
Billy: What was your most embarrassing moment?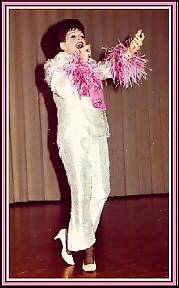 David: I was performing in San Francisco at a special one man concert at Knuth Concert Hall for the studentbody of California State University. At the end of my tribute act to Judy Garland, I was at the dramatic end of "Over the Rainbow", and as I pushed my body and face back Garland style, my Judy styled wig fell off my head!
Billy: What was your favourite TV Show?
David: I think I would have to answer, Dynasty!
Billy: Do you have a favourite TV actress?
David: Following the last question I would say that Joan Collins as Alexis was it!
Billy: Do you have a favourite TV actor?
David: I always loved, and even as a teen had a crush on the handsome and talented Richard Chamberlain as he portrayed Dr. Kildare on Television in the 1960's. Funny how life can be . . . in the early 1980's while working at the world famous Finocchio Club in San Francisco, who do you think was seated ringside while I was singing center stage . . . Richard himself!
Billy: Can you remember the first party you ever went to?
David: I recall it now very clearly; it was outside Chicago. I took a Greyhound Bus and I stayed at the YMCA for one night. I got all dressed up with a Beatle wig and costume and went to a Halloween party at some fancy home that belonged to two lovers. I forget now how I got invited in the first place, but anyway . . .
Billy: What was the swankiest party you've been to?
David: Well, during the 1970's when I lived in San Francisco I was invited, along with my partner Paul, to a gay party at someone's lavish home in the elegant Nob Hill area. I was invited because I was working part time for a gentleman who owned a men's hair styling salon in that area and he knew the people who were giving the party. There were handsome male model waiters dressed in skimpy costumes, equivalent to Playboy Bunnies . . . lots of fancy drinks, etc. Spaghetti was served as one of the entrées and someone made a crack: "Spaghetti at a swanky party like this?".
Billy: What party food do you like?
David: Well, let me answer this question in a different way . . . not just foods at parties, but I have a very diverse palate, thanks to my San Francisco experience of learning about all kinds of people, nationalities and cultures. Also thanks to my partner Paul who introduced me to all sorts of International foods. So I don't just love my Cuban food, but I also like Japanese, Chinese, Mexican, Greek, Italian, and the list goes on and on. As long as it is prepared well and not greasy I am very open minded.
Billy: Do you hold dinner parties?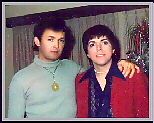 David: During what I call our heyday in San Francisco we threw some very fancy parties. My partner Paul, who is an excellent cook and host, prepared the food and decor. One time I hired a trio of musicians and sang "live". I actually did a mini-concert (out of drag) for the guests, which included many of my clients from the well known hair salon I owned called "Heri the Hairstylist", my parents, and some of the neighbours . . . oh, and even one or two entertainers from Finocchio's who had the night off. Those were the days!
Billy: Who are the best people to go out with?
David: Well, I have gone out with some very straight laced people, even some very famous people and I thought that was grand at the time. I also went out with some colourful gay men and lesbians, some entertainers of course, some Judy Garland fan-followers and had fun with all of them really, in different ways of course, but when I go out with other impersonators it's more fun because we all speak the same language. Then I feel like Mame!
Billy: Who is your Guardian Angel?
David: I believe in angels and good spirits, including members of my own dear family departed. I pray every night and even in the afternoons for guidance in my life, for strength to endure the harshness of the present, and to keep me, my parents and Paul out of sickness and accidents! I also include in my prayers some dear friends. When I was a young child in Cuba I was told by a spiritual medium that I was given two guides; an Indian by the name of Anahúac and an African by the name of Tomasito. I hope they are still near me!
Billy: How shiny is your Halo?
David: Well, I know I will never make it to be a saint like the late dear Mother Theresa, but in comparison to others I meet every day in my life, my halo ain't too tarnished. At least, I hope God will see it that way when He asks me to meet Him.
Billy: What is your idea of Heaven?
David: It would be nice to have the feeling that I could roam through different planets free of the body, even be able to see other beings in other galaxies, and see how they look and live. Of course to see again the people I loved on this Earth that have passed on and that I miss so much. One thing for sure, if I reincarnate I do not want to return to Planet Earth, but I have the feeling that it is not up to us. Who knows how long Heaven would last for me.
Billy: What is your idea of paradise?
David: It is a complicated answer because of my needs and likes, but here goes: Bring back my young days in Cuba with my family (most of them have passed on by now); have Judy Garland alive, so I could see her perform one more time; be able to see my Cuban idols Olga y Tony perform together again (Tony passed on March 2001); be able to retain my youthful good looks of the 1960's; be able to have some of my passed on friends near me again . . . and if I could one more time be that happy entertainer that played so many times at the world famous Finocchio Club in San Francisco, but even Finocchio's is gone now. So my paradise is in the past I guess. This is why I have earned the title among many fans and critics of the female impersonation field as "The Cuban Legend". I guess I earned that title for what I have achieved in my life thus far!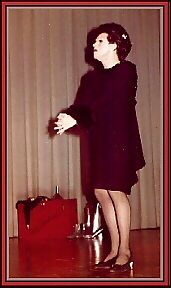 Billy: What is the nicest thing about you?
David: Well, I am a very loyal Taurus-person to my family, friends, clients and fans. I need to be loved all the time, by people writing to me or calling me . . . not just once a year at Christmas or for funerals. I love my pets. In my theatrical act I perform a lot of tributes to great entertainers such as Judy Garland, Olga y Tony, and Edith Piaf for example, trying to keep their music and memories alive. Anyway, my dear friend Olga Chorens is still alive, but I still give tributes to her as the superb artist she has always been! Perhaps that loyalty is one of the nicest things about my personality. Also, my partner Paul agrees with me on this, I am not moody or two-faced. WYSIWYG (What You See Is What You Get). The warmth you see in me when you meet me in person, on stage or off, that is the real me!
Billy: What makes you angry?
David: Unkindness from anyone, but especially from people that I like. Here is an example that actually happened recently. I have worked very hard trying to do a good job in creating my online Celebrity Interviews Series along with the remarkable work that my partner of many years, Paul, has done with his Webmastery, helping me with the editing, photo layouts, graphics, etc.. We do this for free and work very long hours at it. We even ran out of space with my Internet host and it costs us extra money per year from now on to feature these interviews. Well, to get to my point, a dear entertainer friend of mine who I asked to participate in my interview series said to me in an angry manner: "David, what is your agenda behind doing these interviews? Don't ask me again!" I am sure he is not the only one who thinks that way. There is no agenda or self-serving motive on my part.
Most of the people I have interviewed have been appreciative of my effort to promote their careers over my own, and have been prompt with their answers. One FI in particular I had to practically beg for a response to get the interview on-line, and when it was finally launched, instead of apologizing for the delay, criticized me for being so pushy. It takes all kinds of people to make a community . . . c'est la vie! I just want to celebrate the talent and humanity of other entertainers and celebrities, and also to record some valuable history in the field of female impersonation for the benefit of young entertainers and fans.
Billy: Is there anything you would go back and change?
David: Sometimes I feel that if I had been more butch looking and acting, my life would have been easier, but on the other hand I could not become something that I am not. When I see how nice I have viewed my life and others around me through the soft lens of the feminine part of me that is in my being, then such regrets are gone from my mind. When I see a guy trying to act macho, I feel he lacks something that I am fortunate to have . . . the warmth and softness of my feminine side. I don't have to be glued to a TV watching football like the big boys do. Instead I can stick to listening to wonderful female singers like Judy Garland, Ella Fitzgerald, Petula Clark, Olga Chorens, Josephine Baker and Edith Piaf.
Billy: Do you have any regrets?
David: Well, yes, for example, not bringing a camera when I met Judy Garland and Ella Fitzgerald in Chicago in the late 1960's. The same thing happened, no cameras either, when I visited Connie Stevens and Chita Rivera at length in their hotel suites after their performances in the Venetian Room at The Fairmont Hotel in San Francisco during the late 1970's. Now all of them could have been in my Celebrity Scrapbook Page on my Web site. Oh yes, and so many famous people that were seated in the audience at Finocchio's while I was on stage, that I was never able to take a photo with them. Also I regret that I didn't have pictures taken with the late Charles Pierce, Craig Russell and Lynn Carter, three fabulous female impersonators that I had the honour of talking to backstage. With Charles Pierce I was even honoured to be part of his show once and can you imagine I have no pictures of that! One more big regret I have, I wish I had started my Online Celebrity Interviews years ago. By now I would have had people like Charles Pierce included in it and also some of my wonderful co-workers and entertainer friends at Finocchio's like Carroll Wallace, Russell Reed, Lucian, Bobby De Castro, and a few more that have passed on by now that I would have loved to interview. Of course in those days I had no idea about computers or Web sites.
Billy: Of all the Stars you interviewed, who has impressed you most?
David: I was lucky to have interviewed some excellent entertainers and fine people for my Online Celebrity Interview series. Some gave me interesting and soulful answers and some were too short and a little flat I thought, but my interviews on Shaundriana, Robin Price, Robbie Ross and Jimmy Tai, I feel were among the best of the female impersonators that I have interviewed. Of course I was honored to have such famous celebrities as Buddy Ebsen, Robert Goulet and Dr. Lawrence Foster join my series, and female singers like Amapola and Marilyn Michaels.
Billy: What would you do with a million dollars?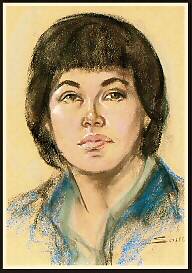 David: Well, after you pay taxes, there will a lot less than a million dollars left I am sure, but with whatever money is left, it would be nice to buy a home on the beach with at least an acre of land for my pets to roam around, in a place like The Canary Islands or Costa Rica. Also I would buy a Jaguar . . . I think it's really an elegant looking car . . . hopefully with enough money left so I would never have to worry about how to pay my bills. But really, this is just a fantasy, because it has been my lot in life to work hard for everything I have achieved, and to never get anything for free.
Billy: Do you make any New Year's resolutions?
David: This may sound cynical to some, but here's how I feel about it: Every year that passes by, I get a little older, and I don't see much change in the world because the nasty people seem to outlive the nice ones. I guess once I was told while vacationing in Havana, Cuba by my Mom Tila that there was no Santa Claus, the world was never the same to me. Now that most of the people and even my own personal pets that I have known, loved, liked, needed, and admired for years have passed on, the physical world seems to be a little less important to me. Without making promises or wishes many good things still come about in my life. I have met some interesting and kind souls over the Internet such as my friends John Anthony Miller in Ventura, California, Patrick in San Diego, California, Thomas Lynch in New York, a dear Puerto Rican lady Rosa in New Jersey, and Maisy in The Canary Islands. I receive an award or a tribute here and there, either for my Web site or for my accomplishments as an entertainer, or an interview such as this from someone I admire like you, Billy, and those are really nice things that come my way.
I thank you dear Billy from my heart for taking the time to care about me as a person and as an artist and for you to create such interesting questions for me to answer. I hope I did well in doing so. I have been interviewed in my theatrical life many times, but this interview holds a lot of special meaning for me, because I have known you for many years, you in Europe always and me here in the United States. Never got to meet you in person as of yet, hope I will someday soon. Thank you and God bless, as always your friend (Come Rain or Come Shine),
David de Alba, The Cuban Legend.

NOTE: On October 2nd, 2002 Billy Tweedie passed away from a heart attack in Pennsylvania, USA. I shall miss his loyal friendship and support to my Art Form for the rest of my days.

Visit Billy's Web Site at BILLY's WORLD

Return to David's Home Page