Thomas Lynch Interviews David De Alba

Anita Mann A.K.A. Thomas Lynch interviews Heri Del Valle A.K.A. David de Alba, The Cuban Legend. With a grand entrance, I introduce you to a marvelous performer who has dazzled the audience for a period of time . . . has received many accolades and has truly become a theatrical talent. It is rare to find a thoughtful, caring, gracious penpal, female impersonator who has become a friend. David de Alba (Singer-Illusionist), has shown his true colors. His Resumé and video tape explain why he uses the word legend. That is what he has become! He sings 'live' and with his opulent changes has achieved success in the field of Female Impersonation. David, as I spread my wings as a Clodius Parnassian Parnassius (Butterfly), I thank you for giving me my wings so that I can take flight. In this heartfelt interview you will find out why he has truly become a legend.
TL: While attending college did you have thoughts of being a stage actor as yourself and working in mediums such as radio, film, television, etc.?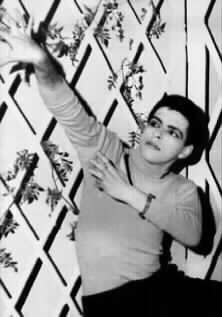 David: I went for two years to Wright Jr. College in Chicago. There I took courses in stage make-up, public speaking and drama. I even danced solos on stage with their orchestra, but it was after I left college and went to the American School of Beauty Culture that my life started in Showbiz, working in the best places in the Chicago area, both as a male dancer and as a female impersonator. I did some TV shows in Chicago, but the big breaks came for me when I had moved permanently to San Francisco, being on more TV shows, radio, nightclubs, theatre, being covered in the newspaper quite often, and then working at the world famous Finocchio Club in the 1970's. I have never been in films, but after what I hear from many Stars of how hard it is, maybe I didn't miss much . . . though perhaps doing one film would have been nice to just add it to my Resumé.
TL: When traveling to engage in performance venues around the country, out of all the people, places, and famous legends (besides the ones you mentioned on your Web site), who influenced your activities to the entertainment field? Were there others, like teachers? For me it was the mentors Madeline Kahn, Helen Hayes, José Ferrrer, Lawrence Olivier, Asante Qualles, Millie Rehak, Dorothy Parsons, teachers and famous actors.
David: To those who have not read my on-line Bio, I stated that American songbird Judy Garland and singers Olga Chorens & Tony Alvarez from Cuba, especially Olga, were the most influential artists to my show life. I did learn indirectly many tricks of the trade for a better drag illusion while performing at Finocchio's from such entertainers as singer Lavern Cummings, master of ceremonies Carroll Wallace, and dancers Marlo Adame and René de Carlo.
Being a homebody myself and wanting to be near my bread and butter business which was my hairstyling salon, also my family, my partner, and my dear pets, I have done little touring during my lifetime. I hate all this moving around from hotel to hotel, packing and unpacking. I know many entertainers agree with me on this subject. I always tried to work locally as much as I could when I lived in Chicago and when I was in San Francisco working at the famous Finocchio Club in San Francisco, and doing gigs at other nightclubs, theatres, TV appearances and private functions. The exception was when I travelled to Miami and Miami Beach to perform with my Showbiz idols, Olga & Tony. I did enjoy those trips, because not only was I performing with my mentor/idols, but it gave me the chance to visit dear family and friends who lived in the area that I had not seen for years.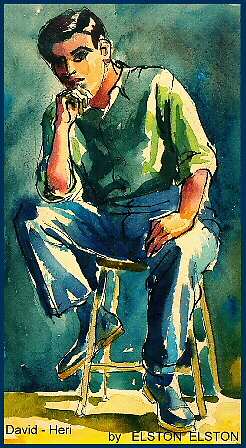 TL: Elston Elston the artist on your Web site that created your image on paper [water colour]. Has she done other works of art and are they exhibited?

David: Well, the very talented Mrs. Elston Elston was my art teacher in Chicago at Senn High School in the early 60's and she was very gracious to do a water colour painting of me right there in class, which I had framed and kept through the years. She not only taught art but was a well known artist in the Chicago area, had her own studio outside the school and her work was displayed in the best art studios and museums in Chicago. She has sent me every Christmas since I left school until now (that's MANY years) beautiful cards that she designs with her own lovely etchings of different animals. I thought it fitting to add to my Web site that water colour she did of me so people out there who may not be acquainted with her work can get a glimpse of it.
TL: You sing in three different languages. Which do you prefer to entertain with; English, French, or Spanish? Do you care if the audience can translate the language you sing?
David: Spanish and English are the two forté languages that I sing. I only know a few French sentences that I use for a special effect in two of my medleys: "South Pacific" and "Irma La Douce". Most of the time while at Finocchio's and elsewhere I performed for very International audiences, so if I sang in Spanish there were always enough Latin-Americans to understand my Spanish songs. Then of course, when I sing in English there are always plenty of English speaking people in the audience and most of the Latin-American audiences are bi-lingual. It is said that music is the universal language, so even for those in the audience who don't understand the words, the message in my songs is seldom lost.
TL: I know there were many performance venues. What was your favorite and the one you wished wouldn't end; and when it did, did you cry?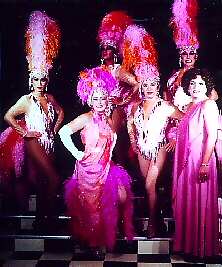 David: Even though at Finocchio's there was so much instigation going on backstage between performers, employees and management (It was known by many performers in the Biz as "The House of Hate") I had so much fun there. You see, we had International audiences that were very appreciative of our performances, which by the way were always 'live' backed up three musicians; a pianist, a tenor sax, and a drummer. Also, working with that wonderful gentleman Bill Bullard, the pianist and conductor of the show (and my personal musical arranger on the side) was thrilling. He made those piano keys come alive! Also I had so much fun with René de Carlo, Marlo Adame, Caroll Wallace, Russell Reed and Lavern Cummings on stage and off. So finally when it ended I did cry, inside and out.
There are many bittersweet memories. I felt that there was a lack of appreciation on the management's part toward me and other hard working, dedicated and talented performers, but that's life, which ain't always a garden of roses. What saddens me the most is that a lot of the cast I knew is either retired or passed on by now and I know we will never duplicate those times. One exception is my dear friend from Finocchio's, Marlo Adame who is still performing in Mexico. He and a friend and business partner of his, Carlos Candiani, plan to present their revue in Las Vegas sometime in the near future and have asked me to be a part of it. If it were to come to pass it would be almost like the good old days again, but without the instigation!
TL: When working as "Heri the Hairstylist", did you meet people in the field in which you were destined? Were you recognized in your field?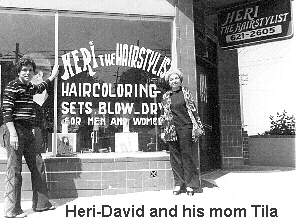 David: I did not hang around any hairdressers because I worked alone in the daytime at my salon backed up by my mom Tila, who was my secretary and a great help in the shop, assisting me in any way she could. Then at night I had to appear at Finocchio's, so that kept me busy and going all the time. I did meet some important people because of my hair work: I was on KRON Channel 4 on "Saturday Live" with Dan Weiss, on KTVU Channel 2 for Bob Mac Kenzie's "Segement 2" and on KEMO Channel 20 (The Spanish Channel) for "Evening News" with Luis Echegoyén. Of course, a big highlight was when Lorimar Productions selected my salon out of many in the San Francisco area (mind you, fancier ones than mine) to film a sequence for the TV pilot "Spies" with actor Tony Curtis. The whole event was covered by the famous San Francisco Chronicle Columnist Herb Caen. Those were great honours bestowed upon me and my work which I will cherish forever. So yes, I was recognized in my field, also by many people on the street who came over to say hi and tell me they saw me in the newspaper or on TV.
TL: Who through media or television interviewed you at your peak in which you engaged in?
David: In addition to the interviews I just mentioned about my hairstyling work, I was also interviewed on many local TV shows in the San Francisco area for my work in drag. One that stands out and that I got a lot of publicity from was when Bob Mac Kenzie from 'Segment 2' re-visited me in my home in Brisbane, CA.(just a few minutes South of San Francisco). Bob did a special feature on me, my Judy Garland act and my extensive collection of memorabilia on the Star herself. Bob interviewed me, showed my collection on the air and even asked me to close the segment by singing "Over the Rainbow" backed up by a piano track by Bill Bullard. I have very fond memories of that particular show. It was even seen in other parts of the USA. As I was enjoying a stroll one day in Miami my mind was far away from Showbiz. To my complete surprise I was stopped by a Cuban lady to tell me that she had seen me in the Segment 2 piece on a local TV program.
Also two shows from my days in San Francisco that stand out in my memory are my apperances on The Amapola Show on KEMO TV Channel 20 and a very special show that I choreographed for KTVU Channel 2 called "On the Square" with hostess Betty Ann Bruno. I found out later that Betty Ann played a Munchkin when she was a tiny child in the movie "Wizard of OZ". Years later she sent me an autographed photo that said "With best wishes to David, who is also a good Judy, From Betty Ann Bruno, Once a Munchkin." I still have that picture hanging in my theatrical room at home. These little things mean a lot to me, because they come from the heart!
Another TV show that meant a lot to me was when recently I was asked by the International TV Network from Miami's Univisión to guest Star in their well-known show "Fuera de Serie". A camera man along with a lady producer flew to Las Vegas and then drove all the way to my home in the Tri-State area of Arizona and here in my theatrical room with show lights and musical sound tracks I was filmed with my Judy Garland memorabilia. I was dressed in one of my Garland costumes and sang "Zing Went the Strings of My Heart"! It was like being on Segment 2 all over again, but this time on a bigger scale, because this network is seen all over the world. I was lucky that paricular program I was on aired many times, and even during the Christmas holidays my segment was repeated in the "Best of the Series" of that year. Even my dear idols and friends Olga & Tony in Miami saw me on that segment and that meant a lot to my soul, since I think the world of them. Unfortunately, Tony passed on this Year 2001, which saddened me a lot. Memories of my Cuban childhood went along with him too.
TL: Imagine never leaving Cuba. Everything with the country and Castro was reversed and never was. Do you think that you would have created the same existence?
David: Well, in Havana, Cuba there were some lavish musical revues in the fancy hotel/casinos where female impersonators such as Ricky Renée for example and my late friend from Finocchio's Bobby de Castro and other famous FI's appeared. I don't think Cuba or any Latin-American country is very open minded toward female impersonation shows, generally speaking and toward gay life in particular due to the "machismo" attitude of the men (not that all FI's are gay). I probably could have performed as an FI there in some shows for sure, but Asian countries such as Japan, and European countries such as Germany, France and The Netherlands for example are noted for being more open to FI's and also to entertainers of colour. I am sure I missed other countries where female impersonation is viewed as a legitimate and honourable theatrical art form.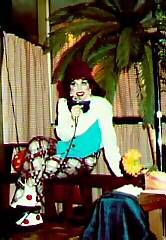 TL: I loved the selection of pictures on your site. What is your favorite one! Can you post it on this interview for the readers to see? Did a stylist assist you with your costumes and wigs?
David: Well, there are two particular pictures that fans and critics seem to like of me: one is of me doing my Judy Garland Act with my head going back and mike at hand and another is the famous purple gown photo of me as Boy-Chic taken at Finocchio's for their yearly postcard. I heard that it was one of the Club's favourite postcards and long after I had left the Club it appeared in many newspaper advertisements for the Club.
I never had a "stylist" since I did my own wig styling, but as for costumes, that purple gown photo in particular; my costume designer at the time was "Jheri of San Francisco" who designed my Garland Hobo, Pierrot and Happy Clown costumes.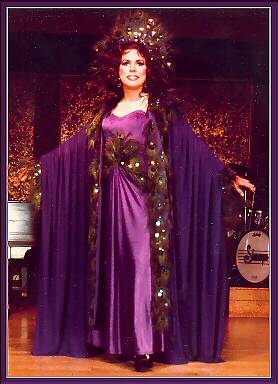 Jheri told me that if I drove him to the photo shoot he would lend me a costume, very "Heddy Lamarr" that he designed for some actress in a local play. It was very fancy. It had peacock feathers and a huge head piece to be worn over my wig. I had never worn head pieces before. What an experience it was. The fragile dress was brought in very carefully by him in a box with lots of tissue paper cushioning and only after I had my make-up on and came downstairs to the wings, did I see it for the first time. Jheri put it on me very carefully along with the head piece. When I appeared on stage for the cast photo shoot, dear María, Mrs. Eve Finocchio's sister started applauding and making comments from the cash register, her eternal post at the Club. After the photo shoot, the dress went back in the box and I never saw it again. I wish Jheri would have sold it to me because it was breath taking, but it belonged to a local theatre costume department where he did a lot of the design work. Oh well....
TL: When buying pantyhose which brand you prefer? Do you ever feel embarrassed buying women's clothing? If you could read salesperson's minds would you be pissed at negative thoughts?
David: Well, as far as pantyhose is concerned I usually bought them at theatrical supply stores, so these were theatrical brands that FI's and exotic dancers wore on stage to made legs look even prettier than in real life. (I learned that trick from the some of the pros at Finocchio's.) If I ever bought regular ladies hose from any other store I knew my size, so I did not have to ask for help from any salesperson. I was lucky that San Francisco was a very open-minded city and I never had a bad experience with any salesperson. In fact, most of them where us FI's shopped were well acquainted with our work and bent over backwards to be of help and service to us in anyway they could. That included wig shops also.
TL: Do you have any preferences in make-up, designer clothing, shoes, wigs, etc.?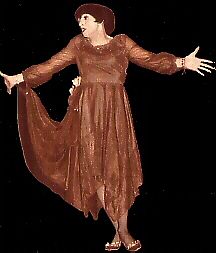 David: I have used all sorts of fancy stage make-up, even European brands that are now discontinued, grease paint brands bought at theatrical stores in San Francisco, but I always relied on good old Max-Factor as many of the other FI's used at Finocchio's. As far as costume designers go, I was a boy that came from Cuba to the US in the 1960's with nothing because of Castro. When I started to perform in Chicago professionally as a teenager I was very lucky to have a wonderful seamstress, my Grandma María whom I adored, make all my outfits. (My first drag ones and also some male outfits since I also performed as a male dancer then). Later on in the 1970's my partner Paul Ryner designed that beautiful Liza Minnelli costume that appears on the main menu page of my Web site. Then of course costume designer Jheri did some of my Garland outfits, my dear FI friend Robin Price made two lovely gowns for me, another seamstress friend Bess Pollaceck made a few, and after Lavern Cummings retired from the stage I bought some of his fancy wardrobe. So, for a poor Cuban boy I made out all right somehow. Shoes for the stage I just bought in some of the fancy shoe stores in San Fracisco, and being a hairdresser by trade I bought many nice human hair and synthetic wigs and hair pieces through wholesale outlets, and of course I cut and styled them myself.
TL: If you had to portray yourself in three films which ones would you pick and who would you be?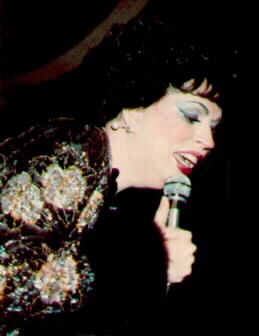 David: I don't think I could endure the rigors and long hours of film making, memorizing long lines, etc., but if there was ever a movie made about the Finocchio Club I would like to have a cameo apperance. Also if any movies were made about an FI who sang, that would be fun to do, and the third one, which in this homophobic society it would never happen, if an FI were to portray Judy Garland and the great Jim Bailey could not do it for some reason, I think I would like to take a crack at it! I am not holding my breath though, since I consider myself more of a Cabaret Artist.
TL: At Finocchio's was there appreciation for the work you brought to the stage?
David: After I thought this over and over many times through the years, the best appreciation I got was from the audiences that flocked in long lines to see us perform. I say that because after being gone from the Club for so many years, and since my Web Site has been on-line, I have so many people who have e-mailed me saying how much they enjoyed the show and my performances and even asking me for autographed photos. Also as in the case of FI Morgan Stevens, when I conducted an interview on her she said that she was an long time fan of mine. In fact, Ken Spaulding's interview on me "Still Here" came about because he saw me perform at least twice at Finocchio's when he came of age and went to see our show.
The owners of the Club I don't think ever did appreciate me the way I feel they should have, because I spent a lot of money for special musical arrangements like no other performer did at the Club with the exception of the Star Lavern Cummings who had a wonderful repertoire. After my long run was over I was asked by Eve Finocchio to return and return to her Club in a constant series of guest spots, sometimes for two weeks or more replacing Carroll Wallace or Lavern who had taken sick leave for one reason or another. Carroll Wallace said to me one night as I was walking up the stairs to the dressing rooms with all the costumes, wigs and make-up that I had to carry back and forth from from my home to the Club, that I shouldn't allow them to treat me like 'The Old Shoe'. One time dancer Reggie Dahl, poking fun shouted at the top of his lungs so I could hear it from his dressing room, that when Eve called I always had all my musical arrangements, costumes, wigs and make-up ready to go in the trunk of my car . . . That was not true. I told Mrs. Finocchio what they were saying upstairs and she said: "You tell them upstairs in the dressing room that if Joe or I did not like you, you would not be asked back all the time, and we don't call just ANYONE to be in our show as a replacement." I didn't bother repeating what Eve said to me to anyone upstairs . . . they probably would not have believed me anyway. I said to myself, who cares, I was there afterall, appeared on many of their yearly publicity postcards and that was in a way a small tribute to me and my abilities. I still remember after my long run was over, maybe two hours before showtime either Joe or Eve Finocchio calling me at my home and saying: "I know it is short notice, but can you come in tonight? We will even pay for you to park in the lot next door to the Club to save you time." (You see, us entertainers that drove to work had to park pretty far from the Club and still had to get there on time for make-up.) I came through somehow and was never late on stage, even when I was called at the last minute as it happened so very often, even after I had moved from San Francisco to San Mateo, which made my commute much longer. But I loved the Biz . . . being around some of my show friends working there, and of course that applause!
TL: When meeting Judy Garland's family, did they accept what you were doing and appreciate the performance of what you're bringing to the stage in the memory of their mother?


David: I never have met Liza, but I have met Lorna and Joey Luft and told them about my impersonation of their mom. When I told Joey at The Judy Garland Auction conducted by Sid Luft many years ago in Los Angeles he gave me a big smile that seemed like an approval to me. Also I met his dad Sid Luft, told him of my Garland Act and posed next to him holding a pair of Judy's shoes that had I purchased at the time. In fact a renown author years later told me that Sid's secretary at the time saw one of my TV appearances from Channel 2 in San Francisco doing my Judy act and that she liked it and video taped it.
Here is a story that happened years ago. Lorna had an engagement at The Fairmont Hotel in San Francisco and after the show I got to visit her in her suite.
I brought a picture of me doing her mom Judy in my act. (The one on the left) She put it on a nearby credenza and we kept talking. When her musical conductor came in to discuss musical tempos with her he noticed my picture he said to Lorna: "I didn't know you brought a picture of your mom with you on this tour." and she replied: "That's not Momma, that's David who impersonates her!"
So maybe that answers your question Tommy, but the best compliment of all is when I was a teenager in the late 1960's in Chicago when I told the real Judy Garland backstage at the Opera House that I impersonated her in my act. With her incomparable Garland charm she said very Dorothy-like: "Do you really like me that much? If I wasn't leaving Chicago tomorrow morning with this tour, I would love to catch your act." I have never forgotten that experience throughout the years, but foolish teenager that I was, I didn't bring a camera to take a photo of Judy with me! Do I regret that! She could have been right up there now on my Celebrity Scrapbook Page on my Web Site along with the other artists and legends!
TL: The world loved Judy Garland. I too loved her performance and image. The world is overflowing with Garland impersonators. Have you reached your level of success in your impersonation of this legend?
David: Well as far as 'live' FI's who did Judy that I know of are the late Craig Russell, Ricky Renée, the masterful Jim Bailey and I. I like to think I have achieved some kind of goal because of my loving tribute to the Star. I have received many recognitions of my achievement, like induction into "The Gallery of Greats" from the TG Forum, induction into the TG SuperStars Web site, TV shows like Segment 2 with Bob Mac Kenzie, and the International "Fuera de Serie" where I was selected because of my Garland Act and memorabilia, and by so many fans all over the world who tell me how they enjoyed my Judy Garland act, either by e-mail or when we met by chance. So what else can I say. That means a lot to me as a performer. As far as your comment about so many Garland impersonators; some are a disgrace to Judy's memory and some are very good, but they pantomime. There is nothing wrong with pantomime since it is also an Art Form but for those who work 'live' it is a greater challenge.
TL: Impersonations of Judy, Liza, singing clown acts, Boy-Chic . . . out of all the illusions you create did you want to bring others famous legends to the stage? Although singing 'live' and doing impersonations, were you ever discouraged when critics said, "You look like the person but you don't sound like her".
David: No, I was fortunate that I was never attacked by any real critics about not looking like Judy or Liza or not sounding like them. But I always have said about my act candidly when I was interviewed by the media and to my audiences that I don't pretend to sound exactly like Judy or Liza, but to give David de Alba's best vocal interpretation as a tribute to them. That gets me off the hook for attacks and it is the real truth. Of course in my own creation the International act Boy-Chic I don't try to impersonate anyone in particular. It is my own singing style as if I were a real lady/singer on stage performing songs. In fact there are some fans of mine who have told me through the years that they prefer me being myself as Boy-Chic than me trying to impersonate Judy or Liza, although they liked what I did with my characterizations of both Stars, they enjoy the freedom and the "real me" that my Boy-Chic act brought to the stage.
TL: Who is your favorite screen actress and actor?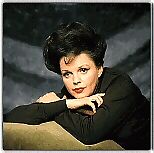 David: Well it is not fair to name just one: I always enjoyed the intensity of Susan Hayward's performances on film, also Bette Davis, (and yes Bette dear, Joan Crawford), the always sweet Sandra Dee, and the bubbly personality of Doris Day. There are others I also enjoy, but these stand out most in my mind. Of course the great Judy Garland is right up there in step with all of these ladies. Oh actors, I liked Richard Chamberlain's elegant performances and the late Troy Donahue's screen intensity.
TL: What kind of music do you listen to and if you had to mention three favorite singers who would they be?

David: I like the voice of Frank Sinatra and the standards that he sang along with the great Ella Fitzgerald and the very versatile multi-lingual singing style of Petula Clark. Of course as far as songstress to touch my soul no one can top the one and only Miss Judy Garland. As far as my Latin-American favourite singers of all time, it has to be the incomparable Olga & Tony duo because of their voices and their diverse repertoire.
TL: Your favorite desserts are apple pie and a vanilla shake . . . for me it's chocolate. Do you crave chocolate?
David: Yes, especially if a cake is made with a light chocolate base. I don't have ravenous cravings, but I also do enjoy eating a chocolate bar or bon-bon at times. In fact, I like drinking hot cocoa from time to time, especially if it is made with the hard Mexican chocolate.
TL: In Arizona, many including you have seen UFO's. Did you report the sightings? Have you seen any strange phenomenon there where you live?
David: Yes, my experiences were documented in an UFO Magazine called: "UFO Update AZ" in the summer of 1995. The article was called: "We See Them All The Time". The gentleman who interviewed me at my home in Scottsdale, AZ was Roger Bollinger. I told him about the UFO's I had seen while living in San Mateo, CA and later on, some of the sightings between Phoenix and Wickenberg plus something I saw by the Colorado River on the Bullhead City side that was very colourful and unusual, but the huge flying disc I saw in the area near Wickenberg was really awesome and I will never forget it as long as I live. It was sort of an eerie but grand feeling that I experienced and I wasn't alone in the car either. My mom Tila and Paul witnessed it also.
TL: When do you want to produce the auto-biographical record of your journey in life?
David: Well, right now my manuscript is finished and ready to go, but it is so expensive to do anything nowadays without professional backing and since I am all alone on this project I don't know how I am going to pull it off. Also I have enough material to come out with two CD's of a musical memory lane memoir of my Finocchio Club Hits between the 1970's and mid 1980's. Really very rare material, and now that that Finocchio's is closed it has become a nice piece of its history to be heard by fans of FI's. That is also ready to be produced . . . when I don't know. I hope a "good fairy" somewhere out there will give me a hand!
TL: Have you been tempted to take on Las Vegas and produce your own shows like at Finocchio's?
David: To produce a show like Finocchio's in Las Vegas or anywhere else is not easy at all, since that Club had a very good reputation for many years and people came from all over the world to visit it before it lost its lustre. Toward the end of its existance the show became mostly pantomime and there were no longer 'live' musicians on stage and some of the better acts were gone, either dead or retired. But it is not impossible that a small lounge owner/manager in the Las Vegas area could take a special interest in an FI like me who sings 'live' which is rare in our Biz. Also entertainers like you for example Tommy who also work 'live' and my dear friend the excellent ballet dancer Marlo Adame from Mexico. But as you know there is a lot of jealousy in Showbiz and I doubt if any working drag artist will give us a hand, so we will have to do it ourselves to get it done!
TL: Did you ever get thanks for your dedicated work in the "CELEBRITY INTERVIEWS" page? Out of all your favorites, if you had to pick one performer that you missed, who would it be?
David: Some people whom I interviewed, like you Tommy, (actually you were one of the first in the series) keep demonstrating to me over and over in your e-mails your appreciation of my Celeb Interviews and the hard work of my partner/Webmaster/editor Paul Ryner to make these interviews come to life. Also my dear Italian friend Genny Random, Ulrich Cazal and Manuela from Germany, and from the USA, FI's Shaundriana, Morgan Stevens, Jimmy Tai, Robbie Ross, and my dear friend of many years Robin Price who even has dubbed me "The New Harvey Lee" (who was a wondeful FI and also a meticulous keeper of FI history)....those names are just a few of the entertainers who come to mind who applaud our labour of love, but there are a few on my Celeb Series who think it is my duty and they feel they are doing me a great favour to be interviewed, when it should be the other way around, or at least like in a marriage, a two-way street. That I mind a lot, because as you know we make no profit out of this work Tommy. In fact, it cost us extra money a year to keep these interviews on-line, since we ran out of space with our server. One FI even called me "A pushy Hedda Hopper", because I want people to be prompt with their answers in order to get each interview edited and launched. His answers never came on time, so I had to ask him more than once to please try to get the answers to me. Then when they finally came, in his comments to me at the end of the interview I got that 'cold water bucket' in between the praises for keeping FI history alive. So, what can I say? I do have other fans of my Interviews Series, two in particular, a wonderful and sweet gentleman by the name of Patrick and a TG girl who has become as an on-line penpal of mine by the name of Jenniffer Merrill. Both of them always have a kind thing or two to say to me about my interviews, which I appreciate with all my heart.
If I had the chance to interview one performer that I missed, who would it be? I could not just give you one name, but several: The great Judy Garland and my wonderful singer friends Olga & Tony. And then as far as the best of FI's are concerned: Charles Pierce, Craig Russell, and from the "golden period" of our Finocchio cast: the late Bobby de Castro, the great Lucian, my dressing room showmate performer Russell Reed, Carroll Wallace and Elton Paris. So you see I did miss many, but at that time I had no idea I would ever have a Web site of my own and furthermore create such a Celeb Interview Series.
TL: You have many Web awards in appreciation of your work. Which is your favorite and why was it given?
David: It would be unfair to say that I like this award or that award only, since it is like asking a mother which of her children she likes best. I am honoured that these lovely people (none I have ever met) have bestowed upon my site such beautiful awards, so I am thankful to all. Most of the awards were given because of the graphics, the layouts, the musical midi-files choices, etc. that I have to thank only my Webmaster Paul Ryner for his kindness in creating my Web site and for the horrible long hours of hard work in its creation. Other awards were given to me like The Thedda Award because of what the award giver (who wished to remain anonymous) for "My Fine Interviews Series". Another was the one that Ulrich Cazal from Germany bestowed on me for the same reason. I have fond memories of such lovely awards given to us by ladies like Rosa from New Jersey, Marie Sandpiper from Europe and Kristi from Florida. Not only were they very nice awards, but these ladies have kept in touch with me by e-mail since then. Especially I am very grateful to dear Kristi because she designed for me (upon my request to her) without asking for credit for her design "The Fine Artist Award" that is meant to be given by me to other entertainers in the Biz who merit an award in my opinion, not for the looks of their Web site, but for their talent and humanity. The people who visit my Web site's Awards Page will see that each award is completely different and stands on its own for the differences in colours, shapes and design and each seems to have a soul of its own.
TL: I have contacted the TG Forum "Gallery of Greats" many times for different requests and never had heard from them. When you were inducted did it bring a grounding to your stature?
David: Well, the folks that run it are always busy, since it is a huge Forum to keep up with. As you know you have to be a paying member to get in. I feel any inductions or trophies given in our Biz always elevates a performer's stature; one's faithful fans like it anyway. So for that I am grateful to the TG Forum to be included in their "Gallery of Greats." It is a real honour to me, indeed when you see the other great talents I stand next to in that chosen group. Some I had the pleasure to know personally, to have seen on stage and to have worked with. Also I was honoured when the respected San Francisco FI Historian Ms Bob did a very informative two part interview for the hard cover national Magazine "LadyLike" which comes out of PA. One of the most sincere of tributes, I feel, is when lately a few old and new fans have called me when they were feeling "the blues" and asked me to sing over the telephone to them. By the way, Tommy, the trend of calling me: "Legend" started years ago when well-known San Francisco's Bay Area Reporter Lou Greene labeled me thusly. Then in the Year 2000 John Anthony Miller from So.CA, a wonderful artist and Webmaster to Buddy Ebsen's Web site re-labeled me "Cuban Legend", so it was not my doing. I sincerely hope when I leave this world there will be people like you Tommy who will speak kindly of me! ;o)
Peace and Love to you and Paul. It has been a pleasure meeting both of you while in Arizona. I am praying that someday I will have the pleasure of performing with you on this Planet.


Much love to you! Anita Mann, A.K.A. Thomas Lynch
I thank you for taking the time to interview me Tommy. Your support means a lot to me. I know how very busy you are with your stage work in New York and your many dreams to be achieved as of yet. I wish you all the good things that could happen to a dedicated performer like you in your career.

God bless, David de Alba, the loyal Taurus/Cuban Legend.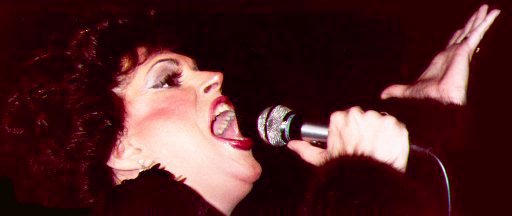 Return to David's Home Page