David de Alba's Loving Tributes

---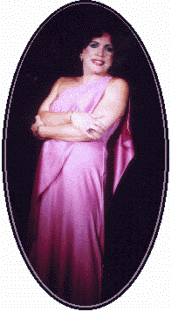 Tributes to my co-worker friends in the entertainment field
Here are some of the best 'live' female impressionists I had the honour to work with at the world famous Finocchio Club in San Francisco, in the days when they had a band and everyone performed 'live'. The following comments are based on my observations while at Finocchio's, and it's painful for me to make these comments because we will never be able to be together again on stage.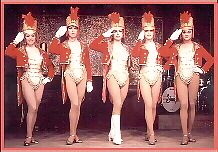 I watched them from the audience, from the wings, on stage, in our dressing rooms and even got to visit them at their homes and dress many of their wigs. For this I am grateful and this page is to honour them.

Some of these entertainers appear with me on my "David de Alba at Finocchio Club" page. On the right is a picture of chorus line, "The Eve-ettes" in one of the show's best opening production numbers, "Parade of the Wooden Soldiers".



Editor's note: Finocchio Club's history actually began back in the Roaring '20s, in a speakeasy and Bohemian cafe on Stockton Street on the edge of the seedy Tenderloin District.

It was the favourite and intimate gathering place of San Francisco's theatre and art colony. The place featured female impersonation even then. The club went above-ground with the repeal of Prohibition in 1933 when Joe Finocchio and his first wife, Marjorie moved the club to the trendy North Beach nightclub district at 506 Broadway. The new operation opened on June 15, 1936 with a live quartet of musicians headed by Nick Sturiale.

According to the old-timer entertainers, Marjorie wore big hats a-la Hedda Hopper (picture on right) and spoke with a low husky voice. She was the driving force that made Finocchio's world renown with extensive advertising locally and internationally, and ran the club with an iron hand. Under her direction there were huge posters of all of the entertainers at the entrance and on the walls of the club. She died in 1956. Joe Finocchio died in 1986. After Marjorie died, Eve Finocchio, Joe's second wife, took over running the club until it closed on November 27, 1999 after 63 years in the same location.

For more on Finocchio's see Zigria's Blogspot

Finocchio Booklet Cover design by artist/entertainer Li-Kar, 1942.
---
---

THAT FABULOUS MASTER OF CEREMONIES CARROLL WALLACE
The late Carroll Wallace was one of the most beautiful men in drag in his youth. When I knew him he presented himself as an elegant lady on stage. He had a trademark song:"I'm A Singer Though I Haven't Got a Voice", which was written especially for him. Part of his introduction to each show was as follows: "Welcome to Finocchio's, the house of the fabulous female impersonators. In New York Mr. Ziegfeld glorified the American girl . . . Here at Finocchio's, we glorify the American boy." He was one of the few impersonators still wearing glue-on lace human hair wigs, which were styled in a French Twist. He also parodied Sophie Tucker at times. I am grateful to Carroll for giving me the following introduction: "And now from Segment 2 TV let's welcome the warm and charming personality of Mr. David de Alba!". I miss hearing that introduction and sharing oh so may laughs and backstage dirt.
Carroll, with his mischievous sense of humour, once told me that if you want to get fired fast from this club, Saturday night when Mrs. (Eve) Finocchio is in, come on stage singing "Margie, I'm always thinking of you, Margie . . . ". Margie was the name of Mr. Finocchio's first wife. According to Carroll, when Joe divorced Margie and married Eve, Margie retained ownership of the club and wouldn't let Eve set foot in the club as long as she was alive. See FI Pictorial Tributes page for more on Carroll.
---

THE GREAT LUCIAN
Also referred to as The Male Sophie Tucker. The late Lucian owned some of Sophie Tucker's original gowns and wore them on stage. He was noted also for his fine boy soprano voice which he used in songs like "When Irish Eyes Are Smiling". Lucian was one of the very few impersonators I met that due to his healthy complexion and no beard shadow he got away without wearing a foundation on stage. He just powdered and went on to fix the rest of his stage make-up. He was very nice to me and always gave me credit on stage for dressing his wigs. He visited us at our home and once we were invited for lunch at a retirement home on Guerrero St. that he owned and managed with his wife.
Lucian had retired from the club after learning that he was dying of liver cancer and one night he came to see the show. Before the show finale, Carroll Wallace announced his presence in the audience and asked him to take a bow. Mr. Joe Finocchio rushed backstage from the front of the club and in his usual stern manner, scolded him in front of us all for doing so, saying in his Italian accent "Boy, it is no good business for-a people to see how-a bad Lucian looks!" As he turned and left abruptly, Carroll looked at me with his arms in the air, and said "David, what is this place coming to?" Lucian used to tell us backstage that when he died he wanted to be buried as Sophie Tucker. I wonder if his request was honored. See FI Pictorial Tributes page for more on Lucian.
---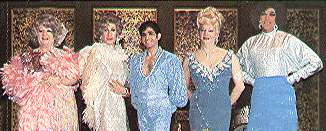 THE UNIQUE ELTON PARIS
Elton would often enter the Finocchio stage with a pan face, wearing dowdy women's street clothes and tennis shoes making people laugh before he opened his mouth. He used a falsetto voice at the beginning of his songs dropping to an extreme baritone later on to shock the audience in the song "Spinning Wheel" (What-goes-up-must-come-down). As the song progressed he would let each of the falsies slip down behind his sweater and as the audience noticed and laughed, to make them go crazy, he took his hand and pushed them back up. See FI Pictorial Tributes page for more on Elton.
---

THE VIVACIOUS BOBBY DE CASTRO (Another product of Cuba like me).
The late Bobby used a comedic flare in his dancing. He emerged from a gorilla and also a polar bear costume as a spunky blonde female, then stripped to the minimum. Then he proceeded with his stripper act as the stage lights went off and he twirled a pair of flashlights as "pasties". He moved them in a natural bounce until the movement nearly reached the floor. At the end of the act the lights came up, he pulled his wig off and flexed one of his biceps. The audience went wild, and he said to me in a sly aside "Just give me the money!", (but he did like the applause).... He was my mentor, "showing me the ropes" and how to please the club owners, (not an easy task!). I still remember after all these years, how Bobby had a small electric pot in which he would make hot chocolate between shows and offer me a cup along with some cookies.See FI Pictorial Tributes page for more on Bobby.
---

THE SWEET & LOVELY HOLLY WHITE
Holly appeared on stage surrounded by soft feathers and very little else, a la Sally Rand, as he sang and danced to numbers like "You Stepped Out of a Dream" and "When the Red Red Robin Comes Bob Bob Bobbing Along". While most of us FIs had to wear heavy make-up to create the female illusion on stage, here was Holly nearly bare faced. His wig was done in a soft style of the 1960's but with no teasing. We lost touch for a while but now in 2002 I spoke to Holly on the phone in Hawaii where she lives, and invited her to participate in my interview series. She was happy to hear from me and said she would be honored to be included. See "CELEBRITY INTERVIEWS by David" for more on Holly.
---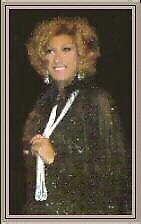 THE WACKY JACKIE PHILLIPS
Jackie used a fast patter of comedy style and during his songs he would walk around the stage on the sides of his high heels, provoking laughter from the audience. Also, he would twirl his waist length pearl necklace around his neck like a hula-hoop. Jackie was very health conscious but on the other hand he loved to eat Hostess Twinkies between shows and would savor the cream filling.
Once he came to give me moral support on a show I did in Redwood City, CA at The Bayou Lounge and after the show he came to my improvised dressing room and gave me a gift. It was a lovely ashtray, (I never smoked), but have cherished it through the years and used it as a candy dish. Jackie is one of the most reserved and clean-cut souls I ever met, and I still keep in touch. See "CELEBRITY INTERVIEWS by David" for more on Jackie.
Holly White on Jackie Phillips:
One of my favorite people at Finocchio's was Jackie . . . so off-the-wall and totally crazy. He was a sweetheart and I looked forward to seeing him every night. He used to walk on the side of his feet (in high heels) on stage. He was so 'Lily Tomlin'. Love him!
---

THE TON OF FUN RUSSELL REED
The late Russell Reed was my stage roommate for awhile. He joked about his 'three hundred pounds' as part of his act. He did a funny striptease down to a pair of red pajamas and cherries hanging from his crotch. Though he wasn't glamorous, once as he applied a new grease paint he bought, he said "The cosmetic girl assured me this make-up I bought today would make me look flawless". Well, somehow he believed it! Russell liked to close his segment with a song about "King Solomon and His Wives" he added all kinds of special facial inflections and gestures to make the song laughable to the audience.
One story about Russell reveals something of his personality. He loved the stage so much that when the opportunity arose for Russell to emcee the show, he was delighted. If Carroll Wallace was sick a certain night of the week and an emcee was needed quickly, then either Russell or I was asked by Eve Finocchio to fill in at the last moment. If Russell became the emcee that night, it was a sight to behold.
Russell was a stout comedian in drag who billed himself as "the ton of fun". No one in the audience realized how cultured and knowledgeable he was behind the comical façade. He would use the most eloquent words to introduce the acts to the stage. At the end of each act the emcee was supposed to return to the stage to solicit applause from the audience and to usher us off stage to introduce the next act.. He was so eager and filled with such enthusiasm to get on stage that many times, before a singer took his first bow or even hit the last note of his song, Russell burst onto the stage applauding with wild gestures, asking the audience to join him. This upset Lavern but I didn't really care when he did it with me because I thought it was funny and I knew how much he loved showing the audience and the owners of the club that he was as good an emcee as Carroll. You see, he and Carroll never got along well off stage. To this day I don't know the reason why.
Val De Vere was an excellent jazz singer who came from the My-O-My Club in New Orleans and was part of the cast when I opened at the club. He also helped with the design and maintainance of the club's house wardrobe for the productions numbers. Val was just as heavy as Russell, but was more glamorous. (See picture on right, Val, David & Russell) One day he came into our dressing room and asked Russell to try on one of the costumes he was making for a new production number and Russell obliged enthusiastically. All of a sudden I hear Russell screaming at Val saying that he made that costume too big that the design made him look fat. Val told him angrily "You ARE fat", and that if he had shown up for his fittings when he was supposed to, things would have been easier. Russell told him he was going to call Mrs. Finocchio the next day to tell her how fat Val's design made him look. Val angrily left the dressing room, slamming the door behind him.
Russell had big posters of Greta Garbo, Mae West and Judy Garland on the walls of the dressing room I shared with him for years. I remember he always had a big pitcher of ice water which he would drink between shows and would tell me how important it was for a flawless complexion like the great Garbo. Then he would grab a handfull of cookies out of a big plastic container, and offer me some. I would decline since I never ate anything during working hours. He would tell me that he ate them to keep up his comedy act.
Holly White on Russell Reed:
A ton of fun, Russell was 300 lbs. of joy! He was my biggest fan and would drag me to all the dressing rooms and say "This is a real lady! Take note!" He always had tons of junk food in his dressing room and introduced me to "Screaming Yellow Zonkers", a caramel covered popcorn snack that always reminds me of him when I see them in a store.
---

THE INTERNATIONAL DANCING STAR RENÉ DE CARLO
René was born in Mexico and was a consumate dancer. He represented all kinds of dancing styles and character looks with excellent wardrobe and wigs. He was known for his "Double Cape" dance routine from Spain. René's transformation from male to female was remarkable. He was married to one of the cocktail waitresses, Jeannie. When René was on stage she would remark proudly to her customers, "That's my husband on stage", which bewildered them all the more. He was always nice to me and affectionately called me "Chula",(a pretty girl). He also referred to me as "Tómbola". I sang that song a lot and it became a signature song for me among the entertainers. René, along with some of the Mexican entertainers that worked as "Eve-ettes" would eat corn tortilla chips with salsa and drink Mexican beer between shows in his dressing room. The small room looked and smelled like a Mexican Fiesta.
In May, 2000, I got his phone number in Mexico City from Mrs. Eve Finocchio. I talked to him after so many years had passed. He now performs occasionally for private parties. In 2002 he sent me one of his beautiful beaded Charleston costumes as a memento of our long friendship. See "CELEBRITY INTERVIEWS by David" for more on Renè.
Holly White on Rene De Carlo:
Such a sweet Mexican guy, who never got caught up in the Finocchio Club's intrigue. His wife Jeannie would make us fabulous Mexican meals. They both made my time at the club so pleasant.
---

THE STATUESQUE DANCER FROM MEXICO, COQUIS
The late Coquís from Mexico, died at a young age after leaving Finocchio's in the early 1980's. He was one of the best dancers hired for the chorus line, Eve-ettes, during my stay at the club. On stage he would do high leg lifts and splits with explosive energy, but still moved with feminine grace, swaying his arms and slim body as he danced to fast Latin jazz.
Backstage he was a sweet guy with a smile always. For some reason he wanted to make me look more like a Disco Diva by dressing me in different outfits he owned which were quite different from my stage image. One night I finally gave in to his idea since my partner Paul was going to video tape the show upon Eve Finocchio's request. I walked on stage during my spot at the finale wearing a white platinum wig, a sequinned bathing-suit type outfit with a long flowing blue cape over my shoulders. That made Coquís happy as he watched from the wings, joined by the smiling faces of two other fantastic dancer friends of mine, Marlo Adame and Renè de Carlo. I will never forget you Coquís dear!
---

LET'S HEAR IT ONE MORE TIME FOR REGGIE DAHL!
The late Reggie Dahl was blessed with a beautiful face a la Hedy Lamarr with a slim build. He did high kicks on stage and did lots of warm ups upstairs on 'the barre' like any good ballet dancer would before hitting the stage. He sang "Call Me" and made that song his, making us forget at that moment that it was Petula Clark's Hit. At one time Mrs. Eve Finocchio gave him responsiblity for the chorus line, 'The Eve-ettes', which he accepted reluctantly. He knew they would do as they please in spite of his guidance. Reggie was very moody. When he was in a bad mood I stayed away. When he was in a good mood he could be one of the nicest people to be around. I understood him; he just didn't have control over his emotions and all the pressure and instigation at work didn't help. I hope he is now at Peace.
Holly White on Reggie Dahl:
Reggie was my best friend at the club. He was a very temperamental Italian from Chicago. He had a short fuse, and was always fighting with the band or another entertainer. He could be so sweet and charming, and then turn into a real 'hell-cat'. He did his dance routine a la Ann Miller. Miss him so!
Entertainer Robin Price on Reggie Dahl:
Reggie and I were never real close friends because of his mood swings. He could be very nice one minute and a real bitch the next and I just didn't have time for all his bull s**t. I must say Reggie was one of the great beauties. He was right up there with Lavern Cummings. I do know that Arlene Dahl, the movie actress, was his 1st. cousin, on his father's side.
---

THE SUPREME DANCING OF MARLO ADAME
A fine dancer from Mexico with classical ballet training who graced the Finocchio Club stage for a number of years. He was one of the few in the Finocchio chorus line, The Eve-ettes, that also had a solo act, where he often danced 'on pointe' (on the tip of his toes). He was one of the sweetest people I worked with at the Club. Once Marlo brought to his dressing room, a fancy avocado dip in a huge bowl and offered some to everyone. I accepted to eat a little because it looked awfully good. I never understood how some of these kids could eat so much between shows and then hit the stage dancing. Lavern and I refrained from eating during working hours, since as singers we had to feel light on stage to hit the high notes.
Many years have passed since I saw him last. Now in the year 2000, thanks to our mutual friend, Renè De Carlo, we made contact again via the Internet, and in October had a reunion in Las Vegas. At the present time in Mexico he heads his own successful female impersonator revue "Marlo Travesti Show", where he emcees, dances, and does a number of impressions of famous Stars. See "CELEBRITY INTERVIEWS by David" for more on Marlo.
---

THE FORM AND GRACE AND LOVELY FACE OF OUR SOPHISTICATE OF SONG, THE INCOMPARABLE LAVERN CUMMINGS
One of the most beautiful transformations on stage from make-up and wigs to lovely gowns and the use of personalized musical charts to compliment his falsetto soprano voice Lavern left a stellar amount of acting and singing achievement on stage. He opened at Finocchio's in 1956 and retired from drag performance in 1982. Toward the end of his career he used the technique of dropping from a woman's vocal tone to baritone. Audiences were shocked seeing he really was a guy in drag. I am lucky to own some of his gowns and musical arrangements. In 1979 Lavern was featured in a TV Movie "The Golden Gate Murders". I was very happy for him when it happened. It meant a lot to him too. His latest project is putting together an act of Paul Cummings of today presenting Lavern from the past. We still keep in touch. See FI Pictorial Tributes page for more on Lavern.
---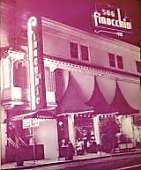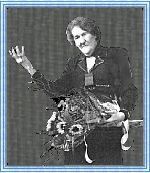 The above entertainers all worked at the world famous Finocchio Club in San Francisco and some are featured on my 2002 Finocchio Backstage Memoirs & Rare Recordings CDs, Vol.1 & Vol.2.

I wish to thank Mrs. Eve Finocchio and her daughter Mrs. Concetta Jorgensen for sending me some memorabilia and a collection of pictures from the Club's past. (Concetta was the official publicity photographer).

From Mrs. Eve Finocchio, Aug. 1999: I enjoyed your Website. It brought back many pleasant and wonderful memories of times well spent and sharing the "spot". My eyes are tearing. Love, love, love and more love, because love is the answer to everything! Ciao Belli, Eve Finocchio.

Editor's note: Eve Finocchio passed away in San Francisco on October 1, 2007.
---
Here are some pictures taken from Super-8 film transposed to VHS tape, and finally captured on digital media. These rare shots were taken by Webmaster Paul Ryner at the Finocchio Club show in 1972.
Carroll Wallace
Carroll Wallace
Lavern Cummings
The Great Lucian
Lucian & Russell
Russell Reed
Bobby De Castro
Jackie Phillips
René De Carlo
David de Alba as Judy
---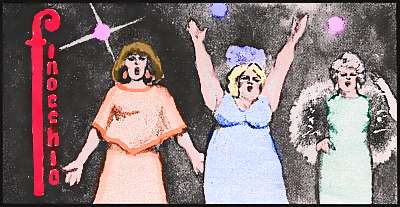 Here is a colorized version of an advertisement
that appeared in a San Francisco newspaper, circa 1970,
featuring David de Alba, Russell Reed, & Lavern Cummings.
---



---
Return to David's Home Page