LadyLike Magazine Interviews David de Alba
This two part interview was copied from LadyLike Magazine, year 2000
with approval from Editor Angela Gardner and Ms Bob.
The magazine is no longer in publication.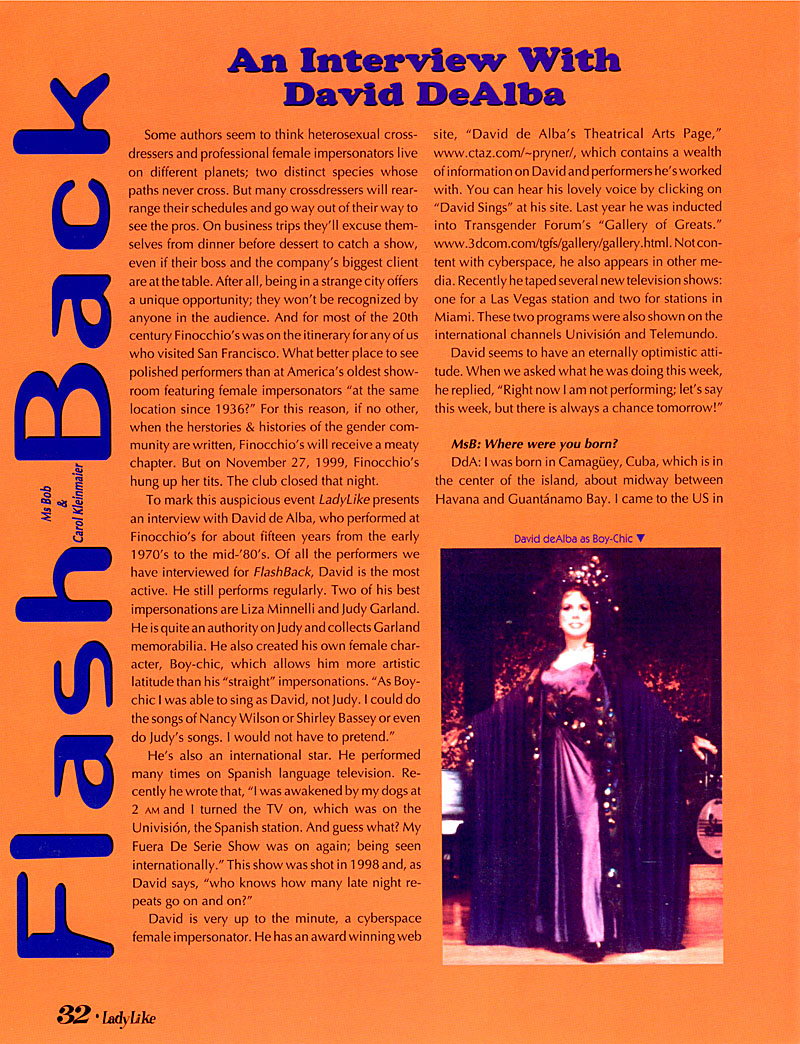 Ms Bob: Where were you born?
David: I was born in Camagüey, Cuba, which is in the center of the island, about midway between Havana and Guantanamo Bay. I came to the US in 1962, when I was a young boy. I was very nervous. It was quite a traumatic thing for a child to leave his country and come here alone, not even knowing the language. I lived in Florida for a while. For one year I was in a special boarding school in Bradenton, Florida, near Sarasota. I started my first year of High School in West Palm Beach, then for one year I went to Lewisburg, West Virginia to a military school, believe it or not. I used to say to people "The only thing butch I picked up from the military school was the discipline". I finished high school in Chicago at Senn High School. I then went to Wright Junior College, also in Chicago. I understand actress Kim Novak went there. I still didn't know what to do with my life. A trade school gave me an aptitude test and I won a partial scholarship to the American School of Beauty Culture, a well-known cosmetology school and I eventually became a licensed cosmetologist.
Ms Bob: Did you work as cosmetologist?
David: Yes, I worked in Chicago. Then when I came to San Francisco I opened a salon in Potrero Hill (a neighborhood in San Francisco). The shop was called "Heri the Hairstylist" (Stylist of the Stars). That's my real name, Heri, the other was created for the stage.
Ms Bob: Let's go back to Chicago. Did you do any performing there?
David: Yes, between my last years in High School and Junior College, around 1965 to I969, I met a well-known hairdresser, his name escapes me, and he initiated me into drag. He said to me, "I would like to make you up one day at my apartment" He created for me my first female makeup and then remarked, "You look a lot like Judy Garland."
Ms Bob: How did you feel being in drag for the first time?
David: It felt odd, but exciting. It was like a nice shock. I did not look like a lot of men, who look like they are really in drag and do not look real, as an impersonator should.
Ms Bob: Would you have cross dressed if he hadn't suggested it?
David: I probably would have learned eventually from some source or another or by going backstage and learning from the pros, as I did anyway throughout my career. Remember, being a hairdresser myself, I knew a lot of make-up techniques already. All I would have to learn would be to apply them skillfully to myself.
Ms Bob: Did you start impersonating Judy Garland based on your friend's suggestion?
David: At the Halloween Balls at the famous Aragon Ballroom in Chicago, I always sang as Judy. I appeared there several times and also at the Southside Halloween Balls, in a predominately African American neighborhood. Since I had taken classes for dancing and singing as a boy in school, I never wanted to do pantomime. But that's what everybody was doing, with the exception of maybe the emcee or one or two older acts who were comedians. I was called then "The Male Judy Garland."
Ms Bob: Did you only perform at balls?
David: There was the very famous Chesterfield Club at Clark and Diversey Streets. It had an excellent drag show six nights a week. On Sunday they allowed new-comers to perform. So every Sunday I did a guest spot in their regular show. I did Judy and I performed as a male jazz dancer, like to the theme from the movie "The Man with the Golden Arm" or Latin American sambas and mambos.
Ms Bob: When you did Judy, did you mime to a recording or sing live?
David: I'll tell you what happened; At the Chesterfield Club and at the Aragon Ballroom, they had no band so here's what I had to do; They would put on her recording and I would sing over her voice with a live mike. It became like a duet. Then in the Southside Balls, they had a four-piece combo, so I did get to sing live, without any vocal track or recording behind. That was a lot of fun.
Ms Bob: Did Judy Garland ever find out?
David: I told her that I impersonated her. It was one of the most thrilling moments of my life meeting the real Judy Garland. I was just a teen in Chicago. She said to me in a childlike way, like Dorothy Gale, "Do you like me that much?" and kissed me on the cheek. Then she said she would love to catch my act, but she was leaving Chicago to continue her tour.
Ms Bob: Did you perform at any other clubs?
David: I performed at all sorts of different clubs. One straight club on Sheridan Road on the opposite side of town was called The Boom Boom Room, later on re-named The Latin Quarters. It had a small band. Nearby was The Tropicana Motel. A pianist accompanied me in their lounge. The Annex, near the Chesterfield Club, had a combo. There were six or seven little clubs here and there and, because their owners knew who I was, they would say, "Will you come tomorrow to do a show?" I also worked in a club called the Nightlife on Rush Street. I'm told it's gone now. I performed in the famed Old Town area in Chicago at a place called El Latino Club, which actually was an American club. I don't know why they called it El Latino. There was nothing Latin American about it at all. During the week I performed as a male dancer with a go-go girl downstairs in the speakeasy. On Friday and Saturday nights I did my Judy Garland act in the upstairs theater. There was a jazz club on the way to El Latino Club with some African American musicians who also played at the Southside Halloween Balls, so on my way I would stop and they would ask me to sing a couple of songs. They were always charming to me. I also did regular straight gigs at places like Mundelein College, a Catholic school for women. Three girls from my high school & I, a little dancing trio I formed, did Cool from "West Side Story." At Wright Junior College at Christmas time I danced as an elf with the school orchestra to Sleigh Ride. I did a show for some talent scouts at the Chicago McCormick Boys' Club, where I won a trophy, which I still have, for "Most Promising Young Dancer," sponsored by Coca-Cola.
Ms Bob: Were you putting yourself through school as a dancer?
David: No, not really. After graduating from beauty school I worked full time as a beautician in the daytime. I just worked a few hours at night entertaining for the fun and for extra money to travel. I went to San Francisco several times on short trips with the money I made.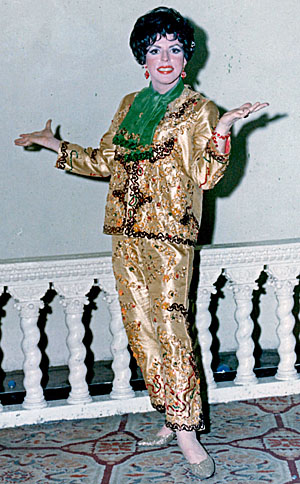 Ms Bob: Before we started taping you said you were on the cover of the tabloid The National Insider.
David: On Halloween after I performed at the Aragon Ballroom, I took a taxi to the Southside to perform at the other ball. The National Insider was photographing people at the Southside. They photographed me as Judy singing live on stage and, without talking to me, they wrote a very nice critique of my act. So one day, all of a sudden, I'm walking down the street and I see a photo of me on the front cover of The National Insider and a long article about me inside with a second photo. Somehow, they found out that I was working at El Latino Club in Old Town. One Saturday night they came backstage as I was getting ready to do my female impersonation act. They told me they wanted to do an interview right there on the spot. They took photos of me putting on my makeup, then with the wig on, and later performing on stage. So in 1969 I appeared twice in The National Insider. At that time I was going under a different stage name. I would use Heri Del Valle (Pronounced: Airy del Vayay). In Spanish the letter "h" is silent and "ll" sounds more like a "y"). Later on, I changed it because Carroll Wallace and other people at Finocchio's couldn't pronounce it. They'd say "Eric" for Heri or the last name like Rudy Valle. So I changed it to David de Alba.
Ms Bob: What do you remember most about the balls?
David: To me as a teenager, one of the greatest moments I had was Halloween at the Aragon Ballroom, which is a very elegant place where Lawrence Welk and Benny Goodman played in the old days. In the middle of the show all these people from the audience, mostly in drag, were parading their costumes. Then the regular performers from the Chesterfield Club came on and they presented me in their "guest artist" spot to close the entertainment part of the show. I did Judy's song What Now My Love, dressed in a replica of the paisley suit she was to wear in the movie, "Valley of the Doll's." My Grandma Maria made it for me. When I finished everyone stood up screaming. I wish I had a movie of that moment; it was so outrageous. You know I was maybe 19, 20, so it was quite a thrill.
Ms Bob: Since you were such a popular entertainer in Chicago, why did you move to San Francisco?
David: In Chicago there were a lot of vice raids at some of the clubs. There was always this tension, so I thought, "I don't want to live in this kind of corrupt society, policewise." In Chicago there was Mayor Daley and if people didn't pay…... So I considered moving to San Francisco. My first hairdressing job in San Francisco was for a fashionable wig shop called Ultra Violet' s on Polk Street. (Note: The Polk Gulch neighborhood was the center of the San Francisco gay community in the early 1970's.) It was owned by Danny and Violet Chu. Jackie Phillips, who performed at Finocchio's, came in to buy a red human hair wig from me. So before I was working at Finocchio's, I would go there at night to pick up or deliver the styled wigs for Lucian, Bobby De Castro, Elton Paris, Rene DeCarlo and a few others.
Ms Bob: When did you start performing there?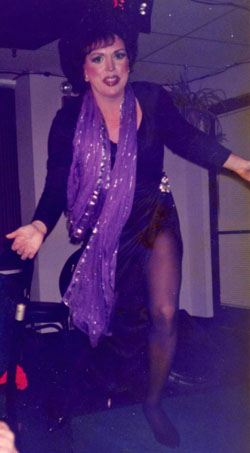 David: Around 1971, first as a steady act, then much later, as a regular substitute for Lavern, Carroll Wallace, or if an act was off for some reason, which, as Mrs. Finocchio pointed out to me, was an honor and really unheard of. Once you were out at Finocchio's, you rarely were asked to come back. I lasted there until 1989. But before I ever performed at Finocchio's, I performed at many clubs in San Francisco like The Frolic Room, The Fantasy, and as a special guest on Charles Pierce's Talent Contest at the Gilded Cage. I won doing my Garland act. He gave me a personally autographed copy of his LP, "For Pierced Ears."
Ms Bob: What was the cast at Finocchio's like?
David: When I started there I was a young man. Almost everyone was older than I. Lucian was the oldest, of course, like a grandfather figure. He was very charming, a sweet man. He performed as Sophie Tucker and he wore very proudly some of Sophie Tucker's original gowns. He bought them from her or she gave them to him, or whatever. He sang and did some comedy patter. Lucian had a beautiful soprano voice. When I was in the audience on my night off, he would announce, pointing at me, "My wig was styled by David." It was nice of him to do that!
Ms Bob: The other performers? What was Elton Paris like?
David: He was very stern, a Marlene Dietrich kind of sternness. You couldn't like, go up and embrace him with a Garland-style hug. He would be very polite. If I talked too fast he would say, "OK, slow down." He would say, "Remember when you do my wig, I don't want you to use any hair spray, wave-set or do any teasing on it. Just set it in a tight page-boy with bangs". .. very stern, so I would do his wig exactly the way he wanted.
He started his career as a singer. He was not, he even admits, a beautiful drag, even when he was young. He did more of a funny drag act at the club. He would come out on stage dressed in a Salvation Army-type costume and wearing old tennis shoes and he would sing songs like Little Green Apples and Sinatra's That's Life. He would start singing in a very high voice and then drop to a low baritone. In the middle of his act his boobies would start dropping and dropping and dropping. He would just push them back up. He would dance on the tips of his toes like a ballerina. He was marvelous! Rene DeCarlo was, of course, another fantastic dancer. Coquis, another newly hired Eve-ette, was an excellent modern jazz dancer. In my opinion, Reggie Dahl was one of the best dancers there.
Ms Bob: Tell me more about Reggie Dahl.
David: Reggie and I were never close friends, but we visited each other and got along fine. He was a very moody person. The Finocchio Club could do a lot of mental damage to some performers. He would be very sweet and the moment that boy went to work, he became like a different person. Sometimes he could become a monster. I knew this about him and learned to be careful not to upset him. For example, at make-up time everything was very quiet, but if anyone made a loud noise or the heater was turned on upstairs Reggie would say, "Who the hell is making noises?" He would just snap in a second and get so furious. But afterwards, when he went downstairs, it was, "Hi, dear, how are you?" He wasn't a singer, but he did the song Call Me by Petula Clark very well. He had a gorgeous face and a very pretty body as a boy and in drag, too. He was so moody, but at least he had a lot of talent behind that mood. He was one of the few dancers who would do stretches and warm-ups before going on stage. I miss him really!
Ms Bob: How did you audition for Finocchio's?
David: I was asked to perform a guest spot in their regular show once and I sang a very nice Latin American tune and did a Broadway medley. I guess Mrs. (Eve) Finocchio liked me enough to hire me soon after. Once I went to Mrs. Finocchio and said, "Are you in a good mood tonight?" And she said, "Oh, yes I am." I said, "Can I do an impersonation of you?" She looked at me with a little girl look in her eyes and said: "Yes, of course." I said: "Do you know the first thing you say when someone is applying to be in your show?" She looked at me puzzled. I said to her smiling: "May I see your legs?" She replied, "Really, do I say that?"
One thing you could never joke with her about was her Eve-ettes. When they came on stage she was transfixed. Many of us would say the Eve-ettes ruined the show. Before the Eve-ettes came about there were very good acts, like Walter Hart, Lucian and The Two Old Bags from Oakland (Ray Francis and John Lonas) for example just to name a few. But Mrs. Finocchio, like most club owners, found it was cheaper to have a chorus of dancers, some of whom could double as an act . . . two for the price of one. Performers like Lavern, Elton, or myself, were never chorus dancers. They had to pay us as featured solo acts. Some of the Eve-ettes were very talented, but most were not. They could only do mediocre song and dance routines. When Lavern joined the show he was young, fresh out of the famous Jewel Box Revue, a professional. Some of the Eve-ettes were not really show people. They came with the attitude, "I don't care. This is just a job." A lot of people feel that they eventually ruined a show that was known all over the world for solo class acts. Many times as the Eve-ettes would go off stage and after their performance applause would be weak. Then Russell Reed or Lori Shannon, who was very nasty, but a very good act, would go on and the applause would come back up.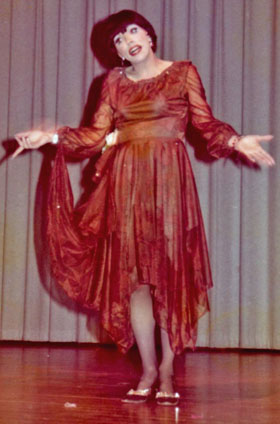 Ms Bob: So Lori Shannon was not such a sweetheart.
David: Maybe to his friends, but he was very arrogant. Especially after he was on All In The Family twice. And he also was a theatrical critic. He wrote as Donald Mclean for the Bay Area Reporter, a free, gay San Francisco weekly newspaper, which is still published. That gave him the power, like, "If you do anything against me, I will ruin your career with a bad review."
Ms Bob: What about All In The Family?
David: Lavern, Florencio de los Santos, myself and some other drag performers went to audition for All In The Family at the Saint Francis Hotel. When Lori got the part, it went to his head, like he was the star of that show. One night, I said to him backstage , "Lori, you were marvelous in All In The Family." He says, "Yes, I know." He was that type of person. I still remember when he died, Reggie Dahl said to me, "That queen died of her own hate."
Finocchio's was known among performers as the "house of hate" or "old elephant burial ground." At first I did not know why they said that. Most of the people in the show then were older acts, vaudevillians. People said, "Once you're at Finocchio's, you're on your way out, in the twilight of you career." But I said, "Oh, no, I am too young to think that way! There's more to life beyond Finocchio's." So in between gigs there, I did my Boy-Chic act all over the San Francisco Bay Area along with my old forte, Garland and my new Liza Minnelli act. At that time I actually had my own band, because Bill Bullard (Finocchio's musical director and pianist) and Shep Shepherd, (Finocchio's drummer) couldn't travel because they were playing at the club every night, so I found a drummer, saxophone player and bass player. I had Bill record the piano parts on tape for me. When I did a concert, I would have my musicians play with Bill's pre-recorded piano part. It was hard to find a piano in most of those nightclubs.
You'd think that after so many wonderful stories we would have exhausted David's store of memories, but this interview is far from over. In the next issue we'll continue in the current vein, mixing the on-stage glamour with the backstage dish. David's candor is refreshing, that you must join Flashback next issue for more tales of Finocchio's, warts and all.
---
Last issue we presented talented Cuban-born female impersonator David de Alba, a living treasure in drag. David's stories included memories of his first years in shows in Chicago about thirty five years ago, and recent video shoots for international Spanish channels like Univision and Telemundo. Along the way he's appeared in virtually every media market imaginable. In 1969 he was even on the cover of the super market tabloid The National Insider. For about fifteen years from the early 1970's to mid-'80's he performed at San Francisco's world famous Finocchio's. It isn't surprising that someone as out and about as David has met many stars and celebrities.
Ms Bob: While in Chicago, David appeared on local television several times, once with Christine Jorgensen, who was then, as probably now, the world's most famous transsexual.
David: It was on The Chicago Show at a big TV station, either 5 or 7, one of those major networks. It was a talk show. They had a few female impersonators on; some used to work at a club called The Blue Dahlia, one from The Nightlife and I was representing The Chesterfield Club. Christine Jorgensen was the star attraction. I got to talk to Christine before the show. When I told her I was doing Judy Garland, she said, "You know, Heri, (David' s birth name) when Judy was playing in Las Vegas, she was slightly heavy. I was the one who suggested to her to wear the Mandarin jacket. It's cut with a high neck, short in the front and long in the back. That was my idea I gave to Judy, to wear this kind of cut to make her look thinner." Christine was very charming, very elegant. She wore a cocktail dress with some kind of fur trim around her wrists. That's the only time I got to meet her. I was very lucky.
Ms Bob: David also met Judy Garland, his idol. She was coming from her dressing room heading to the back of the theater where her limousine was waiting. David told her that she was his first female impersonation, and throughout the years, no matter what other characters he's performed, his heart belongs to Judy. He has "an eternal devotion to her memory." He's a collector of Garland memorabilia and the authority on the star-crossed star. In the late 1970's he attended the auction of Judy Garland's possessions in Los Angeles and was photographed by People Magazine holding one of Judy's jackets, one with a high neckline, just as Christine had suggested.
David is more than a female impersonator. He's a female originator, too. Using his own lovely feminine voice and dance training he created the character Boy-Chic. During the interview he wanted to be sure I got it right, "That's spelled 'chic,' like girl, not 'chick' like chicken." OK, I get it: female impersonator = 'chic,' but why did he want to create a new woman, when there are so many wonderful stars to mimic?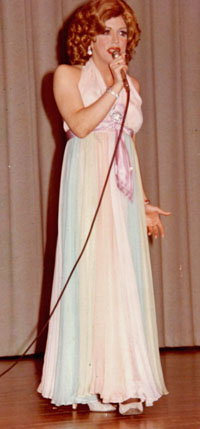 David: Boy-Chic is my own, personalized, international act. In Chicago I started singing in Spanish and doing Broadway songs. The act didn't have a name then. They just said, "Here's Heri del Valle, alias Judy." But when I went to Finocchio's they said, "We don't want you to do impersonations of anyone. We want you to be yourself." So I did just that! My partner and I were watching an old movie from the 30's and we heard somebody called "boy-chick". It sounded like a Polish name, so I took the name of "Boy-Chic." (Note: David might have heard Yiddish in that movie. In Yiddish a man or boy might be called boychik or boychikel. It is used with affection, even admiration, the way people say, 'That's my boy." according to authority Leo Rosten in Joys of Yiddish. Rosten also notes that boychik can mean "a sharp operator.") When I came on-stage as Boy-Chic I was able to sing as David, not Judy or Liza. I could do the songs of Nancy Wilson or Shirley Bassey or my Cuban singing idol Olga Chorens, or even do some of Judy's songs, but not necessarily be made up to look like her. I would sing in Spanish, some French and Italian, and of course, English. Funny, how life can be sometimes. Toward the end of my run at Finocchio's Mrs. Eve Finocchio called me on the phone at home one day and asked me: "Why don't you do Judy and Liza tonight since you do them so well. We need some fresh variety in our show and I know you have plenty of material available!" I said to myself, " So, now it's OK to do impersonations!"
Ms Bob: You worked with Jackie Phillips at Finocchio's. What was Jackie Phillips like?
David: He was very funny and a damn good act too, but poor Jackie Phillips was a nervous wreck at times. Not on the stage, of course, but before going on, because Carroll Wallace, the emcee, would come over and tell him sometimes, "Oh, Jackie, Mr. (Joe) Finocchio says you have to cut down your act, because we are running late. Instead of eight jokes, do four." Carroll would tell him just a few minutes before he was to go on. Jackie would go into pandemonium.
It also happened to me a few times if the show was running late. That would upset me really and Carroll would say to me calmly, "Why get upset, David? You get paid just the same. Then I'd say, "It' s not the pay I worry about, Carroll, it's the idea. Why cut down the better acts to make the show fit?". I never figured that one out! But I knew how the club operated. The moment something went wrong or you did a particularly good song, somebody would get on the phone the next day to Mrs. Finocchio to get you in trouble. Especially during the reign of Joel Nobel and Cleo Fast, two different choreographers the club hired, who also doubled as hosts. After Joel left the club, Cleo came in. They were known to be instigators. If they wanted to get you in trouble or get you out of the club they would say, "By the way Mrs. Finocchio, David did this song last night and you know, he shouldn't do that song because it's not good for the show because of this or that." That would take place even if, or especially if my song was a hit with the audience. Those so-called "day phone calls" were the worst because they were treacherous. The waiters did it and some performers were notorious for making them too. I never did. I'm not that kind of person. One day, when I brought up the subject, Mrs. Finocchio said to me, "Well, David, you know I listen to them, but I hear whatever I want to hear, not everything they say to me." But it didn't matter; it would do a lot of harm if she listened to even half of the treachery. If Mrs. Finocchio was in a good mood she could be the most gracious of all people, but if she was in a bad mood, well, I would try to stay away from her.
Ms Bob: Everybody I've ever spoken to about Finocchio's has had good things to say about Carroll Wallace.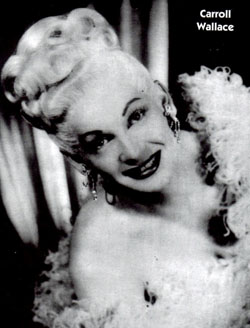 David: He was the emcee when I was there. When he was young, I was told he was called "The most beautiful boy on stage." He was still gorgeous at the end of his career. He looked like a very elegant East Coast Jewish matron with his French twist and beautiful gowns. He had a theme song written for him; we'll call it a "pen song." The title was I'm a Singer, Though I Haven't Got a Voice, a cute, peppy song. He was not a good singer, but he knew how to sell a song. He did the lighting and the sound in between acts, too.
Ms Bob: Hold it. Who took care of the lighting and the sound?
David: Carroll. The emcee had a little box in the wings with the switches to do the lighting and to control the sound. Not only did he have to emcee the show, but he had to do lights and sound for the other performers. That made it very difficult. I know because I emceed a few times and it was a hard job to please everybody there. Once I was working at my salon, "Heri The Hairstylist" (Stylist of the Stars), when Mrs. Finocchio called and asked if she and Joe, her husband, the co-owner, could drive to the shop to talk to me. Tila, my mom, was my secretary. She took the call. They soon arrived in their fancy car and introduced themselves to every customer in the shop. They needed me that night to emcee the show, since Carroll was sick. Mrs. Finocchio explained to me how to conduct the emceeing while I was working on one of my lady's hair. I can still see her. Later that evening Rene DeCarlo's wife Jeannie, who worked at the club as a cocktail waitress, said that Mr. Finocchio was telling everyone downstairs: "Thank God for David de Alba. He came to emcee and rescued our show tonight!" I was surprised to hear that, since he never liked to give us compliments. Maybe our heads would get too big and we would ask for a raise.
Ms Bob: What kind of songs did you perform there?
David: I did a lot of pretty songs, like my theme song, I'm Gonna Live Until I Die and La Virgen De La Macarena, not the new version the kids do nowadays, but the classic one from Spain. I also did a wonderful French medley, my tribute to Edith Piaf, which included a Shirley MacLaine song from Irma La Douce. Also I was known for La Tombola, a mambo rock, Arriverderci Roma, and a few well-known Garland songs. I now call those "My Finocchio Hits." Some of the locals that came in would say, "Oh, David, why don't you do this or that song?" Carroll Wallace with his dry sense of humor would say to me, "Oh, David, your friends from Mission Street are here." Mission Street was known as the Latin American neighborhood in San Francisco. I would say from the stage in English, "Does anybody here speak Spanish?" And people would say, "Oh yes, l'm from Colombia" or "I'm from here." or "I'm from there." Carroll would say, "These are David's friends from Mission Street." I would say, "Carroll, these people, I don't know who the hell they are!" Some would come because they heard of me. Carroll was trying to tease me always.
One time Mrs.Finocchio said, "I want you to do something different David, for our Christmas week show, something with elegance." Bill Bullard (Finocchio's music director) arranged, practically overnight, Schubert's Ave Maria for me, an arrangement which, by the way, I had to pay for. I wore a lovely new white gown designed by my friend Robin Price, an ex-performer at the club. It was the highlight of the Christmas show. There was so much applause, everybody was clapping and screaming "Bravo! Bravo!" I heard later on that Mrs. Finocchio was pleased. Once in awhile I used to do a take-off on Norma Desmond from the movie Sunset Boulevard, because Mrs. Finocchio said I should do some so-called, dramatic parts.
One night Carroll Wallace said to me, "David, why don't you meet me after the show and I'll take you to breakfast in Chinatown?" Then Reggie made a crack about me being taken out to breakfast, so on my way out I said to Carroll, like Norma Desmond, "Max, I'll meet you downstairs. Have the car ready for me." (In the movie Max was the name of Norma's butler, played by Erich von Stroheim). From then on when Reggie Dahl, Russell Reed and others were leaving upstairs to go home they would shout to Carroll, "Max, I'm going home now. Get the car ready!" Carroll burst out laughing and it became a "classic" line from then on. Gee, I miss those moments!
Ms Bob: Speaking of going home, didn't performers have to enter and leave the club dressed as men?
David: That was the policy. If there were people on the street waiting to see the performers in the show, the curious, the fans, or johns, they wouldn't recognize anybody, because we looked so different out of make-up. They would say, "Who are you?" "Oh, were you that one?" Everyone came into the club without make-up, except Florencio de los Santos and another Eve-ette friend of his. He was really a transvestite and we all knew it, even the management. He never took his make-up off. He actually lived in drag. On the street he would put his waist length hair up in a bun and tone down his make-up. When he got to Finocchio's, he would go heavy on the eye shadow, the eyeliner, lashes, and so on. One time Bob MacKenzie from Channel 2 TV came to the club to do his famous Segment 2 (Segment 2 is the magazine portion of Channel 2's local news) and he asked, "Florencio, do you walk on the street in drag?" And he said, "Oh, yes I walk in drag all the time, and I tell people I work at Finocchio's." He shouldn't have said that because we were not supposed to do that ever. He said it on TV and Mrs. Finocchio accepted it, because there was a double standard at the club as far as the Eve-ettes were concerned. As Carroll Wallace used to say to me, "At Finocchio's some people are considered 'pets' and the rest of us were considered 'pests'."
Ms Bob: Was Florencio trying to pass as a woman?
David: Yes, Florencio never had the operation, you know. Sometimes different people in the cast would advise him, "Florencio, be careful because one of these men, if they find out you're a man, they're going to kill you." I don't know if the men knew, but anyway, he walked on the streets in drag all the time. He was a Filipino boy. He didn't have a beard and he looked feminine anyway. With his hair loose and a little eyeliner and so on, he looked like a real girl. One or two of the Eve-ettes got away with that kind of thing, but everyone else had to come and go without make-up. Florencio and I got along very well, really, though we were not close friends.
Ms Bob: Did you try to pass as a woman outside the club?
David: No, I never went into that kind of thing. Dressing up was only for show purposes for me.
Ms Bob: Did you ever have problems with Mrs. Finocchio?
David: One time word was out that some of the musicians and entertainers were complaining that I was changing my music too often. Well, I didn't want to get stale, you see. There was never any real rehearsal time with the trio. Carroll said to me, "David, don't change your music so much, just repeat your songs." I said, "I'm spending a lot of money on new arrangements and no one here seems to appreciate it." Russell Reed heard about this. He was a very heavy act. They called him "The Ton of Fun." His act was in part about his weight. He would always call Mrs. Finocchio "Madame". One evening he said to her, "You see, Madame Finocchio, I never change my act." She replied "That's the problem." Russell then said to me, "David, I'm going to have a new act, new costume, and new make-up. Don't tell anyone." He wouldn't even tell me the name of the new song. One day he said, "David, tell everyone to come to my dressing room before the fourth show." I got all the Eve-ettes out of their dressing rooms. His new song was called Joshua. (singing) "Joshua, Joshua, Oh what a lovely boy you are." I thought the song was awfully cute. And out comes Russell, what a sight; an older, heavy man, dressed like a little girl with a Shirley Temple wig. He looked more like Bette Davis in Whatever Happened to Baby Jane. Then Reggie Dahl and some of the Eve-ettes started screaming, laughing, and carrying on.
Russell finally broke in the new act and toward the end of the night he went over to Mrs. Finocchio and said, "Madame Finocchio, what did you think of my act tonight?" There was a very cold feeling. I don't remember if she said nothing or if she just said "Yea." He looked stunned. Carroll started teasing Russell, rubbing salt in the wound, by singing a few bars of Joshua as he went clown the stairs every night from then on. Russell hated that! A few weeks later, Russell Reed was no longer in the show. I said to myself, "Isn't it sad. This man put together a new costume and a new arrangement that cost at least $200. It wasn't any worse than anything else he'd ever done." As Mrs. Finocchio would say to me, "David, we don't fire people . . . we just let them go. The show has to change sometimes."
Mr. and Mrs. Finocchio always had an answer ready for everything. They saw themselves as the MGM or Buzby Berkeley of female impersonation. They didn't know any thing about choreography, but at least they were open-minded about hiring female impersonators. And they weren't prejudiced. They didn't care if you were Spanish, Asian or African American. I have to give them credit for that. They kept the establishment going for 63 years. But to say that they were great impresarios, they were not. Some of the times they hired very good talent, but sometimes one of the Eve-ettes would try to get one of their friends in, and he was hired, not because he was a particularly good performer, but because he had a connection, and it showed.
Ms Bob: When did you leave Finocchio's?
David: I left California in 1989. My partner Paul's job ended due to a corporate merger and he found a new job in Santa Fe, New Mexico. We sold our beautiful home in Santa Cruz, Calif. I also sold my beauty salon, which was very hard thing for me to, because l'd had a lot of fun there with my customers and my mom, Tila. The hardest thing of all was when I got a call from Los Angeles. The owner of "An Evening at La Cage" was opening a new club in San Francisco, a block away from Finocchio's. He said, "David, we would Iike to you be our Judy (Garland)." I said, "I'm sorry, sir. This is the saddest phone call of my life, because I have to turn your offer down. I'm closing escrow tomorrow on my house and I'm leaving the state for good!"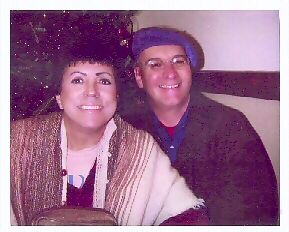 Ms Bob: It's a good thing David didn't change his plans just to become La Cage's Judy. San Francisco's "Evening at La Cage" didn't last long. Perhaps being across the street from Finocchio's proved too much competition? David spent several years in Santa Fe, then he and Paul moved to Arizona. Now they're thinking of moving to Las Vegas, where there'll be more theatrical opportunities for David. David says that next year he's going to "put together all my Finocchio's memories" as either a book or CD-ROM. But until then, remember to visit, "David de Alba's Theatrical Arts and Tributes," David's award winning web site, which Paul maintains . There you'll find more information about David, the stars he's worked with and his Judy Garland collection/obsession. While you're linked, be sure to click on "David Sings" and listen to his mp3 files. Close your eyes and you'll swear it's Judy. The latest addition to his site is his popular series Celebrity Interviews. Other images of him sparkle throughout the Internet. He was honored with a pictorial on the TG Superstars Website, and was inducted into TransGender Forum's Gallery of Greats:
Ms Bob (Picture on right with David, SF, CA, 2001) is a collector of gender related books, magazines and ephemera. Currently she is seeking several issues of Female Mimics # 6 (Aug, 1965), # 1 (Winter, 1970-1971 ), National Cotillion 1973, Vol. 5, #2 (1974), Vol. 5, # 3 (Fall, 1974), Vol. 6, # 3 (Fall, 1975) and Female Mimics Special (Winter, 1977-78). For used and hard to find items visit Ms Bob's On-Line Book Shoppe & Ephemera Emporium on the Transgender Forum Shopping Mall. She can be contacted c/o LadyLike or at msbob@tgforum.com
CAROL KLEINMAIER is a founding member of Transgendered Nation. For over a decade she has been an activist for both gender and AIDS issues.
Special thanks to RC Roeder for transcribing all this text from the magazine copy.
---
* Cuban/American entertainer David de Alba (also known as "Heri, Hairstylist of the Stars") is known for his live singing impressions as a concert artist since 1965. He has worked at the world famous Finocchio Club of San Francisco (USA) for many years. Visit the award winning Web Site "David de Alba's Theatrical Arts & Tributes" at

http://david-de-alba.com and you can e-mail him c/o paulryner@cox.net
Return to Home Page