INTRODUCTION: My theatrical background as both a concert pianist and music reviewer not only accounts for my travels throughout the world, but has also enabled me to make the acquaintance and friendship of many of the most famous female illusionists of the 20th Century over the forty years-plus of my career. In such time span, I encountered many privileged performers who had beauty, charisma and talent galore. These people truly captured the essence of the feminine mystique, a fact that undoubtedly increased the popularity of female impersonation during the 40's, 50's and 60's. However, as the world around us is changing, so is the concept of female impersonation, and very little resemblance of its "Golden Age" is left of that fine art today. Fortunately, there is still a handful of wonderful performers who truly honor this art form and strive to keep it alive. This interview is precisely about one of these great artists.
Much has been already told about the origins and career trajectory of Mr. David de Alba in previous interviews, but very little emphasis about the talent, the real person, and his contribution to the art of Female Impersonation. To the average person, Mr. de Alba might fall under such category, but to the seasoned connoisseur, an abundant supply of attributes sets him apart from the rest.
In my review of Mr. de Alba's CD release, "Upon Request", I mentioned that it was his peerless and unique voice that attracted my attention at first, but that meeting the artist in person was an unexpected surprise. Besides his tremendous talent, his most outstanding attributes, in my opinion, are his warmth, generosity and total dedication to his career and family. I found him to be unaffected, sensitive and tireless; a true survivor. It is this part of the artist that I will endeavor to reveal in this interview.

October 20, 2002
LLB: Let me start with the most recent events that have occurred in your life; the unexpected death of one of your very dear friends, Billy Tweedie. I know that his friendship meant a lot to you. Could you say a few words about him?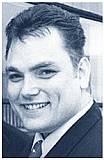 DAVID: Well, the odd thing is that I never did get to meet Billy in person. We became acquainted years ago when he was in charge of The Judy Garland Fan Club in England, though Billy lived in Ireland at the time. I sent him some autographed photos of myself on stage upon his request. He seemed very sincere when it came to the appreciation of FIs. He especially liked Jim Bailey whom he met in person in Europe and then after learning about me and my stage work, he became quite a fan. Eventually, he moved to the United States and settled in Pennsylvania. We did communicate by phone more than once and via e-mails and snail-mail quite often. We established a trusting, friendly relationship. He also liked my partner Paul and wrote to him quite often complimenting him on his work as my Webmaster and record producer. When Billy lived in Ireland he was a record producer and talent promoter, owning a well established recording studio. He encouraged me to start recording on my own. He did an interview on me and told me he wanted to do critical Reviews on my newly recorded CDs as well. Unfortunately his health deteriorated after a bad car accident and he passed away in October of 2002. He wrote to us by e-mail saying he was dying, and though I knew he was pretty sick, I did not realize he meant it. Anyway, a few days before his passing I called to cheer him up and I sang to him the Irish tune "Danny Boy". He exclaimed to me that I made his day. On my latest CD "David de Alba as Boy-Chic" I dedicate the song to Billy's memory. I shall miss him. It seems that everyone around me that I liked or loved at one time and who reciprocated my affection has passed on. Somehow as this happens, a little bit of me passes on with them.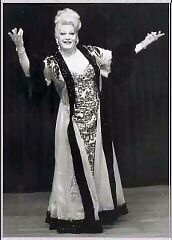 LLB: And as though this were not a terrible loss, you've just recently found out that one of your favorite co-workers at Finocchio's, Carroll Wallace, died in 1993? Did this come as a surprise to you?
DAVID: Somehow I always wanted to keep thinking that Carroll was alive and although he would have been an old man by now, I still could have seen him again or at least talked to him over the phone . . . and maybe even perform on stage together one more time. Though I kept inquiring everywhere about Carroll's whereabouts, it was not until most recently that the sad truth came to me in an e-mail pointing to his obituary. There isn't a day that passes by that I don't still fondly mention Carroll's name.
(For more on Carroll Wallace visit my Web site and check out my "Finocchio Club" and "Loving Tribute" pages and most recently the "FI Pictorial" Page. He is also featured in my two volume CD "Finocchio Club Backstage Memoirs and Rare Recordings" which is available through my site.)
LLB: I heard from the grapevine that Carroll used to tell you that the owners of Finocchio's considered you the "Old Shoe". Why?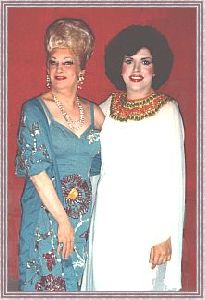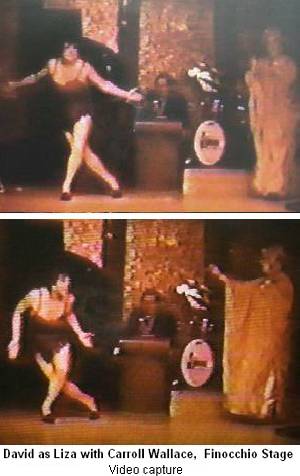 DAVID: Carroll knew that after my long run at Finocchio's was over I became the choice of Eve Finocchio as a guest artist to fill voids in the show when Lavern Cummings would be off on a sick leave, after he retired, or when Carroll would be off and they needed an emcee. One night as I climbed the steps to the dressing rooms upstairs, Carroll was in his little dressing room and he said to me more or less in these words: "David, you're treated like an Old Shoe by the Finocchios, because they know you will run and serve them at their club at the spur of a moment and you never say no to them!" ….Then I said… "You know dear, how much I love the stage and the audiences here, that's why I am here". And to make matters worse, as I started to make up in my dressing room, dancer Reggie Dahl, who could be very sweet, but also very nasty at times, screamed at the top of his lungs so everyone upstairs in the cast could hear him: "I bet that David de Alba has costumes, wigs, make-up and music charts packed in the trunk of his car, so when Mrs. Finocchio calls, all he has to do is start the car and drive here!" That wasn't so.
Another time when Mrs. Finocchio called me to do a guest appearance I told her that I was becoming the laughing stock of people in her cast with this "Old Shoe" talk. She replied to me emphatically that next time that were to happen, tell them on her behalf that the Finocchios had a choice to hire anyone, but I was one of the very few artists who were ever asked to come back again and again because Mrs. Finocchio liked me and knew she could depend on me to help her out of a bind! Actually the truth was that there weren't that many drag performers during that time who could sing well and convincingly as a woman. Mrs. Finocchio knew of my vast repertoire, and that I could sing in Spanish and English to please the many Latin audiences that came to that club as well as the English speaking audiences. She also knew that I was very professional, unlike many of her Eve-ettes (the chorus line named after her) who took their jobs for granted and could care the less about what they were doing on stage as long as they got paid. The owners had the choice of many new shoes to use for sure, but at the end, the Old Shoe was the most comfortable!
LLB: Your loyalty to friends is impressive. I'm specially thinking of your life-long friends from Cuba, Olga Chorens and her husband, Tony Alvarez, who also passed away a while back. I know that they greatly influenced your career in many ways. Since we are memorializing the departed, can you elaborate about your experiences with Tony?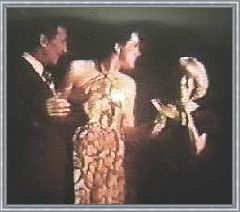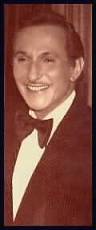 DAVID: Tony Alvarez was a very kind and gentle man who appreciated my extreme loyalty to him and his wife and singing partner Olga Chorens over the many long years since leaving Cuba. He even went so far as to give me some of their priceless musical arrangements that were pre-recorded in Puerto Rico for use later on in their own live shows in Miami, where they worked most of the time without a live orchestra. Both of them knew that even when Tony was alive I did many tribute performances in honour of their music and their glorious voices in The Bay Area. I was asked by them to be in their revue several times in Miami at 'The Everglades Hotel' (see video capture on left) and later on in Miami Beach at 'The Monte Carlo Hotel'. Tony even played one of my videos on their Miami Hit TV Show. I miss them a lot and especially him since his passing. Every time I sing with their arrangements as back up, I feel as if he could see me from Heaven above and smile at me with approval. Anyway, I hope so!
(For more on Olga y Tony visit my tribute to them on my site which is done in both formats, English and Spanish.)
LLB: On a happier note, I understand that your sixth CD, "David de Alba as Boy-Chic" has been released. The liner notes promise a huge success, and I'm sure that Billy would have loved to review it. I can imagine the long hours that it takes to plan, rehearse, and finally launch a CD. Can you tell me more about the process of selection and execution?
DAVID: Recording here in our improvised musical studio at home isn't easy. First of all, I am still a poor boy from Cuba, thanks to the Castro regime, among other things that have happened throughout my adult life. Lady Luck has always eluded me. I and my partner Paul have had to work very long and hard for every penny we have been able to save. I don't have the financial means to have state-of-the-art recording equipment, or the backing of a big corporation who could record me in their professional studio and market my CDs in all the right record stores in the USA and abroad. This is a labour of love and I want to accomplish as much as I can while my voice holds up in good form. It is done the best way we can with my meager savings, and my partner, Webmaster and record producer Paul Ryner's hard work behind the technical part of making professional looking and sounding CDs. By putting out these six CDs I have achieved something rare in the genre of the female impersonation field, since most impersonators have to mimic to recordings and can't perform in their own voice convincingly as a woman singer. Also, in the 63 years that the Finocchio Club operated in San Francisco, I am the only performer to have released such body of work.
LLB: Of course to lovers of the FI genre, your "Live at Finocchio's" Vol. 1 & 2 CDs are true collector items. These recordings are unique not only because they reminisce FIs "Golden Age", but especially because you are the only performer who's ever recorded these treasured songs. In fact, [to my knowledge] Finocchio's was the only club on the West Coast that featured live singing. But preferences aside, which is your favorite album?
DAVID: Well, I like all of them, I really do, and I will tell you why: I handpicked every song and theme for each album, and each CD serves a different purpose and is so completely different from the other that it can stand alone with its own unique value. It's not like I wanted to sing a bunch of nice songs and throw them together just for the sake of filling a CD. When you visit my Web site and see the page that talks about my CDs for Sale, you will see what I mean.
I think my two Finocchio Memoir CDs were the hardest on me emotionally, digging into my theatrical past and reliving some happy and bittersweet experiences. Many people have said to me, especially the late Billy Tweedie, those two CDs represent an important part of FI history in the making.
One good thing about my CDs, and I don't mean to sound like a paid TV commercial, is that we offer a large number of songs on each CD, almost as if the buyer was getting a two CD set for the price of one, so they are getting more value for their money!
LLB: As a matter of fact, one of the disappointing trademarks of modern FIs is to lip-sync; physical appearance is paramount (at all costs) and very little else is required. Granted, it takes some skill to mimic the words to a song, but true talent lies in the ability to deliver a song live. Even if the performer does not possess a privileged voice, he must show the public that he's had professional training and can carry a tune. I personally believe that talent is necessary to validate a performance; the rest is just a sham. What is your point of view on this subject?
DAVID: Yes, I agree with you wholeheartedly. Even in the mid 1960's when I started doing shows in drag, everyone was pantomiming . . . only one or two artists in Chicago, like the late FI, Skip Arnold performed live and of course some drag performer emcees who had to be live. Even then I refused to pantomime to recordings and did my own singing, either with a live combo, or if not available at the place I was performing, what I did in Chicago then was to either sing over the real Judy Garland recordings or try to find a record with just a musical track playing the current hit of the time, and sing over it, since I did not have the original musical sound tracks I now own.
LLB: Your determination to succeed and strive for perfection is shown in the terrific amount of work you put into your recordings. Have you set yourself specific goals and/or limits in regards to how far you want to go?
DAVID: I think next year, God willing, I will record my seventh and probably my last CD. I will be using some musical tracks by Bill Bullard that I have not used thus far on my other CDs and some tracks that I understand you yourself Linda, will play for me of songs I have never done before on stage and that I always wanted to do. That will be a new challenge for me.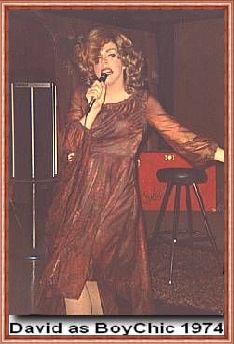 LLB: Which do you prefer: Performing on the stage or being a recording artist?
DAVID: I guess, as most artists will probably agree with me, working live on stage is number one, at least for me, but recording is also fun, because at least there is a chance that someone at some point in time will be playing your records even when you pass on. Also a stage performance can be easily forgotten by people that have seen you unless they are devoted loyal fans, but a recording lasts forever.
LLB: It follows that someone so focused, centered and dedicated would carry over this behavior into your family life. Is this true in your case?
DAVID: Yes, now I care a lot to be available to help out my older parents and also Paul who has retired after many years in the field of mechanical engineering. Also I enjoy being with my pets. I have turned down many gigs that have come my way via the Internet because of my Web site. You see, I would have had to travel to places far away from home either by plane or to drive long hours to get there. Also I had the chance to be stuck on a ship performing for at least six months and also a big nightclub engagement in Bali.
That's why it was fun living in The Bay Area and being able to work at Finocchio's at night, then a short drive to get to my home again . . . or work around town in a variety of clubs nearby my home that would take less than an hour's driving to get to them.
LLB: I'm touched by your sensitivity, but I'm even more impressed by the process of reciprocity. Very few entertainers achieve such a large loyal following of fans, and you have enjoyed such privilege. I remember your number one fan from California, the late Dee Dee Jeziorski, and Charles Blair from England, to name a few. Can you tell me a little more about these "love affairs" with your fans?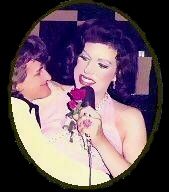 DAVID: Well, Dee Dee Jeziorski first saw me perform years ago in a gig I did at 'The Paragón Gardens', a lovely club in the San Jose area in California. She especially loved my interpretation of the song: "Love Story" and from then on called it: "Our song". She attended practically all the gigs I did in The Bay Area and of course went to see me at Finocchio's many times. The only surviving picture of her is one giving me flowers at another club I performed in Cupertino, CA. She also visited our home whenever she could stop by and always wanted me to sing her a few songs in my theatrical room.
Dear Charles Blair was one of the nicest men I have ever met. He was heavily involved with The Judy Garland Fan Club in England. That's how we met via snail-mail in those days and he even phoned me from England a number of times. He used to audio tape his voice and that of his partner Michael on a cassette tape and send it to me and Paul to listen to them talk and he also included many Garland songs and stories.
Charles worked for Shepperton Studios and was involved, to his delight, in Judy Garland's last movie made in England "The Lonely Stage" renamed for release "I Could Go on Singing". Also of course he saw her at The Palladium and other theaters she played in London.
Charles came to the USA twice to visit us in our San Francisco home and went to see me perform at Finocchio's and at a special club gig I did on Valencia Street where, upon my request, he introduced my Garland act on stage. Funny, there was a drunk in the audience who started to heckle him when he said he came from England, etc.. His partner Michael got a kick out of telling his friends in England that Charles got heckled at David's performance in the USA.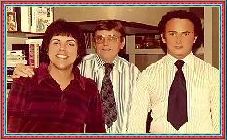 Charles used to play videos of me doing my Garland act in England to his closest friends and told everyone how good he thought I was on stage doing Judy. That meant a lot to me. After he passed on I even heard about the compliments that Charles paid to me and my act from a total stranger via the Internet who was a friend of Charles and who saw my Web site where I have a little section on Charles on my Judy Garland Encounters Page.
I miss his voice and his charming personality. By the way, Charles also liked very much Carroll Wallace's act as an emcee at Finocchio's, especially when he saw Carroll introduce me on stage. That night I did my Garland Act especially for him which I captured on an audio tape backstage, aided by Carroll. Many years later, as I recently released my two Finocchio CDs, that Garland act can be heard complete and I know as I listen to it Charles is there in that audience!
To answer you your question about the love affairs between me and my loyal fans, which are passing on year by year unfortunately, is: They know I love the stage, the songs I do and whatever character I portray. I am sort of 'transparent', as you, Linda once referred to me. "What you see is what you get" with David de Alba. I actually sang over the phone to fans who had the blues and asked me to sing for them…and also to fans who were practically on their death bed and I tried to soothe a little bit their pain and sorrow with a song or two just for old time's sake, as I did recently for Billy Tweedie a few days before he passed on.

LLB: I, personally, have enjoyed many hours of listening to your recordings, and I understand that many of your loyal FI friends as well as people from all over the world faithfully purchase every new release. It's surprising to me that total strangers to the FI genre would find your music so appealing, when I would expect that only friends and FIs would be the most interested parties. Do you have any comments to account for this phenomenon?
DAVID: Well dear, FI friends like Anita Mann and Lady Patra have bought my whole collection, not because they just want to be nice to me and support me, but because they claim they enjoy my music and song styling. I even heard that FI Ulrich Cazal in Hamburg, Germany played my first Spanish CD backstage between shows to the legendary Ricky Renée, Criselda Crescini and other FIs that were allowed into their dressing room. In addition to those FIs, a lovely lady I call my German Angel, Roswitha Boehme has bought all of my CDs.
Funny how some people who keep saying to me all kinds of gushy things like…how much they like me and my voice, etc….have never bought even one record from me, but total strangers who have never even seen me live on stage have been the recent purchasers of my CDs…. That includes you too Linda, who have all six.
LLB: Your determination to succeed and strive for perfection is shown in the terrific amount of work you put into your recordings. Have you set yourself specific goals and / or limits in regards to how far you want to go with your CDs?
DAVID: I would like to do one more CD next year, probably it would be my last one and I may even call it: "David, One More Bow". There will be songs a la Garland I have never done on stage before and also some new songs of me as Boy-Chic.
I will never forget when I told Billy Tweedie recently that I considered myself, as the theatrical agents in the 1960's would label: "A novelty act". He preceded to correct me and said emphatically: "No David, you are NOT a novelty act, by no means. You are a singer-impressionist who has survived all this time and has even become a recording artist!" That is true . . . for most singers to record six records is nothing, but for an FI to record six records is a big deal, because many of the great and famous FIs such as Lucian and Harvey Lee, for example, who sang very well never recorded anything that I know of . . . and when they died, their art died with them.
LLB: Do you have a favorite award or prize among your souvenirs that holds a very special meaning in your life or your career?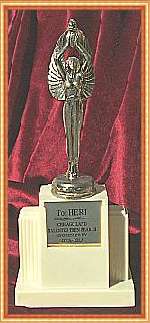 DAVID: Well, I won an unexpected trophy from The Coca-Cola Company in their Chicago Land Talented Teen Search in May 1963 for my dance routine (in male attire) of "Cool" from West Side Story. I was the dance soloist backed up by some girl dancer aficionados who enjoyed hanging around with me in those Senn High School days in Chicago. After all these years I still remember the lovely afternoon when I won that trophy. My stage name at the time was Heri Del Valle.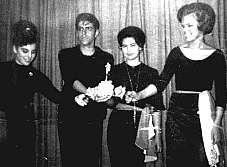 Of course, after that I have won many Web site awards and inductions into forums such as: the TG Forum's "Gallery of Greats", "TG Supertars", Eduardo Blanco's Son Cubano "Diccionario and Actualidad Wings", the StoneWall Society's "David de Alba Wing" and a nomination by their Internet radio station: "Favourite Pride 2002 Musician Award" for my theme song "I'm Gonna Live Until I Die" from my first Spanish 2002 CD "A Tribute to Olga y Tony" and in this Year 2002 into a San Antonio, Texas' theatrical Web site section "Famous Drag Divas Stars", and a few others. I am very grateful to all these wonderful people for their recognition of me and my Art Form.
LLB: I cannot congratulate you enough for the wonderful contribution provided by your Web site. It entertains not only FI old timers and the new blood, but the gay community at large. The Celebrity Interviews section is a perfect forum to promote those performers appearing in it. I'm truly impressed by the largesse and love you give to your fellow artists. Decidedly, your Web site elevates female impersonation as a legitimate art form. It's unique of its kind, elegant and tasteful; there are no other Web sites like it. When was this idea born in your mind, and did you realize that, besides the entertainment factor, it would serve as a stepping stone to educate the general public?
DAVID: When my partner Paul kindly offered to create a Web site for me, it was just a simple site to let people know a little bit about David de Alba and his beginnings as an artist. We also added a Celebrity Scrapbook Page to show the many famous people that either saw me on stage or just plain met me during my glorious San Francisco days. Then of course we added two loving tribute pages to Judy Garland and my Bio. The Finocchio Club and Loving Tribute Pages were added later after Finocchio's closed. Then I started thinking about doing interviews of other entertainers, not only because I have been there, but because I had taken College courses in Creative Writing, Speech and Drama and I knew I could pull it off. Not only did I get to interview a lot of top entertainers such as the legendary Danny La Rue of England, Ricky Renée who has lived in Germany for many years, Gypsy, Jim Bailey and others, but to raise the interview series to a higher level, I even interviewed big name Hollywood Stars such as Buddy Ebsen and Robert Goulet and New York home based female comedian Marilyn Michaels.
Being on the Internet is wonderful with my Web site always up there shining and getting awards from all kinds of people and organizations. By the way, my site has grown to great proportions and has gone through many changes for the better since we started it a few years back. It makes me feel like I am on stage 24 hours a day and the publicity and recognition generated is great. Also my theatrical name has gotten formidable publicity in all parts of the world by people who visit my site and have written to me some very sweet e-mails. Many people, I don't even have an idea who they are, e-mail me . . . and by the way, not just gay people, but many heterosexual women and some men too who are not homophobic in their thinking and who seem to appreciate me and my Art Form. My theatrical site is for anyone who likes The Arts . . .It's aimed to please the general public and I think that is why it has been so successful. No one can feel intimidated by it and even some important famous people have seen it and written to me by e-mail, as in the case of the charming actor and painter Tony Curtis.
Just last week we added a new page called FI Pictorial Tributes, which features some of the best FIs that have ever lived . . . the real pioneers. There are so many others I could keep adding, but the list would be endless, so I drew the line at those that for one reason or another I was not able to interview.
Of course my Web site also features many wonderful interviews that were done on me by many marvelous music and entertainment critics such as Billy Tweedie, Ken Spaulding and you Linda for example. That is not to say that the others who interviewed me are not great in their own right, but I can only drop so many names at one time.
My Web site is filled with warmth, nostalgia and loving tributes to many performers. Oh, I almost forgot to tell you, my loving tribute page to Olga y Tony is done both in English and Spanish. That is also a highlight of my site, especially to the Latin audiences who know and appreciate their great musical contribution to our heritage.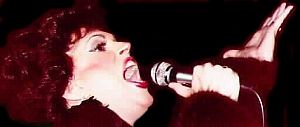 LLB: Your Judy Garland impersonation is flawless and spectacular. There is no doubt in anyone's mind of your admiration and love of this artist. But there is another side of you, "Boy Chic", that delivers poignant and romantic Latin songs like no other. Does this impersonation allow you to bring out your Latin temperament when you sing in Spanish?
DAVID: Yes, Boy-Chic was created when I started working at Finocchio's and Eve Finocchio (one of the owners) insisted at first that her performers be themselves on stage and not try to imitate other famous female singers. I did eventually appreciate that limitation, because since then Boy-Chic has been my own personalized International Act in which I can sing Latin songs made famous by Olga y Tony, French songs a la Edith Piaf (which I sing in Spanish), Broadway show tunes and many of the songs from my Judy and Liza act. The difference is when I do such well known songs as Boy-Chic from my Judy and Liza acts, I don't have to be made up, costumed or wigged as either one of them, but I can bring forth a lot of David de Alba's own personality and flair. It is just as if David de Alba was a real female songstress on stage singing her heart out, and I love it!
LLB: I know that you are planning to relocate to Las Vegas in the near future. Do you plan to expand your venues there, such as performing on the stage?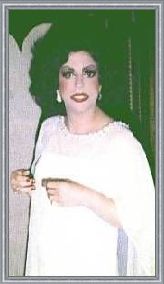 DAVID: Well if I ever relocate to the Las Vegas area, when our home sells here, I do plan to contact some theatrical agents and some nicer clubs to see if they would like to hire me for special gigs, conventions, etc.. Unfortunately the people I know who work as FIs in revues there will never extend a hand to me, so I will be on my own. All my old connections in The Bay Area are gone and unfortunately in this Biz of ours, it seems one has to hit the pavement every day to let others know: "Hey, I am still here and lookin' good!"
LLB: You have a vast network of friends in the FI entertainment field throughout the world. Some of them work solo and others own revues. Have you ever considered forming your own company or joining a reputable revue?
DAVID: No dear, forming a revue after all the instigation I went through at Finocchio's, no thanks. The only two performers that I could trust to work with in a revue that are here in the USA and who keep in touch with me are Anita Mann and Lady Patra, but they live in states far away from Las Vegas. I better stick to a solo act . . . like I have done throughout my life after Finocchio's . . . and yes, there is life after Finocchio's!
LLB: I understand that you have amassed a considerable video collection of your performances over the years, including some invaluable footage taken at Finocchio's. Will we ever get to see the great David de Alba on stage?
DAVID: Well, I do hope that next year, in the Year 2003, I will be able to put together a video of my stage highlights that were captured by my partner Paul during many live performances in The Bay Area and in Florida, and also some guest appearances taken from some TV shows I was fortunate to be on in the past.
Of course, I would like David de Alba to be on a live stage again, but just part time, because if I worked six days a week as I have done in the past, I will burn out quickly, since I am "not 18 anymore" and my kind of emotional singing will take its toll. Remember, I am not pantomiming to recordings. That would save my vocal chords for sure.
Who knows, there may be an old retired agent or promoter or even a club owner in Las Vegas who will take an interest in me and my art form and who will use his / her influence to get me booked in the right places.
LLB: I almost forgot to mention the Pictorial Tributes to FIs in your Web site. I must commend you for the excellent choice in selecting them. I knew Harvey Lee personally, and I always enjoyed Lavern Cummings' lovely voice whenever I visited Finocchio's. These performers truly embodied an art form that seems to be gone forever. May I suggest that, in time, other greats of the female impersonation art form may be incorporated to this segment? Have you ever considered covering famous FIs from Europe or Asia?
DAVID: Well dear, I did do some entertainers from Europe: From Germany the famous lady performer Manuela from Frankfurt, the great FI Ricky Renée and also the very talented FIs Ulrich Cazal and Criselda Crescini from Hamburg. From Italy, I did the well known FI Genny Random and from England the legendary FI Danny la Rue and FI Wynnie La Freak and from Scotland the versatile comedienne and puppeteer Gladys Chucklebutty. I was supposed to interview famous FI Les-Lee who lives in Paris, but due to his present health condition he never came through with his answers for me, but he is featured now in my FI Pictorial Tribute Page instead. From Asia I did do FI Jimmy Tai Fujikawa, who was born in Japan and has lived all his adult life in the USA. The trouble is as you well know that legendary FIs who live in Europe are not all into the new computer age and it is hard to correspond with them. There is no way to get e-mails to them or for them to respond back, even if someone could tell them there was an e-mail for them, etc. and many of them have passed on.
LLB: I, personally, would like to express my gratitude for this wonderful Web site. It takes me down memory lane to the golden days of the "82 Club" in Lower Manhattan, the touring company of "The Jewel Box Revue", "Finocchio's" of San Francisco and "Carrousel" of Paris, France, with those magnificent larger than life Stars of yesteryear like Coccinelle, Titanic, Lynn Carter, Kim August . . . and the list goes on forever. But the "Biz" has changed in style as well as the public's preference, and these wonderful performers could not possibly survive today. What is your strategy to ensure that David de Alba will prevail and surmount these changing tides?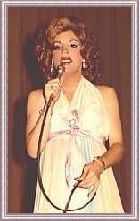 DAVID: If David de Alba survived Castro and his regime, David de Alba can survive almost anything in his life. First of all my Web site keeps me in front of many people everyday who visit me there. In fact, thousands of people have visited me my site since it has been on the air for a few years now . . . time flies. Then of course, these six newly released CDs hopefully will open a few new doors for me someday, and also they keep my voice alive in people's homes and cars.
Best of all, such important interviews done on me by such people as you, Linda, keep my theatrical name flowing like a cascade of clear water. Also occasional TV show appearances, such as Univisión's "Fuera De Serie", among others keep David de Alba's name alive.
LLB: The ability to project on the stage and reach the public is of paramount importance to succeed. Your natural talent, persistence and dedication have paid off and given you these gifts. You have become a legend in your own time. At this point, we could say that you have it all. But, if this were a magical world where you could make three wishes that would come true: What would David de Alba wish for?
DAVID: You know, I hope there is more to life than Showbiz and applause. If I had three wishes to ask some Angel up Above, here they would be:
That I will retain my health and be able to enjoy a funfilled future with the people I love before I go.
That when my time comes, I go in my sleep peacefully.
And when I leave this Earth for good that I will be able to hang around all of the people and pets I loved before and that I miss so much . . . and maybe if lucky, be permitted to visit in my new spirit form, other planets that have life and learn from those beings hopefully better things that I learned on Earth.
LLB: David, at present, I am your number one fan; you have my admiration and respect for all you've accomplished. I wish you the best of everything for the rest of your life. God bless you.
DAVID: Thank you for being my number one fan dear Linda. That I appreciate with all my heart and for this wonderful interview you have given me….and God bless you too!

Interview Update - 2008
LLB - My last interview took place in David's Arizona home in 2002. It was a pleasure to cover not only his career trajectory and his important contribution to the art of Female Impersonation, but also to bring forth the real person behind the performer. Since then, much has happened to David in his professional and personal life, and I thought it was time to revisit and update his followers and fans by revisiting this most interesting and talented artist.
LLB: David, our last interview took place in your Arizona home in 2002, with plans to return to the stage and move to the entertainment and convention capital of the world, Las Vegas. Although in our last meeting I begun going over the most recent events in your life and career, this time, I'd like to start at the point we left off in Arizona and work forward. Did you finally relocate to Nevada?
DAVID: Yes, my parents Heri, Sr. and Tila sold their home first . . . they lived less than half a block from us and moved to Henderson, Nevada. We used to go every weekend to visit and help them until our home sold. Finally when it did sell we encountered (as did my parents when they had to buy in Southern Nevada) that houses came on the market and the same day had several offers. It was getting too expensive to buy anything because of the demand, houses got higher and higher in price. Finally after running back and forth from AZ to Nv every few days trying to find a home to buy, we put an offer on a very lovely home which we lost, though we gave them what they were asking for . . . then finally we did get the house we are in now. If only we could have bought at the present time. There are hundreds of houses to choose from and are practically given away compared to the horrible prices they were when we had to buy.
LLB: As cumbersome as it is to move for anybody, relocating to a new city with a definite goal in mind is most exciting. After the clouds from settling down in your new home cleared up, did you find it exciting to re-establish your show business career in this city?
DAVID: After settling down in Las Vegas I started sending all kinds of promotional stuff with letters to theatrical agents, nightclubs, and even to some established Stars working in town to see if any of them would open a door for me. Phone calls, e-mails, DVD promotions, visiting places in person, etc...nothing...but what I found even worse and more hurtful (and even my mom Tila agreed with me) was that none of the established gay magazines and periodicals would bother to even give me an interview. or at least a welcome sentence in their theatrical gossip columns...so unalike in The Bay Area where the gay and heterosexual oriented newspapers and magazines always mentioned me with praise. There I was interviewed often on the radio and TV local shows, offering me a chance to even do a singing segment...oh those were the days.
After many hard bumps in the road a path started to open for me and a few engagements came about.
LLB: Your Las Vegas stage debut took place on October 21, 2004 on the "Las Vegas Now" show with Dennis Bono. Please tell us about this experience and how it felt to be back on the stage?
DAVID: The only thing I can remember fondly of that experience was that my dear old friend and FI Robin Price and Laurie Knight who had never seen me on stage and who flew all the way from Seattle, were present at my performance. Robin who had seen me many times before at Finochio's said to me after the show that he was very glad he had seen me one more time on stage after so many years. He had not seen me in person after we had left Northern California for good in 1989. I was supposed to be interviewed by Dennis Bono and it was taken out; I did a wonderful version of 'By Myself' and it was also deleted from the broadcast. I really felt treated like an 'Old Shoe' and the excuses given to me why this and why that . . . too long to explain here. I was fortunate anyway, that there was a crew from a TV station in Pahrump and I was interviewed backstage. They also filmed my singing sequences from the audience. That was very nice. By the way, the audience was very nice to me and I even signed a few autographs after the show.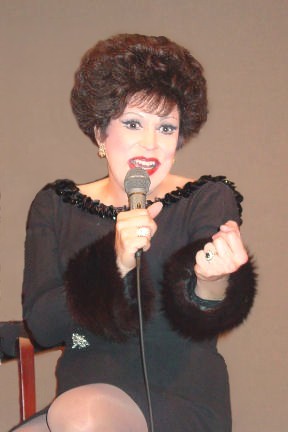 LLB: I don't believe you ever experienced singing to a group of senior citizens only, and one of your venues was a concert at The Women's Club of Sun City, Summerlin in Las Vegas on March 16, 2006. Was this different than performing for a general audience?
DAVID: Oh yes, I have performed before while in The Bay Area outside Finocchio's at such Senior affairs, and they were a lot of fun too. The only thing was that the sound and lighting was terrible at this particular function, so I had to work extra hard to properly convey my act on stage.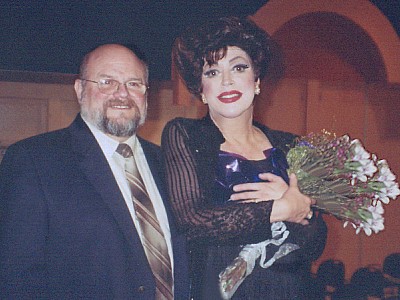 LLB: One of your greatest successes was your "A Tribute to Judy" concert at the Winchester Cultural Center on January 28, 2007, which sold out long before the scheduled concert date and left many people in line outside the theatre. Tell us a little about this wonderful day.
DAVID: Yes, that concert was one of my best and is available on DVD. Not only was it a wonderful audience that appreciated me a lot, but to have author and historian James R. Smith come all the way from Northern California in person with his wife to do a special introduction on stage was great. Unfortunately after that success, the people in charge of booking the theater never asked me back; and mind you, even the Las Vegas Review Journal came to my home to do an interview and photograph some of my Judy Garland Memorabilia. This is to show you that there is a deep set homophobic attitude that still prevails in this city, no matter how well one does and no matter what a stellar theatrical past one has.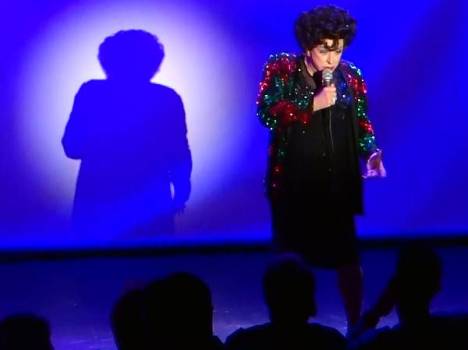 LLB: The concert "A Live Tribute to Judy Garland" at the Nicholas Horn Theater in Las Vegas on September 23, 2007 was plagued with problems in spite of the intensive publicity provided by the college, including a freezing temperature inside the theater and poor attendance. What do you consider was the mayor flaw of this venue?
DAVID: First of all I was told by the people in charge of booking shows there that most of the time getting to fill that theater even half way was never easy for past shows they have had. I even saw there a wonderful opera in which the theater was half empty, even though many tickets were given free through the Craig's List. Though they have a marquee and your name goes up a few days before your show, it is hidden from the street so no cars driving by can see it, just the college students, and I was told they hardly ever attended shows presented at the main theater where I was booked. What did some harm too was that the main AC/heater system was not working properly and I was told before my concert, at a previous show the heater went wild and it was so hot people left the theater. In my case it was the reverse; the AC went wild and it was freezing...so cold that some people walked out even before I started to perform. How I got through singing with frozen vocal chords was beside me, though I begged the janitors to please fix the problem, I was told they did not have the key to the AC/heater machine! I thought I had heard every excuse in the world from the mouths of Eve and Joe Finocchio while my stay at their famous club, but this was the ultimate! In spite of all of these problems, my old friend and co-worker from Finocchio's, Lavern Cummings, came with some friends to see the show.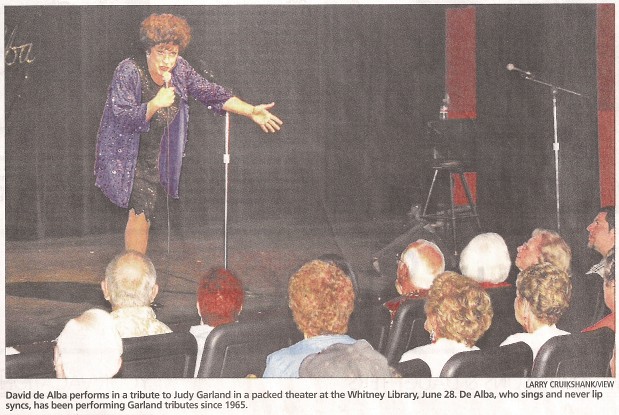 LLB: One of your most recent successful concerts was at the Whitney Library Concert Hall on June 28, 2008. I can vouch it was a huge hit because I saw it in DVD, and your performance was one the best. I also enjoyed your interaction with the public as you related show business anecdotes. Could you tell us about it?
DAVID: I had very good attendance at that show, plus someone from The Las Vegas Review Journal came to photograph me on stage and write a commentary for the newspaper. I did have for the first time in my life a guy who was either drunk or on some type of drugs who heckled me, not in a bad way, but he was disturbing my performance and the others near him. After being there for half of my concert the security guards finally escorted him out of the theater. One thing I will never forget was that this was the last concert where my mom Tila would be present. After I finished my first song she got up and said in Spanish: "Heri, (that's my real name) please never leave me alone! I guess she had a premonition she was going to die soon. Some friends that were seated next to her calmed her down and I explained to the audience what my 92 year old mother had said to me. &nbsp (Newspaper photo, Tila seated front row, second from right.) &nbsp Again this concert was recorded and a DVD was made of it.
LLB: In spite of your professional schedule and settling down in your new home, you and your partner Paul managed to vacation in Hawaii in 2004. There, you met with a very dear old friend and fellow performer, the beautiful Holly White. This must have been an emotional meeting after so many years; was it mutually enjoyable?
DAVID: Paul decided since we could not sell our Bullhead City, Arizona home, to take off a week and go to Hawaii . . . he had been there before he met me, but I had never been there. What was most enjoyable from that trip was to see once again after many years, my dear friend, entertainer Holly White with whom I had the pleasure to work with at Finocchio's. One time she joined Paul and I to see the new version of the movie, King Kong. Another time Holly joined my mom Tila and I for a spiritual session in the San Francisco area. Later on when I had my Web site going I interviewed Holly for my own 'Celebrity Interviews Series'. Holly still remains one of the sweetest people I have ever encountered, especially in the entertainment field.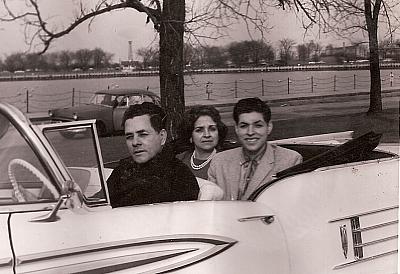 LLB: Both of your parents were always an important part of your life; in fact, your family came together to America from Cuba, and thereafter lived close to each other no matter where you went. Considering how the difficulty of staying together would pose a challenge to other families due to various factors, how did you manage to do it?
DAVID: Yes, we were always a very close knit family since our days living in Cuba, and to make this long story short, when my parents moved from Chicago to San Francisco, and while living in The Bay Area they, and Paul and I too, moved quite often because we wanted to improve our homes, better locations, better lots, etc.. We always tried to stay a few blocks from each other and my mom worked with me for years in my popular hair salon in San Francisco "Heri The Hairstylist". I would kid my mom then saying to her that if she were to die I may as well disconnect our phone because I have no one else to talk to.
LLB: Could you tell me a little about your father's sudden passing in 2004?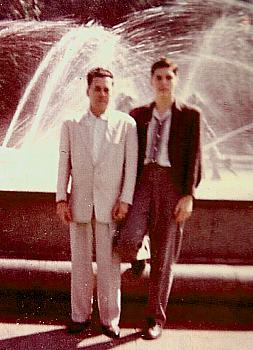 DAVID: Well, though Heri, Sr. and I had different tastes in many things, he was always a very good father and provider and when she told him that his son was gay, he said to her that if anyone were to offend me he would fight for me. What I remember most about him is that he was always ready to party and was a very happy, optimistic person, quite the opposite of my mom. He also loved pretty women and Tila told me when they were in Cuba and recently married, if his agile eyes caught the sight of a pretty woman he would tell Tila: "Isn't she pretty? Don't you like her? (or something like that) and Tila would reply to him: "I don't like women Heri, I like men" and that was the end of that. Mom Tila, Paul, and I always lovingly and kiddingly labeled my father 'the playboy', after all this was the way in our Latin countries men were raised then but my parents remained married together all of their lives and though they were not 'Romeo and Juliette' they did love each other in their own special ways.
He really loved the time when we lived in San Francisco, because my father being a heavily rooted Cuban, found a very nice Cuban Club. He visited it every day and there he longed with a few older Cubans for the Cuba they knew and had left behind. By the way, I got to perform twice at that club and it was packed when I did my concerts. My father knew I liked Showbiz and did not mind it at all.
I always took care of cutting and tinting his hair because he hated gray hair and I even did his hair a day before he passed away. This was so sudden and a massive heart attack. Paul, my mom and I thought he would live forever. He was 97. He never acted like an old man and actually walked faster than Paul and I. My mother was the one who never got over his death and she followed him three years later.
LLB: I understand that after this tragic event, your Mom Tila came to live with you. Was it easy for her to adapt to her loss, and for you to have to look after her in such close contact?
DAVID: After my father's sudden passing Paul and I insisted that my mom should evacuate their home in Henderson. While it took a long time to sell she moved into a lovely master bedroom suite we have in the downstairs of our two story home. I remember quite well how I took very seriously how to prepare that room for her, putting her familiar photos around her, in the huge closet putting in order her day, evening wear, coats, belts, purses, then in the dresser drawers putting in perfect order her underwear, socks, stockings, etc., and in the make-up drawer all the cosmetics, brushes, etc..
We told her she would never have to cook, wash dishes or clean her room. Paul prepared her special meals and I took care of the rest, and as always I would do her hair, nails, make-up and anything that dealt with personal grooming. Paul constructed for her in the backyard, a lovely gazebo and surrounding it, beautiful trees, plants and flowers of all types.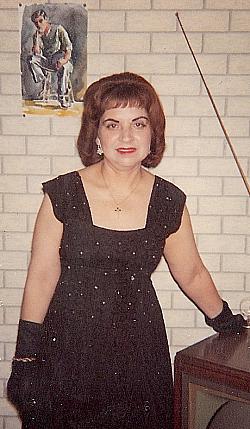 We walked every afternoon for at least one hour and talked about our golden past in California, the present and even the future. Little did I know her days were numbered and she would die on the 14th of July. To this moment it seems like a nightmare that has no end . . . dismanteling her master bedroom and giving to charity her personal belongings, (though I kept a few chosen items), remains one of the most painful memories aside from seeing her die slowly at the hospital.
LLB: You and your Mom Tila shared a common bond: both were animal lovers. Besides the obvious pleasure pets provide their owners, they also require maintenance. Do you mind caring for your pets and can you describe your family of pets?
DAVID: My mom and I always loved all sorts of exotic birds and dogs. We even rescued homeless dogs while living in The Bay Area. We always had between her household with my father, and ours, Paul and mine, such pets as German Shepperds, Pekingese, Chihuahuas, Pomeranians, etc. and all sorts of birds, from canaries, finches, cockatiels, to parrots, a cockatoo and conures.
LLB: What is the often mentioned "Tilarium" in your home?
DAVID: Before Tila passed away she knew that I would be left alone with Paul because all of our family members that were close to us, friends, my theaterical work fans and faithful hair customers were dead, and because I always loved pets, Tila with her money helped convert the atrium in our home into an aviary for me to house any old or distressed bird in need of a home and TLC. Thank God she got to see it before she passed away. We call that room appropriately TILARIUM in her loving memory, and how I sing and cry in that room as I feed my birds. Losing my mother was like losing a very fine violin. Now I am just the bow with no instrument to play.
LLB: You've produced several CDs since 2002. Have they helped you gain a new audience here in Las Vegas?
DAVID: I recorded all my CDs knowing that with the lack of big money needed in order to promote a CD in newspaper and TV commercials or being a guest on a big TV talk show, they would be hard to sell, especially nowadays with all this new type of Rap (music?). My CDs are there for proof when I die that I did come from the so called old school of female impersonation where we sang live and not pantomime. My web site actually is about all types of valuable theatrical information, but because it is free, people take it for granted and it does not seem to promote my career nor any sales of my CDs or DVDs, but while my partner / Webmaster Paul is alive it will remain on the air. Once he passes on my site will come down.
DAVID: I am thinking next year 2009 of going to a printing company and have most of my Web site printed out and made just for me into a gigantic "Coffee Table Book" so someday when my site is off the air, I will have this wonderful legacy that Paul has created for me. I know it won't be cheap, but a worwhile investment.
LLB: One of the pleasures you enjoy is the occasional visit of old acquaintances, especially those of your fellow performers who live out-of-state or abroad, such as Jan Britton, Libby Reynolds, Les-Lee and Coccinelle. Some of them have passed in the last few years, and with them, some of the great "Golden Age" of female impersonation keeps fading into oblivion.
DAVID: Well, Jan Britton I did get to meet at our home because Robin Price brough her here. Libby Reynolds I never got the pleasure to meet in person, just over the phone and e-mails. As you know I interviewed her for my web site. Les-Lee was before my site and also Coccinelle, but they both have special Tributes on my site. Robin Price I did interview for my site, one of the best interviews ever, and also Libby Reynold's was too. I found out that a lot of these older female impersonators I knew, though their names appeared on theatrical promotions when they were performing, none of them had an actual interview given to them. Thank God I did then, because now that they have passed away there is something left about them for others to see and appreciate. As of recently from Finocchio's, Jacquie Phillips, Libby Reynolds, and Robin Price unfortunately have passed on.
LLB: Understandably, your friends passed due to old age, but so many of the young (and not so young) artists are dying due to drug-related problems, which of course, lead to reckless living and an untimely end. How do you feel about the young generation's lifestyles and their FI artistic interpretation?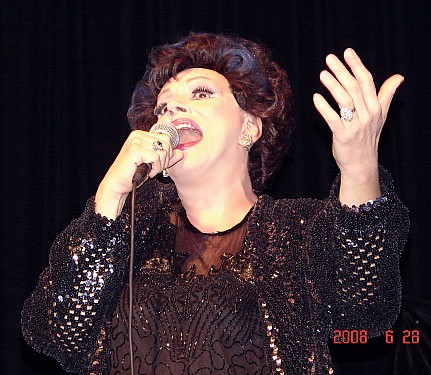 DAVID: Linda dear, I don't keep in touch with the so called now FIs because we have nothing in common theatrically speaking. As these wonderful FI performers from the past, and other excellent singers I knew and appreciated, like Judy, Ella and the likes pass on every day, my world seems to shrink more and more.
LLB: Do you have any future plans for performing in Las Vegas?
DAVID: I hope someone from The Whitney Library calls me back in 2009. The entertainment director Tim Clark told me that he was going to bring me back because I did a very good job on stage and audience members wrote very favorable comments when they left the theater after my performance this June of 2008.
DAVID: But you know what is wonderful for me to know, that my mom got to see it before she died, and that I have been documented in four different books published here in the USA. They praise my Live Judy Garland Tribute, and also one of the books speaks about my own personal International Act 'Boy-Chic'. If I were to pass on today, at least I know that the memory of my past will live on.
LLB: And inquiring minds wand to know what three wishes would David de Alba have in these difficult times?
DAVID: My first wish is to have Paul alive for a long time; then it would be nice if some peace comes into my broken heart; and surely, if I can continue to perform periodically, that would be great for my own soul . . . and I know Mom Tila somewhere in Heaven Above would love to see me keep singing because she always supported my career and truly loved the performing arts!
LLB - David, It's always a pleasure to talk to you. So many good and not so good things occurred in this short span of time since we last talked, and you've managed to enjoy the good ones and overcome the not so good ones. Having gone through your very own 'baptism by fire', I know you will always be a survivor. Be well and good luck to you.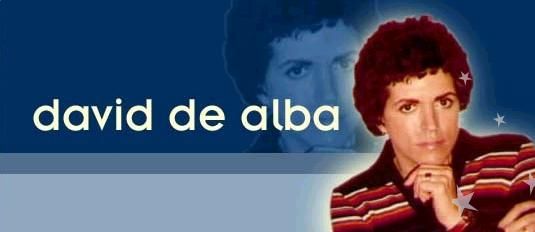 Note: Background music, "Contigo a la Distancia" courtesy of Luciano's Piano Bar, Puerto Rico.

You can see more of this entertainer at: "David de Alba's Theatrical Arts & Tributes" at http://david-de-alba.com and you can e-mail him at
david-heri@cox.net
---
Return to David's Home Page