Female Impersonator Pictorial Tributes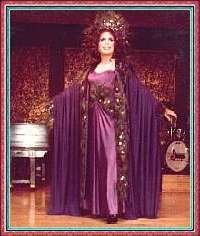 By Entertainer David de Alba *
It is always difficult for me to render tributes because many in this series have passed on, and that saddens me.....and in this case, The Great Lucian and dear Carroll Wallace are not with us on this Earth plane. They were part of my life for a long while and I shall never forget them and their colourful personalities. I met them at the world famous Finocchio Club in San Francisco, California and I worked with them on stage and even styled their wigs. They also became my friends off stage and that meant a lot to me.
The purpose of these pictorial tributes is to pay homage to a number of legendary entertainers, and to provide Cyberspace exposure of these legendary greats in the field of live female impersonation for the present generation of fans. This project is totally non-commercial and non-profit.
I selected these few pioneer FIs (See toolbar on left to select performers) for this pictorial tribute section because I never had the opportunity to interview them for my 'Celebrity Interviews' series. I must thank entertainers such as Robin Price, Libby Reynolds, Manuela, and Harold Weber for contributing comments and reflections about the FIs honored in this section, and especially Tony Midnite for sharing some interesting bits of FI history from his soon to be released book. Ladies and gentlemen of Cyberspace, it is my great pleasure to bring these Stars to the spotlight once again!
David - I, like so many others, remember seeing (and being greatly entertained by) your vivacious performances at Finocchio's as Boy-Chic, singing LIVE in English, Spanish, and even French! Your excellent make-up, realistic wigs and wonderful costumes. Your amazing impersonations of Edith Piaf, Liza Minnelli, and Judy Garland (acclaimed as the finest by some of the toughest critics in journalism.) Along with Carroll Wallace, Lavern Cummings, and Lucian, you ruled at one of San Francisco's true Historical Landmarks of the day! Your reputation as one of the top in your Profession is irrefutable.
Let me go on record now as making a point that all your intense devotion and dedication to your Art is herein equalled with the creation of this remarkable, ever-morphing Web Site, which you and your friend Paul Ryner have so brilliantly and unselfishly conceived and fashioned. Your Web Site is the Internet Smithsonian of Female Impersonation, and your service to all who have transformed themselves for the business of Show, and even those of us who have merely enjoyed all the unforgettable performers and performances, is certainly living testimony to the love you have for your Craft. God bless you and Paul for your tireless, never-ending efforts, in order that we who come here can revisit old fun times, or study and learn about the History of The Art & Artistes of Female Impersonation. BRAVO!

Verne Langdon
Entertainer / recording artist / producer
I want to thank entertainers Robin Price, Lavern Cummings, Ulrich Cazal, Ricky Renée, Micheline, Manuela Mock, Harold Weber, Libby Reynolds, Tony Midnite, FI historian Ken Spaulding and Jaye Kaye, Karen Eve Liedigk, Holly White, Bambi, Wendy Webb and Carlson Wade for providing some of these rare pictures from their private collections.



* Cuban/American entertainer and recording artist David de Alba (also known as "Heri, Hairstylist of the Stars") is known for his live singing impressions as a concert artist since 1965. He has worked at the world famous Finocchio Club of San Francisco (USA) for many years. Visit the award winning Web Site "David de Alba's Theatrical Arts & Tributes" at

http://david-de-alba.com and you can e-mail him at david-heri@cox.net
---
Return to Home Page