Gina Poggi on David De Alba - Potrero View - March 2009

Former Hill Hairdresser Styled More than Heads
By Gina Poggi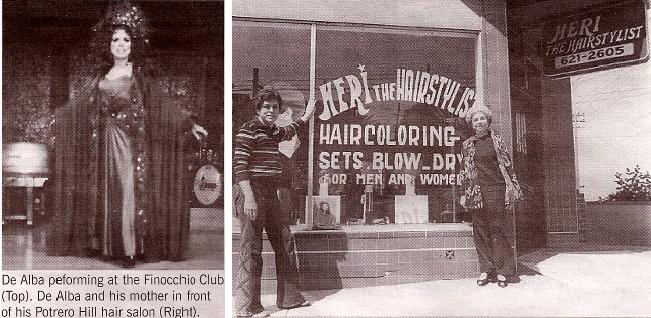 Throughout the 1970's and 1980's, female impersonator David de Alba belted-out tunes as Judy Garland, Liza Minnelli, and his own sexy Latin persona, Boy-Chic, at San Francisco's Finocchio Club. Dressed impeccably in dazzling handmade white sequenced pantsuits, de Alba strutted his stuff for audiences that often included celebrities, such as Richard Chamberlain, Robert Wagner and the original Colonel from Kentucky Fried Chicken, Harlan Sanders, who in 1936 the governor of Kentucky made an honorary Colonel and who died in 1980. Seeing the famous KFC mogul in the audience, the saucy de Alba announced, "I had [your] famous finger-lickin' chicken for lunch, and I didn't get my free strawberry pie". The Colonel stood up and said, "Next time you're in my neighborhood I'll see that you get one!" de Alba recalled.
Long before de Alba embraced the world of professional impersonation, his affinity for hair and make-up drew him to become a hairdresser in Chicago in 1965. Five years later he moved to San Francisco, and opened a salon at 18th and Kansas Streets. He named it Heri the Hairstylist, Heriberto being his given name. De Alba's reputation for lustrous shampoo-sets, bouffants and styled wigs attracted local celebrities and other entertainers. For a time he wrote a beauty advice column for The View. San Francisco Chronicle columnist Herb Caen reported in his column when Tony Curtis came to the salon to shoot a pilot for the television series Spies.
De Alba's fame as a Stylist to the Stars caught the eye of Eve Finocchio, wife of Finocchio Club owner Joe Finocchio. "One thing led to another and [Eve] invited me to start working in her famous nightclub...the rest is history," said de Alba. The first thing Eve Finocchio said to de Alba was, "Let me see your legs." Approving his gams, she then had him audition. What followed was an initiation of sorts during his first-ever performance [at Finocchio's]. "The first time [I performed] I was nervous because the emcee, Al St. Claire, then trying to be funny or whatever, handed me the mike turned off and I sang without the help of the mike," recounted de Alba.
De Alba seamlessly replicated famous female performers' hair and make-up, sang, and even moved like them. Unalike many female impressionists, de Alba never lip-synched. "The trick was that at Finocchio's we performed always live. No pantomiming to records was allowed then, and as in my particular case I sounded really like a woman and not a male singing in drag," said de Alba.
De Alba's performances were more often than not tributes to his favorite Movie Star, Judy Garland. "Judy was always the number one female singer that I just adored. I got to see her in person three times and the last time I got to meet and talk to her. I told her I did an impersonation of her," said de Alba. Judy replied, "Do you like me that much!" To say that de Alba is Garland's number one fan is an understatement. He owns an extensive Garland / OZ memorabilia collection, including a pair of Garland's shoes worn in her last movie, I Could Go On Singing, as well as a number of musical arrangements by Mort Lindsey.
De Alba currently lives in Las Vegas, where he continues to perform tributes to Judy Garland. For more information about de Alba visit his Web site at david-de-alba.com or contact him at cubanlegend@cox.net
---
Return to David's Career Publicity
Return to David's Home Page