David de Alba's
Finocchio Club Backstage Memoirs
June 27, 2010, Summerlin Library Theater, Las Vegas, Nevada
Many years ago when we were living in Arizona, I recorded two CDs, Volume 1 & 2, about my 'Finocchio Club Backstage Memoirs', but not until recently here in Las Vegas, in a debut performance at the Summerlin Theater, I actually got the chance to pay tribute to some of my fellow cast performers via some anecdotes along with some of the songs I sang at Finocchio's. If it wasn't for all the great help from Linda La Blanche and my long time partner and Webmaster Paul Ryner this performance would have not taken place. Last but not least, I dedicated this concert to my dear late Mom Tila who always wanted me to present my Finocchio Club days on stage in Las Vegas. Also I want to give a very special thanks to San Francisco Bay Area's well-known author and historian James R. Smith for bestowing upon me his prestigious 'Achievement Award'.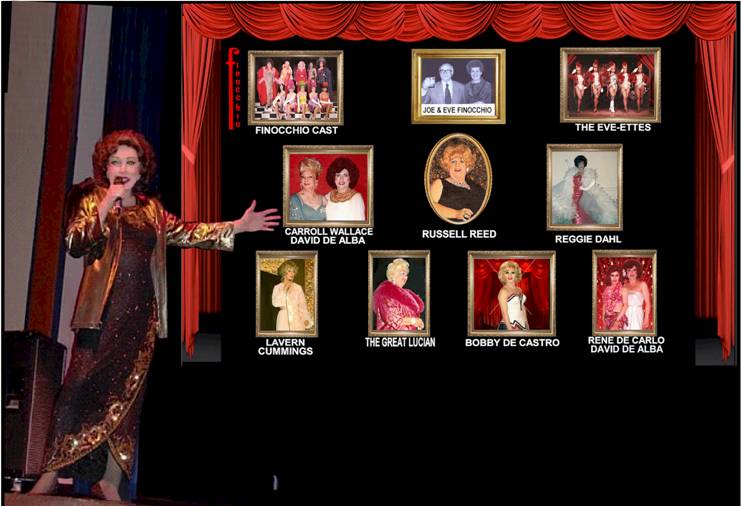 Above David presents his Finocchio cast members via an on-stage screen projection.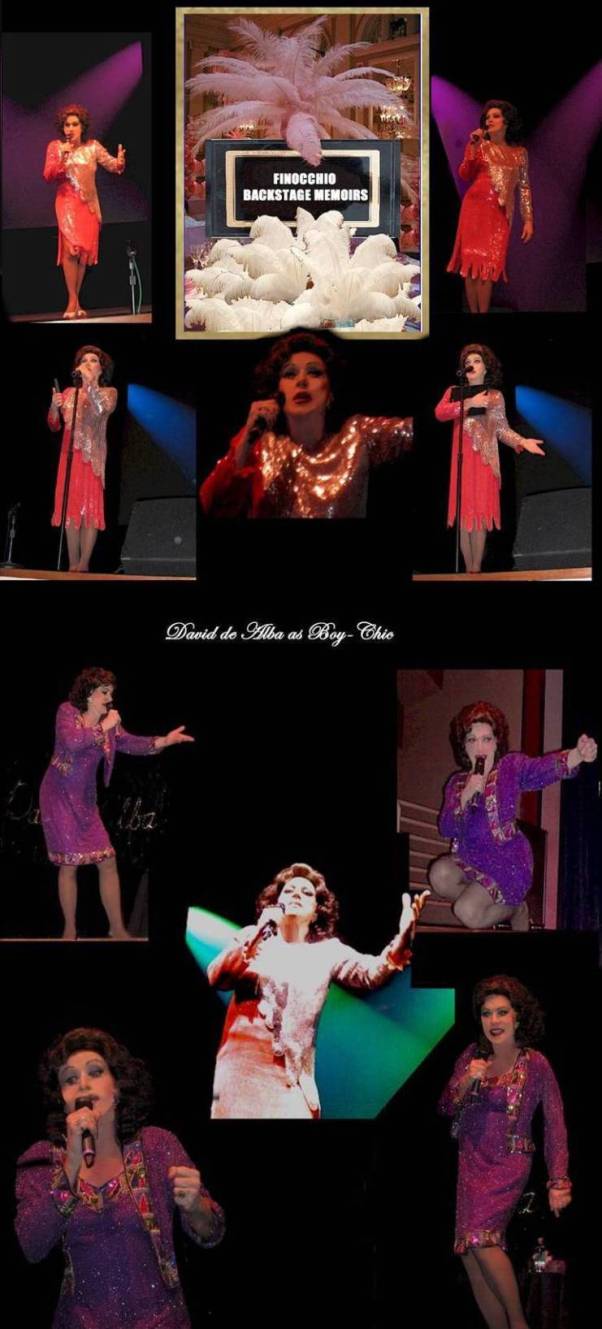 On the left, Three surviving members of Finocchio's; Paul Cummings, David de Alba, & Keny Stewart.
Photo credits: Thanks to Venessa Komocar & Denise Gyenes for providing the stage photos included here.
Media credits: Thanks to Norman Clarke & Jan Hogan of the Las Vegas Review Journal, Jerry Fink, Las Vegas Entertainment News, and Rev. Parsons of the Las Vegas Night Beat Magazine for their support and valuable publicity.
---
Performance review by European Music Critic, Linda La Blanche, Thousand Oaks, CA:
Unique in the art of female impersonation, David de Alba once more demonstrated his creative and unending talent by introducing his brainchild new one-man musical show: "Finocchio Club Backstage Memoirs" at the Clark County District's Summerlin Library this past June 27th.

As one of Finocchio's featured attractions, Mr. de Alba was part of the history of this world known famous San Francisco female impersonator club during its golden era. Thus, his creation develops along this premise, featuring the songs that made him well-known then, and recounting very entertaining and funny anecdotes that took place backstage aided by a colorful collage comprising photographs of the entertainers of that time, which helped the audience identify the characters to the stories. The show also includes film clips from the club and 8mm film with actual live performances of the Finocchio cast. For those who actually attended any of the shows at Finocchio, it was literally possible to feel they had been taken back in time and were seated in the audience one more time. As far as Mr. de Alba's performance is concerned, only one word can sum it up: magnificent!

As Boy-Chic, one of the three personas he impersonates on stage, and through several gorgeous outfit changes, he delivered songs of yesteryear in English and in Spanish in his own flawless, inimitable and delightful voice. Particularly outstanding was the Spanish rendition of "La Virgen de la Macarena", complemented by a superb arrangement. These songs were interspersed with stories dealing with the gossip, intrigue and comical situations that took place backstage, thus adding entertaining value to the show.

One surprise highlight at the opening of the show was the award given to David by historian James Smith in recognition for keeping the memory of one of the famous landmarks of San Francisco, the Finocchio Club. Later on, the surprises continued with the appearance of the legendary Lavern Cummings and Keny Stewart, the only Finocchio performers survivors to date (except David de Alba and René De Carlo).

David's closing act dealt a coup de grâce to the show with a fantastic interpretation of Liza Minnelli's "New York, New York", and other great songs. The impersonation was excellent, with David looking more like Liza than the actress herself in younger years, wearing a daring costume and bursting with energy and emotion . . . A really outstanding cabaret impression!

David de Alba's vocal range still has the tonal qualities that set him apart from any other female illusionist today. More importantly, his voice is an instrument of incredible emotional nuance. Whatever song David sings, one is always acutely aware of what seems to be an instinctively phrasing specifically designed with YOU personally in mind, unavoidable and inescapable. I may be guilty of having said this before, but his emotion in each and every song he delivers and his engaging transparency may just make him one of the best artists in Las Vegas today as far as TRUE talent is concerned.

David de Alba's Finocchio's Backstage Memoirs is a definite super hit!
Comments from James R. Smith, author "San Francisco's Lost Landmarks", Murphys, CA:
David de Alba's performance offered a true blast from the past, recounting the heyday of San Francisco's Finocchio Club, one of the city's premier nightclubs, standing with Club Fugazi (Beach Blanket Babylon) and Bimbo's 365. Finocchio's Backstage Memoirs included songs from that club reprised by David de Alba, film clips from the the club in its prime, stories of from the club, the owners and the performers and an appearance by Lavern Cummings and Keny Stewart, former Finocchio's performers.

Playing to a full house, de Alba kicked off the show with some rousing tunes from his early days at the club. Slipping back into those days, it was easy to imagine you were there again. Singing in Spanish in his Boy-Chic persona was a display of the versatility that kept him a favorite at Finocchio's. A short film presentation offered rare images of the club and its performers in action. The show was interspersed with stories and songs ranging from Streisand to Judy Garland, all sung with an attention to the voice of the original performer. In a burst of energy, de Alba impersonated Liza Minnelli, ending the show on a high note. A show to remember, David de Alba was once again at his finest.
Comments from Keny Stewart, Ventriloquist, Las Vegas, NV:
What a wonderful show! I can't tell you how entranced I was watching you perform and seeing the old film clips. So many memories and so many years. I truly enjoyed myself very much. Thank you for acknowledging me and Paul Cummings as well. I loved the backstage stories and if you heard laughter coming from the audience, that was probably me, reliving all those strange and glorious moments of working the club. Amazing history, and thank you for keeping it alive and presenting it for others to experience.
Comments from Denise Gyenes, Summerlin, (Las Vegas), NV:
I have attended two of David's shows and was never disappointed. He is full of talent. His energy and dedication come shining through just as his beautiful voice does. Looking forward to seeing him perform again! It was my pleasure to present David with the "Achievement Award" from Historian James R. Smith from the San Francisco Bay Area.
Comments from Dagmar and Jeff Gardiner, North Las Vegas, NV:
Recently it was very interesting to hear about your life at Finocchio's and your unique experiences there. We have heard some of your work in this area, and there you are truly a remarkable performer. We wish you well in your further professional life.
Comments from Loren and Marlene Hale, North Las Vegas, NV:
We enjoyed David's show, particularly the interesting stories of his years (at Finocchio's) in San Francisco. The music and costumes were excellent. We definitely enjoyed the Spanish music and David gave an incredible performance. Looking forward to his next show.
Comments from Joann Siravo, Los Angeles, CA:
I have had the pleasure of seeing Mr. David De Alba perform on several occasions. From his hair to his make-up to the costumes, to the beautiful songs and to the emotion he portrays, all I can say is "wow". He is a complete professional. I lose myself in his shows . . . And to top it all off, he is a wonderful man. He is a unique combination of showman and real person.

I live in Los Angeles, California and though it is not the easiest thing for me to be away from my home and responsibilities, I make a special consideration to see David when he is performing. It is as though David gives us a taste of a "lost" art. He has many years of experience and he shares it with us through his delightful stories and anecdotes, taking his many fans into the world of performance and backstage antics.

The icing on the cake for me is his dedication to his late dear mother Tila, and when the tears come, one cannot help but be moved by the love that pours forth from David. It is my sincerest hope that whomever reads this will make a space for David to continue his performances, for it is a beautiful gift that he gives.
Comments from Venessa Komocar, Los Angeles, CA:
David gave an extraordinary performance, many reminiscent stories. They make me wish I could have been there to see him perform at Finocchio's.

Return to David's Home Page