A Tribute to Judy Garland
Starring David de Alba
Whitney Library Concert Hall
June 28, 2008, Las Vegas, Nevada
Repeat Performance
June 28, 2009, Las Vegas, Nevada
The Las Vegas-Clark County Library District Performing Arts Center presented The Cuban Legend, David de Alba's loving tribute to the legendary Miss Judy Garland, for which Mr. de Alba has been known for many years. The show was presented at the Whitney Library Concert Hall to a large, appreciative crowd, receiving roses from two fans. The concert was 80 minutes long and included a number of well known Garland songs, as well as stories and anecdotes as David interacted with the audience.
Mr. de Alba sang to a studio recording done in Menlo Park, CA. in 1983 under the musical direction of Mr. Bill Bullard, who was the musical conductor, arranger and pianist at the world famous Finocchio Club where Mr. de Alba performed for many years. Three other talented musicians at that recording session were: Jeffrey Sanford at tenor sax and clarinet; Pat Klobas at the bass, and Jim Chanteloup at the drums and cymbals.
David de Alba
as Judy Garland
David de Alba
A fan catches an image
David de Alba
as Judy Garland
David de Alba
as Judy Garland
David de Alba
as Judy Garland
David de Alba
as Judy Garland
David de Alba
A fan catches an image
David de Alba
as Judy Garland
David de Alba as Judy Garland
singing "Lorna" to Betty
David de Alba
thanks fan for bouquet
David de Alba
thanks fan for rose
David de Alba
cell-phone photo
David de Alba
"Somewhere over the rainbow"
David de Alba
as Judy Garland
David de Alba
as Judy Garland
David de Alba
as Judy Garland
David de Alba
as Judy Garland
David de Alba
"Somewhere over the rainbow"
David de Alba
"Way up high"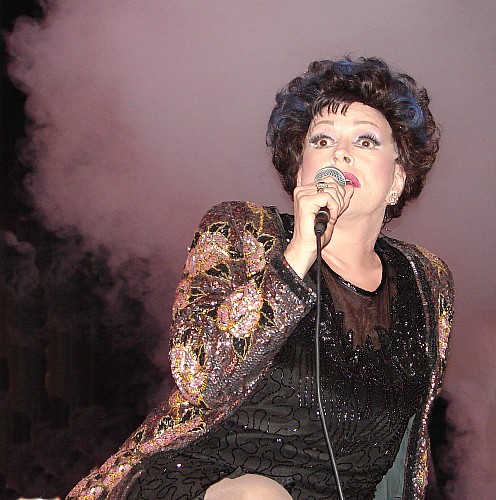 David de Alba
"Over the rainbow
Then why-o-why can't I !"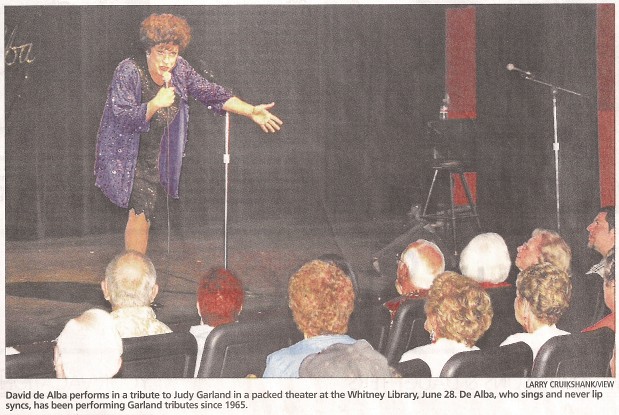 Picture in Las Vegas Review-Journal, Whitney View, July 8, 2008
Larry Cruickshank, Staff Photographer




Photo credits: Thanks to Carlos Candiani, Marlene Hale, and Cindy Carlson for providing the stage photos included here.
---
June 28, 2009, Las Vegas, Nevada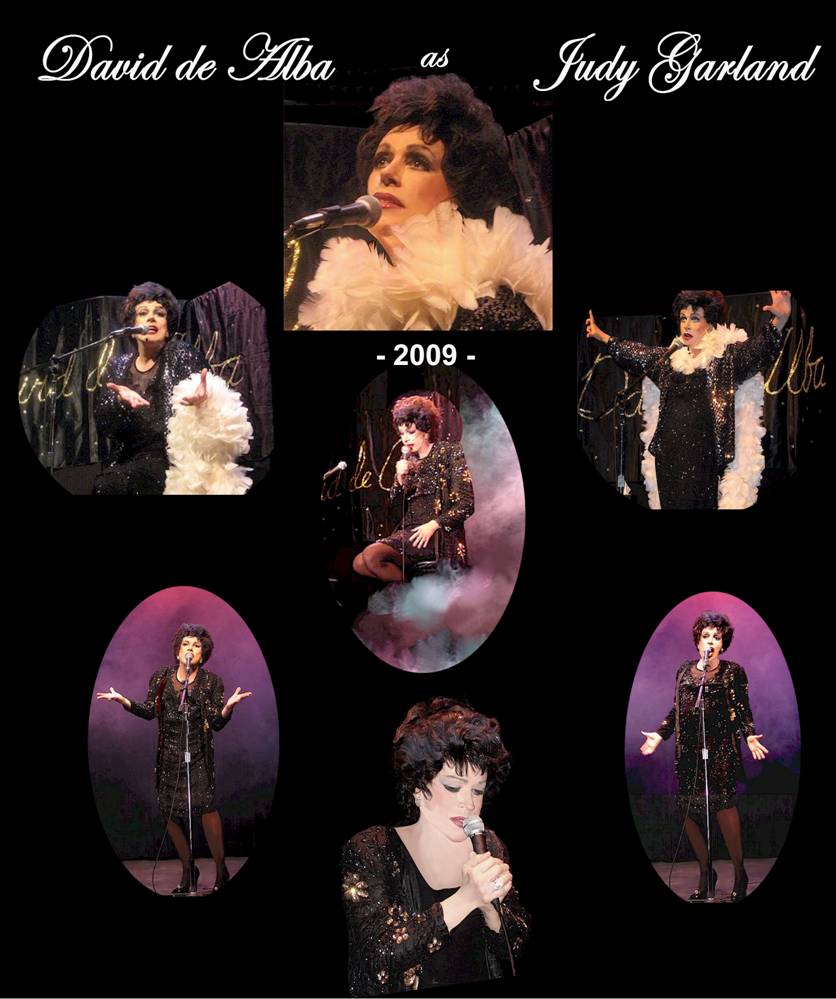 ---
---
Performance review by European Music Critic, Linda La Blanche, Thousand Oaks, CA:
After the preliminary video introduction by author James Smith and an excitingly arranged overture, David, as Judy Garland, walked on-stage and let them have it as soon as he came into view. He was dressed in a knee-length beaded black dress and matching open jacket which was replaced by several other attractive jackets as the show developed. Slimmer than in recent times, looking younger and better than ever, David opened the show with "Hello Bluebird". Whether he belted out "If Love Were All", or "Zing Went the Strings of my Heart", or whether he sang with a thread of voice, "What Now My Love", or the famous "Over the Rainbow", David put across the old Garland magic far more successfully than in recent previous shows!

This was David's one woman/man? show, and he seemingly mesmerized the audience from start to finish. The applause was continuous after each number, and bravos were shouted with the intensity and sincerity of true fans. David was acclaimed not only for his singing performance but for his little jokes poking fun at himself and for some very amusing Garland anecdotes. There was a touching moment when his elderly Mom Tila, who was sitting in front row center, called out his name somewhat disoriented, and David answered her to appease her and explained to the audience what was occurring. David also handled a slightly annoying heckler in the audience with the utmost class 'till the fellow was removed by security.

Some of the songs he sang had a volume that threatened to bend his mike stand into an inverted U. He followed with "The Man That Got Away" at possibly a trifle higher volume. Conspicuously absent from his repertoire was "Rockabye Your Baby", which is one of his platinum renditions and a favorite of his fans.

David's range is at his best and it possesses tonal qualities that set him apart from any other illusionist of his era. More importantly, his voice is an instrument of incredible emotional nuance. Whatever song David sings, one is always acutely aware of what seems to be an instinctively phrasing specifically designed with YOU personally in mind, unavoidable and inescapable. There are no bells and whistles. He, as Judy, stands up there and sings and sways to the music. He just lets that voice carry the evening. David de Alba's act has a winning and engaging simplicity that may make it the best show in Las Vegas as far as true talent goes.
---
Comments from Tim Clark, Performing Arts Center Coordinator, Whitney Library, Las Vegas-Clark County Library District:
I really enjoyed the program David! I thought you did a great job. I particularly like how you sprinkled anecdotes between the songs. I would definitely consider doing this again here at Whitney. I think you're a great person, and I enjoyed meeting and working with you on this!
Comments from Cindy Carlson, Lead Animal Shelter Kennel Attendant, Las Vegas, NV:
I was honored to be among the front row folks (OK, I was actually sitting behind David's mother in the second row) while watching him perform his Tribute to Judy Garland, this past Saturday (June 28th). Although I have a DVD of his last performance, I had not watched it yet and did not know what to expect.. I was thoroughly amazed, awed, entertained, and mostly proud to be a friend of such a talented individual. David's gift goes beyond words…it goes beyond pictures…you have to be there to truly appreciate how he shares his love and talent for Judy Garland.. His anecdotes and short stories that he shares throughout his performance add a special dimension to his already talented performance. When he talks to the audience, he makes you feel like you are the only one there…with him sharing intimate secrets and details about lives and stars long gone…he brings back to life a cabaret style of performing that seems to have gotten lost in modern day entertainment…BRAVO! To David de Alba!!!...dreams that you dare to dream really do come true!!!.
Comments from Cynthia Lauby, Shelter Veterinary Technician, Las Vegas, NV.:
David has an amazing voice, and does an excellent performance of Judy Garland music and storytelling!
Comments from Gail Smith, Henderson, NV:
I very much enjoyed seeing the "Tribute to Judy Garland" show on Saturday afternoon with David deAlba. He is talented beyond mention. Learning about Finocchio's was just an added plus.
Comments from Loren and Marlene Hale, N. Las Vegas, NV:
David, your performance yesterday, as always, was you at your best. Your costumes are outstanding and the special effects excellent.
Comments from Carlos Candiani, theatrical producer/entrepreneur, Las Vegas, NV:
I'm very proud to have the friendship of this great artist named David de Alba and I had the opportunity to see him for the first time, performing masterfully live in a theater of this City of Las Vegas last week, in a very nice tribute to the always lovely Judy Garland. [I wish] we had more talents like him. Congratulations David and keep sharing your art with us.
Comments from Luisa Ramos, Miami, Fl:
Just amazing! Esta transformación es cada vez mejor. Muchas gracias por la deferencia. Me alegro por todas las opiniones positivas de quienes vieron el espectáculo. Suerte a David y que siga cosechando éxitos.
Comments from Betty Fugnetti, Henderson, NV:
The concert was super on June 28th. The audience surrounding me was impressed, and commented on your stage presentation. We hope you will continue to have more concerts in the near future. . . Your loyal follower, Betty.
Comments from Thelma Hill, Great Britain/Las Vegas, NV:
I smiled with pleasure when you sang. I chuckled at your stories . . . but when you sang "Over the Rainbow" I felt the tears fall. Thank you honey, for taking me back in time. Love, Thelma.
Comments from Donna Burt, singer & David Clotfelter of Optimum Air Inc. - Las Vegas, NV: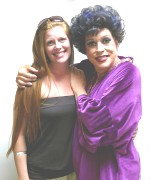 Saturday we went to see David de Alba perform his tribute to the fabulous Judy Garland and what a wonderful experience. He not only does an excellent portrayal of this beloved legend, he delivers it with the utmost style, grace and dignity. It was refreshing to enjoy such a humble professional with class instead of clown. There is no doubt that David de Alba is indeed a legend himself.

Return to David's Home Page