DAVID DE ALBA AT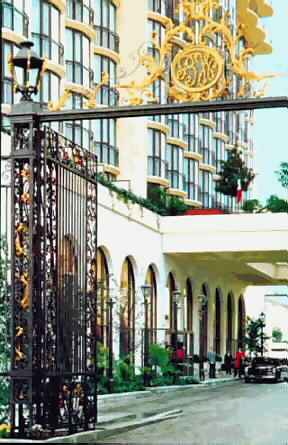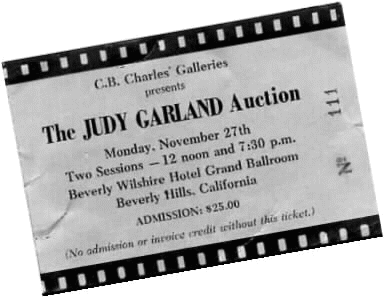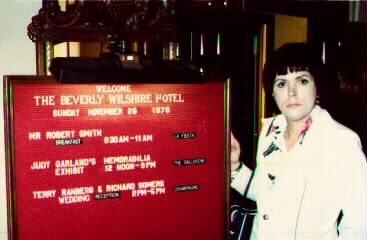 On the left is the entrance of the Beverly Wilshire Hotel in Beverly Hills, California, Nov. 27, 1978. On the right you see me standing in the lobby outside the Grand Ballroom, where the auction took place. Before the auction started, we were ushered into an area where some highlights of Judy's musical career were being shown.
---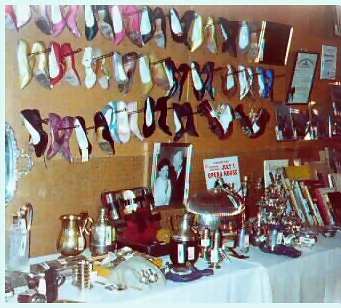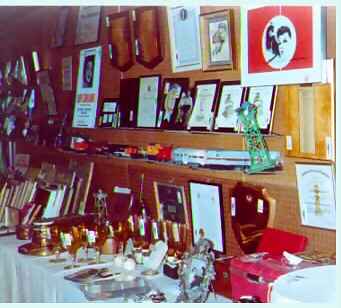 Above you see a large display of Judy's personal items to be auctioned off to the highest bidder. At the end of the second row of shoes are the blue ones I purchased. (See picture with Sid Luft below). There were over 500 items auctioned off in one day, including silver, books, household items, personal items & letters, toys, furniture, awards & citations, photos, musical arrangements, art objects, scripts, audio tapes, costumes, a Mercedes-Benz 300S, paintings, and scrapbooks.
I purchased the original music charts hand written by Mort Lindsey of "What Now My Love", "Never Will I Marry", "Together", an alternative overture used in some of her USA concerts, and a pair of shoes that were worn by Judy in "I Could Go On Singing". I also got two photos that were part of her own collection; one is a portrait by a famous photographer, circa "A Star is Born", framed with a check signed by Judy, and one taken during the filming of "The Clock" with a lipstick impression over the image of Vincent Minnelli.
---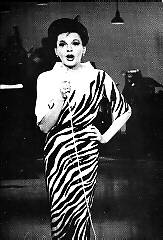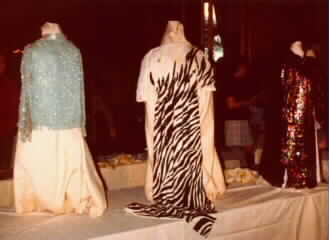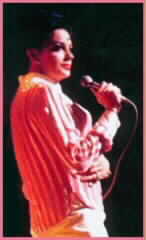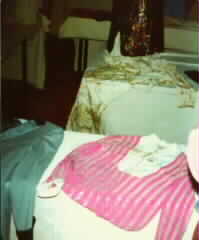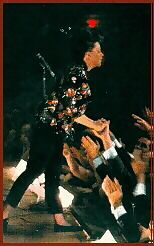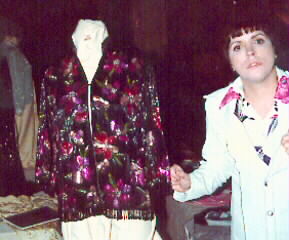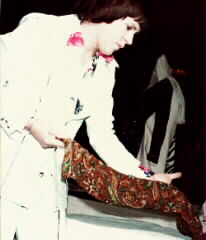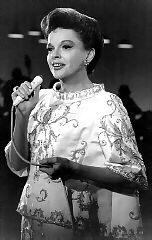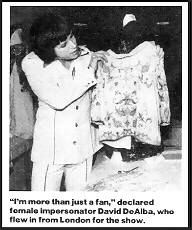 Here are a few of the many costumes that Judy had worn during her CBS TV Series in the mid 60's, and some from her concert appearances. Above you see me holding up the costume she wore at the "Judy & Liza at the London Palladium" performance, the Ed Sullivan Show, and at her Las Vegas wedding to Mark Herron. This picture appeared in the Dec. 1978 issue of People Magazine. Above you see me next to her "Good Luck Bugle-Beaded Jacket" and holding up a leg of her Paisley Toreador Pants that was to be worn in the movie "Valley of the Dolls". (The jacket top was missing).
I couldn't afford to bid on any of the costumes at the time, but I did collect a number of glass beads that had fallen to the floor from the blouse, upper right, which was originally designed for her CBS TV series and also worn at her London Palladium engagement.
In August of 2003, thanks to a kind soul who knew of my devotion to Judy Garland, I obtained an elegant blue and gold sequined jacket designed by Ray Agyahan that Judy wore in a dress rehearsal for one of her CBS TV Series shows in the mid-1960's.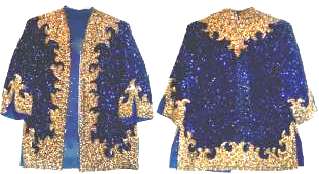 ---
Below are pictures of some of the celebrities I met at the auction. The environment was relaxed and I was able to talk to them at length. Top left is Miss Jane Withers. Next is columnist Rona Barrett. Lower left is Sid Luft, Judy's third husband. Next is Joey Luft, their son. His signature in my auction catalog is displayed below. I maintained contact with him for a while. Unfortunately, neither Liza or Lorna were present at the auction.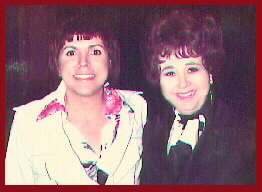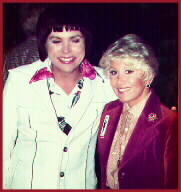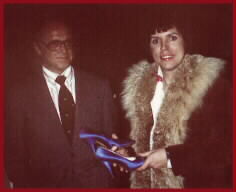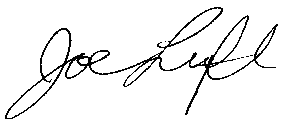 As the bizarre affair progressed there were TV camera crews and newspaper and magazine reporters everywhere. Yes, there was an air of excitement but I also sensed in my heart that something was missing, the star of the show, Miss Showbiz herself, Judy! With her unique sense of humour her spirit was probably having a good laugh.
---

| | | | |
| --- | --- | --- | --- |
| | | | |
Be sure to catch this fabulous show, wherever it may be playing; a loving tribute to her mom, the legendary Judy Garland.
---
Go to JUDY GARLAND ENCOUNTERS page for more on the legend that is Judy Garland.