David de Alba's Encounters With The Legendary Judy Garland


As a young teenager from Cuba, living in Chicago in the mid 60's, I was introduced to Judy's singing by two Irish ladies who owned a small grocery store near my house. They invited me to their apartment for tea and to listen to Judy's Carnegie Hall record. I was so impressed that I collected every recording of Judy I could find. I joined the British Fan Club in the early 70's, where I became acquainted with the late Sonny Gallagher, American Representative, who began publishing a quarterly newsletter "Beyond Rainbows" in the early 90's, aided by Charles Triplett, his Club Secretary.
When in high school, I was lead tenor in the glee club, and was performing as a male dancer in various productions. I was introduced to the art of impersonation by a well known hairstylist in Chicago, since I was studying Cosmetology at the time. As a lark, he made me up for "The Artists & Models Ball" at the famous Aragon Ballroom. He remarked that I resembled Judy in make-up and should do an impersonation of her on the stage. I would be the only one doing an impression of her that night. My grandmother, María, made two replicas of Judy's pant-suit outfits.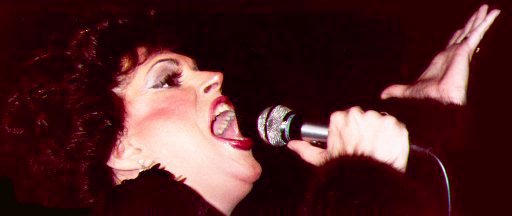 When I was performing then, I sang over her recordings, (not pantomime). I closed the show with 'What Now My Love". I received a standing ovation, which encouraged me to polish my act and continue working nightclubs in the area. I don't say these things to promote my act, but to show the power of such an inspiration as Judy. I have always done my act as a loving tribute, and never in a "campy" way and always singing in my own voice.
In the early 70's I moved to San Francisco and joined the cast at the world famous "Finocchio Club". At that time all singers were required to sing 'live' with the house band. I added Liza and my own international character creation, Boy-Chic to my act.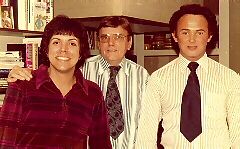 I was honored to have had the late Charles Blair visit and see me on stage. One evening, at another club, he stepped on stage to give a special introduction to my Judy act.

He was involved with the British Judy Garland Club, and was working for Shepperton Studios at the time "I Could Go On Singing" was being filmed. I began collecting rare posters and lobby cards from her movies and concerts. In the mid-90's I was fortunate to acquire 12 large Judy Garland scrapbooks from the estate of Eileen Steere, a devoted Garland fan, with newspaper clipping from 1938 to 1969, programs and pictures from most of her performances and many rare original photos.

I met Lorna Luft when she appeared at the Fairmont Hotel in San Francisco, and visited with her after the show. I gave her a picture of me doing her mother in my act. She seemed impressed, and put it top of a nearby credenza. A few minutes later her musical conductor came in to discuss changes for the next show. When he saw the photo he said "I didn't know you brought a picture of your mom on this tour". She replied "This is not Momma, this is David, who does an impersonation of her".

The first time I saw her up close was at the opening of "Gay Purree" in the State & Lake Theatre, (since, a victim of the wrecking ball). After the movie, the theatre manager announced through the loudspeakers that Judy was to appear on stage, but she was stuck in heavy traffic and would arrive soon. Her arrival was announced but the audience inside couldn't see her until the doors opened and she walked from the back of the theatre to the stage in a pool of lavender light. She was escorted by a young man in a tuxedo, (not Robert Goulet). She wore a sleek lavender gown, trimmed in feathers, adorned by a "diamond" broach, and crystal shoes with spike heels. Her hair was done in "the brush-up" style, which was popular in the 60's, streaked in lavender to match the gown.
When she arrived on stage she apologized for being slightly hoarse. She had just come from a singing engagement at the Arie Crown Theatre. She joked about the fact that only her voice was used in the movie. She appeared as a cartoon feline called Mewsette. The fans applauded. As she took a bow her broach fell to the floor. As she leaned forward to pick it up she exclaimed, "I've lost a lot more things in my life . . ." More applause and she walked off the stage. She walked on a red carpet to her limousine parked at the entrance and the audience followed her. Some fans followed the limo to the Ambassador East Hotel, which was her favorite place to stay in Chicago.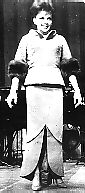 The second time I saw her, (singing 'live') was at the Arie Crown Theatre. Chris and Peter Allen were on the bill with her. For the first time, to everyone's surprise, she opened with Sinatra's version of "My Kind of own". She was dressed in the same gown she wore when she did a Cole Porter medley at the Academy Awards a month earlier in 1965. It was dusty blue, high neck, split up the front, trimmed on the sleeves with fur. After her performance, my mom and I went back stage to meet her. A group of the American Fan Club members were at the wrong exit, and we missed her. They asked us to join them in an open convertible to follow her limo. It was driven very fast through the streets of Chicago. When it looked like they had lost the pursuit, my mom and I asked to get out. We understand that they eventually caught up with her at the Ambassador Hotel and joined her for breakfast in the wee hours of the morning!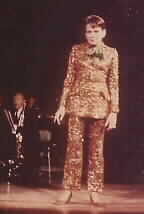 My next meeting was truly an "Encounter of the Third Kind". I actually met and talked to her at the Chicago Opera House. My mom and I were seated in the center-left, and Judy entered the theatre from the rear doors on the right. Instead of appearing on stage from the wings, she created more drama by walking down the isle of screaming fans. She wore the gold paisley suit that she was to wear in the movie "Valley of the Dolls". Joey and Lorna appeared with her on the bill this time. Lorna sang "Alfie" and Joey played solo drums. They all performed "Me and My Shadow" dancing and singing together with tap dancer John Bubbles later in the show. She also introduced a new song she had never done before, "How Insensitive". After the show, we rushed to the back of the theatre and waited to see her. Sid Luft came out first and announced that Judy would not come out of her dressing room for a while because "she was sweating". A young girl answered back "Stars don't sweat, they perspire!". (No comment from Sid). Joey and Lorna came out and were escorted the awaiting limo. Judy's new escort, Tom Green came out alone. Eventually Judy appeared, wearing a short off-white satin cocktail dress, trimmed with white feathers. She had on a dark tan foundation base on her face, and a deep wine/plum lipstick. Her eyes were done with brown eyeliner, no false lashes. Her hair still had some glitter left over from her stage makeup.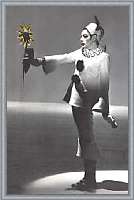 The fans were asked to form two lines facing each other, reception style, to make it easier for her to greet them. When she finally was standing in front of me and my mom Tila, she asked "And who is this lovely lady?" My mom replied, "I am his mother". Judy said, looking at me, "I wish I had a mother like yours" in a child-like voice. My mother said, "My son adores you! Will you give him a kiss?" Judy then hugged me and kissed me on the right cheek. Before she could move on, I said to her "I do a take-off of you on stage" to which she replied, "Do you like me that much!" I wish I could see your act, but I am leaving Chicago to continue my tour".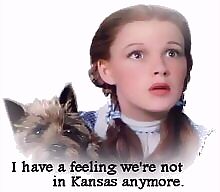 (Can you imagine how mad I was years later at myself for not bringing a camera to catch that moment, or to ask for an autograph!). I followed her to the street and saw her enter the back of the limo where Joey and Lorna were waiting. She kissed them several times. I can still remember that her skin was so pale and translucent like porcelain. The Iimo pulled away, and that was the last time I ever saw her. Later on in life I got to meet Sid Luft, Lorna and Joey, and spoke to them at length.

If anyone finds The Yellow Brick Road to The Emerald City, please let me know, I lost my way!

---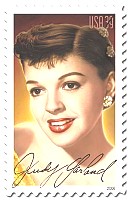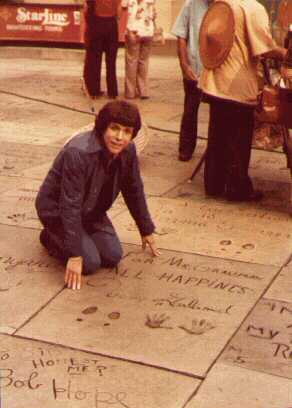 On June 10th, 2006 Miss Garland would have been 84 years old. The US Post Office issued on June 12, 2006 this Judy Garland 39 cent stamp in her honour. The photo used was a publicity shot taken from Judy's 1954 classic movie 'A Star is Born'. If Judy were alive today she would be so pleased, and with her unique sense of humour she probably would have said: "Am I getting residuals from this?"









Return to David's Home Page
Go to DAVID AT GARLAND AUCTION for more on the legend that is Judy Garland.